Build-a-Lot: Mysteries
Get ready for some spine-tingling fun in Build-a-Lot: Mysteries! Work with eccentric members of the Graves Family to build, buy and flip houses in each of their eerie neighborhoods. Look for cryptic clues and earn fun achievements as you unearth the family's peculiar talents, odd hobbies and questionable pasts. With three campaigns to play, it won't take long for to you discover that some family secrets can't stay buried forever.
Play through 65 mysterious levels
Eerily entertaining ambiance
Unlock fun achievements
Get back to basics with Build-a-lot
Game System Requirements:
OS:

Windows XP/Windows Vista/Windows 7/Windows 8

CPU:

1.0 GHz

RAM:

1024 MB

DirectX:

9.0

Hard Drive:

214 MB
Game Manager System Requirements:
Browser:

Internet Explorer 7 or later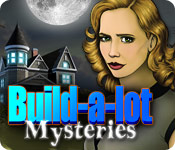 NEW299
The Big Fish Guarantee:
Quality tested and virus free.
No ads, no adware, no spyware.

Reviews at a Glance

Build-a-Lot: Mysteries
0
out of
5 (
0
Reviews
Review
)
Customer Reviews
Build-a-Lot: Mysteries
49
49
there is no mystery about this this game
This game is just building, remodeling, and selling what you build in the neighborhood. Lots of levels to get to. No voice over which leaves to lots of reading. Did I mention lots of reading. After you get thru the instruction it is pretty much doing the same thing over and over to make money. Renting, building, selling, buying material to build, remodeling homes to make money. Not a bad game just doing the same thing over and over. Not hard to play once you know what to do. Try it out and see what you think.
July 16, 2013
Another good Build-A-Lot
Following in the same fun factor as the previous "Build-A-Lot" games, this Mysteries edition is just a good as it's predecessors. I think the mystery aspect of the game is a little silly but I realize they needed a new theme for the game. All the time management lovers will want to get this game.
July 16, 2013
Classic Build-A-Lot with a small twist
I have always enjoyed the Build-a-lot games and this one doesn't disappoint. The game play is the same as in the other versions of the games with similar goals catered to the specifics of the theme of the game. The Mystery part of the game is the eccentric nature of your people that you are building for. First round goes to a creeping looking Auntie that has a nasty eye and can "talk to spirits" and second round goes to a guy that is scared to come out of his house because of reports of a wolf... hmmm werewolf maybe? I didn't get much farther in the demo to find out however. You are also picking up the occasional item that appears in your landscape and "giving" it to your person. Fans of these games will notice that the graphics have changed a bit and are very clear. The developers have done a nice job on the images on this go around as the landscape almost looks 3D. It would have been nice to see a slight change in game play but I guess under the if it isn't broke don't fix it theory, why change something that a large audience has come to love and look for in this series of games. Overall, Build-A-Lot doesn't disappoint and is consistent with their style of gameplay and made an enjoyable new addition to their series.
July 27, 2013
love these type but...
I love these build-a-lot games but instead of freeplay, I wish they had untimed mode where you could still go through the storyline but without it running out of time and screwing up your strategy to try and get better. Otherwise great game as the ones before it and I usually buy them all. I am a time-management freak and really like the building games as well as farm ones and these are also fun!
July 21, 2013
a few hours of fun
Yet another build-a-lot. I enjoyed the game but really, this is no different to the other BAL's. There were a few storylines that didn't really seem to go anywhere. The minimal interaction the storyline seemed to have with the game play was forgettable a best, distracting at worst. Something new to the game was the a negative happiness score, which kept me entertained while I tried to win, but badly! I had to replay about half of the level in the third journal, and the length of game play was average for these sort of games, a few hours. What I liked, and like in most of the BAL series, is the way the game is consistantly paced. Lately I've played a couple of games that seem to lag while you are waiting for something to be collected or made, but in this game I found I was constantly building, upgrading and destroying houses till the very last moment. There was always work to be done.
August 2, 2013
Another Timed Game
Yes , you can play it "casual" but it is far less interesting and I played the demo in both modes. It is okay but you do get tired or bored with building, painting, repair, update for the whole game. I am sure the "mystery" would get more interesting after the demo, but this is a no buy for me.
July 17, 2013
A Great Addition To The Series!
Well, I don?t play Time Management games anymore, but when the new Build-a-Lot came out, I had to try it. While this is far from the best Build-a-Lot, I still enjoyed the demo. For once in the game, there?s a proper story. While I welcomed this at first, I soon found the story to be quite boring. There was something to do with ?old spirits?, which I thought was pathetic for this type of game. A story like that really isn?t needed for Build-a-Lot and I have a feeling experienced players won?t like it. The gameplay is nothing new and should be a breeze for experienced players of the series. There are still the same controls, goals and style of gameplay, with this game doing nothing different to its predecessors. Anyone hoping for a new style of gameplay will be disappointed, but I was quite happy. The levels are timed and if you meet a certain time goal, you will be rewarded with a blue ribbon, as with other games. Experienced players will also be pleased to hear that this game offers you the chance to skip the tutorial. Speaking of gameplay, there were a couple of things that really annoyed me that I must address in this review: 1. There is no way to undo/cancel any clicks made. One time during level 4, I accidently clicked ?demolish? instead of ?repair? and was forced to waste time and materials since I could not undo the command. The developers need to listen, this is what Time Management players need! 2. Some of the goals, and ways to achieve them, were pathetic. For example, in Level 5, one of the goals was: ?No cabins.? Instead of demolishing all OWNED cabins, like I thought would happen, I had to BUY A CABIN I DID NOT OWN just to demolish it! A sheer waste of time and money that could have been used to complete the level faster! IMPROVEMENTS ON THE LAST GAME/GAMES Since this is a new game in a long lasting series, I thought I should point out the improvements to you: - For the first time in the series, there is a wide-screen. This shows that the developers have upgraded their old game to fit with the new times. - There are achievements, also something I believe to be a first. This is an added fun twist to the game, which will delight many players. - The graphics are also highly improved, with everything much, much clearer than previous games. These developers have really put a lot of effort in this game and they must be praised for their efforts. THINGS THAT HAVEN?T IMPROVED - There is still no variation in the levels, which means this is once again a game that I could play for no longer than 1-2 hours at a time. I hope for the next game, the developers put some fun variations on levels So, while I?m not going to buy this because I?ve gone off Time Management games, I still believe this is a great addition to the series that will be welcomed by fans. I will happily recommend the game.
July 16, 2013
No Mystery here!
This is the 7th Build-a-Lot game, and unfortunately one of the most boring. The others had different architecture to go with the themes, or different buildings to build (windmills in the Power Source one). I really had hoped the "Mystery" in the title would follow through. What you get is a solid Build-a-Lot, with the same buildings as others, and the same workers and painters and construction types. You do get to construct a Fortune Teller, but the demo did not allow you to see how it would be used. Great Aunt Agnes "talks to spirits" and you do find a mysterious map but the demo runs out before you get to see what it means. You do have a Journal that tracks your success. The Relaxed mode is locked in the demo -- not sure if it unlocks before the end of the game. The timer is easy until about the 5th scenario, then gets progressively harder to make a "blue ribbon". I love build-it games, and in particular most of the build-a-lots. However, this one is not a buy for me -- too repetitive.
July 16, 2013
Deja Lot
I was pleased to see a new Build-A-Lot game come out and it implied a spooky theme. I like spooky themes. I own all the previous versions of BAL. I played the 1 hour free and knew this game had all the excitement of playing a game I had played over and over again til the game no longer held any interest. The scenery has changed, they added a spooky story line and I'm one of 5 people on the planet that has no use for story lines. They are just things I have to click on to get rid of so I can play the game. There were no new obstetrical to tackle, for example BAL had a version where one had to balance power supply with housing. I think a lot of people didn't like that one but I did. It's just the same ole build a house per the instructions with a suggestive scary background theme. I'm sorry to say I was bored with the 1 free hour, I purchased it because let's face it, there are not enough TM or strategy games as it is, and I continued to be bored as continued to play. I hope BAL does more scary themes in the future but somehow adds new challenges and obstacles to overcome. Unless this is your first BAL game, I can not recommend this game. Games I liked the most are; Westward series Plants vs Zombies Ranch Rush series Yoda Survivor Tradewinds 2 (and only 2) Build A Lot Chocolatier 1 and 2
July 19, 2013
Missed Opportunity
I usually love the Build-a-Lot games but I feel the team has missed an opportunity to produce a top class game here. I played it through to the end but didn't find the story-line or the challenge level as enjoyable as in others from this series.. There is no 'mystery' - simply a few rather obvious characters from traditional horror stories: vampire, werewolf, witch etc. There are clues to find but they don't lead to anything other than a paragraph from one of the characters to read. The houses themselves feature 'creepy' upgrades like secret rooms and blood-stained chest freezers but this is not continued to the end; the final house - the mansion - has fairly ordinary upgrades. The building and selling challenges are very familiar although I enjoyed the new strategy of achieving minus appeal! I wouldn't recommend starting with this one but go for it if you're a die-hard fan.
July 28, 2013