Jewel Venture
Jewel Venture is an exciting puzzle game that takes Match-3 gameplay to new heights! Explore the colorful Jewel Venture universe and immerse yourself in a one-of-a-kind puzzle experience. The deeper you dive in, the tougher the challenges get. Unravel the most tangled scenarios and enjoy your hard-earned rewards. Experience a new kind of puzzle game and discover the world of Jewel Venture!
Ten different game variations
More than 1,000 levels of fun
Unlockable trophies
Game System Requirements:
OS:

Windows XP/Windows Vista/Windows 7/Windows 8

CPU:

1.0 GHz

RAM:

512 MB

DirectX:

9.0

Hard Drive:

81 MB
Game Manager System Requirements:
Browser:

Internet Explorer 7 or later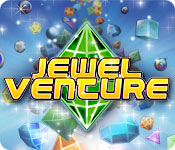 NEW299
The Big Fish Guarantee:
Quality tested and virus free.
No ads, no adware, no spyware.

Reviews at a Glance

Jewel Venture
0
out of
5 (
0
Reviews
Review
)
Customer Reviews
A vastly varied and interesting game
This is a great game for people like me who love match-3 games that offer something better than just doing the same thing over and over. There are ten game modes in the basic untimed game, with each containing many levels. There are timed games and an "endless" mode. I have only played the first three game modes (you have to unlock each new one by playing 10% of the levels of the earlier ones, so this takes a while). Each was interesting and fun, vith a variety of different tasks. As promised in the intro, the tasks get harder as you advance. One thing I like particularly is that power-ups appear automatically in response to large matches, so you can plan for where you want them to appear. A great plus for me are the gorgeous phantasy world backgrounds, which look like watercolor art. Although the game has no real story to it, these backgrounds are a fine substitute.
July 17, 2013
Go Planet Hopping
Since I am a Bejeweled fan, I thought would try it out.. Much to my surprise. It was a little different than your average match three. You have to destroy so many gems of each color listed in the bottom task bar. The graphics are very nice. The music is orchestrated instead of the spacey music found in most M3s. The power ups are awesome and each planet has a different challenge. Timed mode was challenging to earn trophies and stars on and there are over 1000 levels. Certainly a buy for me.
July 17, 2013
HOW MANY STARS CAN YOU EARN?
This is a great match 3 game that will have you hooked in no time! There are 4 different modes of difficulty to choose such as timed or untimed and I chose to play the timed adventure where you must travel to each planet only progressing if you earn 1-3 stars. Before the start of each game will be directions and goals for that level some require all blocked tiles to be unblocked and others may need a certain amount of gems to be collected or within a set amount of moves but each level needs to be completed within two minutes. There are bonuses to earn such as bombs or color bombs to clear all gems of the same color or clear a line and even a bonus meteoroid shower that clears gems randomly all over the board. This game is fast paced and worth hours of play and in my opinion a game that can be played over and over again, enjoy!
July 21, 2013
Very challenging game
This is a good game for those that like match 3's. The times aspect of the game is a real challenge. You need to quick matching up the gems. The graphics of this game are real nice, The power ups are cool. My fav being one where it destroys gems in an L shape. If you like Match 3's you will love this game.
July 17, 2013
challenging
Use all power ups and bombs. It is an extremely hard m3 in timed mode. You can also play untimed. Swap mode with different goals on each level. Instructions are very useful. Graphics and colours are bright and clear. Tonnes of levels to complete, hours and days to beat it (untimed). I found, even in untimed mode, that the second planet started getting difficult. If you love m3 and challenges, then this is it.
July 17, 2013
Snoozer
Feel like I was playing a different game than other reviewers. I could not get into this one. With match 3's I am always looking for more color, interesting shapes, and perhaps a different twist. The music leads you to believe something is building up, but what ?? Only the same match 3 concept as usual. I was disappointed.
July 17, 2013
A refreshing change but...
Many a year since I have played this genre and it has come on well. However, it was just too repetitive, having to play 10 rounds of the same game to unlock the next. Only played in the simplest untimed mode so maybe more excitement and challenge in other modes. Worth a try, but has not tempted me back.
July 26, 2013
OK game, if you understand it
Pros: most of the game modes are untimed, multiple play modes, varied challenges Cons: poorly designed instructions, very difficult in timed mode, mediocre graphics/game interface [review based upon completed time challenge and adventure modes] Jewel Venture is a swap M3 with 10 different twists. There is no storyline at all. At first glance, there appear to be four different modes, but time challenge and adventure are the same game, only one is timed and the other untimed. In these modes the player goes through all 10 varieties of the game boards per planet with the goal to get through all 10 planets. The other two modes are both untimed: planetary, in which the player plays only one type of board per planet, and endless, which is a screen of just swapping jewels for relaxation. Moves can be made all the time, and there are a lot of powerups, which are extremely useful especially if playing the timed game. This would be a much easier game to learn if the instructions were more detailed or if there were actual tutorial boards put into the game. The single screen that is displayed with a few thumbnails before the game boards appear isn't necessarily understandable unless one has played a lot of M3s and some of the board types are quite tricky even without a timer running. It's a good thing that most of the game is untimed, as the timed mode is extremely challenging (the timer is 3 minutes at most per board, with some at only 1 minute). Star achievements and trophies can only be won in the timed mode, but most of the trophies are of the "playing it long enough" kind. Those who are three star completists will likely be frustrated, as it takes some seriously quick reflexes and a little luck to three star many of the boards in the second half of the game, and some don't appear possible (45 seconds or less to double match an entire board doesn't appear doable to me at least!). The graphics are very similar to the original Bejeweled and there is even the across the screen flash present. The game interface has a few annoyances: the "blocked tile" popup appearing every single time a chained/blocked powerup or jewel is clicked upon, the menu and restart board buttons having a very small active area to click upon, the lack of an easy reference to how to get and use the powerups, and a general clunkiness when attempting to pause a game in progress. I also could not minimize the game window while in windowed mode. There are reportedly over 1000 levels to play because there are 100 levels per planet in planetary mode, but some of the planets appear to just have the player doing the exact same board pattern 100 times, only with a different assortment of jewels each time. Don't play this for the looks, but for the challenges. Would not recommend for M3 beginners.
July 25, 2013
Visually unappealing
Have only recently realized how important appealing graphics were to my enjoyment of any type of game. This game is just downright ugly. It's a big NO from me!
July 20, 2013
So Disappointed............I Couldn't Get The Game - wah
I am a seasoned player at Match 3s (M3). My fingers whiz across the screen making matches while matches are still being removed (when the game allows - some games don't let you do that, you have to wait out each match). In any case, this game had it all - great graphics, large jewels, great instructions for those who need it (always try out the tutorials to see how they are) and bombs galore of every shape, size, etc. It was FUN! Unfortunately, there was this flashing white bar/line - almost like a lightning flash that crossed the screen during game play. Don't understand why it was there - it didn't seem to serve a purpose except maybe visual effects. In any case, it bothered me to the point of spots in front of my eyes and an eventual migraine - not just a headache but a migraine - which I thankfully do not get often. Glam-ma says PLEASE try this game before you buy it (some people just buy games based on descriptions, videos and reviews), especially if you have a problem with flashing lights. To those who can enjoy this fun game - enjoy.
May 13, 2014