Grim Tales: Bloody Mary Collector's Edition
Exclusive
You're driving home from work when you get an urgent call from your favorite niece, begging you to pick her up from her boarding school. The teachers have gone missing, her classmates are becoming violent, and shadow creatures are haunting every corner. Search the school, but remember this one simple rule: Never look into a mirror after sunset. Bloody Mary is always watching.

This is a special Collector's Edition release full of exclusive extras you won't find in the standard version. As a bonus, Collector's Edition purchases count toward three stamps on your Monthly Game Club Punch Card!

The Collector's Edition includes:
Bonus game featuring Bloody Mary's origin
Downloadable wallpapers, concept art and soundtracks
Special viewing areas for achievements and collectibles
A Secret room you can make over yourself!
Game System Requirements:
OS:

10.8/10.7/10.6

CPU:

2.5 GHz (INTEL ONLY)

RAM:

2048 MB

Hard Drive:

1110 MB
Game Manager System Requirements:
Browser:

Safari 4.0 or later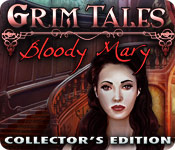 The Big Fish Guarantee:
Quality tested and virus free.
No ads, no adware, no spyware.

Reviews at a Glance

Grim Tales: Bloody Mary Collector's Edition
0
out of
5 (
0
Reviews
Review
)
Customer Reviews
Grim Tales: Bloody Mary Collector's Edition
130
130
Not very fun....
Played the full game. The graphics are lovely and there is lots to do...I mean lots, and lots, and lots....it gets repetitive. Rooms are full with things to do, too much to do. It is not a challenge in the sense you have to think things out, as in puzzles and creative ways to solve problems It is a challenge to remember where everything is. You need a zipper pull, you find a zipper pull next step. You need a key, you get a key. Now what room needed a key as I have 20 items in my inventory and 10 rooms that are active with 4 or 5 actions per room. The puzzles are easy. It's just chasing items around and around. I like the length, story was good but I have to disagree with the majority here. I did not like it and was just praying for it to end. I want to be challenged and think things out, not just stuff piled on top of stuff to do without working to solve anything.
August 20, 2013
The worst of a great series!
Well, this is what makes a horse race! I disagree with the other reviewers. Yes, this game has a number of "good" technical things, i.e. great graphics, interactive map, collectibles and achievements. However, despite the fact that it has a storyline, it lacks a plot. I don't usually care about that but it's very trite and most actions are extremely rote. Not at all as good as previous games in the series (I have and like them all). Do this, find this, use this and then on to the next thing. Puzzles can save a game for me but these were just tedious. Paper cut out storybooks and everything is hand fed re lock combinations, etc. Amazing, when I think of another series (Drawn) which used picture books and cut outs but they were challenging, not stupid/boring. Oh, and don't forget the current craze: a helpful animal (pet chipmunk). HO scenes are the only feature of the game that offered something, but really lacked interactivity of any consequence. Just HO scenes, nothing more. The collectibles are fine; not difficult to find and they earn you the right to read some backstory. I have not finished the game and probably won't finish it. I tried it and was iffy about it. Then I bought it because it was on sale (big mistake) and have the biggest buyer's remorse I've experienced in a long time. Obviously everyone's different. Try it but if you are not loving it during the demo, you won't ever get there.
September 14, 2013
Overrated
I don't know why this game is getting such good reviews. It is poorly designed, very simple, a poorly told dumb story and average artwork. The characters are awful as are the VOs. There is the requisite little creature to help you - a chipmunk? Come on! The HOS are junk piles with some IA. The puzzles are mostly childishly simple. The diary is poorly designed and useless. There is a jump map, but there are usually so many places that need action that it is not so useful as it could have been. The hint button tells you exactly what to do instead of just pointing in the right direction. Surprisingly, the bonus chapter was better than the main game. There are collectibles which some go crazy over. There is an extra kind of game where you just repeat some of the same HOS and puzzles that you played in the main game. There are the usual achievements - who cares? I bought this game based on the rave reviews. I suggest you don't make the same mistake.
August 14, 2013
Hint Button
This game is all over the place! You had a million things to do in each area. Way too busy. The jump to map should show the current task only. It shouldn't show every task in every area, which as I mentioned before, is a lot and every scene you enter has a task, so map is rendered almost useless. This might have been okay if the hint button was directional. It's not. It tells you exactly what to do next, which I hate. I mean why have a strategy guide if the hint button tells you exactly what to do. It's redundant. All hint buttons should be directional only. Looked promising but I could not get past the aforementioned, Sadly, I do not recommend this game.
August 7, 2013
Forget the game, have a real bloody mary instead...
Unfortunately, the Grim Tales games do not seem to be improving. The previous one was a mixed bag, and this one is even worse. This one is trying so incredibly hard to be dark, scary, and creepy that it takes it over the top and becomes ridiculous instead. The graphics and sound are okay. Not wonderful, but not awful either. They're on par with some of the previous games, though a bit darker at times. This one attempts to make itself creepier by playing suspenseful music throughout most of the game, which I ended up turning down after awhile. The graphics are similar to the previous games, just darker colored and with a lot of red, which unfortunately just ends up looking a bit cheesy rather than scary. The game is filled with just about anything scary the developers could think of as far as I can tell. Spiders, red-eyed dolls (that sometimes move on their own), glowing eyes peering out of the shadows, devilish children, shadowy demons, threatening messages all over, etc. And then you have your adorable chubby chipmunk companion/helper, Chucky, which seems even sillier compared to all the "scary" stuff. However, I don't get the impression that here's there to lighten the mood, especially considering Chucky's occasional glowing red eyes. The story is just rather poorly done. I spent a good portion of the game thinking about how I must be an awful Aunt, given that my niece calls about the horrors at school, and I basically tell her to sit tight while I run around investigating after I show up at the school. Why leave with the scared little girl when we can make her sit around in the house of horrors? Sure, there are other children who need to be saved, but let's not call anyone else for help or even at least put our niece in the car while we're doing this. And then the Bloody Mary story just wasn't very well done and seemed rather forced the whole time. The bonus gameplay tries to clear it up, but does a bad job of it. There is a ton of stuff to do in this game, but unfortunately it all ends up feeling like busy work. The mini-games aren't much in the way of games for the most part, as they usually take very little thought. And there is a lot of back and forth. You'll discover you need something, then you'll run to another location and there it is! So you go back to the first location to use it, and that will likely send you back to the second location for something, etc. Plus, you'll either be getting what you need right away, or you won't find it for a really long time, there's not much in between. Which means you'll either feel like there was no challenge to getting what you need, or you won't remember where you needed that item in the first place. The hidden object scenes are typical junk piles with nothing particularly unique about them. And the English translation is for the most part bad when it comes to text instructions or descriptions. Many of them made almost no sense, which occasionally made what you needed to do more confusing than if it hadn't had the text in the first place. I found it best to ignore the text that would pop up much of the time. It has the pretty typical extras of most CEs, and I will say that the bonus gameplay is a true bonus. It's not a necessary part of the main storyline. However, not much thought seems to have been put into it, since if it's supposed to be what the house looked like in the past, I'd like to know why so much school stuff (in terms of items, graffiti, etc) still seems to be there. It's also just as painful to play as the main game. Ultimately, I wouldn't recommend this game at all. I'm glad so many people enjoyed this game, but I have to go against the majority and say I spent most of this game rolling my eyes and just trying to finish it so if nothing else I could give a review of the completed game. To me, it's incredibly overrated and poorly done.
August 22, 2013
THE GRIMMEST TALE OF ALL...
Have always looked forward to Elephant Games! This Grim Tales is too unsettling for me with all the horrific, ghostly appartitions, whisperings and demonized children, etc. The usual, long-standing gaming excellence that Elephant Games produces is within the game, however, this one is too gruelling for me. Lots of running to and fro picking things up to put somewhere else that I rapidly lost interest. A visual parade of color and mindless shock therapy such as defining levels of "fear" makes one wonder what we as gamers approve with such nonchalance. Would be a great change for more light-hearted gaming choices and re-direct all those brilliant, creative and talented developers' energies elsewhere than the dark and morbid. Love to y'all BFG Gamers! - Mama Mia-
August 1, 2013
Grim Tales: Bloody Mary. Have the elephants gone rogue!?
Yep... 'the elephants' have gone a bit 'mad' in creating such a storyline as is depicted in this game IMO... elephants... usually quite strong and yet gentle despite their imposing stature, intelligent and beautiful creatures with the ability to move mountains and win wars.... whoa is me, they have almost completely lost their balance I'm thinking. Why do I say this??? Well to simplify and to come right to the point... there is way too much going on.... and what IS going on is not pleasant. There are many creative aspects to the game, yet overall the creativity gets lost in the shuffle of the game's lack of flow and consistency and overall it suffers tremendously from overt ADD/psychotic behavior in it's telling. Yep, definitely rogue. Sad... sad... sad; yet I have high hopes for the next game the elephants present us with... please don't let us down!!??
August 29, 2013
HATED IT. ZERO ON THE FUN FACTOR SCALE
REVIEW BASED ON SEVERAL ATTEMPTS TO PLAY LONG ENOUGH TO DISCOVER THE ATTRACTION. This game does not deliver. It is dark. It is dank. It is dreary. It is just plain un-fun. Harsh? Maybe. You be the judge ---- The mini-games are few, far between, and nothing we haven't seen before. The HOPs though not junk pile somehow manage to appear cluttered, fuzzy and dingy around the edges. The objects themselves are not particularly interesting or artfully drawn. If an item was difficult to find it was because it was hard to see, not because it had been cleverly placed. The thread-bare motif of "save the children" offers no new twists -the player's favorite niece calls in panic from her boarding school where teachers have gone missing and children have gone evil. Each scene has at least one mutilated, warped, and leering doll and often a sinister, sullen red-eyed demon child exuding black smoke on exit. This game takes itself very seriously - We are not here to have fun. We are here to see a drab, sinister world, with mediocre graphics and apathetic artwork. Nothing is tongue in cheek, there isn't even a light sprinkling of sappy jokes or situations to take the edge off. This game means business! Having said that there is a completely out of place sassy side-kick in the form of a chipmunk who crawls after hard to reach items. So odd to have "Chunky the chipmunk" amidst the horrific. There was a couple of features that I liked very much, but unfortunately not enough to finish the game - First, there are odd-ball magical creatures to find. I liked that each was unique in appearance and description and unpredictable to find as there was not necessarily one for each scene as is so often the case. Second, the map was excellent. Well put together. -Easy to navigate. --------------- I'm thinking the audience for this game are those who enjoy the unrelenting Goth, Dark, Creepy, and Sinister with no need for comic relief.
August 4, 2013
More than a mouthful
I guess I'm one of the few who isn't enjoying this game. I played the demo and bought it, and now I'm sorry I did. It's so busy, that I can't even get a handle on what the game is supposed to be about. It's so involved I don't even relate the game to the story line at all. In every room there is just way too much overload for me. it's a bunch of junk and an occasional hidden object game. .
August 7, 2013
Game can only be played with the stategy guide
This game is totally disappointing. You never get to hear the story, don't know what is going on, and the map is confusing. I LOVED the Nutcracker from Elephant games and bought this one because of the Nutcracker and wish I hadn't.
August 26, 2013
The Apple logo is a trademark of Apple Computer, Inc.
The Windows logo is a trademark of Microsoft, Inc.