Haunted Legends: The Curse of Vox
Exclusive
Investigate a house brimming with spirits in Haunted Legends: The Curse of Vox! You couldn't ignore Silvia Filler's heartfelt plea for help. The police gave up on her brother's murder case and you are her only hope. But that's not the biggest problem at hand... The Filler mansion is currently overrun with the spirits of Sylvia's ancestors! What brought them back? And what will bring them peace? All questions point to a mysterious book. But as you search for the answers, you realize that you are not alone in your hunt for the book. A mysterious little man is always one step ahead of you... and he's not playing nice! Track down the murderer and uncover a mysterious legend in this exciting Hidden Object Puzzle Adventure game.
Game System Requirements:
OS:

10.8/10.7/10.6/10.5

CPU:

1.6 GHz (INTEL ONLY)

RAM:

1024 MB

Hard Drive:

475 MB
Game Manager System Requirements:
Browser:

Safari 4.0 or later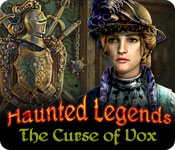 NEW299
The Big Fish Guarantee:
Quality tested and virus free.
No ads, no adware, no spyware.

Reviews at a Glance

Haunted Legends: The Curse of Vox
0
out of
5 (
0
Reviews
Review
)
Customer Reviews
Haunted Legends: The Curse of Vox
29
29
Excellent Game!
Really enjoyed playing this game. Beautiful story, graphics, length and very different mini games.
April 5, 2014
I love Haunted Legends series!
Interactive HOS, interesting puzzles, good length, backtracking and no sparkles (neither HOS ) in advanced mode. I couldn?t ask for more in a SE.
January 16, 2014
A game with an unusual feel
This is a HOS/adventure game, but it feels like more. Maybe it is the pressence of SG and how he is always out of reach, and changes things, so that instead of being a game with story attached, the story drives the game, and you are itching to know what's next. An unpredictable story makes for a much more fun game. The minigames are OK, though some are quite innovative. The HOS are ok too. Some interactivity to keep it interesting.\ Quite an enjoyable game.
November 24, 2013
Another great HAUNTED LEGEND game!!
I just love the Haunted Legend games and The Curse of Vox did not disappoint! The evil little troll man was back as nasty as ever. You're helping to destroy a book that he wants and work with ghosts to make it happen. Good flow, enjoyable play, fun games and good scenery. Have fun!
September 8, 2013
another great haunted legends game!!!
you are again a detective that runs into that little dwarf all over the place. he wants the book that is named vox and supposedly there is a curse on it. you are helped by a few characters in the game. you have to find rings in order to unlock areas. the hint/skip button charges but it is slower than i am used to. it maybe as long as a minute and a half. there is a diary. the hints tell you where to go. sequel??? well there are others in this series so i wouldn't be surprised. played casual.....low sound
September 2, 2013
Revised Opinion After Completed CE Game
BASED ON COMPLETED CE GAME Based on the trial for the COLLECTOR?S EDITION, I was really impressed with this game. It showed marvellous INGENUITY & UNIQUENESS, as well as the more PREDICTABLE HIGH STANDARDS we expect from ERS. But after COMPLETING the game, I?m NOT AS ENTHUSIASTIC as I was. This is certainly a VERY GOOD GAME, CE or SE, but it FALLS SHORT of being SPECTACULAR as far as I?m concerned. It is, however, in the BONUS CONTENT that my DISAPPOINTMENT lies, and this version of the game now seems to me the better of the two, taking in the extra cost. I still ABSOLUTELY LOVE the INTRO CUT SCENES, as well as the reintroduction of our NEMESIS, SG, this time more INVOLVED in the story, and DRAWN in much more DETAIL. All the cut scenes with him are fun, such a NASTY LITTLE MAN, and with almost no dialogue is still one of the best PERSONALITIES of any game. The STORY, which seemed so good at first, is not handled as well as it could be, and so I found it difficult to get INVOLVED and STAY TUNED to the nuances of the investigation. We are a detective brought in to investigate a murder on a rich family estate, but what we find is a mansion full of GHOSTS. Some friendly, some not so much. At the centre of all the problems is the MAGIC BOOK OF WISHES, VOX, which is our friend SG?s sought after goal. Apparently this book has imprisoned the souls of the family, tying them to the estate. There are many twists and turns, and some real surprises, before the truth is revealed. PUZZLES & HO SCENES are IMAGINATIVE, CLEAR, and LOVELY TO LOOK AT. Those of you who know ERS? work may notice (or it could just be me) that the GRAPHICS seem a little more STYLISED than usual. The SOUNDTRACK is GOOD, including the VOICEOVERS. In the past I?ve been a critic of ERS? sounds, but they are doing a great job IMPROVING on them with the ?NEW GENERATION? games, and the MUSIC here is by far their best offering. HO SCENES are PROGRESSIVE SILHOUETTE (find this pictured item, to do that, to get that... until you have INVENTORY ITEM) and INTERACTIVE LIST. The PUZZLES were NOT very HARD, although as always I missed a few. The BALANCE is weighted towards HOS, which you visit twice. Getting around, finding INVENTORY ITEMS and using them is NOT TOO HARD either. You have a DIRECTIONAL HINT, A JUMP MAP (NO indication of ACTIVE TASKS), and a JOURNAL. The story ends well and doesn?t need the CE?s bonus chapter to finish it. So despite my disappointment with the CE version of this game (all the little extras just didn't seem to compensate), I have no problems recommending this one, and if the story had have been handled a little better, it would have rated five stars.
July 19, 2013
Murder over a book, The Curse of Vox!
Time to investigate the murder of a millionaire, and that creepy little evil bald guy is the prime suspect! This is yet another Haunted Legends great! The graphics are great and the fun factor is high. The HOS are interactive and a mixture of list finds and progressive finds where you find the first silhouetted item and use that item in the scene to earn the next item. There aren't many puzzles or mini games with the exception of a few mini games within the HOS, but most are simple such as trying to close the claws of 2 eagles grasping a shield but when you click on one claw others might be affected. Although the CE has a ton of extras to collect and do, this is still a really fun game and well worth the SE price, enjoy!
July 19, 2013
Haunted Legends
Simple, but that is not bad. The graphics are, as usual, good. The music is annoying a bit. The mini-games are too easy. Not bad not great, just an ordinary game. A little more variety would be nice.
July 20, 2013
Another fun game in the Haunted Legends series.
Based on completed game. I really enjoy the Haunted Legends series. The best is still the Bronze Horseman, but this is an enjoyable sequel. As the Detective, you are asked to de-spirit a house. A magical book has brought the spirits out and they need help moving on so the living descendant can live peacefully. The artwork is always beautiful in ERS games and this is no exception. I love the painterly quality and the attention to detail in each scene and close up. Nice job! The VOs are good with good actors. The puzzles are of medium difficulty. There are standard HOSs and silhouette/interactive HOSs. The silhouette HOSs can make you think. Easy to navigate and the scenes load quickly. So why four stars instead of five? The game is short. (It seems to me that the recent SE games from ERS are getting quite short.) I play to enjoy the game, not for speed. Never use hints and never skip puzzles and always stop to enjoy the artwork at each scene. Despite my leisurely play, the game ended quickly. Other than that, a good game.
August 14, 2013
Disappointing ending
I was fully prepared to defend some of the reviews but after playing it, I was somewhat disappointed. I have loved and highly rated the others in the series but this one let me down. I only took me 2.5 hours to complete for a start. The puzzles had been used before in different guises so I cracked them quickly enough. But even so, it was still enjoyable until the end. I just couldn't believe it just ended. I won't say where or when but it just suddenly went to the menu and that was it, game over! I would still recommend this though, but as a cheapy rather than full price.
August 27, 2013