Calavera: Day of the Dead
She said yes! Alan was finally going to marry his sweetheart, Catalina. She only had one small request before the wedding, to ask for her father's blessing. The young couple travels to the small town in Mexico where her father is from, arriving just in time for the annual Day of the Dead celebration. But when he doesn't meet them at the train station, that's only the beginning of their problems. Is it just the heat, or did that book talk to you? And that guy is definitely wearing a skeleton mask, right? Cross the border between life and death in this festive Hidden Object Puzzle Adventure game.
Game System Requirements:
OS:

Windows XP/Windows Vista/Windows 7/Windows 8

CPU:

1.0 GHz

RAM:

1024 MB

DirectX:

9.0

Hard Drive:

1461 MB
Game Manager System Requirements:
Browser:

Internet Explorer 7 or later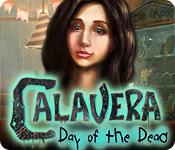 NEW299
The Big Fish Guarantee:
Quality tested and virus free.
No ads, no adware, no spyware.

Reviews at a Glance

Calavera: Day of the Dead
0
out of
5 (
0
Reviews
Review
)
Customer Reviews
Calavera: Day of the Dead
33
33
Okay Game
Not too challenging, but has good visuals, and the storyline is motivating.
June 7, 2014
Plenty of variety!
I really enjoyed playing this game. Long playing, and variety enough to keep it interesting. I also liked the fact that just when you think you've reached the end of the game, you get another task to perform. It had good graphics, and interesting storyline, fun characters and entertaining games that are not too difficult, but not ridiculously easy. The only reason I gave it 4 stars instead of 5 was that the ending is rather anti-climactic. Having said that, I do recommend this game!
November 21, 2013
Mexico!
Finally a new location... the asylums, and haunted mansions, and mystical other worlds have all become pretty tiresome. The puzzles and HOS are standard and moderately challenging, but enjoyable nevertheless. Nice graphics, easily navigable with 3 main areas of interest (numerous locations within each) and it was a long game - I started to wonder if I'd purchased the CE.
August 28, 2013
Something a little different
I didn't buy the CE as the game didn't grab me enough at that time so decided to wait. This is one of those games that gets better the more you get in to it. The storyline was something different, the HOs were well spaced out and the puzzles were on the whole interesting. A decent length of game play which I enjoyed!
July 27, 2013
Started Out Great Ended Not So Great - Review of Completed Game
Story: You take on the role of Alan who has asked his girlfriend Catalina to marry and she says yes but must get her father's blessing so off the two of you go to meet her father at the train station but he's not there Then she is kidnapped on the day of the dead !! Up to you to save her, find the father, and deal with the deads' world and if possible remain alive. You also meet up with a talking book whose name is Guide to help you along. CHAPTERS: 7 3 play modes: Casual, Advance, Hard. I played advance mode has sparkles along with black bar tips. Hint which is the "Guide" book is slow in this mode. Takes more than a couple of minutes. As for being helpful outside of HOS if you are not in the area where something can be done it will tell you where you need to go and direct you there. WIDESCREEN: There is an option for this however didn't work for me. I had to change resolution for it to fill my screen. There is voice overs JOURNAL: This is the talking book named "Guide" which holds the map, shows your skull collection and achievements along with some story. MAP: This is transporter and has a "green glow" indicating where you are and the areas with exclamation points are the areas where there are things to do. HOS: Found by word list. These are mostly Sanford & Son junkyard piles to me but I got through them with little problem. Just a couple of hints here. Puzzles: Some of these are like an "arcade" type style along with some the usual run of the mill. The skip is also slow. Some I found kinda fun. Most downright annoying and frustrating. The skip couldn't charge up fast enough especially the first puzzle a lock picking type puzzle. Definitely if you have arthritis which I do. My overall impression: I have played and reviewed the CE. This started off really great. I was very intrigued by the story and all the way to the end of the main game. While the kidnapped fiancee story has been done many times however I found this to be quite different with some humor in there while quite cheesy and silly. I really liked the graphics as they are quite cartoonish along with most of the characters and voice overs. The game also has a nice balance of HOS, puzzles and adventure. Quite a bit to do and places to go. I loved the map. Now for where this went down the hill for me: No working widescreen. The year is mid-2013 no excuse for this. Shouldn't have to change resolution. This has been around for quite some time now. I deducted one star just for this. The robot voice overs I found downright annoying. The music after awhile grated on my last nerve so I had to turn that down as that just went in a continuous loop. Some of the scenes I noticed when it was a magnify glass usually that's a scene where you have to view something but instead there was something to actually do with inventory. Usually it's when "gears" come up you use the inventory. Also some scenes didn't auto close when I was done doing what I had to do and nothing else to do. I had to click on the X to get it to close. There was also one scene with downright annoying noises like somebody sawing. This was loud and obnoxious. The main game here didn't come to a satisfactory conclusion for me. The bonus chapter needed to find out what happened to one of the characters but I won't say which one. The bonus chapter did address this for me but I wasn't impressed by the story at all and honestly couldn't wait for it to end. MAIN GAME LENGTH: 5 hours. Bonus Chapter: 1 hour. Your time may be more/less. CE EXTRAS: 26 Skulls and 16 papers to find. 20 achievements Strategy Guide Music Wall papers 2 printable 3D projects to fold So overall a 3 stars from me and sorry Big Fish and developer but no recommending from me. As always give it a whirl and decide for yourself.
July 21, 2013
Not For Me
I'd read so many great reviews about this game that I was excited to try it. Unlike all the other reviewers however, I did not like it at all! There were some positives...I liked the Guide, which is a talking book you befriend to help you rescue your girlfriend, Catalina, who has (surprise, surprise) been kidnapped. I also thought there were some pretty quirky characters and an underlying hint of humour throughout. For these reasons, I am giving the game 3 stars instead of a lower rating. But I also thought the game could have been much better. I didn't like the graphics or the accents, and I hated that the lips didn't move when the characters talked. I thought the HOS were too easy, but the puzzles weren't bad so that kind of evened it out. I would strongly suggest people try the demo before even using a coupon for this game. Everyone has different taste and obviously I am the minority here. I definitely won't even use a credit for this game, much less spend money on it.
July 21, 2013
Had high hopes....
Not sure where to start. Being very familiar with the traditional Hispanic highly respected "Day of the Dead", I was hoping for a different presentation with the color, and creativeness that comes with this celebration. For those that are not familiar, I'm curious to how this came across. It's sort of seemed like Looney Tunes and Beetle Juice go to Mexico. The game play was not fluid...and certain elements were introduced into the story a little late (ie the talking tip book of the dead that was truly Looney)....and then the map that was very hard to read. The game starts out with "Catalina" being engaged and wanting to go to Mexico to get her father's permission. Her fiance (name?) travels with her. The are let off in a deserted "diner" from the 50-60's. Catalina forgets how hot Mexico was and faints so her fiance goes looking for water in a diner! This ended up being WAY too complicated as he had to perform quite a few things to repair a vending machine that had ONE bottle of water in it. While there were other glasses around....or maybe he didn't think of jumping the counter to find water....the Looney Book of the Dead kept flapping in his face that she was in trouble. Yes...she was passed out for 30 minutes trying to find a bottle of water in a diner. Ok...enough of the frustration....I know this is fiction, but some games are not fun because the scenes often have more plausible solutions right on the screen. The artwork....gosh...could have been incredible if one has seen the intricate art that goes into Day of the Dead decorations. I was not motivated to even finish the demo after the fiance climbed a Looney Tune church. I don't recommend this storyline or the artwork, because it does not do "the Day of the Dead" justice, and for those not familiar, will be left confused and associate this with the recent interest in zombies and walking dead....which is not the same. I apologize.....REALLY good idea....but fell flat...fast!
September 23, 2013
Glad I didn't buy it
very irritating ... storyline looked like it had potential ... but somebody dropped the ball on this game ..
July 22, 2013
Just OK, nothing special or extraordinary
A HO game by Taba Games. ----------------------------------- When I first tried this game I thought this is going to be a dark game, but it is nothing of the sort. In fact it's a kidnapping story with no scary elements at all, unless you think skeletons in tuxedos are scary.. The game's story is pretty standard, you have to save your girlfriend who was kidnapped to the dead world. The game progresses quite slowly, 5 chapters are spent with you trying to be "dead" yourself so you can go to the underworld. The rest two chapters are about you trying to free your girlfriend, but then it seems way too easy (not trying to spoil anything here). Your hint is a Harry-Potter's-Book-of-Monsters lookalike. It also serves as your journal. It looks crazy with its tongue sticking out all the time but it is pretty helpful. The map is basic but still can transport you to places where actions are available, so I think it's pretty neat. The graphic is fine although the movement of characters is a bit stiff in the cutscenes. My cursor goes a bit slow in this game. The music is OK at first but it was repetitive so it was annoying after some time. I found no creativity from the developer for the music. During the HOG scenes, the music is sometimes non existent, and sometimes, the same old song is played again~~ over the entire game! The HOG scenes are very standard, and annoying IMO. At the end of each scene you need to find one more object which is the actual objective of the search, but it is not on the original list. When the game ends, it ends just that, maybe there's a continuation in the bonus game but I think SE is enough for me. If you like challenges then I'd suggest you to skip this one. If you'd like a mystery game with no dark twist, this game is for you.
June 7, 2014
Strange Game & then some
So, when I first started this game, I was WOWED. I mean Taba Games up to this point have had pretty mediocre games like the Ghost Town-Cats of Ulthar or Flying Dutchman-Secets of the seas although I did purchase both and enjoyed them. Its just, I know from playing lots of games that both those games weren't really up to the same par we see other developers but I digress. So when this first started, it had new and unique mini games that had you actually doing the task with the mouse. Like you have to cut the branches off a cactus by throwing this rope hook at it and pulling them down. This was not an easy mini game. Took me quite sometime to position the hook to actually make the branches fall down and that was really innovative and fun! There were others like that too. And then there were all sorts of weird characters that I've never seen in other games. Yes, its a missing fiancee but the day of the dead thing is a totally new area to explore and I really did love their little world and finding all the 7 sins that allow you to become dead to enter the "dead world" to find your fiancee and save her blah blah. However, after you find all the sins, the game kind of goes off in a direction that I did not find really fun. You go to the dead world BUT you have to keep coming back to the live world even though you are temporarily dead to do mundane tasks. THANK GOD for a jump map because without it, my dogs would be barking right now. I usually don't use jump maps often but in this game you have to because there are soooo many locations and they are sooo spread out. I kind of hoped the dead world would have more to offer but it felt like the first part of the game was designed by one person and the 2nd half of the game was by another and they felt crunched for time so they just sped it up and put a bunch of weird stuff to do. Even near the ending which I found very abrupt with a lot of unanswered questions, the game kept dragging on to find more things so you can get back on the train to go home. But it never quite clears up why you were even there and everyone has these monotone voices instead of ones that would make me believe they are scared. So, first part I would have rated it 5 stars but the second and third parts, I give maybe 2 stars so I would think it evens out to about 3. The graphics are superb like I really wish the second part hadn't been so funky because this could have been a really, really great game but it just fell short. Those fun mini games are just in the beginning too. The last puzzle is impossible. You are racing cockroaches and it tells you the directions but I still couldn't figure out how to jump over things. Overall, it was just a disappointing game. Also, the music although new and interesting at first, is the same throughout the entire game and it loops and loops and by the end I had it on silent because I couldn't stand it any longer. Not a huge deal, but a soundtrack with a few more songs would have been great. However, I really did enjoy the hidden object scenes. They were interactive and plentiful without there being too many. I can't say whether Id recommend this game. The first part of the game is spectacular so demo it for the hour and be content that the rest of it, really fails in comparison to the demo and its a real shame.
September 8, 2013
The Apple logo is a trademark of Apple Computer, Inc.