Evy: Magic Spheres
Orphan Evy wakes to find herself in a fairytale kingdom under threat from an evil witch. Monstrous creatures roam the land, from werewolves and evil rabbits to goblins and much, much worse.

With the help of new friends and the magic of her special spheres, Evy must save the land. Match three or more spheres in endlessly-shifting chains to unlock her powers and defeat these vile creatures in Evy: Magic Spheres!
Stunning hand-drawn art
Magnificent fairy-tale world
Gripping plot with odd allies
Unique Marble Popper duel system
Game System Requirements:
OS:

Windows XP/Windows Vista/Windows 7/Windows 8

CPU:

1.4 GHz

RAM:

512 MB

DirectX:

9.0

Hard Drive:

345 MB
Game Manager System Requirements:
Browser:

Internet Explorer 7 or later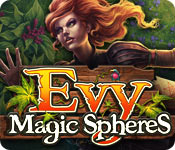 NEW299
The Big Fish Guarantee:
Quality tested and virus free.
No ads, no adware, no spyware.

Reviews at a Glance

Evy: Magic Spheres
0
out of
5 (
0
Reviews
Review
)
Customer Reviews
A bit different!
Yes, I like this game and did purchase it after the trial 60 mins. It's a bit different to the average marble popping game. I was surprised to find that I'd be taking on opponents! I like the characters. The music was ok too .. I usually end up turning the music off!! It's strategic and each colour gives you different factors like health, attack etc. It's up to you how you play them! You get the chance to catch coins which you then spend improving your skills .. again, you get to choose which to upgrade first. Enjoyable game!
July 23, 2013
Demo only
Evy-Magic Spheres by Herocraft was a very cute game visually. I'm not really sure what to score for level of challenge as I have only played this type of Match 3 only once or twice before and I played on Easy level. There are two levels, easy and normal. The music and visual were quite good and it really is a fun type of match 3 once you get the hang of it. (Still learning and practicing though). The story is of a child who has been left on an orphange steps and then jumps 10 years later to when she is ten years old and goes through a wardrobe to a fantasy land. She fight minions of the evil witch who has ruled the land for many years. Since I am only a beginner in this type, you really must try it for yourself.
July 22, 2013
Adventure game
Game with fun, a challenge and an aim
August 1, 2013
A pleasant surprise
Not my usual genre and was expecting to be bored but... *The graphics were good *The story was rather sweet *The variety of chains was good *Coins and jewels to collect for upgrades Made a real change from my usual genres and will watch out for more of these types of game
July 26, 2013
Unexpected Difference
I love a good marble popper game for some mindless fun. I get into a groove, set up combos, etc. If that's what you expect from this game, you'll be disappointed. This has a whole different spin on a marble popper game. Play against various opponents. This was OK for the hour trial, but I'm not buying it. I play strategy games, but that wasn't what I was in the mood for when I launched this game. Want a strategy game? Get this one. Want a true marble popper game? Probably sit this one out.
August 1, 2013
Not hard, just tedious
I kept thinking the word "tedious". One of the early challengers, Graig, can't heal himself, but can shield. This level is simply a waiting game as you pick him off by two and three hit points at a time. The thought came up a few more times. Overall, you have to fight each challenger at least three times with dialogue at the beginning and end of each. "Teduous" just came to mind too many times. I'm not saying it was boring, it just took too long sometimes. The story is predictable, you can guess the main character's origins early on, but the game is only half-way to the reveal. But it is addictive, as long as you don't get bored.
July 24, 2013
marble popper geared for children
There were many problems with game for me. First off I could not get out of the game once I started. There was no voice over. I would think that children's games would have voice over. The into was good but no voice or writing to tell you what is going on. Then you get to the first area and there is lots and lots of reading. Then you get the directions for play. I thought this was a HO game but is not. Should be fun for some but not my kind of game.
July 22, 2013
A pretty game, but full of spelling errors and incomplete code.
This is a beautifully-rendered marble-popper. Unfortunately, the leftover bits of font coding (her a&*"teddy bear"*&a or something similar in the text) and the constant misspelling of "sphere" were enough to yank me out of the demo after three minutes. The tutorial is jerky, breaking the flow of the game further.
July 22, 2013
What the heck?
This game has great graphics and a wonderful art style but everything else about it is disastrous. The gameplay has completely needless pauses that make it completely unfun and clunky. For a marble popper this flaw is unforgivable. Besides this, the native resolution is very strange and cannot be adjusted. The music and sounds are also nothing spectacular. This could have been great, but it's got too many downsides to be redeemable.
November 10, 2013
Great music and graphics
But that's about all I liked. I enjoyed the opening cutscene, and thought it might be pretty good. But as soon as I got to the play, it was downhill from there. This is NOT a marble popper. It may look like one, but it is not. This is simply a strategic placement of game pieces, and they could have been anything. In short, it's a turn-based strategy game, and I don't like them. I will give the developers kudos for great soundtrack and nice artwork and graphics. I'm sure the game is very good if you like that genre. And It was good that they had an easy and normal mode - though if that was easy, I don't want to think about normal. What was the worst is NO tutorial. There are snippets of information about the opponent, and about the spheres, but not enough to learn much. If you play this genre, it probably isn't so bad, but for beginners, it is a real turnoff. I really needed a little handholding, and there was nothing. I was trying to figure it out, and sort of did, but I never figured out what the purple spheres did, even. I got killed in level 3, and deleted the game. It just didn't inspire me to keep trying. If there was an explanation of all the types of spheres and what they did, I didn't see it. No tutorial round that shows where to put your spheres for the best result. No nothing. Please, Devs, take this back to the drawing board and do an update with a real tutorial. I think a lot more people might buy it if you did.
July 23, 2013