Nancy Drew: Alibi in Ashes
A local contest turns into an arson scene and now deceit smolders among the charred ruins of the River Heights Town Hall in Nancy Drew: Alibi in Ashes. Police have several suspects, but well-placed incriminating evidence and poisonous local gossip compelled authorities to make only one arrest: Nancy Drew. Can you, as the teenage detective and her closest friends, catch the real arsonist and extinguish the accusations among the embers?
Explore River Heights as Nancy Drew
Visit Nancy's home and explore her room
Find the arsonist and save your reputation
Game System Requirements:
OS:

10.8/10.7/10.6/10.5

CPU:

1.4 GHz (INTEL ONLY)

RAM:

512 MB

Hard Drive:

1418 MB
Game Manager System Requirements:
Browser:

Safari 4.0 or later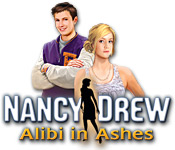 NEW299
The Big Fish Guarantee:
Quality tested and virus free.
No ads, no adware, no spyware.

Reviews at a Glance

Nancy Drew: Alibi in Ashes
0
out of
5 (
0
Reviews
Review
)
Customer Reviews
Nancy Drew: Alibi in Ashes
34
34
OVERALL ONE OF MY FAVORITE ND'S
I've had a love hate relationship with ND, even though I own almost all of them this is one that I didn't buy because of the reviews. I ran out of games and got it anyway. I REALLY liked this one. Although the story was unbelievable, I was able to overlook that and had a blast with all the "detective" equipment available to me while I was in "jail". The ending was one of the irritating escape if you can scenarios, which is really my only gripe with ND games. Was alot of fun.
July 10, 2013
Another hard game
I did enjoy the game. But I just don't like games where you must go to internet and get a walk-thru.. If you were stuck, there was no help if you did not understand the hint. Why have a game if its impossible to figure out? How do I say the game was great and fun yet Im so upset at the person who made this game for making such a game where you simply cant figure some things out.. Another game not for beginners.
June 29, 2013
The good news is..
The good news is: there are lots of characters and lots of chances to talk The bad news is: they have lots of things to say, and I mean lots, because we can't skip the dialogue. The good news is: The game is set in River Heights The bad news is: there are very few places to go, only 5 places in total and not much snooping going on. The good news is: you will see Ned. The bad news is: you have to switch to him, back and forth, to Bess and George, back and forth countlessly in order to finish the game The good news is: there are some good logic puzzles The bad news is: we can't skip it although we were stuck, as there is no skip button and it was very challenging. The good news is: it was pretty long The bad news is: mostly because you spend most of the time switching back and forth between characters Although I could say I like this game because I am a collector, but it may not be suitable for first time gamer of ND as this game may be too complicated to play.
November 23, 2012
Eh
Not one of the best Nancy Drew games I've ever played. This game was different. It's based in Nancy's hometown and Nancy is given a note to show up at this location. Once there, the place starts burning to the ground. When you exit, instead of people asking if you're all right, etc, you are immediately accused of having caused the fire. Other areas of incredulity for me were that the chief of police expects you to gather your own proof of innocence on his suspect board and call him when you're done proving someone else did this. HUH? Also, the puzzles were not difficult and I disliked switching character to character to complete objectives. The map for driving around was too large and you had to scroll around. Every time you hopped in the car you had to watch the video of you driving around. The first time it's ok. After that, it's redundant. Normally these games are my brain teaser. Occasionally I even have to refer to a walkthrough to get thru a difficult portion. Not this game. In addition, Nancy Drew games are normally a learning experience about a people or location or objects, etc. This game had no learning involved. I was surprised by this. It's a game I had to play as I own almost every game to this point.
October 20, 2012
Not the Greatest
This is one of my least favorite out of the new Nancy Drew games. The biggest negative of the game: The navigation is the worst. To get around town while Nancy is "unavailable," you play as Nancy's three friends: Ned, Bess, and George. That's fine with me. The problem? When switching between characters, you can't just skip right to the next one. Oh, no. You get out the phone, call Nancy, tell her you need *her* to take over, then have Nancy call the next friend, and ask *them* to take over. So unnecessary and it kind of ruins the game for me. If these kids are all friends, why can't they just call each other to switch? Pros: - Graphics are very nice. - Sounds are good, and voice acting is quite good. - If you're a Nancy fan, it's nice to see Nancy's hometown, although you don't get to see a lot of it. Cons: - Awful, awful navigation. Not only between switching characters, but getting around town is pretty bad. The map is just terrible, and the game doesn't tell you that you need to drag it around to see the whole town. - You don't get to see much of River Heights. There are maybe five or six locations you get to explore to a decent extent. If you try to travel to any of the others, you just get someone telling you it's closed, or a one-liner joke. - Snooping is not great in this game. You get to go in Nancy's home, but you can't explore? You can't root around in her sofa cushions, or look in the hall closet, or under Nancy's bed? You're limited to very specific areas to look. Other Nancy games give many extra, fun places to just take a look around in. - Puzzles are too easy. Many of them practically give you the solution if you look in another area in the game. All in all, this is just an OK game. It's not the best Nancy Drew game in it, and the navigation and switching between characters gets to be tedious, which sort of ruins some of the game's fun.
October 20, 2012
I hate to say it, but this was a big disappointment!
After a set of recent winning releases in the series (The Captive Curse & Shadow at the Waters Edge, Warnings at Waverly Academy) this particular episode comes as a big disappointment! I had looked forward to an episode set in Nancy's hometown but found myself barely able to trudge through to the end and saddened at the wasted potential. To its credit the characters were interesting & quirky. I would have liked to have seen more done with them. The level of challenge also seemed far less than is customary for ND games (even while playing on the expert setting - which I usually don't as I like the check-off lists...though this once I found no need of them). While the switching off between lead characters was new and mildly interesting I felt it could have been used in a much more entertaining & productive fashion instead of just making it a boring new method for exposition (different faces with the same old traipsing about for info... there just seemed to be so much more of it!). Ho hum. Still, I would recommend this game (although mostly for ND fans and those newer to the ND world; it has history & background story information that is not provided in such concentration in the other ND games [with the exception of the Anniversary Edition "Secret of the Old Clock" episode]). With all this said the game is still worth both the time & the money requested, it's just not on parallel with the other ND offerings.
May 23, 2013
Ok for something to pass time with.
Ive been playing all the ND games in order of release. Yet another ND game plagued by terrible Navigation and oh joy it's so much fun to visit the same 4 places over and over and over again. YAY. (yawn). Fun Factor: Initially you get excited thinking oooh I'll get to run around town and interact all over the place. NOT SO! You will run back and forth to Nancy's House, the Police station, the ice cream shop and the antique store. It was fun getting to play various characters at first, but then it began to get a little irritating having to bounce back and forth. Anyhow, much of the story depends heavily upon triggers and usually that is resolved by just playing round robin with talking to people, although there are one or two triggers such as the alarm in the town hall that you must find if you don't want to scream in frustration and hit a dead end on leads. I am grateful that this time they didn't make us drive the cars. Visual/ Sound: Visuals were OK, and voice-overs were ok I guess. Challenge: not very challenging. In fact the biggest challenge was setting off triggers to progress the story. There weren't very many puzzles and only the very last maze proved to be a challenge. Storyline: I liked this storyline. The last several ND games have been just terrible in this department and it was such a nice relief to see a well done storyline and a half-way decent plot. I would recommend this game but caution you that patience will be needed. It's an Ok game for passing the time.
February 15, 2014
Good idea but annoying to play
Out of all ND Games I think that was my last favorite in regards to game play. The story was OK and also I enjoyed playing as Nancy's friends and getting to know her hometown the constant switching parrt was disturbing the game flow. The characters were OK but I felt I couldn't connect to any of them. Normally in ND games I find one or two characters which i really like - like Pa in Trail of the Twister. This time it was not so. Also I found it a bit boring for Nancy to be locked up and be warned by the chief police officer not to get caught. I never saw any danger of getting caught. All in all it's a very easy ND game and if you do not mind the constant character swap it could be for you.
May 24, 2013
Difficult and unimaginative
This particular Nancy Drew game was disappointing to me- I have played almost all of them. I also found that the story didn't piece together really well- I was constantly using the walk-through because I was frustrated at not knowing what to do next or how to do it- like one time I was supposed to go to a particular location but there was NO clue to do that. There's no way to know what to do. I don't like to skip any Nancy Drew games, so I decided to play this one anyways-- it's still entertaining, just not one of the better ones, in my opinion.
July 4, 2013
Not for me
I'm not saying not to play buy i don't like the interaction
July 28, 2013
The Apple logo is a trademark of Apple Computer, Inc.
The Windows logo is a trademark of Microsoft, Inc.