Natural Threat 2
Giant mutated plants have sprung up across the city, wreaking havoc and devouring the population. Prepare for exciting hidden object sequences, challenging mini-games, and a riveting story of heroism and survival! Do you have what it takes to be the hero and save her from the wickedness circling you? It's time to save the day in Natural Threat 2!
33 unique locations
10 hidden object scenes
Defeat a lurking evil
Game System Requirements:
OS:

Windows XP/Windows Vista/Windows 7/Windows 8

CPU:

2.0 GHz

RAM:

1024 MB

DirectX:

9.0

Hard Drive:

803 MB
Game Manager System Requirements:
Browser:

Internet Explorer 7 or later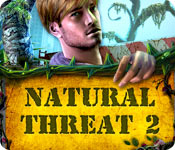 NEW299
The Big Fish Guarantee:
Quality tested and virus free.
No ads, no adware, no spyware.

Reviews at a Glance

Natural Threat 2
0
out of
5 (
0
Reviews
Review
)
Customer Reviews
NOTHING NATURAL ABOUT THIS GAME!
I wish they would have put a little more money into the production of this game because it could have been fantastic. The graphics are simplistic yet bright and colorful, the video's are somewhat fuzzy, yet they still paint a clear story. There are no bells or whistles, yet for some odd reason they aren't necessary. The actions are easy to figure out, you will know to light the candle, take the candle and use it on the hardened handprint to get a thumbprint to use on the cars on board computer system. There aren't a lot of HOS but surprisingly items can be tough to find. There are lots of interactive puzzles such as clicking on individual flowers with the goal being to close all the blooms, but when you click on one petal to close, several others open (drove me nuts!) Try this game with an open mind and give it a few minutes and I think you will see what I mean by "nothing natural about this game" Enjoy!
July 26, 2013
DAY OF THE PLANTS
This was a good game I played the full 1 hour of it. The start was strange making a girls birthday cake but after that I was hoked the game went onto another world where plants ate people the company that made this game did a really good game some of the so called Collector's Editions ant as good as this game great graphic's give it a go and see for your self. I would recommend this game.
July 24, 2013
Nice game
I like this change of pace. It is different. The Graphics are good, the story line has a different villain and the voice overs are really good. No it is not a big challenging game but it is fun. It is nice to slow down a bit and just enjoy playing in a relaxed atmosphere.
July 24, 2013
A Nice Enjoyable Game ...
Nice Graphics, Sound, Voice & Video Bits ... And An OK Story ... The Game Flows Pretty Easily As Most Items Will Be Found Near To Where They Are Needed ... The Puzzles & HOS Are Enjoyable ... Another Good All Round Game From The Developer With A Fair Game Duration ... The Hard Core Players Out There Might Like A Bit More Of A Challenge ...
July 27, 2013
Fun Hidden Object game
I found it unique in it's style. Good hints to help. Good puzzles and easy enough to enjoy without being too challenging. I liked the fact that in some scenes you need to work out what you need to do without keep being told.
July 24, 2013
Despite glitches, still a worthy game
Notwithstanding some fairly serious glitches (listed later in this review), I still recommend this game because of some outstanding features. The graphics, both still and video, were really excellent. The attention to detail (minus the glitches) was also excellent and made me smile - for example, in the HOS's, when you combined two objects to create a third, you would get an appropriate sound effect or a little movement to reward you. The sound effects were also great and the music fit the gameplay and was not annoying. I usually just suffer through the HOS's but this game did a great job with them. About a third of the listed objects in each scene were interactive and they were not ridiculously hard to find, with very few exceptions. Also, which is a HUGE plus for me, when you re-visited a HOS, the items you had already found were not there anymore. The plot was about as good as you usually get and the length was good. There was no map or strategy guide but you didn't really need it as play was confined to at most five scenes at a time and the hint (which functioned flawlessly for me) gave you all the help you needed. The mini-games were about average - some were new, some were old, some were completely incomprehensible - but you could skip them. As for the glitches, these were the ones I ran into - other people have reported finding others. In two of the HOS's, an item you needed to find was not actually listed, it was replaced by a blank box. The first time I freaked out because I thought I had run into one of the game-ending problems others had reported - but no, all I had to do was click on Hint, it showed the missing item, I clicked on it and I was done with the scene. Another problem was that part of one game was inaccessible because the instruction box was in the way, but if you put it on full screen mode and looked at the diary, you could then access it if you were quick. Finally, one time it closed on me with an error code, but when I restarted I found that it had lost no progress and I just proceeded with the game. There was one other issue which might really bother some people. The actions that you had to perform were sometimes completely nonsensical, even more so than usual in this type of game. I have sort of gotten used to this and I don't really mind that much anymore, but it was really pretty extreme in this game, I really had to shake my head a bunch of times. Without the glitches and the at times nonsensical game-play, this would have been a solid 5-star game. I hope the developers do some thorough testing next time so everybody will be able to play and enjoy their next effort.
July 24, 2014
VERY UNUSUAL
Don't know how to describe this game - it's very unusual. What I can say, there are lots of cutscenes. Sinister plants have taken over the city. Either music turned off the voices after the intro or the voice overs just stopped. HOS were the usual. Puzzles were rather interesting and not too difficult. Many times, you knew there was something that needed to be done, but difficult to figure out what it was. If you don't play a lot of HOS, you might just end up stumped. If you're experienced, you can probably muddle through. Best to just try and see what you think.
July 24, 2013
First one was a lot better
Very long into to this game. The graphics are ok and the music was fair. Had some voice over. I only lasted about 20 min and got bored. The screen was dark and the puzzles lacked instructions. The HOS were easy and you had to guess what to do. Had somewhat of a good storyline. Just did not appeal to me at all.
July 24, 2013
What lurks beneath?
Theme links well with the first in this series and continues the idea of saving people from and defeating mutating plants. A range of puzzles and HOSs which were different but not overly challenging. Items to pick up and use scattered around the various scenes. Graphics OK but I found them to be a bit blurry in the cut scenes (and there were a lot of those). Not for the faint-hearted as some 'make you jump' moments. I didn't like the voices of the characters, especially 'Mom's' at the start and found the music irritating so turned the sound right down. (There was also a strange and loud 'boing' whenever the helpful dryad(?) appeared). This then made the game less atmospheric for me. No map so there was some backward and forwarding to find/use objects. The hint came in handy to set you off in the right direction (the only time I used it). All in all, not a bad game and will keep on my 'to buy' list for an offer weekend or a 'Bonus Punch Monday'). Definitely worth a trial and also have a look at the first 'Natural Threat' if you like this sci-fi theme.
July 24, 2013
Plant attack - weedkiller needed...
I read some of the other reviews before downloading this game. I persevered to the end of the demo to give the game a fair chance.... Marginally creepy opening when girl drops teddy down drain but retrieves before......... however, mum is not so lucky After decorating a cake for the girl's birthday- find candles stick on cake, find decoration stick on cake, find.....zzzzzz Then the plants attack... however, in the aftermath, you realise that the cake has a usable candle on it but.... you can't take it..... why.....??? Mum breaks out of house and ventures down block to discover car crash site... find lighter, find car - no wiper fluid... woe betide anyone who tries to drive with a dirty windscreen (windshield for other non-uk persons)- thankfully after getting water you pour it into the radiator (coolant system) of the BMW? and not the wiper fuid container...but.. you need a thumbprint to get the car going.. Hand print in wax so melt off a portion maybe.... ok better go back two blocks and get the candle .... but must light it first as, obviously, going two blocks with a lighted candle will in no way diminish its effectiveness, right? Then drive like a mad thing to ... where....? Cat in split screen running out into road... cut back... road clear...then cat mysteriously reappears and without braking you swerve all over the road and crash into a boat??????? I found the gameplay a bit too simplistic to be good enough for a paid game. The things you need are generally fairly close to hand although sometimes you have to click around a bit to find what to do next. You win the lottery by matching coloured strips in a frame - wish that happened in real life, I would be a multi-millionaire or perhaps not as most likely everyone would win each week. I could be a interesting game but it isn't ... I found that I couldn't really be bothered to find out if my husband and daughter were alive or not. Try it but I won't recommend it.
July 26, 2013
The Apple logo is a trademark of Apple Computer, Inc.