Natural Threat 2
Giant mutated plants have sprung up across the city, wreaking havoc and devouring the population. Prepare for exciting hidden object sequences, challenging mini-games, and a riveting story of heroism and survival! Do you have what it takes to be the hero and save her from the wickedness circling you? It's time to save the day in Natural Threat 2!
33 unique locations
10 hidden object scenes
Defeat a lurking evil
Game System Requirements:
OS:

Windows XP/Windows Vista/Windows 7/Windows 8

CPU:

2.0 GHz

RAM:

1024 MB

DirectX:

9.0

Hard Drive:

803 MB
Game Manager System Requirements:
Browser:

Internet Explorer 7 or later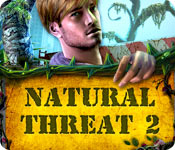 NEW299
The Big Fish Guarantee:
Quality tested and virus free.
No ads, no adware, no spyware.

Reviews at a Glance

Natural Threat 2
0
out of
5 (
0
Reviews
Review
)
Customer Reviews
Justok
Again, I used a game coupon to get this game and I won't say it was a waste because the game had it's merrits. Although, the graphics in my opinion, were lousey, it was not sharp and crisp it always looked like the pixel counts was too low. Voice overs were ok, but not well timed. The story was interesting to say the least, so I will not complain. The HOS's were ok, the mini games were quite challenging almost to the point of frustration at times. I will say I got board at times and with no map, well the back and forth gets old. especially when you reach the end of the game and you have to gather something you noticed form the start and need to figure out where when there were so many locations to revisit. Over all, this game was just OK.
July 30, 2013
To easy
Too easy. There wasn't much of a challenge.
July 25, 2013
Nyeh....
I found this game way too slow to be any fun. Each scene takes a long time to load and after you finish a task it takes too long to acknowledge it and continue with the play. Half the time, I thought I had done something wrong. The graphics are very fuzzy and the whole thing had a old time feel to it. The only nearly good thing was the story, which had lots of possibilities, but I couldn't stick it out to see if they went anywhere with it. Some parts seemed unnecessarily silly...why stop to pull a car out from under a tree when it doesn't lead anywhere...why cause a boat/car pileup with injuries while avoiding a cat on the road? The lady ought to have her license revoked! Surely, with giant mutant surly plants on the loose, the writers could have done better. It has a strange mix of the childish and the gratuitously violent that leaves one wondering who the target audience is supposed to be. I think I'll give it a miss.
July 24, 2013
Boring
I found this game to be boring and not a real challenge...you find something and can use it almost immediately. Felt like I was being led to the next step and finished a scene very quickly. Music was annoying with the same few sounds going on and on. Scene change down arrow was not very interactive and the inventory log opened then you had to click down again to return to prior scene; didn't seem that any of the scene changes worked smoothly. I wouldn't buy this game but some may finding it entertaining. Visual quality was pretty poor compared to what the better games have and story line was ok. This game could have been better if interaction, visuals, and sounds were more up to par with the better games out there. Pretty low quality all around.
July 24, 2013
Poor interface & game mechanics ruined a good story.
Natural Threat 2 Review based on Partial Demo PREFACE? Oh, how I crave more science fiction games! I really wanted to like this one, too, and I'm hoping that game design won't follow Hollywood and habitually make bad renditions of science fiction. ONCE UPON A TIME... Gigantic, seemingly sentient plants have taken over your city, and a strange woman who can control them walks the streets. Is she a goddess, spirit, or alien? You'll have to solve the mystery?and stay alive in the process?if you ever want to see your daughter again. PLAY THE GAME... Sadly, poor game mechanics overwhelmed whatever enjoyment might have been had from actual gameplay, which had promise. The first HO scene was not instantly recognizable as such. Instead, you had to decorate a cake?and search the scene for the correct items to put on it. SIGHTSEEING? The graphics appeared rather old school, the animation was blurry, and the posers were frighteningly non-human in facial expression. Perspective was terrible, with everyday items being the wrong size in relation to their surroundings. SOUND WAVES? I turned the music off after about a minute; it was irritatingly upbeat, which didn't fit the theme of the game, and very repetitive. Voiceovers were ok. Environmental sounds were fairly good, with the plants hissing and gurgling. TOOLBOX? I didn't see a map at all, though there was a journal. The inventory did not lock, and the "navigate back" arrow was inside the inventory?extremely annoying! THE LAST WORD? Considering the poor user interface and shoddy game mechanics, I can't recommend this game unless a patch is issued with corrections. This dev has done much better, notably the Stray Souls and Twisted Lands series, and Eternal Journey: New Atlantis. I recommend all of them, especially the last if you're a science fiction fan.
May 26, 2014
Like pulling teeth
I had high hopes for this game, but I could only get through a half hour and gave up on the demo. It was boring, slow to go, and a bit immature in the way it was presented. I try to give games the benefit of the doubt and not rely on other reviews, but in this case I have to agree that this was awful. Maybe for a newbie! but not a buy for me.
July 24, 2013
Bad everything
Bad art, bad animation, bad storyline. This cartoony game started out with me having to decorate a birthday cake, which made me think it was a child's game. Then things got ugly really fast. Pick an age group and stick to it, guys. I didn't mind the human eating plants but some of the details of this story were just wrong. Was I looking for my child or just trying to save my own butt? I wasn't sure. I'll pass on this one.
July 25, 2013
Buggy Game
This could have been an alright and fun game, but it is one of the worst games from BFG that I've played from a technical standpoint. Things don't always work as they should, and at one point, if you don't follow the exact correct actions, the game quits working altogether. To finish the game, I had to start all over again with a different name to get back to where it quit and try again. Terrible. It also has some of the most bizarre use of objects I've seen that I couldn't figure out without the hint. You destroy plants by every method you can think of and some that you would never think of. Artwork is average; music worse. The HOS are OK, but the IA part is poorly designed. Puzzles are so-so. The story is interesting, but is not very well told. As I wrote before, this could have been a fun game, but they dropped the ball.
August 3, 2013
Really Boring
I played the demo to the end ... kept thinking it would get better .. no - never happened. Very simple minded with no challenge.
July 24, 2013
hard to see
It was ok hard to see some stuff for it was dark and you can't lighten it up confusing at some sence I quit before my hour was up after about 15min got tired of it very boring for me even my 15 year old son quit after 5 min. he to was bore
July 24, 2013
The Apple logo is a trademark of Apple Computer, Inc.