Nightmares from the Deep: The Siren's Call Collector's Edition
Exclusive
Nightmares from the Deep: The Siren`s Call is the sequel of the smash hit Nightmares from the Deep: The Cursed Heart. It is an epic adventure story with an exciting plot, outstanding puzzles, and unforeseeable depths of twists and turns. When Sarah Black, the curator of the Caribbean Naval Museum, receives a package from a mysterious messenger, she is unwittingly drawn into an ancient conflict. Moments after she opens the package to reveal an artifact, assailants descend on the museum and rob her of it. She can hardly believe that this is the beginning of a new nightmare from the deep! After blacking out in the museum, Sarah finds herself on the shores of Kingsmouth, a forgotten fishing town with an incredible secret. The would-be messenger reveals the sad truth: he and the rest of the town's denizens are suffering from a curse that is gradually turning them into aquatic creatures. A curse that was cast by two powerful beings: the mayor, Murray, and the sea-devil: Davy Jones.

This is a special Collector's Edition release full of exclusive extras you won't find in the standard version. As a bonus, Collector's Edition purchases count toward three stamps on your Monthly Game Club Punch Card!

The Collector's Edition includes:
An additional adventure featuring the praetorians
Concept art, wallpapers and a stunning soundtrack
Replayable minigames and HO scenes
Fully integrated strategy guide
Game System Requirements:
OS:

Windows XP/Windows Vista/Windows 7/Windows 8

CPU:

2.0 GHz

RAM:

1024 MB

DirectX:

9.0

Hard Drive:

1437 MB
Game Manager System Requirements:
Browser:

Internet Explorer 7 or later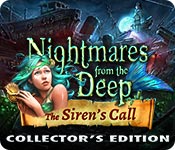 The Big Fish Guarantee:
Quality tested and virus free.
No ads, no adware, no spyware.

Reviews at a Glance

Nightmares from the Deep: The Siren's Call Collector's Edition
0
out of
5 (
0
Reviews
Review
)
Customer Reviews
Nightmares from the Deep: The Siren's Call Collector's Edition
105
105
An interesting and different story line!
I have the first game and really enjoyed that one, so was excited to see this one come along. Graphics and game play are very nice. Music is relaxing and sound FX are excellent. Quite appropriate for what is happening at the time. HOGs are a combo of standard item search and silhouette, and can be switched to majong if you prefer. Games are quite simple so far. Nice voice overs. Setting and story are different and nicely done. I always demo in casual mode to get a feel for the game. This one really doesn't hold your hand like so many others do. Yes, the sparkles do show for the HOGs, but the rest is up to you. Nice hint system, very helpful and fairly fast recovery. Nice SG, except that the graphics are a bit fuzzy on most of the pages that I saw. There are items to find and achievements to complete, which keeps the story moving and more interesting. The game is not extremely challenging, but enough to keep my interest, and it was fun. Everyone has turned into a fish, or something from the sea. Can't tell if the "bad guy" is suppose to be a shark or a dolphin...sort of looks like the shark in "Sharks Tale." Anyway, I will purchase this game, as I have the need to see where it is going. I'm just not sure I'm going to get the CE or wait for the SE. Tired of paying extra for stuff I don't really want or need for the game. As I have stated many times before, I do not give 5 stars easily. A game has to be exceptional in all aspects of the game and this one is no exception. This is a very nice game and I believe it will appeal to all levels of players. As always, try it for yourself and see what you think. We all have different tastes in games and you may not care for this one at all. Thanks for the reviews.
July 25, 2013
Review of Completed Game...
First of all, had I bought the SE of this game, I would have given it 5 stars. The CE has collectibles and a pretty decent length bonus chapter BUT I preferred the first one in this series because of the absolute astonishing graphics and stand out story line. However, that one I ironically got as a SE and after playing it wished I had bought the CE whereas this one I have the CE and wished I bought the SE...Can't seem to get it right LOL So like I said although this game offers the usual quality we see by Artifex Mundi, the story line wasn't as gripping as the first one and thats my reason for 4 stars. Other than that though, the game is absolutely fabulous. Has a great mixture of HOPs to puzzles. Puzzles were some of the same we always see but also a mixture. The second time around, HOPs were fragments that went to a puzzle sometime later on in the game. This happens a lot in the bonus chapter. The bonus chapter, sets up the game for another one and although Im sure the next one will set the stage so that missing this bonus chapter doesn't hinder your knowledge of the game, an important item is gained in this chapter that set the stage for the next game. Our heroine might be finding herself in a bit more trouble than the last two adventures. My hope is that there will be a plot twist or some more action as I felt this one lacked a real twist. I kept hoping something would surprise me but I found it very predictable. The collectibles in this game are very well done. You have golden octopi, morphing parrots and seahorses. I personally am not a fan of more than one collectible. I find it makes the game more busy than it has to be and almost confusing. I did like finding the morphing parrots though because they are super HARD to find. When I realized I was 3/4th of the way done and had only found 4 that I had missed a lot. I wandered back through the game and wouldn't see a parrot so Id look at the strategy guide and it would say it was in the room I was just in! I would go back in and have a look and it would just magically appear out of nowhere. I thought at first I was losing my mind but even rooms I had been in before and saw nothing, going back the bird would be sitting there. Needless to say, I didn't find all the parrots. The octopi were easier to spot although not golden until you touch them which made them hard to spot but I did manage to find them all. The seahorses were few and you could only find them when you moved random boxes. I seemed to miss those said boxes as I missed a few. Whoops. I did like how the Siren was an original idea but it became very predictable and I felt more in tune with the original. Also, the box where you place the tokens was way more life like in the last one. I remember seeing it the first time and gasping at how I felt I could just reach out and touch it. However, this is a very good game and the main game has a proper ending therefore although the collectibles were fun to find in this edition, I did not find that the bonus chapter warranted the extra money. I do however recommend this game especially if you are a fan of artifex mundi. They just make amazing games! Stunning graphics, amazing voiceovers and story lines. Cheers to the developers!
March 19, 2014
Review of completed game
Nice sequel to The Cursed Heart. You must save a mermaid from an evil mayor of a town which has been cursed by Davy Jones. Help her lover in the battle to save her from the mayor's clutches! Main points to note: - Three modes of difficulty (can be changed in game) - Clear and colorful graphics - Good voice-overs, however one person did the voice of about 4 different characters which was unrealistic in my view) - Map showing available actions - Lockable inventory (important to me!) - Some new and fun mini-games, not too difficult - Fun HOS but too many in my opinion - Too many cut-scenes (interrupted gameplay too much) - Nice amount of Collectables and Achievements (19 octopi, 18 parrots, 7 seahorses - each has a different way of collecting, i.e. parrots were morphing, seahorses were hidden and you had to perform an action for them to appear - nice touch!) - Average length, found the Bonus chapter very short though. All in all, a good fun game, and the story was left open again for another possible sequel!?
August 10, 2013
Interesting game
Review based on playing hardest mode: This game has good HOS, interesting puzzles (but not very hard). Collectibles rank 5 stars as there are different types and they aren't just there for the taking....... What made me rank this a 4 (instead of 5) was the black box comments. Even on the hardest mode: you click on a barrel, and the black box comment says "I need a hammer and a chisel to open this". Really? Let me find that out for myself! I had to not read the black box comments to make this game even somewhat challenging. Otherwise, it is good that the HOS aren't marked in any way (hardest mode) and you do have to decide where to go next. The game is a length well worth the CE price. The bonus scene is mainly setting up the sequel, you don't need it to enjoy the main game. I turned off the voiceovers and music from the beginning,can't comment on those. I hate voiceovers, they are either annoying overdone or ridiculously bad, so glad for that feature.
October 5, 2013
Really exciting first hour
One of the best openings I've seen in a long time. Very exciting! Almost feels like a movie. There are a lot of cutscenes that you have to sit through. The hidden objects scenes are new and very cool.
September 23, 2013
Couldn't Quit Playing
I downloaded this game early this evening and just finished it. I didn't want to quit playing even though it's now 1:35 in the morning. There are three difficulty levels. I chose the intermediate. I didn't care for the morphing objects or whatever they meant them to be. You could find golden octopus, parrots or seahorses. I missed the majority of them. I'm not sure if it's the way they were presented in the game or if I was just engrossed in the story line. The description of the game is a little misleading. The heroine doesn't really go up against Davy Jones in this sequel. She is fighting against people who made a pact with Davy. The story line was your typical "Stop the bad guy before it's too late." but there was enough different in the story line to keep it interesting. There were at least 3 different types of hidden object scenes, multiple puzzles and tasks. The graphics were nice. I turned the music off because it got on my nerves early in the game. They left it open for a 3rd installment and I hope they make one soon. I really enjoyed this.
August 31, 2013
Intermediate @ best
The story and graphics are @ their best, and keeps this game afloat BUT... It is so easy to play, I would recommend this game to beginners. The map is a great way 2 backtrack. Different HO's keep this part of the game interesting. There are plenty of achievements to look 4 as well, such as morphing parrots, uncovering seahorses. The list of things to find are in your achievements on the main menu. Plz. post ur fav. game, so that others can chk it out as I do. ty game on gamers
August 12, 2013
Great graphics but too quick to finish
I enjoyed this game as the storyline and atmosphere were good but the HO's were too simple as were the puzzles. Sorry but for the price I do expect more.
July 27, 2013
Kitty's Thoughts: Why am I involved again?
This is based on playing the game for a full hour. Be warned. I never played the earlier series, but for some reason this one caught my interest. Maybe it's because I love sirens as much as mermaids. Overall, Let's get started with the Storyline. I bet you guys are drowning in thought about that. Alright, your a museum expert at topics like Davy Jones and other sea legendary things like defeating him. However, a mysterious guy you never knew comes to your door with a package only you can open..... suspicious.... Well, you decided to help the guy regardless that you have no idea who he is or not even any relations. However, when you finally opened the box to see the artifact.... things went down. You get attacked by shark-like henchmen, you get dragged on a boat with a fish man, and you get to.... wait a minute.... aren't I just a museum girl who's only an expert! Now, for some reason I have to save the siren from this corrupted mayor. Well, there's your basic story. Not the best nor the strongest. I mean it's a predictable plot, but hopefully there's a twist. However, do not quote me on that. Alright, next on the market is the level of challenge. I had to say, the puzzles in this game is very light challenging. I find myself zipping through the puzzles quickly solving every last one. So far, I hadn't skipped not one. Just skipping any puzzle will insults one's intelligent. They are that easy. However, if you want more of a stress free puzzling with hidden objects. This is probably the game for you. However, die hard puzzle fans maybe disappointed. However, I think the more creative ones I like the most are the puzzles that's mixed with hidden objects. I had to say. They did a well done job with it.... Unfortunately, I was disappointed that there were not more of those creative puzzles/hidden objects. So far, I would like to touch on the Visual and sounds. I had to say the Sounds was epic, and the Visuals itself was well done moving from one place to the next. However, I sometimes question the animation which is the reason I gave it a good. There were times where the animated character sticks out too much from everything. Even in the cutscene where the siren is kidnapped by the Kraken for some reason just looks odd. Regardless of those few factors, the overall thing I find amazing in this game is fun. This game actually pulled me in for a whole hour, from trying to piece together the story to trying to follow the carriage and the obstacles that stopped you. I also like the fact that you can choose between doing the hidden object game or doing mahjongg which adds interesting gameplay. You can play all mahjongg, play all hidden objects, or mixed. It's like they're trying to please both the puzzle people and the hidden object loves which I give Fun Factor the highest. Overall I liked the game. However, I was debating between giving it a 3 or a 4. It's not an entirely bad game at all Lowest I would possibly give it is a 3 because there could of been more done to it. It wasn't there. In the end, I think this game maybe a bit too hyped up for it's own good from others. It's good, but not great. There are better games. Overall, I will still recommend it. I don't see much of the advantage of the collector edition. I might wait til it comes out on Standard edition or when collector edition is on sale. Well, I hope you like this review. -Kitty OUT!
July 26, 2013
weird
That man acted like a sissy. The woman acted too manly for my taste. It was a upsidedown story, in which the woman saves the man, not as in the classical stories. But it was cute, Although I personally wish to see more games in which a man is the hero who saves the day / situation, as in the non-feminist fairy tales.
August 1, 2013
The Apple logo is a trademark of Apple Computer, Inc.