Mystery Trackers: Silent Hollow
Exclusive
There are screams heard in Silent Hollow... Trouble at the Mystery Trackers headquarters means you're called in to help. With a few extra abilities, not to mention your trusty sidekick, Elf, you just might save the day!

Uncover the treachery of a centuries-old turncoat in this incredible follow-up to the bestselling Mystery Trackers series.
Game System Requirements:
OS:

Windows XP/Windows Vista/Windows 7/Windows 8

CPU:

2.5 GHz

RAM:

1024 MB

DirectX:

9.0

Hard Drive:

793 MB
Game Manager System Requirements:
Browser:

Internet Explorer 7 or later
Mild Blood
Mild Language
Mild Violence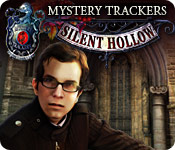 NEW299
The Big Fish Guarantee:
Quality tested and virus free.
No ads, no adware, no spyware.

Reviews at a Glance

Mystery Trackers: Silent Hollow
0
out of
5 (
0
Reviews
Review
)
Customer Reviews
Mystery Trackers: Silent Hollow
33
33
Don't Repeat My Mistake!
NOTE: This is based on completed COLLECTOR'S EDITION ~~~~~~~~~~~~~~~~~~~~~~~~~~~~~~~~~~~~~~~~~~~~~~~~~~ I can't believe I'm about to say this, but I've made the wrong choice! I bought the CE when I really should have bought the SE! At the time, I thought the extras were worth it, but I would have been happier with the SE. The only extras worth it for the CE are the Shop and the Bonus Chapter. The story is a good one! It starts off with a bang right from the beginning, and is scarier than the average story! Seriously, those masks freaked me out! The story is a true spy-movie type thing, complete with Secret Agents, over-the-top security, awesome gadgets and powers and the evil rogue agent. The story has its fair share of twists and turns and is really quite exciting. The demo ends on a cliffhanger, and the surprises don't stop there! This is one story that just builds and builds until you get to the end. Even though the ending is conclusive, it is really weak. It's kind of annoying that I went through 3 hours or so of gameplay just for that. It was literally about 2 seconds and then it was over. Overall, despite the disappointing ending, I felt that the story was a great one and very fun to play. Well done to the developers for this one. The gameplay is pretty good. It's fun and exciting, and has some unique elements to it. The HOS are all lists with a couple of extra-step objects. These were all fairly easy to complete. The puzzles were a mixture of hard and easy. I played a few, but skipped most. What was nice about them though was the fact that there were a couple of new ones as apposed to the same old puzzles every single time. But, to be honest. I would've liked some easier puzzles in the game, and a couple of different HOS. This game is packed with the use of spy stuff. Apart from a forensics kit (only used briefly), there is also powers. They are Pyrokinesis (fire), Hypnoeye (hypnosis) and Cryokinesis (ice). These are unique and fun to use. I enjoyed every time I got to use them. They are used fairly evenly, according to my achievements, but it seemed that Pyrokinesis was used way more than any of the others. And, of course, it wouldn't be a Mystery Trackers game without our beloved Elf. Elf makes his return in this series, and is extremely useful. He is our animal helper in this game, and is used quite often, both in the main game and the bonus chapter. I enjoyed every time I got to use Elf. Other than Elf and the spy stuff, this is pretty much your normal HOPA. It contains all the basic features (except for the diary) and experienced players should have no trouble navigating. The graphics are outstanding and are so well drawn. They are very detailed. You can clearly see this is a 2013 game. This game also uses live actors for some scenes, which is nice, but would have been better had the lips moved in time with the voices. The voice-overs are standard. I have no issue with them. FEATURES 4 modes of difficulty: Casual, Advanced, Hardcore and Detective. I played Casual. Hint/Skip- both recharge fairly fast for Casual and the hint is useful outside HOS. Map- the map is interactive and is fairly helpful. It tells you where there is an objective to complete. Elf- Elf is our animal helper, as with the other MT games. He is used quite often. Special Abilities- These are Pyrokinesis, Hypnosis and Cryokinesis. These are also used quite often. Mystical Lens- similar to a magnifying glass- used to locate things that cannot be seen by the naked eye. There is usually one thing to be discovered in each scene. WHAT DO I MISS OUT ON IF I BUY THE SE? Achievements Collectible items for the Dossier (28)- These are collectibles. It gives a detailed description of each item you collect for it, be it the profile of an agent or a weapon. Collectible pets (13)- This works similar to the Dossier. Built-in Strategy Guide- Very helpful, especially for puzzles. Bonus Chapter- not needed. This is a completely new story. Someone is going back in time and changing the future of the Mystery Trackers and thus, erasing the agents. It is your job to stop them. Temporal Lens- This is similar to the Mystical Lens, but is used in the bonus chapter only. It is used to access items from the future. Secret room- Unlocked when you complete the bonus chapter. This is incredibly useless and annoying. It is very boring. It's basically just a place to replay HOS and Puzzles. Had I known what the secret room was, I would not have bought the CE. Shop (2)- There are 2 shops in this game: * Elf's Shop- this is a place where you can buy things for Elf and his family. This is a really nice feature, and I quickly spent my ducats. * Interface Shop- here, you can buy things to change the interface of the game. You can change the hint or the panel. This is also a nice feature, but I liked Elf's Shop better. The annoying thing about having 2 shops is that there is less to buy. I would've liked to see more stuff to buy in Elf's Shop. Bonus Video- this is the most stupid and hilarious thing I have ever seen in my life. It's definitely worth watching. Wallpaper (9) Music (4) WHAT ABOUT THE GAME LENGTH? I estimate the length of the main game to be somewhere between 3-3.5 hours on Casual mode with most puzzles skipped. The Bonus Chapter is an extra 30-45 minutes, so you're looking at somewhere between 3.5-4 hours of gameplay all up. Overall, this was a pretty good game. But, like I said, I don't believe the CE to be worth it. Don't repeat my mistake- buy the SE!
January 15, 2014
From The Tomb Traitor
The headquarters of Mystery Trackers is attacked,a mysterious sarcophagus and demonic masks are the cause. Four levels of difficulty,widescreen,special effects,voice adjustment of brightness ...Nice graphics and nice music,various sound and visual effects are good,the game is being treated in the presentation,there are the characters and voices that I do not like. The inventory is locked,it included the main task of the powers granted to us forward in our quest,our little fellow Elf is always there and helps us willingly, a mystical lens reveals hideouts and notes,very interactive map full transports,shows places and areas of interest,it also allows us to access the secret files of the agents that we encounter. Lots of places to explore,actions to accomplish things to pick up for a game with scenes of hidden objects and well designed that included diverse and enjoyable interactions,the puzzles are also good,more or less original and fairly easy. Although I recommend the collector for many excellent supplements,the end of the game is successful and good time " 3 Times 45 ".
August 30, 2013
Mystery Trackers Strike Again
Mystery Trackers, once again, do NOT fail to impress. You and your ever faithful Elf are after yet another evil doer. This time you go after a founder of Mystery Trackers who went rogue centuries ago. Can you and Elf save the day again? I am a Mystery Tracker junkie and this one lives up to the strong gameplay great HOs and, sometimes, frustratingly difficult puzzles. My only gripe s the voicing. I really wish they would program the lips to move. They give the people you meet great expressions but no lip movement. But that is my ONLY complaint about this game. I think Elf could be my favorite character of all HO games. Go ahead, dare yourself to take on Silent Hollow. Can you and Agent Elf come to the rescue one more time? I hope so because Mystery Trackers CAN NOT die.
November 9, 2013
Another good MTO game
Good story to follow. Some mini games a bit too easy. Overall enjoyable!
August 31, 2013
Crazy Quilt
I bought this game because of the developer, even though it was against my better judgment after playing the demo. Although it's up to pachyderm standards as far as artwork goes, and although I believe many, many fishies will fall all over themselves rushing to give it five stars, I should have paid attention to my hunches on this one and passed on it, mainly because I'm wearing out the hint button and the map. I'm not sure if it's due to bad design, or because some of the items are quite arcane or else not used in the usual way. I'm finding that too much of the time I have no clue what to do next after finishing a HOS or obtaining a useful object by some other means. I ask the froggy, she tells me what to do, I do it, and then I'm stuck again. I think part of the reason is that there doesn't seem to be any logic or order to the sequencing of tasks. I did not find the task list to be helpful. Another thing that annoyed me was the train that agents use to get from the village to the castle headquarters. Initially, you must help the engineer get the train going. Then for a while after that, you're able to go to the castle without riding the train. But later a storm hits, damages the track, and now you have to repair the track and then ride the train to the castle again. It's as if many people worked on different pieces of the game, but when they stitched them together, the pieces didn't exactly match.
August 31, 2013
Same old Same old
I have played all the Mystery Trackers games, so maybe take my review with a grain of salt. I loved the Void and Black Isle, and Raincliff was my favorite. The Four Aces I thought the developers just kind of phoned in, not really well thought out or long. When I read the reviews for Silent Hollow, I was so excited, it seemed like everyone thought it was the best! Maybe I've just gotten to used to the Mystery Trackers games, but I thought this one was really boring. No real adventure, just find this object to open this object to get this object...repeat. Elf's use was extremely limited. The music is the same music used for the Four Aces. Boooring. The pluses: The graphics are excellent, as usual. The game is pretty long. Hidden object scenes are not repeated. The game is pretty much linear, not too much going back and forth, and the map can zoom you to wherever you need to go.
September 30, 2013
Elephant games, What??
Guess everyone who wants to play has played, so this review is pointless, but here's my two-cents, anyway. Silly, disjointed, poor graphics, junk pile HOs and a rambling story made this SE disappointing and a time waster. Became bored 3/4 of the way through and began using the hint button. Elf and some of the puzzles were the game's only redeeming qualities. OK for some.
September 21, 2013
Just ... underwhelming
This review is based on a complete playthrough: I played through all the CE content as well, so I'll tell you what you'll be missing if you get the SE: The bonus game is about an hour long, completely unrelated to the main story (so no being cheated out of an ending), and has a lackluster plot. Some collectibles, achievements - most of which you have to earn during normal gameplay, a little store for your dog, and the normal CE stuff. There is the "secret room", that let's you go from puzzle and HOS to the next back through the game. That's probably the best part of the Bonus pack from where I'm sitting. I didn't feel cheated by the CE content, but I wasn't overwhelmed either. If you want to save a bit and get the SE, you're not missing much. Nothing that would affect your enjoyment of the main story and game. Now on to the main review: I knew I was in trouble when the first 'puzzle' *very slight spoiler* requires you to enter a four digit number, and the number is written down RIGHT THERE. Not even back on the main screen, or hidden somewhere. Right. There. At first I thought that must be because I was still in 'tutorial land', but that pattern persisted through the whole game. THE GOOD: Visually, the game was great. The music wasn't terribly intrusive, so it did have a fairly nice "feel" to it. I loved the way your character develops as the game goes on. The story was engaging. Probably even more so if you played the previous ones and had a 'rapport' with some of the characters. It was an 'average' length game for me, about four and a half to five hours on advanced. Didn't need many hints during the main game - the "adventure" part had the right amount of challenge to it. THE BAD: The puzzles. There's easy, and then there's what we get in this game. Not all of the puzzles were that bad, but enough of them were. The ones that weren't were either normal easy with a few 'medium' challenge. No lip movement. This wouldn't be so bad, but because the graphics are so "realistic" in the cut scenes, things that like really stand out a lot more. THE UGLY: The HOS weren't junkpiles, but they weren't stuff that really fit in either. They were interactive in that you had the same simplistic 'code' puzzle in every one, and you had to put two things together. Other than that, straight lists. Things like a TV breaking and finding a candelabra inside. Little things like that really break you out of character and remind you you're playing a gme. Bottom line: Maybe I picked the wrong installment of the series to jump into, but I really felt let down after reading all the glowing reviews. It's not a _bad_ game. But it doesn't rise up above the sea of other 'pretty good' ones out there now, and certainly not to the level of the best. Probably better as a SE than a CE, I'm giving it a hesitant recommendation because it is still better than a lot of what's out there.
January 15, 2014
Enjoyable but Only a Moderate Challenge
Overall the game was enjoyable but not much of a challenge. The storyline is a bit contrived and far from believability. There were minimal HOGs and the ones that were included were generally fairly easy with only a couple presenting any challenge for a couple of the objects on the list. As far as scene interaction, there was a fair degree of back and forth activity between close scenes but little in terms of back and forth between sections. With only a couple of exceptions, the puzzles were so easy that a caveman could do them. One positive aspect is that there were a lot of ?to dos? in the various scenes, some of which resulted from activity within the scene. The inventory list level was reasonable and there were instances of trying to figure out what to do next. There was almost no long distant scene travel and all activity usually occurred within one or two scenes of each other. The use of sidebar fire, hypnotic, and freeze ?powers? was a novel twist to those games that I have played before, however, the use of the ?little friend? (dog) was only active at the beginning but non-existent throughout the rest of the game. In the middle of the game, there are these annoying masks that float about and do little for the game but a lot to annoy the player. A few misspellings and wrong words created additional distractions. While most of the actions involved objects that were logical in nature, some of the actions really didn?t make a lot of sense, such as prying with a golf club or fanning poisonous fumes by hand and they just go away and some actions were the reverse of standard practice such as unscrewing screws clockwise instead of counterclockwise. The graphics were generally good, but no mouth movement for the few times that characters were displayed in the game was an annoyance. The map was interactive which aided at times. Overall, I consider it a little better than a mediocre game that is a little challenging but good enough to pass time. I never used a skip, however, I did have to use the ?hint? feature a couple of times when I got stuck which is a rarity in and of itself. For those that have played other Mystery Tracker games, I consider the Raincliff, Raincliff Phantoms, Black Isle, and Four Aces better games (in that order). I do recommend the game as it was a modicum of fun to play but only for the less accomplished gamer.
October 19, 2014
Sorry, not my style.
Barely started it and didn't like it from the beginning. Way too much going on although must admit the graphics were impressive. There were just too many complications from the beginning to get into the essence of the game and the story line. It really looked interesting but I won't be buying it when I couldn't get past the first six minutes without hints (and even those were not helpful.) I'm sure others will love it, just requires more energy than I want to put into a computer game.
April 11, 2014
The Apple logo is a trademark of Apple Computer, Inc.