Mystery Trackers: Silent Hollow
Exclusive
There are screams heard in Silent Hollow... Trouble at the Mystery Trackers headquarters means you're called in to help. With a few extra abilities, not to mention your trusty sidekick, Elf, you just might save the day!

Uncover the treachery of a centuries-old turncoat in this incredible follow-up to the bestselling Mystery Trackers series.
Game System Requirements:
OS:

Windows XP/Windows Vista/Windows 7/Windows 8

CPU:

2.5 GHz

RAM:

1024 MB

DirectX:

9.0

Hard Drive:

793 MB
Game Manager System Requirements:
Browser:

Internet Explorer 7 or later
Mild Blood
Mild Language
Mild Violence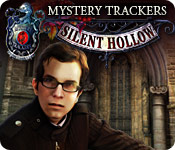 NEW299
The Big Fish Guarantee:
Quality tested and virus free.
No ads, no adware, no spyware.

Reviews at a Glance

Mystery Trackers: Silent Hollow
0
out of
5 (
0
Reviews
Review
)
Customer Reviews
Mystery Trackers: Silent Hollow
33
33
OUTSTANDING AGAIN
I love the Mystery Tracker games and this one seems the best so far. The story is fantastic; the dazzling graphics, terrific sounds, and voice overs and gameplay are outstanding. A beautifully conceived and polished production that is a real pleasure to play. Agency pets have been seen around the planet, but without their agents, which is quite disturbing. Agents are found indisposed or worse. Your pet Elf is entertaining as well as helpful in exploring those out-of-the-way places. The developers again did a fantastic job of putting together an outstanding game and they're just getting better and better if that's possible. Puzzles are very well done and interesting; nothing too difficult. 4 difficulty modes; graphics gamma, turn special effects on or off, and control 4 volumes. Can't find a single negative. Everything is simply positive to the nth degree.
August 30, 2013
James Bond, Eat Your Heart Out
BASED ON COMPLETED CE GAME FIRST IMPRESSIONS This game is just awesome in every respect. I loved it from the intro on. But then, I am a great fan of the series. From a tension-filled and shocking start, we are thrust into a very realistic environment with excellent ?action? music, a confused cop, and a body. We soon learn that James-Bond-style gadgets and paranormal abilities will be playing a large part in this action-packed game. SIGHTS & SOUNDS The graphics are as good as they get, very realistic, precise, colourful and detailed. The intro cut scenes are movie-like and extremely well done, using light and shadow to disguise any lack of lip sync on the voiceovers (which are very professionally done), and generally using every movie trick to make the experience more realistic. The music is very successful as a ?mood setter?, with active and insistent styles where appropriate, and totally different quietly anxious tracks as well. Great environmental sounds, as you?d expect. WHAT?S HAPPENING I love the fact that this story includes not only us, but also our boss and colleagues at the Mystery Trackers Order. A rogue agent, locked up 100?s of years ago in a cryogenic-style sleep, has escaped. Now every agent is in danger. The dude has serious paranormal talents, including hypnotism, which is felling agents all over the place. You are the only who is immune, and you must desperately seek out this guy and recapture him. MAKING PROGRESS This is a top notch adventure-lite game, with plenty of action in the form of interactive list HO scenes and lots of mini-games and puzzles. Nothing is seriously difficult, a task lit is available, as well as a very detailed map that gives you active areas and jump ability. Hint gives you very specific hints. A lot of the action consists of using your paranormal abilities, which are awakened at different stages in the game. You have Elf (your dog) to help you, and whatever else the agency can provide you with, i.e., gadgets, some of which give you more abilities. BLING! This version has the agents, their pets/partners, and the gadgets that are to be found in the CE, but not the extras such as the gallery items and the ?secret room?. These features are fun, and interesting, and while the main story ends satisfactorily, there are clearly gaps in the ?dossier? of agents that says there?s more to see in the CE. FAMOUS LAST WORDS The CE is definitely the better buy. As well as the great game offered here in the SE, there is a totally independent investigation in the bonus chapter that uses a combination of revamped familiar locations and new ones, as well as new agents. There is also another game labelled simply ?secret room?, which offers a unique experience. Unfortunately, I don?t dare say more or I?ll spoil it for others.
August 30, 2013
Good game as always. Get the SE version.
Another elephant game and they are normally good and so is this one. The graphics are good and has some voice over. The game is pretty much on the same play line as the other 3. You have lots achievements to find which are fun. The hint button tell you what to do and where to go. Has a map that tells you where you need to be to find a clue. Does not work all the time in the advanced areas. You have elf again (the dog) to help you find clues. The HOS were really easy and the puzzles are not that bad. The HOS are interactive also. Pretty good game to play. As I said pretty much the same as the others just a new crime to figure out. I played the CE and you did not need the bonus chapter so this is a good option for getting the game for less.
August 30, 2013
silent hollow
When I read a review that others provide, I always wonder if it is worth the extra cost for the CE over the SE. I bought the CE and I feel in this case, it is worth it. So I will tell you something that tripped me up so it won't happen to you. On the bonus part, I did not use the strategy guide and I wish I had. I made a mistake freezing the fountain in the garden and forgot to get the door handle I think. In any case, I cannot proceed with the bonus, I'm stuck and the game won't let me go back.
August 31, 2013
AGENT ELF AT YOUR SERVICE!
Who doesn't love Agent Elf, that adorable little four legged sidekick? This is another fantastic Mystery Trackers, this time we are trying to nab a traitor from within. I think the SE is the better value, if the CE would have had regular morphing object instead of hybrid animals that were too obvious, I would have stated the opposite. The graphics as well as the characters are realistic and crystal clear and the background music did a nice job of setting the mood. You have special powers to use throughout the game like hypnosis and control of fire and ice and you will use items created for agents such as a mystic lens that shows hidden items. The HOS are interactive and each scene has a puzzle that you need to solve after you find the code. The mini games are good and some new such as trying to switch tiles on a flashing movie screen to complete the ever changing clip. There are a lot of things to do in each area and the interactive map is a must so refer to it often if you get stuck, enjoy!
September 8, 2013
Another great addition!
Love the Mystery Trackers series and have purchased them all !..Great sluething by the Mystery detective and his always helpful sidekick, Elf!..(love that little guy!)..Graphics are always phenomenal in this series...Challenge levels are great, mini games are thought worthy but not frustrating!..Another 5 stars !
August 30, 2013
Mystery Trackers not for slackers...
This game is flawless! It took me hours and hours to complete, which is great. Elephant games give you loads of inventory and puzzles to figure out. I had so much fun using my special powers and Elf is too cool. The only critique is that I dont enjoy mini puzzles where you connect pipes, circuits, etc to create single connection. I also dont care for the puzzle where you have move ropes, wires so that none of them touch each other. I get frustrated with both of these puzzles, which are almost always in games. Played CE version wish I had played Four Aces prior. I will now.....
September 9, 2013
Silent Hollow is fantastic!
I almost missed this game. My review is based on advance mode. Wonderful interaction - keeps you on your toes - gives your thinking cap a work out. Good length too and captivating. Excellently mastered cut scenes. Vibrant antagonist. Interesting characters all real, like a movie. There are a lot of fun things to do. The mini game puzzles are invigorating in their uniqueness but I never asked for help during mini games in respect to what I had to do, I just played them and never skipped. Most enjoyable. Oh, I did ask for help a few times when I missed some small item which I needed to move on. The map and teleportation is wonderful. It is like a mini overview of the entire game area with clouds obscuring the areas that you have not yet investigated. I as the investigator had exciting powers. The graphics is quite realistic. Let me not say more and leave you to explore in a mode of high expectation, you will not be disappointed. I hate reviews that take away all my surprises. This game is worth every penny. I recommend it most emphatically!
November 11, 2013
I REALLY liked this game, but........
I gave the game 5 stars because I do like Mystery Trackers games, the graphics are pretty good, the story was original....and I waited for the SE, and then used the Walkthrough online....Even with the walkthrough, the game took me a loooong time, which is good because I enjoyed the story and mini-games, etc. etc...It was bad because I didn't take a break except between two days, and I was really tired by the time I got to the end.....I would highly recommend this game, just be prepared to take some breaks because it is long, which is Great !!!!
September 4, 2013
Another good one from MT Team
I have all the games of this series and the devs never let us down. Amazing visual effects. We have a jump map, our loveable Elf to help, little owl friend to give hints. Just love everything about this game and the ones before it. This time you as an agent need to rescue the missing agents and save the headquarters. Lots of puzzles to test your detective skills -some are very easy others require bit of thinking but not frustrating. Very good iHO and the objects are of good size. Buy the SE version if you do not bother with the extras. . Thank you devs and BF for another winner!
October 3, 2013
The Apple logo is a trademark of Apple Computer, Inc.