Amazing Adventures: The Lost Tomb
Welcome to Egypt! A piece of an ancient map was discovered and is believed to reveal the location of the Lost Tomb of Egypt. Under the direction of the Museum, you must immediately begin your adventure to locate the Lost Tomb and the treasures locked within! Complete over 100 levels by finding hidden objects and circumventing unique puzzle traps. Good luck on your adventure!
Explore unique locations.
Great mini-game puzzles.
Find the hidden scarabs.
Game System Requirements:
OS:

Windows 2000/XP/Vista/7/8

CPU:

600 Mhz

RAM:

128 MB

DirectX:

7.0

Hard Drive:

45 MB
Game Manager System Requirements:
Browser:

Internet Explorer 7 or later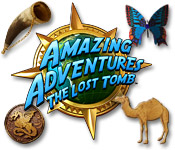 NEW299
The Big Fish Guarantee:
Quality tested and virus free.
No ads, no adware, no spyware.

Reviews at a Glance

Amazing Adventures: The Lost Tomb
0
out of
5 (
0
Reviews
Review
)
Customer Reviews
Amazing Adventures: The Lost Tomb
21
21
allright
good game but found it to be too long
December 16, 2011
Tomb it may concern:
This is a good game for someone like me who has less than perfect eyesight & it's not overwhelming with too many graphics! The extra games are fun & I wished I'd had more time to play! I will be putting this on my list to get in the future.
January 23, 2013
Classic HO Game Very Old Now
Story: A piece of an ancient map was discovered and is believed to reveal the location of the Lost Tomb of Egypt. Under the direction of the Museum, you must immediately begin your adventure to locate the Lost Tomb and the treasures locked within. Developer: PopCap Games Release Date: Nov 2007 Extras: High Scores, Times and Collectibles, Unlimited HOs This game is a little old now, so the graphics aren?t great. And as with most early HO games the story is largely non-existent and the gameplay is regimented and repetitive. All the AA games follow very much the same pattern. One crowded, cluttered, non-interactive and irrational junk pile, followed by a simple puzzle: repeat 20 times. They do have collectibles, which unlock unlimited play mode on the HOs, and as they are timed and scored games, top scores ranks are an achievement of sorts. Personally, I don?t like these games, but I think that they are quite good examples of pure HO games, so if that?s what you like, I?d recommend it.
February 22, 2013
Easy Hidden Object Puzzle Game
This is a great HOP with a HO scene followed by a puzzle. In each HO scene you have to find an added extra. Graphics are brilliant. Your game is scored so it does have lots of replayability so you can try and beat your score. This genre is my ideal as I love HO's and puzzles. Unfortunately they have made the puzzles just far too easy - i.e. you place jigsaw pieces onto the picture so you know exactly where to place each piece. Again when you have to swap puzzle pieces to create a picture, the picture is underneath so that you can see exactly which piece goes where.
April 21, 2012
Repetitive
It is not a bad game. The objects weren't too hard to find, but there were sooo many levels. There are 20 missions and 6-7 levels in each, plus they use the same objects and scenes and puzzles over and over till you are really tired of it. I did the same jigsaw puzzles over and over. One nice feature is that you can unlock a secret mode after a while where you can go to each scene and find all the hidden objects that are there, usually like 70-85 or so objects. It's just that by the time you finish the game, you don't want to go back there and find them all.....again. lol
February 22, 2012
Good hidden object game
A good hidden object game with scenes from Egypt. The art work is very good and the objects are well-hidden but large enough to see. This particular game in the series, though, has many very crowded scenes and some dim lighting which makes it hard to locate hidden objects. There are 20 levels to work through, which makes it a long game. If you find 21 scarabs, an extra part of the game opens up. If you miss one of the scarabs or forget to look for it, don't worry. The scenes are repeated several times and you will have another chance. You can tell if you've already found it in that scene by seeing if the scarab at the top is golden. You can play this extra part of the game after you finish the main game. Basically you're looking for 10 hidden objects in each scene. Even in the Relaxed Mode there is a speed bonus, so if you look for two or three objects, then click on each of them quickly, you get extra points. There are also point penalties for random clicking and using the Hint button. After you find the hidden objects in each scene there is a mini-game to play. There are only a few different types of mini games such as spot the differences, puzzles, matching, etc., and you just alternate between these same types of mini games, with different scenes, for the whole game. So it's "find the 10 objects in one scene", "mini game", "find the 10 objects in a different scene", "mini game", etc. for the whole game. It gets kind of repetitious after a while. All the scenes are repeated, but you're looking for different objects in each repetition. The only way I could finish the game was to play it for short periods at a time.
June 11, 2013
Not sure what happen
I own some older "Amazing Adventure" games and went back to play one of them after buying"The Lost Tomb" No comparison, This Game is far below the what I expected I suppose that what I get for not trying the demo first but when I saw the Pop Cap label I just assumed it would as before. I have to agree with other's on The American Flag being UPSIDE DOWN and if I would have part of The Beta Test I would have made a point of it As far as the puzzle's go seeing the same one's over and over again it got to the point where I almost knew where each piece went, before I had to look where it went Too say the least The Game was disappointing
March 4, 2013
TO REPETITIOUS
I can't believe I would ever say this, but this game was way too long due to the lack of variety of the HOS and puzzles. There are 20 missions with 5-8 levels within each mission. With only about 20 locations this means each location is visited many times. That wouldn't be so bad if each HOS asked for different items, but this was not the case. And the puzzles, one of which followed each HOS, were the same over and over again. I'm not saying they were the same type of puzzle, although that was also true, but that they were EXACTLY THE SAME puzzle over and over again. How many times can you do a jigsaw puzzle of the same scene before you get bored. This game should have been much shorter to keep from boring me to death. I will not be purchasing any other games in this series.
November 22, 2013
amazing Adventure of the Lost Tomb
This game is boring. You just do the same puzzles over and over. It is not at all what I thought it would be. You learn certain things, but that is all. Did not like it.
October 16, 2013
repetitive
The game is long with 20 levels but the scenes where you find the hidden objects are the same over and over. The objects you have to find change a little but you get to the point where you pretty much know where things are and the puzzle screens are the same over and over. It gets boring after a while.
February 19, 2012