Witches' Legacy: Lair of the Witch Queen
Exclusive
A few years have passed since you rescued Lynn from Elizabeth, the witch who murdered her family, and now Lynn has grown into a young woman with awakened magical powers. When she receives a letter from Germany about Elizabeth, Lynn opens a portal to chase after her. Her thirst for revenge has enraged her, and an evil force is using that to pull Lynn deep into the darkness. You must find your young ward and stop her before the Witch Queen's evil plan comes to pass in Witches' Legacy: Lair of the Witch Queen, a cunning Hidden-Object Puzzle Adventure game.
Game System Requirements:
OS:

Windows XP/Windows Vista/Windows 7/Windows 8

CPU:

1.6 GHz

RAM:

1024 MB

DirectX:

8.0

Hard Drive:

840 MB
Game Manager System Requirements:
Browser:

Internet Explorer 7 or later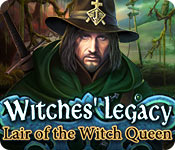 NEW299
The Big Fish Guarantee:
Quality tested and virus free.
No ads, no adware, no spyware.

Reviews at a Glance

Witches' Legacy: Lair of the Witch Queen
0
out of
5 (
0
Reviews
Review
)
Customer Reviews
Witches' Legacy: Lair of the Witch Queen
28
28
Great Game
I thought this was an excellent game, with all the issues I didn't like in the first installment much improved, including graphics that were not as grainy. The music in this one was a little distracting in one place when the tune cuts off suddenly and then starts over. Normally, I don't like little helper creatures, but the imp in the one is awesome. Whoever the artist who created him was, he or she definitely has a little boy. You'll see what I mean if you try the demo! He's interactive as well. If you touch his hair with your pointer, he'll look at you and scratch his head as if to say, "Stop it!" And he's a great little climber, too. I would love to have him in a little stuffed version sitting on my desk! (hint hint!) I think EF is becoming one of our better developers. I highly recommend this game!
July 21, 2014
Fun Game
Great graphics. My only negative was the bonus chapter was just repeating what you had already played, still the game and the graphics were good enought it's hard to find fault. Loved the little guy.
August 17, 2013
WOW! What a Gem!
Based on the SE.... This game just rocks! I truly loved the storyline, it is quite unique. The artwork is gorgeous, and I even loved the little Imp helper. :) The puzzles are different, in a good way. Not too hard, nor too easy. And there is an option to switch to a matching game on the HOGS. That was fun! And you may switch back and forth at any time. I also very much love that we can customize the game to our liking for play. The voice overs were good, I can't comment on the music, as I typically turn it off and listen to my own, or watch a game/NASCAR race! I was so glad to find such a great game on the DD sale, as I don't know how I missed it prior. (Thank you BF!) I didn't have to use the walkthrough, as the jump map does the job, and with your inventory items, you'll know what needs to be done. There is a great jump map that shows you where you need to go to complete a mission. And I can't stress enough about the uniqueness of this game, not the run of the mill type. The game itself is longer than I expected, without getting to the point of boring. And the ending turns out the way you choose to answer the questions! I do not like to give away too much, so you may find for yourselves the quality of the game! :) I hope you other fishies enjoy this as much as I did! Happy Gaming! :)
July 20, 2014
Great game!
One of the best games I've played. Excellent story, in all perfect playing. Only too short :-)
March 16, 2014
Nothing like a little revenge
I really enjoyed this game. I played on the hard level, so I didn't have any hints or sparkles to indicate where to look. For me, this made the game a lot more challenging. Several things about this game I liked: *I really enjoyed the dialog. Normally I skip through this part of the game. However, I was interested in what the characters had to say. *The little imp was just too darn cute! *The interactive map is a must when you are traveling among a lot of places. Just makes it easier. I found that this game presented a couple of challenging games. I was able to figure them all out on my own, but two of them were really starting to make me mad. But I did it! YEAH ME! I believe that this game would be great for any person...beginner and expert. You have the opportunity to choose which level you want to play.
November 7, 2013
If you're not into achievements and collectibles...
The SE retains all the good features of the CE: * Great graphics * Good sound * Jumpable map * Little imp helper The storyline is great and comes to a satisfactory conclusion. It does follow on from the previous games in the series but is fine as a stand alone. A good mix of puzzles and HOSs (where you can play a matching game if you prefer). If you want a quality game but don't like paying extra for collectibles/achievements, then go ahead and buy. Strategy guide is not necessary. I never use them as the map provides next steps in navigation and the hint helps in most cases.
July 26, 2013
Genuine Sequel, Quality Fun
BASED ON COMPLETED CE GAME FIRST IMPRESSIONS At first, I was put off by the different artistic style of the graphics, but after a while I began to really enjoy it. This game is a direct sequel, and the intro does a very good job of filling in the back story without going on too much. You don?t need to have played the first game, but it does give more meaning to this one. From the start it is clear that this is going to be a high quality game. SIGHTS & SOUNDS The graphics are a (little unusual) style of ?hand drawn in oils? and are top quality, although I did suffer distortion because the game wasn?t geared for wide screen, which seems a strange omission in such an otherwise exceedingly well produced game. The voiceovers are excellent. And I also found the ambient sounds appropriate and fitting the scenes. Music, unobtrusive. WHAT?S HAPPENING Since we rescued our niece (?) from the witch Elizabeth (who was engaged to Lynn?s brother Tom) in the first game of this series, she has grown into a beautiful but troubled teenager, unaware of the extent of her magical power. She has not let go of her hatred for the witch who stole her entire family from her. When she hears from a woman in Germany in connection with Tom, she becomes determined to go there. This story is unusual only in that our ?family member in need of rescuing? actively resists saving. Story ends well. MAKING PROGRESS We have an even balance of HO scenes (interactive lists) and puzzles, many of the puzzles new twists on old with a few original ones as well. I had to skip a couple purely because my patience was wearing thin, but I don?t think any of them are too hard. Nor would I call them too easy, though. You do need to put in a bit of effort. The interactive jump map is a big help as the game progresses, because the variety of the locations makes it was hard to remember where you 'need that widget'. Hint and skip are pretty quick, depending on what game mode you choose. There?s also a journal. BLING! Our imp. He?s cute but not saccharine, and has an individual personality all his own. He is also ever eager to help in the adventure. There?s a game timer as well. Instead of playing HO scenes, you can opt to play a pair matching memory game. Seeing each HO scene was revisited, I did one of each, which was kinda cool. FAMOUS LAST WORDS I enjoyed this game more than I expected to, once the graphics started appealing to me. The story is good, even if done many times before, and I loved having voiceovers that were both professionally done and easy on the ear.
July 31, 2013
Only one hiccup
I agree with all previous reviewers who rate this game. However there are too many HO's which slows the game down and is interfering. Yes I know this is an HO game but Elefungames don't have to keep proving this by an abundance of HO's hence my giving 4 stars and not 5 stars
August 21, 2013
A well developed game
This is a good game with many locations to keep you busy. Lynn wants to track down Elizabeth and kill her for what she did to Tom. It is your job to save Lynn. This is a sequel to the 1st game and is just as good. You get a jump map that lets you know where there is something to do. There is a lot of back and forth so the map helps. The hint shows an arrow on where to go or circles the place where there's something but won't tell you what to do. The graphics were a bit grainy in some of the scenes. Good mix of puzzles and HO'S I enjoyed this game and will play it again. Go for it and have fun.
August 27, 2013
Review of Completed Game...
First of all this game has an actual ending in the standard version that does justice to the game so thank you developers for not short changing us. Secondly, this delightful game is by Elefun and I for one really, really enjoy the games they provide for us. Let me also say, I usually buy collector's editions but I decided not to for this one for whatever reasoning I can't seem to remember and I have realized that I enjoyed this game more than ever because it had no distractions. There are no tiny coins to find or some weird morphing birds. So as much as I love the extras, it was nice to see a game for the actual storyline and not just extras. That being said, I really enjoyed this game. I remember the first one because at the time it was a new concept bringing live actors into games and they did it quite well although I am glad they got rid of the live actors in this game because I thought the last game didn't have a lot of flow and it was sometimes hung up on dialogue but this one flowed great and had lovely voiceovers that really matched each character. I came across a lot of puzzles that involved switching items around or putting all the red beads into the red area etc and I found them quite enjoyable. There were no repeat of games which I enjoyed and the hidden object scenes were interactive. You also have a choice of playing a matching game instead of the hidden object ones which is nice since you play all hidden object scenes at least twice. Nice to have a mixer upper. The difficulty is customizable but I would have liked an option to turn off black bars because they were a little too helpful at times and I like a good challenge. I see there is now a 3rd one out in this series and I for one am very curious to see where it will take us. This story line is very well done for a story about witches. Its actually quite realistic for what it is. I really like the main heroine that you play and also lynn who is the typical teenager but also a witch so those two things meddle well together. I will definitely be purchasing more standard editions because it was sooo nice to not be distracted and able to concentrate on the story and get hints when I needed or skips instead of being penalized and not getting the achievements. I could actually focus and a good game DOESNT need all that extra fluff to be an excellent game. I recommend and even though it does give a brief recap of what happened in the prior one, I really recommend playing them in order.
January 31, 2014
The Apple logo is a trademark of Apple Computer, Inc.