Forest Legends: The Call of Love Collector's Edition
Exclusive
Deep in the heart of an enchanted forest, a forbidden love blooms. Guide the human Eveline as she sets out to rescue her beloved from the clutches of a tyrant, learns the truth about magic and discovers her extraordinary destiny! Epic in scope and exploring themes of love and belief, Forest Legends:The Call of Love will captivate you from beginning to end!

This is a special Collector's Edition release full of exclusive extras you won't find in the standard version. As a bonus, Collector's Edition purchases count toward three stamps on your Monthly Game Club Punch Card!

The Collector's Edition includes:
Revealing and captivating bonus chapter
Downloadable wallpapers and soundtrack
Bonus concept art
Game System Requirements:
OS:

Windows XP/Windows Vista/Windows 7/Windows 8

CPU:

2.5 GHz

RAM:

1024 MB

DirectX:

9.0

Hard Drive:

1908 MB
Game Manager System Requirements:
Browser:

Internet Explorer 7 or later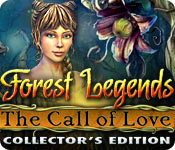 The Big Fish Guarantee:
Quality tested and virus free.
No ads, no adware, no spyware.

Reviews at a Glance

Forest Legends: The Call of Love Collector's Edition
0
out of
5 (
0
Reviews
Review
)
Customer Reviews
Forest Legends: The Call of Love Collector's Edition
80
80
charming and magical
I enjoyed the magical aspects of this game. The artwork was great and the VO's were really well done. I liked the little dragon and the cut scenes were interesting. There was a lot to do and a fair amount of new locations to explore. The plot started out well but soon turned into the old must rescue this person theme. But regardless, I did like the amount of detail in this game. Right down to if you clicked on an apple in the scene, something would begin taking bites out of it. You are in love with a creature from the magic forest. This is forbidden by the humans. Along the way you find out you may not be as human as you once thought. I really enjoyed the making of all the potions. Much fun. Overall this was a light, fun, kind of whimsical game that was enjoyable. If I had one critique it would be the amount of reading. Too many notes etc. even in the diary. No achievements, not too difficult but what was there was bright and enjoyable.
September 8, 2013
Not so good as expected.... :)
As a great fan of fairytale-based games I was looking forward to this one? but it left me a bit disappointed. Graphics are slightly kind of washed-out, especially the cutscenes are blurry. Characters are not good animated? We have 6 chapters plus bonus-chapter, I am in the middle of the 3rd chapter and it took me only 1 hour to play? 2 modes to choose from (can be changed during the game), lockable inventory, very useful map showing available action and allowing you to jump, a very detailed journal, strategy guide doesn?t follow your progress, 70 memos to find, but they are not hidden, you?ll find them anyway? A baby-dragon is your direction giving hint and he also helps you out. There are NO hidden-object-scenes, but a lot of puzzles and minigames: Some very easy ones, but also some difficult ones. And you have to prepare lots of different potions for different purposes. Extras: only music, wallpapers and concept art? It is not a bad game at all, but I recommend this one when it comes out as a Standard-Edition!! :)
August 3, 2013
Far from Puuuurfect!
Despite the rather out-dated cartoonish graphics and annoying voice-overs that simply do not fit the characters, this game does have its merits. It does start of rather clunky at first and gameplay is mostly adventure with no HO scenes ( or so I believe as I did not come across any during the demo time) with alot of minigames and puzzles to solve along the way. You have two game difficulties to choose from and yet still I do see sparkles and quite a bit of hand-holding with the annoying balck bar tips that really provide too much information. However, despite the dismal cut-scenes, the too much reading of materials and the odd stroy line, I do suggest you give this game a chance. Once you progress further along, it begins to get interesting and I found myself slightly entertained and slightly surprised. One note to the developers, not allowing gamers to view the SG and the bonus section is in bad form and will no doubt be a hinderence to immediate purchase. Nevertheless, our story begins in this far off land and is a tale of star-crossed lovers between a young hunter's daughter and a Felize which is another word for were-cat. If you are a feline lover, this may not disturb you but then again it may. My first problem was with the voice-overs, all slightly annoying, especially for our handsome Aurelio who sounds rather creepy, a cross over between Bela Lagosi and Boris Karlofff. egardless of his voice, Evaline is madly in love with him but as her Father is the chief of hunters, she must face dire consequences stemming from this forbidden love. Soon events take fold and dark secrets are revealed about her past and she must first save her lover from her Father, then travel through a portal into the magical world of the Felize to rescue the abducted Aurelio. Game features include a journal which Evaline reads to you which also is slightly annoying. You also have a task list and notes which are collected throughout the game, 70 pages to be exact. You have a cute little dragon that acts as your hint and can be charged up by feeding him the odd fire ball that you will find in some of the scenes. Next you also have your magic potion pot and you will need to collect ingredients and make potions along the way. You also have a map which will indicate tasks as well as allow you to travel. As I said, the game starts off cluncky with alot of directions and tasks to be done. Mini-games are not overly challenging but they were fun to do. I made it through the portal and have yet to come across any Hidden Object scenes therefore I conclude that this is an Adventure game which may displease some folks. If you can get past the inter-species relationship (or is it???) and overlook the fact that the game does involve alot of back-tracking as well as alot of reading, the game does have merits. The developers well known for many exceptional game seemed to have missed the mark on this and I expect that I will either wait for the SE version or wait for a sale on CEs for this one. A far cry from being a great game but it does have its moments and therefore I cannot entirely dismiss it. I will however not recommend it as a CE game and as I said, I am really more disappointed at not being able to have access to the SG. Have a Purrrfect Week-end!
August 3, 2013
Awesome game maker had an oops!
All awesome game makers are entitled to an oops and Big Al is no exception. After them having blockbusters such as Sacra Terra Kiss of Death, House of a 1000 Doors Serpent's Flame, & Stray Souls Stolen Memories, they have this, Forest Legends: The Call of Love. The main character looks like a cross between Pippy Longstocking and Twiggy, & her voice drives me nuts. And I think I would of lost it if I read one more time, "I must save my beloved". The only plus side to the game was that she reads the journal not you. Sorry Big Al, but I won't be buying the CE or SE version of this game. To me I rate it a 3 star and that's being generous. This review was based on the beta version and the demo. The beta version story was slightly different than the demo, still not much better. The sale price still won't have me buying this game. Story: As the story opens you see Evelyn and Aurleo staring lovingly into each others eyes. He then gives her a baby dragon, but then the love fest is disrupted by hunters who are after Aurleo because he is a Feliz (werecat). She takes Aurleo home to mend his wounds and dad comes in asked if she hurts and she disgraces her father by telling him she is in love with Aurleo. Honestly, I wouldn't fall in love with him because he does turn into an animal. Umm not natural and disgusting. o_O Graphics: On the slide here. Big Al had much better graphics. These to me look kind of washed. And my monitor is only 2 months old. Music: Yes it does fit the game. Always did like Big Al's music. Mini games: Are so-so. I didn't find them all that interesting. Hint: Recharged fairly quickly. When you need to use it because you are lost, the hint does take you where you need to be instead of hitting it over and over. Map: Jump map. And if I remember correctly, it did tell you your tasks.
August 3, 2013
Potential Lost
This game didn?t quite hit the mark for me. The level of gameplay is very simple - find and object and use it, but there is a tiresome and cumbersome amount of reading. I just ended up just ignoring the memos. I also reluctantly plowed through making the potions which presented nothing new in methodology each time. Admittedly, it is a very pretty game to look at, but I?m not sure why so much attention was placed on extremely detailed scenery and so very little on challenges. There is an abundance of flowers that poof glitter dust or pulse with light, elves fluttering wings, water moving, etc. which made the download of the game extremely long. What there was not, except for a mere few, are puzzles that actually make you think. Thank goodness there weren?t any HOS, or I would have pulled out my hair. I did finish the game, but without enthusiasm. I really struggled to recommend this game, but decided to based on the fact that others might enjoy the adventure style gameplay.
October 9, 2013
Sorta Kinda
This game had some very nice things about it. The drawings were well done. The fairy tale story line held pretty good. Puzzles were very easy. Interactive map was great. Like making potions. The voice over for the character who is half beast did not really fit his profile. I could see this game could be boring to some but great for beginners and those who like some whimsy which this had. I would buy it on sale sense on the line of likes and dislikes.
August 20, 2013
not worthy of CE.
This game can be fun but not as a CE. Wait for the SE. There are no HOS but does has puzzles and mini games. Some are easy and some gave me challenge to play. The game is fast so will not take a lone time to complete. There is a little dragon that helps you out during the game an as a hint button. No extras in this CE so that is why I say wait for the SE. Nothing exciting here. I will pass.
August 3, 2013
Very strange game...
I didn't totally dislike this game, but not worthy of a CE! It didn't run that smoothly, and arrows to different locations not easy to see. I liked the fact that there were no HOS, as they can get tedious and boring. Couldn't find a strategy guide, and at times the hint system didn't help you. Cut scenes were nicely done, and music was ok. Puzzles were far too easy, and too much hand holding even in advanced mode. Would buy it as and SE, but not worth CE price. The square screen, rather than full screen detracted a bit too. Could have been so much better with a few tweaks!
August 12, 2013
Not my cup of Tea, I guess
Definitely not a HO but a slow moving adventure. It seemed to lag to me, maybe that isn't a good description, as I don't know how to explain how unsmooth this game goes. Even the voice overs with conversation balloons is weird. I didn't finish the demo as I was really bored with this one. This adventure is not a fast moving adventure; I don't even think the adventure game fanatics will enjoy this one. The story might have been good if you could bring yourself to go further.
August 3, 2013
Love the baby dragon but that was all.
Love many of the fairy tale games I have most of them but this one is lacking story & graphics with cheap cutout characters. The only extra star I'd give is for the baby dragon. Even being a cat & dragon lover there's nothing worth a CE game price and I don't even think I'll bother when the SE comes out. Can't like them all. Try any of the Dark Parables for the best fairy tale stories.
August 11, 2013