Skeleton Pirates
Get ready for the ultimate battle in Skeleton Pirates! The pirates are after your treasure maps that are well-hidden on your ship! Defend your ship and protect your maps using an armory of cannons, catapults, bombs and other obstacles. Don't let the pirates enter your chambers to steal your treasure or lay their scrawny hands on your precious maps! Be warned, the longer you defend your loot, the more aggressive these pirates become. They will use every trick in the book, from bombarding your ship to using ropes to board; they'll even play magic tricks in an effort to reach their goal! Can you protect your ship and crew from these boney bandits?
3 unique game modes
120 different levels in adventure mode
40 weapons to choose from
Game System Requirements:
OS:

10.8/10.7/10.6/10.5

CPU:

1.0 GHz (INTEL ONLY)

RAM:

1024 MB

Hard Drive:

84 MB
Game Manager System Requirements:
Browser:

Safari 4.0 or later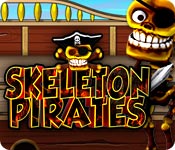 NEW299
The Big Fish Guarantee:
Quality tested and virus free.
No ads, no adware, no spyware.

Reviews at a Glance

Skeleton Pirates
0
out of
5 (
0
Reviews
Review
)
Customer Reviews
Just like Plants vs. Zombies
My favorite game by far is Plants vs. Zombies. The format of this game is almost identical, just with a different theme. It's a little more challenging because you have to collect stars not only to buy weapons against the skeleton pirates, but also to collect ammo. The new weapons you obtain aren't just given but you have to earn them by killing parrots that will attack your placed weapons. A great little strategy game and a must buy for me!
July 29, 2013
What would we have if Jack Sparrow were a game developer? Cannons vs. Pirates!
This is quite clearly a PvZ clone. Is that a bad thing? Not in my opinion. I am a huge fan of PvZ, though - I freely admit it. Instead of trying to keep zombies out of your house, you are trying to keep skeleton pirates out of your ship cabin. Instead of peashooters, you have cannons. Instead of sunflowers making sun, you have birds bringing stars (which I can only conclude were plucked from the uniforms of military officials). The parallels are many and obvious. I appreciate that they didn't try to disguise that fact. The graphics are similar to PvZ's - cute and clear and bright. The game is easy to understand and fun to play. It offers a distraction to those waiting for PvZ 2 to be released. What's not to like?
July 29, 2013
Arrrr....TIS HARDER THAN IT LOOKS!
What a cool game for kids AND adults. Those nasty skeleton pirates are after ye treasure held in the Captains quarters. You must strategically place cannons on the deck which is basically a grid with 6 rows and columns. As the pirates attack try to slow them down with treasure chests that produce silver and gold stars which will be used to purchase more cannons or chests. Bluebirds will fly by and produce silver stars and canaries fly by producing gold stars but when the parrot flies by you must click on him to knock him out for extra lives. This game progresses quickly and is at a good pace. This is one of the few games that rank up there with Plants vs. Zombies so enjoy!
July 29, 2013
Skeleton Pirates ... a little like Plants vs. Zombies, but Not:
Skeleton Pirates is a cute little game that has a "save your home" feel of Plants vs. Zombies. It is similar in that you have to build up your defense as the skeleton pirates head towards your defense zone. It is not as aesthetically pleasing to the eye as PvZ, but being an avid PvZ (1) excellent player, I can say that Skeleton Pirates is much more difficult -almost frustratingly so, but it challenges your defense skills. PvZ2 is due to come out soon, but I am ticked with the company b/c the last I heard, they have "gone to the darkside" in that they have switched their platform over from "Pay once, enjoy the game forever" to "Oh, it is now FREE (but then nickel and dime you to get you to buy this and that so that you can "beat the game easier" -bleh. In summary, Skeleton Pirates is a challenging game that is following in the standard that PvZ genre has set. If you are expecting this game to be as pleasing as PvZ 1, you will be disappointed. It does not have the same lighthearted and humorous feel as PvZ, but, like the PvZ1, and unlike the upcoming PvZ2, this game is the traditional - buy once, keep forever without having to be nickeled and dimed and I still love that Skeleton Pirates has the same battle defense play :)
July 29, 2013
PLANTS VS ZOMBIES MKII
What a sensational game this is. I was sitting up until all hours this morning on my PC as I just couldn't leave it. Very similar to P vs Z, but one of the differences is that you need a gold star in addition to the silver star (same as the flower in the earlier game) for points to purchase weapons, so it takes up 2 slots in your weapons area. It's staged on the deck of a ship instead of a backyard, and you're protecting rolls of maps etc in your cabin, so obviously when the pirates reach your cabin, you have lost and have to start the level again after 3 lives have been used. It's a cracker game! I still play Plants vs Zombies now and any fans of this game must get this one.
July 29, 2013
Where Dead Pirates seek Treasure! 5 star Awesome fun!
Skeleton Pirates Where Dead Pirates seek treasure! Based on demo and purchase but not completed This game is awesome fun! Very similar to Plants vs Zombies as likely everyone is going to say, though this game is powered by Torque Garage Games, afb Games. Great Job developers! Music is catchy. The sounds & music are adj as is the full screen option. The various chests, cannons & weapons pulse throb to the music. Skeletons have beautiful smiles with nice white teeth, and they also bob to the music. The phrases the skeletons say are pirate appropriate, ?Where?s the treasure?, ?Blow me down? and ?Yo ho ho?. Once the skeleton has taken their allotted damage they collapse into a pile of bones with one eye landing in the open month. Too hilarious. You sign in as the Captain of the ship and are safeguarding the treasure maps that the skeleton pirates are trying to get (instead of Zombies after your brains) To change players Click the Captain button along the lower center of the screen. There are spaces for 10 players. Options and Exit are lower right, Shop and Info are on the lower left. The info button explains, know your friends, know your weapons and know your enemies. Once you choose the weapon, enemy or friend the game shows you the details of that category by clicking the picture of what you would like more information about. Once an item is available you can then click to find out more about it but you can not see what future skills enemies may have in the future levels, or future weapons you will acquire. There are 40 slots for available inventory choices with rope X?s over the ones that are not available yet. The game only shows what items are currently unlocked. Beginning levels have 5 slots to choose your choice of weapons and later levels will have up to 9 slots open so there will be many choices to make once you have earned those items. You do start with only 3 lives and once you have earned enough coins the shop will open, I believe level 1-8 or 1-9 opened the shop for me. Purchasing an extra life, magic box, extra ammo or even extra slots for weapons will be available, as well as birds that will have an umbrella so they can fly in the rain. Once you pay for an upgrade it remains with you in future rounds. The information scrolls can be clicked faster if you read quickly and also are not too difficult for early readers to be reading. Additional information is overlaid over the bottom of the screen that can be easy to miss if you are focusing on your game play. The beginning levels start out very simple as they are the tutorial and quickly get more difficult. Level 1-1 you only have the cannon and the little blue bird flying through that will give you a silver star worth 25 points that gives you the funds to buy additional cannons. You do not have to click the blue bird to get the star and it will release its star at some point along the game board row it is flying in. If you miss seeing it or later the yellow bird drops the gold star, the stars will drop to the bottom of the game board and have stayed there or you can click on them while they are falling. I tested to see if it would disappear after a short time and they did not but I also am not sure that future levels may alter that. I was in level 1-9 when I was counting how many strikes a crate would handle (50)from that kind of skeleton and a skeleton takes 9 steps to cross a game square. Anyway, I had focused too much on that task of counting and had gotten behind adding needed cannons and the next surge the skeletons they were able to enter the Captains Chambers. There are even Parrots that help the skeleton Pirates. They fly through and drop their almost acid ?business? that damages the crates, cannons and even the chests that give stars. Whacking the parrot gives you parrot heads and once you have achieved the number required on the level you are rewarded with a new tool. The beginning levels require 10 parrot heads. After whacking with a mallet that automatically appears when you click a parrot, the head goes to the inventory and his remaining feathers float down but no other parrot parts and is not gruesome. If you click the bird by accident nothing will happen and also if the bird and a parrot are at the same place when you click the parrot the bird will not be injured. There are many creative aspects making this game still feel similar to Plants vs Zombies but this game, can totally can totally stand on its own. I purchased with a PCC prior to even the demo hour completion. I was looking for a game for our grandson and have gotten pulled into it for myself also. I like that it starts out simple enough for beginning players though has quickly become entertaining for adults who also enjoyed PvsZ. I think this game I enjoy more, as sometimes the music and sounds in PvZ can stress me out with the impending sounds it has, and I have not felt that yet with this game (yet) but I am only in the 2-2 level now. The first level had 9 or 10 pirate attacks. If you are loosing and back out of the game to start over it will cost you a life otherwise your game will be saved from where you were. I have had 3 times that while clicking it the game I popped out of the game but it had saved at the very spot so it was not a problem to just click continue game and go on but did want to at least make a mention of it. Give it a try it is awesome fun though the people who can not continue on in a casual mode may be disappointed.
July 29, 2013
Like Plants vs Zombies
Loved it! Finally another game like Plants vs Zombies! Instead of zombies, you have pirate skeletons who are on your ship trying to get to your treasure maps. You try to plant cannons and other weapons in their way by catching stars. You get the picture. Have fun!
July 29, 2013
fun game
fun game!,not to hard but hard enough,bought it, very fun keep up the good work Big Fish !
July 29, 2013
Finally!
If you love Plants vs. Zombies, this is the game for you. Many of the weapons are reminiscent of PVZ as is the general game play. I didn't like the graphics as much, but there are new twists on the old theme here. Try it!
August 1, 2013
Free your imagination
Excellent game to be played. It is recommended to try it
August 2, 2013
The Apple logo is a trademark of Apple Computer, Inc.
The Windows logo is a trademark of Microsoft, Inc.