Fierce Tales: Marcus' Memory
Exclusive
Solve the mystery of a seaside town and uncover your lost memories in Fierce Tales: Marcus' Memory! After waking up on a deserted beach with no memory of who you are, you set out to find the one person who can help you. But when you arrive at the nearest seaside town, you learn that memory loss isn't your only problem. The village is buzzing with reports of terrifying "sea people," and uncovering the truth behind these strange creatures might just be the key to recovering your own lost memories. Hold your breath and dive into this thrilling Hidden Object Adventure game!
Game System Requirements:
OS:

Windows XP/Windows Vista/Windows 7/Windows 8

CPU:

1.6 GHz

RAM:

512 MB

DirectX:

8.0

Hard Drive:

932 MB
Game Manager System Requirements:
Browser:

Internet Explorer 7 or later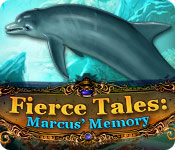 NEW299
The Big Fish Guarantee:
Quality tested and virus free.
No ads, no adware, no spyware.

Reviews at a Glance

Fierce Tales: Marcus' Memory
0
out of
5 (
0
Reviews
Review
)
Customer Reviews
Fierce Tales: Marcus' Memory
27
27
Always a shame when a qualiity game like this is completed!
A great all rounder for those that like HO & a developing storyline. Lovely scenes & graphics. Like the map tool that you use move to one destination to another straight away if you want to. Definitely recommended. The next challenge is to find the next one having played so many that is up to this standard....
August 18, 2013
An Undersea Adventure of Friendship, Love & Jealousy
What more could you want in a story. Beautiful graphics, compelling storyline and vivid cut-scenes have you hooked from the start. Many challenging puzzles I haven't seen before. Some took me awhile to figure out. Interactive map and HO scenes. Storyline flowed well, was refreshingly different and the cut-scenes throughout the story helped to pull the story together. A great game that I will play again and again.
August 6, 2013
REALLY NICE GAME
Nicely developed mystery of where Marcus has been between the time he left and returned to this seaside village. And who are these mysterious sea creatures who infiltrated the sea village in his absence and how can he help the villagers? 3 modes of play. You can turn your interactive map on (which will show where tasks are to be performed) or off. Very nice graphics; music is relaxing; sounds are realistic; and voice overs are professional sounding. Good production values. Submersive interactive HOS are list or silhouette based and are very nicely detailed and colorful. The silhouettes especially are progressively interactive, which I really like - i.e., you combine items to get a new object which then has to combined again to get something else. With only silhouettes, it takes a little thinking of whether you are looking for items to combine or looking for an item that is already completed within the HOS. Didn't like the dark screens while changing locations or looking at close-ups - seems that graphics have come far enough to make the transitions quite smooth. If you like achievements and collectibles, you might prefer the CE which has, besides the usual stuff: 22 achievements; collecting 44 shells to buy items for your dolphin pool and/or your aquarium; and capturing 19 sea creatures which are in a separate album and 35 turtles.
July 28, 2013
Very Challenging and Entertaining!
Note: This is a review of the COMPLETED game. ~~~~~~~~~~~~~~~~~~~~~~~~~~~~~~~~~~~~~~~~~~~~~~~~~~ I'd had this game on my purchase list for a long time, so when a sale came up, I purchased it. This turned out to be a good game, but fell way short of being a great one. At first, I was a bit skeptical about the story. It's an aquatic theme- I really don't like aquatic themes, and it's a love story, which I'm open to as long as it's not too lovey dovey. All I have to say is never judge a book by its cover, because the story was great! The story starts with you, Marcus, being pushed off a cliff and supposedly drowned, but you survive, with your memories completely lost and a locket in your hand of a girl. And so, you set off to reclaim your memories and get the girl! One of the things that stood out for me about this story was the character of Vasco. He is, perhaps, one of the greatest villains in HOPA game history. I don't know why, I just liked him a lot. I liked how evil he was, and how he always seemed to be one step ahead of us. He also reminded me a little bit of a horrible movie villain- trying the same method to kill me over and over again, and not making sure that I'd died, as well as the trapdoors. I'd have to say, I did like most of the characters (as well as the dolphin), and I liked how the dolphin was used in the story. Something else that stood out for me with this story was its little side plot. It wasn't all about the love triangle with the psychotic murderer, there was this little side plot of the Sea People, which began midway through the first chapter, and ended around the fifth. I found the story had quite a few unexpected twists, but the biggest twist in the story is saved for last. I'll say no more, but it's one that I certainly wasn't expecting! The only bad thing about this story was that it was sometimes confusing. From about halfway through chapter three to the start of chapter five, I had no idea if we were in the past or present, because Dolores looked a lot younger than she did at the beginning, but the main character's memories were still gone. Then, it cleared up and I found out where in time I actually was. If the developer ever did a story like this again, I'd say they should make it clear at all times whether we are in the past, present, or future. I'd have to say this is one of the most challenging games I've ever played. The HOS I found rather easy, but some of the puzzles were really hard! I'll start with the HOS: There were two types of HOS in this game: Interactive Silhouette and Junkpile. In silhouette, you were given the silhouettes of items and you had to find that item to use in the scene. At first, I found this difficult, but it became easier as the game progressed. The other HOS, junkpile, was the standard one seen in HOPA games, and also had some extra step items. As for the puzzles, boy, they are some of the most challenging puzzles I have ever encountered! I had to skip the majority of them, and some of the ones I did finish took me a long time to complete. The two longest ones for me were the billiards puzzle (spent ten minutes trying to solve before skipping) and the exploding gems puzzle (spent fifteen minutes on it before eventually solving). I was really impressed with the effort Blam put in to these puzzles, so I commend them. The graphics were good. They were up to date for a 2013 game and were very clear. The scenes for the HOS were the clearest drawn scenes in the game. The only flaw I found in the graphics was that the character's lips did not move in time with the speech, and I found that the character design could have been worked on a little more. The voices were pretty much standard for any HOPA, so I have no comment. FEATURES 3 modes of difficulty: Casual, Advanced and Hard. There is also an option to turn the interactive map on or off. I played Casual and turned the map on. Hint and Skip- both recharge rather quickly for their difficulty and the hint is useful outside HOS. Diary- keeps track of events in the game. It's used fairly often. Interactive Map- extremely helpful. Let's you know where the next task needs to be completed. The story ended conclusively, so I was pretty happy with the Standard Edition. Like I said before, this is good, but not great. This is a solid four stars for me. I'd recommend buying the SE, but the CE has some good extras in it for those who like the extras.
December 1, 2013
DEADLY LOVERS TRIANGLE
Delores has fallen in love with Marcus and their mutual friend Vasco becomes enraged and pushes him off a cliff to his demise....or so he thinks! Marcus survives and he must regain his memory to save the woman he loves. This is a beautiful nautical fantasy game with interactive HOS list finds as well as progressive interactive finds such as finding a knife, using that knife to cut fishing line using that line, as so on. There is a map that you find to help with active zones and traveling. The CE version has a ton of morphs and collectables so I liked that version better, but this is still an exciting game to play, enjoy!
July 28, 2013
very challenging hidden object and puzzle game
I found the game very interesting and a challenge I recommend this game to anyone
July 31, 2013
Great end game puzzle!
I loved the first game in this series (Fierce Tales: The Dog's Heart). The graphics were beautiful, reminding me of some of the Dark Parables games and the story was original. I love undersea settings, but the locations in this game didn't wow me, although they were quite pretty. The dolphin is your little helper, but was underused, I think. The strongest part of the game was probably the puzzles, which were original and challenging, but never too difficult. The end puzzle in particular, where you have to think a few steps ahead, was great; I had to repeat it a few times and it was satisfying to beat it. The weakest part was the story. It seemed to be a mish mash of three different stories that I've seen before in other games, and at some points just didn't make sense. E.g. there are newspaper clippings all over town about attacks by "mysterious sea people" and then right in the middle of town is a statue of a sea person that has clearly been built a while ago! Overall, the game was still fun to play, with a map that shows active locations so you never get stuck, and beautiful HO scenes and enjoyable puzzles.
September 25, 2014
Great Story
Enjoyed the game, graphics and the previous game by this developer Fierce Tales: Dog's Heart.
August 11, 2013
like it but, found a flaw
This game is an easy going game in the casual mode, which I like. No needs for hints just look around find things and use. I only played free 1 hour and was going to buy the game, until I found a flaw in a HO Scene.(clothes window) Game would not let me click on a paint brush on far right side. Game wanted me to get other paint brush. Maybe, if the game on sale or BF gave refunds for games with defects I would buy this game. Like the game, but is it worth $$ risk. Play free trial first, before you buy
August 11, 2013
Help Marcus figure out who he is
Marcus has lost his memory and we must help him figure out who he is. Of course he isn't a run of the mill person! We must save his true love and fight his rival's plans to take over the world. The graphics are pretty good and the adventure is light and breezy. Nothing too hard if that is what you are looking for. There was one spot I had to look up because I could not see the sequence in the notes, but other than that this was quite easy for me. The storyline is predictable and we can guess the outcome of this one early on. Still, it is a short game and good for those who just want to have fun without any real challenge.
October 1, 2013
The Apple logo is a trademark of Apple Computer, Inc.