Nearwood Collector's Edition
Can a young woman single-handedly change the fate of a magical kingdom? Set out on a voyage with Jane Lockwood into a mysterious world of danger and adventure, into a whirlwind of magic and wonder! As you encounter a host of unusual and amusing creatures and help them in their troubles, you will inch closer and closer to your final goal – finding Jane's long-lost parents, all the while freeing the great and wise Time Keepers from the grip of oblivion. Find out why time came to a standstill, and drive the ancient evil out of Nearwood once and for all! Bring back peace and quiet to the land! Save Nearwood!

This is a special Collector's Edition release full of exclusive extras you won't find in the standard version. As a bonus, Collector's Edition purchases count toward three stamps on your Monthly Game Club Punch Card!

The Collector's Edition includes:
An exciting bonus chapter!
Beautiful desktop wallpapers
Concept art
Soundtrack
Game System Requirements:
OS:

Windows XP/Windows Vista/Windows 7/Windows 8

CPU:

2.0 GHz

RAM:

512 MB

DirectX:

9.0

Hard Drive:

1106 MB
Game Manager System Requirements:
Browser:

Internet Explorer 7 or later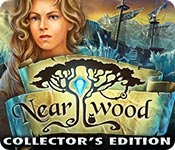 The Big Fish Guarantee:
Quality tested and virus free.
No ads, no adware, no spyware.

Reviews at a Glance

Nearwood Collector's Edition
0
out of
5 (
0
Reviews
Review
)
Customer Reviews
Nearwood Collector's Edition
109
109
Too Much Story, Chit Chat & Interruptions
I don't think I've ever seen a game with more dialog interruptions then this one. There are constant conversations disrupting the flow. I was always clicking the skip button and dismayed to discover that a simple click of the mouse wouldn't hurry the conversation along. Most times, you can click the mouse and it will turn the page for you and move the discussion along very quickly, but not on this. You were stuck listening/reading the dialog whether you wanted to or not. All through the game, the daughter is talking all the time and then the elf helper is also talking way too much. On a few of these things, there are no skip privileges and you have to endure the chit chat. I don't like games where there's a lot of story and talking that interrupts the flow of the game. The other thing that really bothered me was when you wanted to use the map to jump from one scene to another, you could, but if you went to use it again too quickly, you would get a message saying the amulet was re-charging and to try again later. You're kidding right? Lol It's a map. No one wants to keep using the arrow to back track through 10 scenes just to go back and finish something. Most newer games have maps to let the player move easily to a room/place without having to do this and this game stopped you from doing it each and every time you wished to. (This was in normal mode) Really disappointed in this game.
August 18, 2013
The beginnings of a good game
Based on about 15 minutes play - I usually like games with a magical otherworldly theme, but this one just didn't grab me. The artwork is beautiful but there is too much story for too little action, and you can't speed up the chat by clicking, only skip the whole scene. There doesn't seem to be any HO scenes, unless I didn't get to them, and the only minigame puzzle I reached I couldn't make sense of. Back to the drawing board is my verdict.
August 8, 2013
Boring!!!
I played the trial if you like puzzles a lot so far. Played one hidden object, in the whole hour. I am a hidden object lover. surly puzzles as well. Not buying this one. I was happy the trial, was up.
August 8, 2013
Nearwood - Neardeath Is More Like It
Holy Catfish ! So sorry but I had to get far away from Nearwood. I had high hopes from the opening the art work is simply gorgeous but sadly Nearwood is one huge cut scene with some puzzles and one fragmented scene thrown in but it gets better the so called "map" was the deal breaker for me and here's why I used the map then when I was ready to leave the area I pressed the next area of interest, okay now everybody stay with me on this one ... ahem the map said it needed to re-charge try again later really, at first I thought my eyes were playing tricks on me so I tried again and once again I was told the map needed to re-charge and sure enough over to the side is this amulet looking thing charging up now that is a first for me I understand the hint button re-charging but the freaking map are you kidding me with this Mickey Mouse bull. Why even bother to put an interactive map in a game if it's not give me a break and I don't remember anything in the tutorial telling me the map would need to re-charge after each use only the hint button,and they call this a collector's edition I think not. The best thing this game has going for it is the art work and the cute little furby guys you can collect along the way but the rest of the game is nothing but wasted time on listening and watching your friend Fey chit chat with one cut scene after another. During the demo I earned no achievements so I'm not sure if there are even any in the game by the time the demo ended I was more than ready. I came across no hos except for the one fragmented scene the rest of the time your listening to what's his face babble on and on like the energizer bunny and jumping from one cut scene to another with a few furby's to collect and mind numbing frustrating puzzles. This is a huge no buy for me not even when the se is released nor when it becomes a DD not even if they were giving it away no thank you. I applaud the dev's for their brilliant art work because it is simply eye popping gorgeous but as far as a game goes this one is not and it sure doesn't deserve the title collector's edition. This developer is now on the bottom of my list as being a top developer the map trick was so not cool and then throw in all the mindless chit chat and cut scene after cut scene that was enough for me and I will definitely be thinking twice about even demoing anymore of this developer's games. Simply put Nearwood was Neardeath for me. Sorry for the harshness but I got to call it like I see it and this one is a joke and a bad one at that. However these are my personal feelings about the game so please don't let my personal feelings discourage you from trying the game it really is gorgeous so give the demo a try and see for yourself. Have fun everybody !
August 9, 2013
Hated it...
First off, the map is the WORST, it shows "areas of interest" instead of areas where something can be done now, of course I know there is something to do there EVENTUALLY and then you have to wait for it to recharge! Huh? what a pain! The room transitions were slow and lagging and you have to hit a very small sweet spot to leave an area and it quickly became annoying. There were way too many cutscenes and you can't click through them..you have to sit through each and every one of them or skip them altogether, I worried that I would miss pertinent info so I sat through them all. The HOS were mostly FROGs and I particularly HATE them. #Other than a few "find such number of the same thing"#. The last thing I hated was having to click on the "X" to close out the window after picking up a new tool instead of just clicking outside the window...it quickly became a pain. I will say that the scenery is beautiful but since its the reason I bought it without going far enough into the game to find out what a lemon it was I hate that too! I quit without finishing and came here to write this review while I was still ticked off about spending on a collectors edition.
August 13, 2013
nearwood
After playing 15 minutes, I quit. This is not a game for a person like me. That gimp is distracting and too much chatter from him. This seems to be a game tilted more toward young females and there is nothing wrong with that, just doesn't work for me.
August 10, 2013
Hey Big Fish Cut This Off Cure For Insomnia - Review Based On Demo
I'm not sure how many chapters this has as it only shows the first chapter during the demo in the strategy guide. In order for this game to go into widescreen I had to deselect the "wide monitor" in the options section. There is voice overs 3 play modes: Casual, Normal, Expert. Casual has sparkles and black bar tips. Normal no sparkles but has black bar tips. Expert mode did state hint and map not available. Says nothing about the skip for the puzzles. I played Normal mode. I didn't need the hint but just clicked on it to see what it would do and it is directional and charges up quick along with the skip. Shortly into the game you get a little helper pointy eared little guy and you also have to find little creatures called Snoop-Sees. For every 3 you find you uncover a new page in the secret encyclopedia. MAP: This is transporter. It does show where you are as the location will "glow" on the map. Red circles are "areas of interest" you can transport back/forth. Blue circles you have to wait for the "teleport" to charge up. HOS: I only came across one scene find 10 turtles and 10 snails. Also a frog scene (find pieces of items). I had no problems here locating anything. PUZZLES: I did 3 during the demo. Nothing hard or new here. OVERALL IMPRESSION: The graphics are beautifully done and the storyline while it's been done many times before I still found it intriguing however this game is just way too "cutesy" for my taste. I also usually enjoy and prefer voice overs in a game but the little "helper" pointy eared guy talks way too much and way too helpful in my opinion. He was annoying for me. As for finding the "Snoop-Sees creatures well not hard at all. These are in plain sight and can't be missed. Oh no fellow fish of the pond if you are not into "dress up" and/or name the creatures well I didn't come across any of that during the demo but it might come later. Oh and what's up with the map having to wait for it to charge up? Are you kidding me? LOL! Overall sorry Big Fish and developer but the best I can do for this is 1 star and that's for the graphics. This is a definite no go for me. I'm staying far away from Nearwood. I just found this game downright boring and would cure insomnia. There is nothing here that makes this game CE worthy for me. There are no achievements and locating the Snoop-Sees doesn't cut it for me. I also won't be purchasing the SE when that is released. I wouldn't buy at the $2.99 or even a game club credit or if I had a coupon code that was ready to expire. CE Extras: Bonus Chapter Strategy Guide 5 games - just shows 5 of this developers games that are for sale. 11 Sound Track 8 Wallpapers Snoopedia - secret encyclopedia As always, give it a whirl and decide for yourself.
August 8, 2013
childish
graphics annoying storyline childish
August 9, 2013
Boring Boring Boring
I don't get all the good reviews ... and to have this as a Collectors Edition .. REALLY ??? I could have taken a nap. Sorry designers go back to the drawing board
August 10, 2013
The Apple logo is a trademark of Apple Computer, Inc.