Nearwood Collector's Edition
Can a young woman single-handedly change the fate of a magical kingdom? Set out on a voyage with Jane Lockwood into a mysterious world of danger and adventure, into a whirlwind of magic and wonder! As you encounter a host of unusual and amusing creatures and help them in their troubles, you will inch closer and closer to your final goal – finding Jane's long-lost parents, all the while freeing the great and wise Time Keepers from the grip of oblivion. Find out why time came to a standstill, and drive the ancient evil out of Nearwood once and for all! Bring back peace and quiet to the land! Save Nearwood!

This is a special Collector's Edition release full of exclusive extras you won't find in the standard version. As a bonus, Collector's Edition purchases count toward three stamps on your Monthly Game Club Punch Card!

The Collector's Edition includes:
An exciting bonus chapter!
Beautiful desktop wallpapers
Concept art
Soundtrack
Game System Requirements:
OS:

Windows XP/Windows Vista/Windows 7/Windows 8

CPU:

2.0 GHz

RAM:

512 MB

DirectX:

9.0

Hard Drive:

1106 MB
Game Manager System Requirements:
Browser:

Internet Explorer 7 or later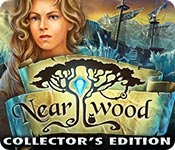 The Big Fish Guarantee:
Quality tested and virus free.
No ads, no adware, no spyware.

Reviews at a Glance

Nearwood Collector's Edition
0
out of
5 (
0
Reviews
Review
)
Customer Reviews
Nearwood Collector's Edition
100
100
nearwood collectors edition
great not to terribly hard fast moving
August 28, 2013
A visual feast and a great adventure!! :)
Review is based on the completed game: Wow, couldn?t get enough of those beautiful drawn settings with their astonishing and adorable creatures in the world of Nearwood!! 3 modes to choose from, 4 chapters plus bonus-chapter, interactive map allows you to jump, but takes some time to recharge, strategy-guide doesn?t follow your progress, direction giving hint, lockable inventory. Countless minigames/ puzzles, most of them wellknown like Mah-Jongg, Rotation puzzles, Sudoku, repeating patterns, chess, moving tiles to create an image, maze, preparing potions? But all not very difficult and good to solve. There are only a few hidden object scenes: most of them are fragment HOS, but also where you are looking for 10 pairs and where you find things in the scene and put them in their right position. No HOS from list. All over the maingame and in the bonus-chapter there are 111 so-called Snoop-Sees (funny little fur-creatures) to find. Unfortunately the maingame ended for me after only 3 hours in the 2nd mode, and I?m not the fastest player... It has a happy ending. The bonus-chapter is an additional story with some new locations and lasts 45 minutes. A beautiful adventure with a lot to do and to explore, but for advanced players too easy and too short! But if you?re new to these kind of games: have a try!!! :)
August 8, 2013
So Very Pretty And Light-Hearted Fun!
BASED ON DEMO FIRST IMPRESSIONS It took an effort of will to press the play button when I first started this game. The main menu has a unbelievably beautiful video running behind it from our point of view, travelling down a river, first through a gorge then over the falls, into the lake... I had to stop there, or I?d never have got to the game! For the second time in a week I am totally astounded at the imagination and talent of game artists in creating an alien and breathtaking world for us to explore. With the help of cute critters, interesting (and amusing) characters and rampant flora, we are transported to the ?otherworld? of Nearwood, where we hope to find our long lost father. SIGHTS & SOUNDS The graphics are hand drawn watercolour in style, burgeoning with colour and unforgettable. The music is serene, light hearted, and unique. Really impressive. The bird song and running water in the background make for a delightful audio experience. WHAT?S HAPPENING Our guardian aunt has died, leaving us the family home, which we have not been back to since our mother died when we were just a child. She also leaves us a note saying that she has been keeping a secret from all this time, for our protection, but that now we need to know. Entering our home after such a long absence, we find everything just the way we remember ? except for that strange elfin guy who calls us upstairs. He promises us that we can enter into an entirely different world through the mirror in the attic, find our father (who disappeared after our mother died), and save the world from catastrophe. MAKING PROGRESS The game is adventure more than puzzles or HO scenes, although we do have both (more puzzles than HOs). The puzzles are different takes on familiar ones, with interesting twists that make you rethink them. The HO scenes so far (3 only) have been a multiple scene, and 2 fragmented object scenes where we see the silhouettes of the pieces. Hint and skip are both very quick in easy mode. The adventure tasks are not too difficult, and it?s just as well, because there is no hint outside HO scenes. The map is interactive and therefore as useful as hint, and you can use it to travel. BLING! There are collectible Snoop-sees. These are really cute little creatures hiding in every location. Finding 3 of them opens a page in the Snoopedia, the story of the race. They are animated and each is different, so they are a lot of fun. The other CE extras are the standard gallery options. FAMOUS LAST WORDS Warning! Irresistibly cute! I know some of you have had enough of that, I don?t think it?s possible for me to get too much of it. However, I don?t know that I consider the Snoop-sees incentive enough to buy the CE. With only the SG, bonus chapter and gallery, I might opt for the SE.
August 8, 2013
ENCHANTING AND CREATIVE
Refreshing change of pace. Very imaginative floral and animal artwork. Pleasure to look at. Nice adventure with cohesive story and a helpful hint system when you're stuck. Your guide is a bit too talkative for my taste. Provocative puzzles are usually unique and very well constructed - many take a little thought. The environments are carefully crafted, with a lot of attention to detail. Nice relaxing music.
August 8, 2013
Beautiful Journey Into a Land of Fantasy
Where there is good and beauty, there is also the darker side. I could sit for the entire demo hour mesmerized by the opening scene--travelling along water rapids. Being a veteran gamer, I don't want to compare this to other games, however, my best advice is to recommend to a much younger age group than myself and for those young-at-heart who wish to play a light-hearted and beautifully drawn game! The graphics are breath taking and so much to take in that I can't see how anyone wouldn't enjoy this game and admire how much work was dedicated in it's making. Enjoy! -Mama Mia-
August 8, 2013
Nice Game!
Nice graphics and game play. Voice over is very good, but a lot of talking. You can skip the talking completely, but you can't "click" through it to hurry it along if you read faster than they talk, as I do. Jump map is nice, but it does not have the name of the location on any of the dots. You go so many places, it is sometimes hard to remember where the crossroads, or whatever, might be. It needs to be labeled. The jump map also has a meter that needs to reload before you can use it to jump again...very annoying. The SG is located in a bad place. Too much clutter. The SG is nice, but when you blow up the pictures to see a better view, they are quite blurry. As usual, not happy about showing only one chapter. Makes me wonder how short this CE really is. Hint system is good and takes usual amount of time to reload. You find three creatures in each location, which will add a page to your journal, explaining what is happening...cute. Nice music, very relaxing. HOGs are silhouettes and some are quite hard to find...eye strain. Games are not simple and take some time and thought to complete...very different and clever. This game was not extremely challenging, but well done. I'm not sure this is CE worthy and I do not find the "need" to run right out and buy it, but I will put it in my puddle for a CE special, and get it later. As always, try it for yourself and see what you think. We all have different tastes in games and you may not care for this one at all. Thanks for the reviews.
August 9, 2013
Another beautifully rendered game and adventure...abeit...TOO SHORT!
Loved the game the story the graphics are absolutely pristine and so much color and detail....I will probably play it again just to really take in all the beauty and detail....plus I didn't get to the Snoop-Sees fully story, a nice little aside to the main story. If it had been as long as Rite of Passage I would have given it the same 5 stars and a new favorite....alas it was no where near as long which along with new and interesting ways to find HO's is my biggest incentive to urge others to buy at CE prices - keeping in mind that it also must be a great story with A.M.A.Z.I.N.G. graphics. Although I did pay out the price.....simply because well I ran out of games to play LOL....really BF you need to get more HO's and adventure games pumped out..... it's toooo long in between.
August 8, 2013
Very Nice Soothing Game (Based on Demo)
Although the game started off with a sad story, it proceeded with very beautifully visual and soothing game play. The music was also very soft and lovely, so if that kind of atmosphere puts you to sleep, this is probably not your game. I found the little helper kind of irritating, but overlooked that because of the visual and sound quality overall. I liked the puzzles and found none were over-the-top challenging. There was a lot of back and forth but then the transporter map was useful for that. I dont see much point in the collecting of little critters, but it does give you more to do in the game. While I can't say it was a knock my socks off game, it was a breath of fresh air. Not sure it is CE worthy, but I would definitely purchase the SE version when it is released.
August 8, 2013
WORTH THE BUY...GREAT GAME
Nearwood CE Review The game is quite fun and I really got into it. It was quite a long game, I did not time myself but I know it was at least 6 hours or more of game play plus an extra 40 minutes to hour on the bonus part and I usually finish games fairly fast. I did have to use my hint button a few times which I don?t normally have to do. Perks of the game? -the game is very long -the hint button recharges quite quickly -the music was good and set the game -voiceovers were well done -graphics were beautiful and very nicely done -there were not a lot or to many HO scenes -there is a map that allows you to travel and shows you were things of interest are -finding the little creatures was fun however I found over 100 and still did not find all of them :( -the puzzles were not too difficult but fun and challenging -the story line was good and very enjoyable with a great and happy ending thanks to the bonus chapter :) There are a few cons but they don?t measure up to the pros of the game? -it was hard to find all the creatures in some areas -there is a lot of back and forth between scenes and at time for getting were you were or were to go next -even though there is a map it only lets you travel 2 or 3 times and then it has to recharge before traveling any more -the bonus features, besides the bonus game play, I found to be kind of lame So that?s about it I hope this helps ya all Have fun and enjoy:)
August 28, 2013
good game. Little short and not much HOS
Pretty good game. Needs to be longer for a CE. No real HOS if you are used to finding what is listed under the HOS. The HOS that are there are good and interactive. Puzzles are good but not really new. Have little critters to find. Story is good and graphics are also good. I think you should wait and get the SE when it comes out.
August 10, 2013