Jennifer Wolf and the Mayan Relics
Invited to join her father on an archaeological dig, Jennifer Wolf instead finds him missing. Play as Jennifer as she explores the ruins of the Maya civilization in search of her father. Collect precious Maya relics and uncover ancient secrets. Will you see your father again? Find out in Jennifer Wolf and the Mayan Relics!
Historical locations
Varied soundtrack
Several unlockable mini-games
Game System Requirements:
OS:

10.8/10.7/10.6/10.5

CPU:

1.0 GHz (INTEL ONLY)

RAM:

512 MB

Hard Drive:

183 MB
Game Manager System Requirements:
Browser:

Safari 4.0 or later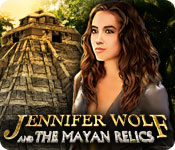 NEW299
The Big Fish Guarantee:
Quality tested and virus free.
No ads, no adware, no spyware.

Reviews at a Glance

Jennifer Wolf and the Mayan Relics
0
out of
5 (
0
Reviews
Review
)
Customer Reviews
Jennifer Wolf and the Mayan Relics
31
31
As old as the hills....
This game is like something from 10 years ago! Whilst I enjoy games where you are finding bits and bobs that are relevant in each scene rather than a load of junk, this game was just weird. You get some inventory items, but rather than being allowed to find them for yourself, a mysterious hand appears and shows you where they are and grabs them for you. To use the inventory items you click on one, and it does whatever for you so not really interactive. The chit chat is really irritating with drawn people and huge white boxes with the words in that seem to go on forever..and this recurs throughout the game. The graphics are really basic and grainy too. Not the worst game I've played, but by today's standards really boring. The puzzles were mainly jigsaws which I like. If it hadn't been for the awful dialogue I had to endure over and again, I would have got the game with a PCV just for old times sake!
July 31, 2013
I hate it when my computer does this....
right in the middle of my review it will bounce me out and I have to start over again - maybe that's my computer's way of giving it's unsolicited opinion of this game too. It is October 2012 (why did BigFish have to bring out this dusty old game from the vault where misfit games that no one likes go to stay is beyond me) and Jennifer has gone at her father's request to join him on a Mayan dig that has to do with the finding of evidence of a Mayan Calendar that will not establish that 12/21/12 is the end of the world but a fifth cycle of the calendar and instead of destroying the world and leaving 2 people behind to repopulate as in previous cycles, this cycle the gods promised all this power to the humans - to do what? In any case, Jennifer arrives, dad's nowhere to be found but no one seems concerned yet and so she gets right to work dusting, digging and collecting relics with his assistant. Later they go to dad's tent to find him gone, a cryptic note left for Jennifer and his tent ransacked. Free trial ends. There are HOGs upon HOGs upon HOGs beginning at Jennifer's apartment and continuing to dig site. Some at the site are relatively easy to find the 5 teeth or 17 candles or whatever. Others are downright impossible because of the mish mash of trash (not literally) and the itty bittyness of the said items. Also, at the dig site - really - try to find upteen different kinds of snakes that can be waaaay in the distance or hiding behind trees. Then, you find your dad's secret site below ground in his tent and you have a flashlight to find 17 candles and more snakes - this is apparently snake friendly game so if you do buy it - you have my sympathies - be sure you are not afraid of snakes. Oh, and through all this you have 6 - count them - 6 hints that you may or may not be able to get back by collecting little almost invisible flowery things that pop up just enough to be barely visible. The pics are light and grainy, the subject matter relative to a time period we would not be interested in now and one final gripe....or query. Why in the world would BigFish put this game that got so many bad reviews in the top spot as "tomorrow's game today"? Not only that but that spot is usually reserved for new games or the opposite of relatively newer games that have recently come out (ce vs se, etc.). I've never been so disappointed to see 2 games in "tomorrow's game today" that had such bad reviews. What gives BigFish? Did you relegate game picking tonight to someone inexperienced? I try to say something nice about every game that I review but there is just nothing good to say about this one. Glam-ma says don't even try the free trial - read the reviews and run for a better game in your own log of games.
August 13, 2013
LAST YEAR'S GAME TODAY!
How many times are we going to dust this game off and present it as new? The objects are extremely small so you have to use the zoom in feature and even then most of it's guessing. There are mini games in between that are utterly stupid and the cursor has to be spot on in order to work! I always try to keep an open mind while playing games but my mind couldn't handle this game!
August 13, 2013
So-so
Based on 25 minutes of the demo. (Wrote "demon" first - probably more appropriate.) Good story. Good graphics. Very tedious play. The puzzles are fairly easy, which is good; the HOS are dreadful - tiny detail in complex scenes. One plus - no junk piles.
July 31, 2013
Why Bother
I don't mind static, but I hate lists of HOG objects that are doled out a few at a time.The interface is not intuitive and at times it is just plain insane. I found the intro objects. It wanted me to go to Mexico City...but i had to guess where Mexico City was. Then it wanted me to start eliminating sites. We disagreed on where East is, and what a coast is, and what a jungle is. I had to use all of my hints to eliminate things, and ultimately, I just turned off the game and deleted it.
August 13, 2013
I really Wanted to Enjoy this Game
I know how hard it is to put a workable game together, so I always hate to be hard on the developers. This game reminded me of some early hidden object games, from way back when the genre was just starting. The music was fine, but looped too soon and I turned it off after a few minutes. The graphics are good, but don't blend well. The dialog was ok - again very much like older games. The mini-games I encountered were not interesting, and I got annoyed at the number of hidden object scenes. Also, a lack of clarity. I was to find a brush. I clicked on 2 paintbrushes and an artists brush without results. I accidentally clicked on something that looked like a notebook and 'brush' disappeared from my list. Had the storyline been more compelling, I would have continued in spite of previously noted annoyances. Unfortunately, 15 minutes in I still had no reason to pay any attention to the characters.
August 13, 2013
just not worth playing, old game style
Do not know why this is suggested as a new game when it has been out before. Nothing good about this either. If you like HOS after HOS then maybe but too many. Graphics not good and toooooo mush dialogue to see and not be able to skip.. No adventure at all. Puzzles are too easy. Game is too easy and get old after 30 min. Not for me.
August 13, 2013
Bad Graphics
Waste of down load time. Very bad graphics, especially in the HOS. To much reading, seems so old.
September 8, 2013
Plays like an HdO game...
Its from Anuman Interactive. Im assuming they are a branch of the developers HdO because it has the exact game features which is sad considering this developer has pure Large File Adventure games out. There is a star in every hidden object scene that gives you another hint. You start with 7. I have no idea what happens when you run out, didn't play that far. There are no voiceovers but a lot of dialogue. Its about doomsday december 21, 2012 and since that date has passed, this makes me feel like this game is very outdated. Its graphics and gameplay sure are. You are going to Mexico to see your dad and supposedly vacation but really you are on an archaeological dig and your dad is nowhere to be found, as always. This game is purely, find hidden objects and some puzzles although I didn't get that far. The hidden objects scroll on the bottom. There are cursor changes but they don't make sense especially when you need to use tools. Once you play, you'll understand. A hand will come up that you click with your regular mouse cursor. Just outdated from what I've seen Anuman Interactive do. The objects are tedious to see, very small and like I said a star can be found to give an extra hint but overall this game is just a dud. I do not recommend this game unless you want something old fashioned, hard on the eyes, boring and a plot line that is played out. However, the visual quality is not the worst I have seen. Actually I did a puzzle, it had to do with eliminating cities in Mexico to find where your dad is...didn't even make sense. I just clicked around til I heard chimes. So basically...DONT BOTHER
July 30, 2013
Time travel required- or just suspend your brain
I reviewed this as a trial and panned it because it was awful. It isn't much better now. Some improvements - plane is now jet from light aircraft but still kept same sound.....?? More HOS but rather unnecessary, don't you think? Chracaters slide in and out like shadow theatre board objects.. no voice-over so you have to read everything.......zzzzzzzz It's all about Dec 2012, will the world end - well, yes it did?? Ha! But now there might be a mystery to uncover instead.... ho hum- sorry really not that interested. Poorly devised and poorly executed, the game is really one for the discard bin... It is old in concept and time and very badly deliverd to the consumer. Do not waste your credits or freebies on this . It really isn't worth it. If you want to try it for yourself, be warned.......
August 13, 2013
The Apple logo is a trademark of Apple Computer, Inc.
The Windows logo is a trademark of Microsoft, Inc.