Night Mysteries: The Amphora Prisoner
Natalie Cole, a young writer, is late to board the ship that was to take her home to America. Already depressed by a chain of misfortunes, Natalie becomes absolutely despondent. Just when she is about to give up hope of getting home, she meets a captain at the port who is sailing a cargo ship to her very same destination, and he invites her to sail along with him and his crew. Natalie, relieved at her good fortune, agrees. Little does she know, this random stroke of good luck hasn't come without a price. Natalie has unwittingly embarked on a dangerous and exciting journey where she must prevent ancient evil from awakening inside a mysterious antique collection on board the cargo ship! Can Natalie save the crew and its captain from evil spirits and still return home?
Enjoy puzzles and mini games!
Captivating and outstanding storyline
Fascinating quests
Game System Requirements:
OS:

Windows XP/Windows Vista/Windows 7/Windows 8

CPU:

1.8 GHz

RAM:

512 MB

DirectX:

9.0

Hard Drive:

838 MB
Game Manager System Requirements:
Browser:

Internet Explorer 7 or later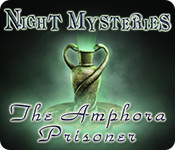 NEW299
The Big Fish Guarantee:
Quality tested and virus free.
No ads, no adware, no spyware.

Reviews at a Glance

Night Mysteries: The Amphora Prisoner
0
out of
5 (
0
Reviews
Review
)
Customer Reviews
Night Mysteries: The Amphora Prisoner
59
59
Patience Required
Our cut scene opens up with cartoon drawings that recounts our story: Following the death of her father, a young novelist is trying to get home to America but misses her boat. Her luck changes when she is invited to board a cargo ship and gladly accepts as it is her only way home. Little does she know that onboard is an ancient relic that holds an evil presence and to her dismay, everybody seems to have gone missing. It is up to her to retrieve the souls of the crew and imprision the evil back into the amphora. With graphics that are totally out-dated but nevertheless sharp. Unfortunately there are no voice-overs but some sound effects and soft music instead. You have two modes of difficulty which you can adjust during gameplay and game features include a map that really is of no help whatsoever and a journal. Thakfully the hint system does fill up quickly and it looks some gamers will be put off by the lack of direction in the game. The Amphora Prisoner is a HOPA that actually is more adventure and does offer a certain amount of challenge. It reminds me of the early Escape the Room games where you end up clicking all over the place to retireve an item. Suprisingly I found myself enjoying the demo as I started entering one room after another, playing the odd HO scenes, the mini-games and collecting pearls along the way. Although the graphics are sharp, HO scenes are quite challenging as some items are very well hidden. Mini-games are relatively easy but a certain patience is required for some and I actually enjoyed that. The entire game moves slowly reminding me of adventure games and as the map is of no help, there were times that I found myself walk around aimlessly and resorting to usingthe hint which merely points to a direction. For fans of adventure games, this may please you but be warned, it does move rather slow and does not offer much excitement at first. Unfotunately due to the dated graphics and no voice-overs, the story seems to lose its impact on the game and you cant seem to get emotionally invested in an empty boat and cartoon characters. My recomendation is not to spend your money on this but rather spend a free game award if you have any sitting around. It is not a bad game, it runs slowly and at times can be a bit frustrating what with all the backtracking. However I do enjoy a mystery and finding those little pearls along the way was challenging. Some of the puzzles were interesting and I am a fan of adventure games. It does not look to be a long game but as I do have some time to spare, I will splurge a credit myself and see if I can save the day. I expect many may pass but do play the demo and see if you have the patience to do the full run. Regardless of my own personal taste for the odd adventure game and the fact that I do have club credits piling up, I will not recommend this game for those who are looking for a fast paced HOPA with some of the more up-to-date features. In my opinion, this is really not worth an SE price tag.
July 31, 2013
Creepy adventure
Is it time of old-school games on BigFish? Joking apart, I enjoyed every minute of this ?dinosaur? game. Yes ? the graphics are too old. Yes ? there are no vos. Yes ? the game needs to be polished in technical terms. But still this is adventure worth of playing and spending your time.
August 8, 2013
IT HAS IT'S MOMENTS!
This is definitely a low budget game, BUT, it also contains some really good features. You will start out adjusting your resolution by sliding a bar until the top section is invisible. the middle section is barley visible and the bottom is clearly visible. When you board the ship you have the option of stopping the camera rolling effect (a must if you get queasy) There are some really annoying parts as well such as the HOS have really tiny unrecognizable items and names for common items such as a smoking pipe is called a captains tube! There are a ton of doors and it becomes difficult to know which way to go with no map and when you click on the hint button it takes a while to recharge even when showing you which way to go. Puzzles are typical swap pieces to complete a picture and it allows you to replay the puzzles after completing the game. You also collect 33 hidden pearls are they are super tiny as well. This is a game that could have been great with a bigger budget.
July 31, 2013
Very unusual creepy game
The game with a very original storyline ? not the usual stuff we see in 100+ other games. Honestly, I was not expecting such a captivating adventure from a low budget game. And now a pinch of salt. I would prefer to see better English translation/localization. I experienced some problems in HOS because of it. One more point: the intro was too long to keep my attention span. All in all a good game to spend credits on.
August 18, 2013
Different, but a little slow
This review is based on the demo. This game is okay, but it feels a bit draggy...long cut scenes, lag switching from area to area. Scenes are nicely styled but not overly interesting. I liked it somewhat, but not enough to buy it. I would suggest people try it, as others may like it more than I did!
August 3, 2013
Unusual, challenging
This game's got a few unique aspects to it - the scenes constantly rock from side to side as if you actually are on a ship. You can either tolerate the mild sea-sickness, or turn that function off :# The map isn't interactive, that would have helped because the time lag moving from scene to scene is longer than usual. There are some good challenges, where you have to use an inventory item to solve a fast-moving problem, but you have to work out which item to use. The hidden object scenes are very challenging, too. The plot was okay, but the time lags between scenes made the overall game drag out too long. Also, #as a lapsed Catholic, not particularly religious) I found the main character's blasphemy in the script a little odd. Some people might be offended by it.
August 16, 2013
The Amphora Prisoner
The characters are still life - not that impressive. There are some good puzzles, but found the HO to be standard.
September 9, 2013
I Don?t Actually Hate It
BASED ON DEMO FIRST IMPRESSIONS Clearly, this is another game from the back of the closet, where I suspect it has been for at least a couple of years. Everything about it is old-school and low budget. But it did give you a chance to adjust brightness according to a referent point, which I liked. SIGHTS & SOUNDS The intro is a comic book styled graphics (poorly done but not dismal) and the written story (no voiceover) goes on too long. Cut scenes are video or more comics, and there are too many of them. The game graphics are low resolution photo realism, clear but you can see the pixels. Another thing I did like was the ?camera? rolled with the movement of the ship, and you had the option to keep or discard this. WHAT?S HAPPENING NEVER accept lifts from strangers! Especially sea captains offering you passage from Portugal to America on his cargo ship. I mean, what were you thinking? Still, it?s a different story, and therefore has its charm. You can?t sleep due to all the strange noises, so you go to investigate. After a couple of side tracks, you discover an ancient amphora with glowing green light emitted from it. It is the prison of a terrible evil, and it has gotten out. You must perform a ritual to save the crew and yourself. MAKING PROGRESS The gameplay is straightforward and old-fashioned. The HO scenes (11) are interactive list, and are surprisingly difficult. Items are well disguised, and the interactions are not obvious. Some words are wrongly translated. The puzzles/mini-games (15) are also oddly difficult. They require manual dexterity as well as brain power. For example, click on 6 rods that move at different speeds in the correct order and pace so that they all move out of the lock at the same time. Hint is quick, and directional outside HO scenes. Skip is slower. There is a journal with task list and a map. The many corridors of the ship are confusing and so even though the map is neither interactive or a jump map it is useful. BLING! Both HOs and puzzles are replayable from the main menu. FAMOUS LAST WORDS This would have been a well thought of game a couple of years back I think, and it?s not all bad even now. It does have low production standards, and is outdated, and it is also too slow with too much reading. But the story is interesting, and the puzzles are original. I?m withholding judgement and neither recommending it or not.
July 31, 2013
I found it slow, boring, and old school
Not sure about this game. I found it to be old type of a game. There was no voice over. The music was not very interesting to me. The graphics were good. The ship moved back and forth so if that make you seasick you could turn it off. The HOS were straight forward. Items were small and hard to see. The hint button worked good. No map. No real adventure to me, just go around and find items to use. 3 modes of play. Just and average game with no real excitement. Nothing new in this game.
July 31, 2013
I Wanted To Like But Needs Work - Review of Completed Game
Story: You take on the role of young Natalie here who is a writer and has had lots of misfortunes and ends up missing her ship back to America where she ends up meeting up with a captain who is heading her direction so she agrees to go with him. Little does she know though this doesn't come without a price of course. GRAPHICS: I would definitely consider "dated" and "old school" and they are cartoon type drawn. WIDESCREEN: None for me as I had to change my resolution setting but you can control the brightness and "screen movement" within the options. NO voice overs 2 PLAY MODES: Casual and Advanced. I really didn't see much of a difference between play modes as both have sparkles on them. Hint is a little quicker in Casual mode but not much. Hint/Skip charge up is slow. Hint is also directional outside of HOS however if you aren't in the correct scene to use it well you do have to wait for it to charge up again. MAP: This has a total of 14 locations. This is not transporter. It does list all the locations and shows where you are but doesn't state if there is anything to do or not in the area. HOS: There is a total of 11 scenes. This varied for me. Some I found to be quite clear, Some on the Sanford & Son junkyard pile side and some where the items were too small and/or too blended into the scene and a few just about off the screen. Yes a few hints here. Slight interaction of having to like "move something" but not much. Also a couple of items not named correctly. INVENTORY: You also have to combine a few items however not made clear. You have to figure out on your own. PUZZLES: There is 15 puzzles. Most the usual run of the mill however a couple of different ones that are timed as you have about 3 minutes and if you don't get it within that time you have to start over but this can be skipped. Oh and there is one that involves spiders and another rats so if you have a phobia. This is your warning. I also did all the puzzles but 1 and that was the rats as I have a mice/rat phobia so when they came up well I went on a cigarette/coffee break until I could skip that. LOTS of rats. The skip couldn't be available fast enough for this mini game/puzzle! GAME LENGTH: This was about 5 hours for me. May be more/less for you. OVERALL IMPRESSION: Oh dear! I honestly really wanted to like this game and rate this better than 2 stars. This game really had a lot of potential and could of been great if the developer here would of put some more time and resources into this. I'll start off with the graphics though. While they may be too dated for some I really liked the cartoon hand drawn graphics. There is a part of me that is into nostalgia I suppose when it comes to such things as this as I still love to watch the TV shows and movies done in black/white. Having said this well those TV shows and movies fill my big screen here at home and they are older than this game so should be in working wide screen. I paid for a 20 inch monitor not 15. I shouldn't have to change resolution to get the game to fill my screen. The storyline I found intriguing and interesting itself and starting out but the more I moved along in the game well I'll have to agree with the review that stated dialogue was thin and the story seemed to have gaps in it and then the full plot was suddenly revealed within a few seconds. What little dialogue there was went by too fast. I also thought there could of been more character interaction. I also don't mind going back/forth as that is what "adventure" is however some of this I found too tedious when it's clear that you will need something but oh no you can't pick it up just yet. The hint I also found downright annoying having to wait for it to charge up again. Oh and then there is the map. Why bother having a map if you can't use it? This wouldn't of bothered me if the game play didn't end up being so tedious. Sorry Big Fish and developer. I tried to be as nice and generous as possible rating this game but 2 stars is the best I can do. I honestly really wanted to like this but this needs work and sent back to the Big Fish attic. As always, give it a whirl and decide for yourself.
July 31, 2013