Night Mysteries: The Amphora Prisoner
Natalie Cole, a young writer, is late to board the ship that was to take her home to America. Already depressed by a chain of misfortunes, Natalie becomes absolutely despondent. Just when she is about to give up hope of getting home, she meets a captain at the port who is sailing a cargo ship to her very same destination, and he invites her to sail along with him and his crew. Natalie, relieved at her good fortune, agrees. Little does she know, this random stroke of good luck hasn't come without a price. Natalie has unwittingly embarked on a dangerous and exciting journey where she must prevent ancient evil from awakening inside a mysterious antique collection on board the cargo ship! Can Natalie save the crew and its captain from evil spirits and still return home?
Enjoy puzzles and mini games!
Captivating and outstanding storyline
Fascinating quests
Game System Requirements:
OS:

Windows XP/Windows Vista/Windows 7/Windows 8

CPU:

1.8 GHz

RAM:

512 MB

DirectX:

9.0

Hard Drive:

838 MB
Game Manager System Requirements:
Browser:

Internet Explorer 7 or later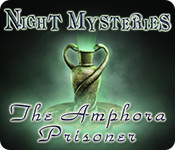 NEW299
The Big Fish Guarantee:
Quality tested and virus free.
No ads, no adware, no spyware.

Reviews at a Glance

Night Mysteries: The Amphora Prisoner
0
out of
5 (
0
Reviews
Review
)
Customer Reviews
Night Mysteries: The Amphora Prisoner
65
65
I Don?t Actually Hate It
BASED ON DEMO FIRST IMPRESSIONS Clearly, this is another game from the back of the closet, where I suspect it has been for at least a couple of years. Everything about it is old-school and low budget. But it did give you a chance to adjust brightness according to a referent point, which I liked. SIGHTS & SOUNDS The intro is a comic book styled graphics (poorly done but not dismal) and the written story (no voiceover) goes on too long. Cut scenes are video or more comics, and there are too many of them. The game graphics are low resolution photo realism, clear but you can see the pixels. Another thing I did like was the ?camera? rolled with the movement of the ship, and you had the option to keep or discard this. WHAT?S HAPPENING NEVER accept lifts from strangers! Especially sea captains offering you passage from Portugal to America on his cargo ship. I mean, what were you thinking? Still, it?s a different story, and therefore has its charm. You can?t sleep due to all the strange noises, so you go to investigate. After a couple of side tracks, you discover an ancient amphora with glowing green light emitted from it. It is the prison of a terrible evil, and it has gotten out. You must perform a ritual to save the crew and yourself. MAKING PROGRESS The gameplay is straightforward and old-fashioned. The HO scenes (11) are interactive list, and are surprisingly difficult. Items are well disguised, and the interactions are not obvious. Some words are wrongly translated. The puzzles/mini-games (15) are also oddly difficult. They require manual dexterity as well as brain power. For example, click on 6 rods that move at different speeds in the correct order and pace so that they all move out of the lock at the same time. Hint is quick, and directional outside HO scenes. Skip is slower. There is a journal with task list and a map. The many corridors of the ship are confusing and so even though the map is neither interactive or a jump map it is useful. BLING! Both HOs and puzzles are replayable from the main menu. FAMOUS LAST WORDS This would have been a well thought of game a couple of years back I think, and it?s not all bad even now. It does have low production standards, and is outdated, and it is also too slow with too much reading. But the story is interesting, and the puzzles are original. I?m withholding judgement and neither recommending it or not.
July 31, 2013
I found it slow, boring, and old school
Not sure about this game. I found it to be old type of a game. There was no voice over. The music was not very interesting to me. The graphics were good. The ship moved back and forth so if that make you seasick you could turn it off. The HOS were straight forward. Items were small and hard to see. The hint button worked good. No map. No real adventure to me, just go around and find items to use. 3 modes of play. Just and average game with no real excitement. Nothing new in this game.
July 31, 2013
I Wanted To Like But Needs Work - Review of Completed Game
Story: You take on the role of young Natalie here who is a writer and has had lots of misfortunes and ends up missing her ship back to America where she ends up meeting up with a captain who is heading her direction so she agrees to go with him. Little does she know though this doesn't come without a price of course. GRAPHICS: I would definitely consider "dated" and "old school" and they are cartoon type drawn. WIDESCREEN: None for me as I had to change my resolution setting but you can control the brightness and "screen movement" within the options. NO voice overs 2 PLAY MODES: Casual and Advanced. I really didn't see much of a difference between play modes as both have sparkles on them. Hint is a little quicker in Casual mode but not much. Hint/Skip charge up is slow. Hint is also directional outside of HOS however if you aren't in the correct scene to use it well you do have to wait for it to charge up again. MAP: This has a total of 14 locations. This is not transporter. It does list all the locations and shows where you are but doesn't state if there is anything to do or not in the area. HOS: There is a total of 11 scenes. This varied for me. Some I found to be quite clear, Some on the Sanford & Son junkyard pile side and some where the items were too small and/or too blended into the scene and a few just about off the screen. Yes a few hints here. Slight interaction of having to like "move something" but not much. Also a couple of items not named correctly. INVENTORY: You also have to combine a few items however not made clear. You have to figure out on your own. PUZZLES: There is 15 puzzles. Most the usual run of the mill however a couple of different ones that are timed as you have about 3 minutes and if you don't get it within that time you have to start over but this can be skipped. Oh and there is one that involves spiders and another rats so if you have a phobia. This is your warning. I also did all the puzzles but 1 and that was the rats as I have a mice/rat phobia so when they came up well I went on a cigarette/coffee break until I could skip that. LOTS of rats. The skip couldn't be available fast enough for this mini game/puzzle! GAME LENGTH: This was about 5 hours for me. May be more/less for you. OVERALL IMPRESSION: Oh dear! I honestly really wanted to like this game and rate this better than 2 stars. This game really had a lot of potential and could of been great if the developer here would of put some more time and resources into this. I'll start off with the graphics though. While they may be too dated for some I really liked the cartoon hand drawn graphics. There is a part of me that is into nostalgia I suppose when it comes to such things as this as I still love to watch the TV shows and movies done in black/white. Having said this well those TV shows and movies fill my big screen here at home and they are older than this game so should be in working wide screen. I paid for a 20 inch monitor not 15. I shouldn't have to change resolution to get the game to fill my screen. The storyline I found intriguing and interesting itself and starting out but the more I moved along in the game well I'll have to agree with the review that stated dialogue was thin and the story seemed to have gaps in it and then the full plot was suddenly revealed within a few seconds. What little dialogue there was went by too fast. I also thought there could of been more character interaction. I also don't mind going back/forth as that is what "adventure" is however some of this I found too tedious when it's clear that you will need something but oh no you can't pick it up just yet. The hint I also found downright annoying having to wait for it to charge up again. Oh and then there is the map. Why bother having a map if you can't use it? This wouldn't of bothered me if the game play didn't end up being so tedious. Sorry Big Fish and developer. I tried to be as nice and generous as possible rating this game but 2 stars is the best I can do. I honestly really wanted to like this but this needs work and sent back to the Big Fish attic. As always, give it a whirl and decide for yourself.
July 31, 2013
Night Mysteries is a bit of a Mystery
This game looked really interesting so I was eager to try it out. It did not take long for me to get bored. The storyline about being on board a ship is not really a new one. I found, however, that it felt rather awkward maneuvering around. The game is a mix of hand drawn artwork and computer animation that seems cumbersome and takes time to load a bit between scenes. You have tiny white pearls to search for in each scene and although you can lighten or darken the screen, the first HOG I went through had a couple of very tiny and or light colored items. The camera floats about, which you can turn off, but overall just the effort of moving around frustrated me. There was also dialogue that frequently used the "Jesus!" exclamation which was a turn off. Overall, I think the intentions of the creators was good, but advanced HOGgers may not like this one. I did not, deleted it about 14 minutes in.
July 31, 2013
I really really really......
wanted to like this game ... but I didn't. I really want to have something good to say about it ... but I don't. The graphics are grainy and seem to come from an older game - a very much older game. No voiceovers and the written script goes by so fast you really don't get the gist of the story unless you happened to read the description before you played the game. The story starts out with a girl wanting to go home but missed her ship because she tripped and caught a ride on a tanker - yes, it's a tanker. The next thing you know she's all alone, there's a fire on the bridge and she doesn't seem to care that no one is manning the bridge or the wheel to steer said tanker? Sorry, I'd be out of my mind. Spoiler alert - you don't PULL the water bucket up you PUSH it from the side - took me a good bit of time to figure that out. The HOGs are a mishmash of a mess that really with the foreverness of the recharge (I ate breakfast while waiting at one point - seriously) that random clicking was probably faster than waiting for help from the useless hint button. I say useless because in every - e v e r y game I've ever played when you click on hint and it takes you back somewhere you've already been you don't have to wait to recharge - here you do - and again - recharge takes FOREVER! And what are those cute little pearls you're supposed to collect? Thank you, thank you, I was brilliant enough to start collecting from the beginning because I figured they had to be for something. And the cheesy fireworks when you finally figured something out? Are you kidding me? I have played the best and the worst and I have to say that after the free trial this is beyond the worst. No thanks. And I rarely ever do this but this Glam-ma says run while you can.
July 31, 2013
Don't waste your time or money!
This HOG could have been fun if it had possessed a quicker, more intelligent story line. There were practically non-existent clues, and once you used the Hint to find to which room you should navigate, you must wait until the Hint recharges in order to use it again for navigation to another room. I encountered a mini-game involving clicking on numbers to open a lock; the player had to figure out the order. After waiting extra long to press the Skip button, the mini played itself at a very accellerated rate, and then the game sat there waiting for the player to once again attempt to click the numbers in the correct order, and much too quickly for arthritic fingers such as mine. My overall opinion: a terrible effort to produce what could probably be a good game. Save your time; save your money!
August 2, 2013
boring
This game is way too slow. Too many cut scenes and going back and forth from one location to another for a minor piece of a puzzle. The map doesn't allow you to navigate directly, just shows your location. The hints for the HO scenes use incorrect wording ie, Captains Tube is a smoking pipe.
August 2, 2013
To Slow
The story seemed interesting and I really did try to give this game a fair shake (played for 50 minutes), but unfortunately, I became bored. This game could have been a good game, if not for the slowness of moving from scene-to-scene. The graphics were OK and some of the mini games different, but the lack of speed and uninteresting scenes made this game dull. As with any game, try it yourself; as for me, I will not purchase.
August 1, 2013
Night Mysteries: The Amphora Prisoner
Not a good game. It is hard to figure out what to do next. The story is boring. Moving, in the game is slow. The graphics were good. You try to figure out where to go, it is very difficult. I do not recommend this game.
August 1, 2013
slow moving-boring!
Did not capture my attention- there was nothing to keep the game going- no interaction with anything other than some mechanical objects! Did not like this one at all and will not buy it! Story line way to slow!
August 1, 2013