Enigma Agency: The Case of Shadows
Exclusive
Track a missing detective through the jungles of Central America in Enigma Agency: The Case of Shadows. Who knows what ancient evil is lurking in the shadows? Become immersed in a world of mysticism, secrets and ancient curses. Interesting locations, an adventurous plot and mini-games await you in the jungle.
Game System Requirements:
OS:

10.8/10.7/10.6

CPU:

1.6 GHz (INTEL ONLY)

RAM:

512 MB

Hard Drive:

836 MB
Game Manager System Requirements:
Browser:

Safari 4.0 or later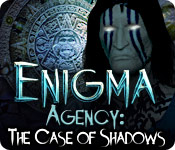 NEW299
The Big Fish Guarantee:
Quality tested and virus free.
No ads, no adware, no spyware.

Reviews at a Glance

Enigma Agency: The Case of Shadows
0
out of
5 (
0
Reviews
Review
)
Customer Reviews
Enigma Agency: The Case of Shadows
22
22
Good Game for a rainy day!
I did enjoy this game but by 'Chapter 5' I was a little bored and ready to move on to another game. Not too sure why I didn't want to finish it (but I did, its a rule!). Enigma Agency: The Case of Shadows took me about 4.5 hours to play with minimal skipping (maybe 3 times?). It has 3 modes of play (no custom modes...darn!). The graphics aren't stellar like some of the newer games out there but they are pretty good. The story is actually intriguing in the beginning and if the Devs would have just added onto the original story in the original location or chose a nearby location (like Enigmatis) the game would have really been fantastic. So you arrive at your bosses house and find a way into his beautiful 'mansion' that oddly has a shooting range, a boat dock that leads from his own little tributary to a lake, a shed and a guest house. There is plenty of HOSs and they actually are simple. The items aren't obscure or impossible to find. Sometimes the scene is a little dark but you can still find all the items. The Mini games can be quite challenging and some are just fun to do! You really have to use your brain on quite a few and think them through. I very much enjoyed the mini games! Good Job Devs!! There is an awful amount of 'back and forth' trekking through the game. I normally don't mind it but dang I really had a bad time with it on this one. The map does not 'teleport' you to a new location so you have to go there all on your own, It will tell you if there is something that needs to be done in that location (or any location). The hint button is quite different. It will guide you directly to where you need to go, only clicking it once; even if you are 3 'areas' away. I thought that was pretty slick and REALLY enjoyed not having to click 'hint' 10 times just to figure out where I need to go. The game is well built in that aspect! Now the story- The story had its own originality. The same idea behind many stories, of course, but this story went off on its own. I can definitely say I enjoyed it. I do recommend this game, maybe you may like it a lot more than I did? I think this is a perfect rainy day game! Give it a try!
April 15, 2014
review
Nice graphics/artwork (perhaps a tad low res by 2013 standards). Pleasant background music/sound. Good videos. Best aspect for me was the mostly good and fun puzzles. The Rube Goldberg type action/reaction sequence puzzles were a pleasant surprise, and I wish more games had more puzzles like these. HOSs were typical for the genre. Very good help/hints. As with many games, I am glad it had a map but I think the map should let you click on a location and immediately go there. Overall, really enjoyed it.
November 22, 2013
Ok game
The storyline is pretty simple - your friend John has been kidnapped by an evil shaman after getting a map for a mysterious client. The graphics are good, the voiceover clear and strong. Disappointed in the overall scenery - everything was gray, even the gardens. The hint button recharged fairly quickly. The HOGs were more interactive than your typical find the objects but if you got stuck the hint button was very helpful throughout the game. Great game for beginners up but experts might not find the game challenging enough. I got through the free trial with 5 minutes to spare and the game ended and I was promo-ed to find the ending in the full game. Overall, an ok game but not very exciting. Glam-ma says trial the free trial - it' free and that's what it's there for.
June 2, 2013
The Great Kukulkan Has An Attitude Problem!
+ Challenging with many locations, tons of objects to find and tasks to complete. Lots of puzzles and HOS that deal with chain reactions. + Journal with replay cutscene feature & Map with notes and tasks list for each area. + Hint button has a digital countdown timer - Annoying voice-overs - Storyline is a bit hard to follow - The Great Kukulkan has an attitude problem and for an ancient dude who isn't from around here, he sure speaks pretty good English
June 2, 2013
??60?? minutes free play??
I finished the preview in 37 minutes - not enough time or content to figure out if it's worth buying. I know you have to somewhat limit the amount of content in the free previews but 37 minutes (including a short break) is a bit too short. You don't get into the storyline sufficiently to decide if you want to try the full game. I won't be buying it.
June 3, 2013
Nope, not this one either!
I tried the CE version as well and was not kicked out about it, but thought I would give the SE a try (feel free to read my review under the CE). After a second look at the game, I have decided my dislikes are still dislikes and I will not even use a credit on this one. Graphics and game play are not bad, a lot (and I mean a lot) of talking and not much action. Still very quiet game. HOGs are a bit different, but a few like this now and then is plenty, not almost the entire hour. Again, stiff, plastic looking people with very silly dialogue in a lot of places. My CE review was a bit more indepth than this one, but all still holds true for the SE version as well. This would be an okay game for a beginner, but not for a seasoned player. As always, try it for yourself and see what you think. We all have different tastes in games and you may find this quite to your liking. Thanks for the reviews.
June 2, 2013
Started Great Turned Into A Flop - Review of Completed Game
Story: You take on the role of Missy who gets a call from her friend John who gets wrapped up with a Shaman and an enchanted map and must be saved. 9 chapters plus a bonus chapter 3 play modes: Casual, Advanced, Hard: Sparkles in casual and advanced mode. Black bar tips in all play modes. Hint/Skip pretty quick on charge up as I played Casual mode since there were sparkles and black bar tips in advance mode. Hard mode no skip or hint . Journal: Keeps notes and clues for some puzzles. Map: Is not transporter however will show where you are, where you've been and areas that need visited. Also if you hover over the circles on the map it will show the task(s) that need completed. HOS: There are lots of scenes. Found by word list and are interactive. There's also a few scenes where you use your inventory in the scene to get an item needed. Very interactive here. Some of these on the dark side along with Sanford & Son junkyard. Puzzles: Some the usual run of the mill found in many games however some different ones that I haven't came across anyway. While I'm not a fan of these I was able to do most of them but for me were challenging.. Actually earned the doing 10 without skipping achievement award. For the puzzle lovers will be easy I'm sure. You also find 50 scorpions which weren't always easy to locate. Be sure to look everywhere along with 18 achievements to be earned which are all a part of the main game. None to be found/earned in the bonus chapter. CE extras: Bonus chapter Strategy Guide 9 puzzles 4 HOS 8 music tracks My overall impression: I've played the CE and well I'm going to have to go against the majority of the raving reviews I've read for this game. The story started out very intriguing but once I got past the demo time I found it very disjointed and not making much sense. The graphics for the most part I found to be nice, crisp and clear however once I got past the demo time and more into the game some areas quite dark especially for some of the HOS. I thought the voice overs were pretty good no problem here. The game play I found challenging at times even playing on the easiest mode which is good and I liked that and while it had a lot of HOS still had a nice balance of puzzles and adventure to it. but could of used a map. The map provided pretty much useless in my opinion since it's not transporter. Bonus Chapter:This is an epilogue and leaves much to be desired. It starts in the right place-back at the mansion but needs some explanation how the game took the leap from where it ended in the main game to how the bonus chapter starts off with what has happened here. Just very disjointed and bonus chapter doesn't address it in my opinion. Also not very many scenes and most are from the main game. Only a couple new scenes. Very few HOS which are not interactive and hardly any puzzles for you puzzle lovers out there. Main game: 6 hours with some hints and skips but not very many. Bonus Chapter: 30 minutes which is a record for me. I usually spend an hour if not longer here. No hints or skips used here. Your game play may be more/less than this. Overall sorry Big Fish and developer but I'm going against the majority raving reviews for this game and this is getting 3 stars from me. Started out great and turned into a big flop in my opinion. The only reason I rated it this high was because I enjoyed the game play (except for bonus chapter), along with finding the scorpions and trying to earn the achievements which I did earn most and found all the scorpions but I also expect a story that makes some sense and not so disjointed as this one. As always, give it a whirl and decide for yourself.
June 3, 2013
Hmmm... could have been better.
A game by Meridian 93 & BFG --------------------------------------------- When I first play this game on demo, it caught my attention because of its spookiness. I was pretty hooked by then. But going further into the game I was feeling unsure, although the cutscenes indeed are spooky. There are 3 levels of difficulties. The cutscenes and graphic are ok, a bit blurry but I think that's the intention to make the game more dark and scary. One thing that I hate is the VO, it keeps going on and on for every small thing. It gets annoying pretty quickly. The VO is actually a bit expression-less.. There are lots of mini games in this game, which I hate :( the HO scenes are the usual stuff, but mostly just junk, which is a pity. Tasks after task after task fill this game. I don't mind them, they are better than the mini games.. The hint however is pretty useful, it will guide you to exactly the place where an action is available. I gave this game 3 star because I got annoyed by the VO, which ruin the spookiness. I think the game is meant to be scary, but unfortunately there are some elements that could have been done better. If there will ever be the sequel to this game, hopefully it will improve.
June 15, 2014
Fair to play _not very challenging
Has only fair screen presence. Story ok but not compelling. Would not be a choice for those with detective like skills
September 5, 2013
Too bad
Nice graphics, well done HOS, interesting puzzles and good length but I think that the presence of separated chapters brings down the fun factor. There are sparkles for the HOS even in advanced mode.
January 12, 2014
The Apple logo is a trademark of Apple Computer, Inc.
The Windows logo is a trademark of Microsoft, Inc.