Royal Riddles
Solve the king's puzzles and make away with his treasures! Explore each corner of the royal castle as you battle wits with his royal highness. Solve 108 unique mind-bending puzzles and discover nine elegant locations as you work to outsmart the king and gain access to royal riches beyond your wildest dreams! Enjoy over four hours of gameplay and earn magnificent trophies in this one-of-a-kind game that every puzzle fanatic will appreciate!
108 original puzzles
Collect trophies!
Explore the royal castle!
Game System Requirements:
OS:

Windows XP/Windows Vista/Windows 7/Windows 8

CPU:

1.0 GHz

RAM:

512 MB

DirectX:

9.0

Hard Drive:

40 MB
Game Manager System Requirements:
Browser:

Internet Explorer 7 or later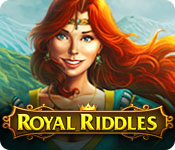 Top In-Game Purchases
1.

+2 rights for a mistake

$ 0.99

2.

+2 extra lives

$ 0.99

3.

Second chance

$ 0.99

4.

Refill all Lives

$ 0.99

5.

Unlock all rooms

$ 2.99
Game Club members
SAVE 30% on
in-game items.
The Big Fish Guarantee:
Quality tested and virus free.
No ads, no adware, no spyware.

Reviews at a Glance

Royal Riddles
0
out of
5 (
0
Reviews
Review
)
Customer Reviews
Nice game, but should be premium
Nice game, but suposed to be premium. As it ask to buy unlock to continue playing. So just think its a cheaper to buy using inapp then a fulee game at normal price
November 5, 2013
FREE TO PLAY?
Free to play should be free, buying optional extras to enhance the game. This game only allows you to play the first room, then you need a 'VIP Pass' for the next room, not optional, needed. Therefore not FREE TO PLAY. The room that I did play was ok for those type of riddle games but that was all I could do without having to purchase something.
September 30, 2013
Nice game!
Too bad it's F2P. This is basically Asian Riddles done up with lots of color. I'm a picross addict, and buy them all. The game has the same problems with the crossing out of numbers prematurely that Asian did, but I'm getting used to it. The graphics are clear, it's easy to see, and I enjoyed the demo I got elsewhere yesterday. Sheesh. I have a PCC to spend, and was hoping this would be it...
September 30, 2013
Less expensive than a regular game
Everyone is complaining about paying for this game. OK you do have to pay to continue playing, but only once and only $2.00!! That is less than a regular game!! And then you just have to play carefully so you don't lose lives. Since that is always my challenge to myself in these games, it works for me :) Just wanted to say something positive since I am enjoying this game. Thanks BigFish!!
October 3, 2013
Royal Riddles
You can only play Room 1 before you have to purchase to unlock the rest of the rooms. However, at 2.99 (less if member) it was worth it to play through all the rooms. You do not have to buy extra lives. If you use up the three lives, you simply have to wait for them to recharge to continue playing. You cannot earn all the trophies, since you have to purchase lives to earn two of the trophies. Some puzzles cannot be solved using only logic. One solution was to use the emerging picture if it was symmetrical. The other solution involved trial and error to get the correct placement when there were multiple ones. Be aware that the purchase does not give a punchcard credit, nor does it go into your purchase history. Generally Free to Play seems just a way to get more money. This is the first time I have made an in game purchase, and it will probably be my last. Prefer the games that are added to my account .... World Mosaics, World Riddles, Gemsweeper, Asian Riddles, and Arizona Rose.
November 3, 2013
You need to guess levels... multiple solutions :(
It could be fun, but if you start a game with tutorial that has multiple solutions and punishes you if you pick solution different than authors made... then it's really bad. Especially in that game, where you have lives and you pay for them with real money (I didn't pay yet, but that's one of the first things that tutorial teaches you). That's breaking cardinal rule for picross games :(
September 30, 2013
Have to pay to continue the game :(
I enjoy hanjie, pic cross and others like these so was looking forward to playing this game. Only got just a short way in before they wanted you to pay to play more. I think they don't understand the word free. :(
September 30, 2013
One expensive "free" game
This game is similar to the Mosaic tiles series. You need to fill in tiles to the number given and a bit of thinking is required. Based on demo which is only for one room /level the grids get bigger (10x15) early on which is great. You need to pay to enter each room which makes this one expensive "free" game. Is the game good -yes. Give it a go. I do not recommend the game based on having to pay for a free game.
October 3, 2013
Free Only On First Level!
I was really disappointed in this game. The graphics were bland, no exciting music and I had to choose between purchasing extra lives or ending the tutorial. Everything was smooth sailing after that and I was actually enjoying the game once I got the hang of it! You earn 3 stars per game if you don't make any mistakes and the stars are taken away for each mistake, if you want to re-play or start over it costs you a life. There are also achievements to earn. I finished every puzzle in the first room for a total of 36 and then I found out that room 2 requires a VIP pass. Guess what? A VIP has to be purchased! However, I get it, I understand this concept but if I'm going to have to purchase to play more I would choose a different game with a better story and more colorful graphics.
October 6, 2013
Basic puzzle game
I love nonogram puzzles like the ones in this game, but if you are looking for something more than just a puzzle, this isn't the game for you. There is little storyline to the game itself; you just solve 12 nonograms to unlock different rooms in the castle. I wish the game developer had added a little bit more to the game; maybe allowing you to update/change your castle after unlocking a room, adding in a storyline, or having you solve nonograms with more than just one colored box. It's ok to play if you are bored and like puzzles.
September 30, 2013