Times of Vikings
The once peaceful village of Hawksworth has been torn apart by huge earthquakes. The Dragon, Yggdrasil, who has been sleeping quietly at the roots of the Tree of Life, has awoken from his thousand year slumber and has begun to incinerate the roots of the tree. The strongest warriors of the village have embarked on a quest to find the four elemental runes and fight the Dragon! Will they be able to find the missing runes and save the Viking Worlds? Guide them to success and defeat the Dragon in this action-packed Time-Management adventure!
Amazing gameplay and graphics
Over 20 unique buildings and upgrades
40 levels of fun in four different worlds
Game System Requirements:
OS:

Windows XP/Windows Vista/Windows 7/Windows 8

CPU:

1.0 GHz

RAM:

512 MB

DirectX:

9.0

Hard Drive:

56 MB
Game Manager System Requirements:
Browser:

Internet Explorer 7 or later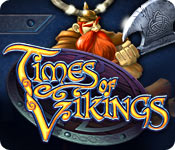 NEW299
The Big Fish Guarantee:
Quality tested and virus free.
No ads, no adware, no spyware.

Reviews at a Glance

Times of Vikings
0
out of
5 (
0
Reviews
Review
)
Customer Reviews
New and challenging TM
I like this game. You have new and different tasks that I haven't seen before, i.e. making dolls by collecting yarn. What I don't understand is why people think this can't be played in relaxed mode. If you don't care about earning stars then just ignore the timer. You can keep playing each level until you are finished with your tasks. I, too, love VOs, but having to read the dialog will not keep me from buying and good and challenging game. While you can't stack tasks, the fast pace that everything is happening does not make me need this ability. I was sending my workers all over the place to collect wheat and yarn and gold and then the final products of bags of flour and dolls. I was having a great time trying to keep up and get three stars (I need the excitement of getting it done as fast as possible). So like most reviewers will tell you try it for yourself and remember that these are supposed to be fun, don't get too caught up in minor details like reading a little.
July 29, 2014
Great Game
This was very challanging bring on more just like it. Had a few glitches in it, like at the end level the berry crusher would not work had to demolish it and build a new one, then the back button stopped working at the end to get out of the place to show your accomplishments. but other then that loved the new throw ins they added like selling your items for money then find out you can't because it takes away from your item count but once figured out beatable. this game is not for new beginners on tm games very good stratgy to use in this game and some levels very fast clicking building etc. great game
August 13, 2013
Fun Beautiful TM Game
Nothing very new as far as game play or story. No VO though there is some reading it isn't overdone. Absolutely love the graphics but I'm a bright cartoon color fan. The character comments can get annoying as you click on them but I would turn the music down if there isn't an option to turn off background noise. I bet there is, though I didn't check. The basic premise is you clear road blocks, gather resources, and build. There are some new unique buildings to be made as it isn't just all houses that give you money. In less than 10 levels you are building wheat farms, sheep farms, doll factories, fabric looms, and hat makers. The manufacturing takes wheat and wool from the farms and makes it into dolls, fabric, and hats. You then sell these items at a market place for a pretty penny. Through out the levels you are gathering orbs to ultimately use against a giant dragon that is threatening the viking home world. I played the entire demo which I normally do not do unless I really enjoy the game. I was hesitant at first as some of the controls are a little odd. You need to click directly on the money icon and not on the building in order to collect the gold and there really is a good deal of clicking involved. You have plenty of workers from the start though and different ones that build and chop from those that gather resources from the houses, farms, and manufacturing buildings. It really is a cute game and I might just use my freebee on it.
August 5, 2013
Nice Game
I really enjoyed playing this game. It is rather challenging with the time limits and you keep rather busy making the goals. Some things took some figuring out which for most people will be easy. There is no relaxed mode which made it difficult for me but I did enjoy it.The music is nice and the characters are 3D. For those who like timed games this is great for you.
August 5, 2013
Please take note
I would buy this game if it had a relaxed mode. Game creators take note; many peope don't like to be rushed during a game. We play it to relax.
August 5, 2013
A true TM game
I like a game with challenge. I don't like buying a game to finish it in an hr or two. This game does require some planning and thought to get through all the levels. If you like a leisure pace, this is not for you. The only drawback is, you cannot cue tasks. You must wait for the character to be finished with task before assigning another one.
October 20, 2013
Watch out for the dragon. Fun TM game.
If you are one of those TM players that will not move to the next level until you reach 3 stars this game is not for you. I noticed some people made the comment about no relaxed mode. I found you can still complete the level even if your time runs out. You will only receive 1 star when you don't complete the level in the allotted time. I enjoyed this game. Others are correct when they said you do a lot of clicking. I bought it. I love it. My advise to you is try it and see for yourself. Ps. Watch out for the dragon.
August 13, 2013
I'd like to see that tree house guy build THAT!
The graphics are bright,colorful and visually interesting. I appreciated the lack of voice-over as I prefer to read things myself. Everything is well-explained in tutorial the first time you play a level. The sound effects are adorable;from grumpy man muttering to the curvy viking lady saying "I'll do it". The time limit to complete the level with 3 stars is a challenge. I enjoy figuring out what will get tasks accomplished faster and replaying the level to acquire all the stars. My only complaint is that I would prefer them to pick up the gold and materials themselves and bring them back to headquarters. This is a cute game and will keep you very busy! ++++
August 12, 2013
Cute Game
This is based on the 60 minute demo. It's a typical TM builder/resource game. Not much gathering really, just enough to start you out with some buildings you need to collect gold and make items to complete your tasks. You're able to build a sawmill early on the gather more wood to build more. The graphics are really nice and crisp and the music is ok - I turned it down some. The tutorial was helpful in figuring out what buildings you needed to make certain items. You start out with a set amount of workers who chop trees, mine gold, repair buildings, etc. You also have a set amount of collectors who collect gold from houses and resources from buildings. Your airship allows you to buy more of either with gold. I'm not sure I liked having to click on the icon to collect gold or resources. You had to click on the icon directly, rather than click anywhere on the building. Once collected, the resource would drop to the ground, where it would seemingly stay forever until you moused over it to add it to your inventory. I got used to it after a few levels so I wouldn't say it was a big deal overall. I'd say it got a little challenging around 8 levels in or so. As others have noted, there isn't a relaxed mode and there's only 40 levels or so. On the fence about purchasing, but I think a lot of people might enjoy this. Try it and see!
August 5, 2013
Familiar Game with Nice Additions
Though I've kind of had my fill of this type of game, I decided to try it to see if anyone had come up with anything new. They have indeed. There were some levels that were challenging enough that I had to rethink my strategy and start over a couple of times. The graphics are cute and the map is interesting being vertical instead of a flat sheet. Overall, it was a fun game.
August 6, 2013