Times of Vikings
The once peaceful village of Hawksworth has been torn apart by huge earthquakes. The Dragon, Yggdrasil, who has been sleeping quietly at the roots of the Tree of Life, has awoken from his thousand year slumber and has begun to incinerate the roots of the tree. The strongest warriors of the village have embarked on a quest to find the four elemental runes and fight the Dragon! Will they be able to find the missing runes and save the Viking Worlds? Guide them to success and defeat the Dragon in this action-packed Time-Management adventure!
Amazing gameplay and graphics
Over 20 unique buildings and upgrades
40 levels of fun in four different worlds
Game System Requirements:
OS:

Windows XP/Windows Vista/Windows 7/Windows 8

CPU:

1.0 GHz

RAM:

512 MB

DirectX:

9.0

Hard Drive:

56 MB
Game Manager System Requirements:
Browser:

Internet Explorer 7 or later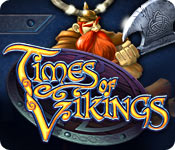 NEW299
The Big Fish Guarantee:
Quality tested and virus free.
No ads, no adware, no spyware.

Reviews at a Glance

Times of Vikings
0
out of
5 (
0
Reviews
Review
)
Customer Reviews
Ahh There's Nothing like building with Vikings On Monday !
Good morning everyone Ahh there's nothing like the smell of hammers, nails, and Vikings on a Monday morning you gotta love it ! We have an excellent builder this morning brought to us by the same dev's that have delivered some awesome match 3 games such as Hello Venice, and The Adventures Of Mary Ann: Lucky Pirates or simply the Squidward team minus Sponge Bob, Patrick and Mr. Krabs. For me this is the first time seeing this team do a builder and let me tell they did an awesome job the graphics are simply gorgeous, the sound effects are cool, the music is cool and the story is cool this time we are traveling through the tree of life collecting magic orb's to help our village so all the worlds we visit are hanging worlds and they are so cool. I'm loving this one so far and the timer doesn't bother me but come on dev's there are so many people that had rather play in relaxed mode so please, please start giving everyone the option of enjoying your games and start putting a relaxed mode in these games people love them and want to play them but some don't like the clock and that's understandable so please give these folks a chance to have fun as well and I bet you'll see an increase in your not to mention more . This is basically your typical builder collecting resources, building homes, shops etc. cutting wood, mining gold, collecting rent and paying off the bad guys so you can pass through. Down at the bottom you have your inventory of buildings and homes to choose from and with this one so far I've seen a couple different ones a doll factory and a hat factory there is also a yogurt factory which I haven't got to yet but so far this game is awesome and I'm loving it the characters are really cute also your goals for the day are listed at the top and bottom. Everything about the game is fun and I love the graphics everything is so detailed and colorful and on this one we are traveling by air ship. This is really a cool game and I'm hoping to see more like this from this developer I love their match 3 games and I'm loving this one and they really did a excellent job on it and I'm as happy as a pig in slop this morning these are my all time favorite games I never ever get tired of them. Give the demo a try it's worth it. Thank you Squidward dev's for giving us this awesome builder and thank you Big Fish for giving me an excuse to skip my domestic goddess duties for another day. Have fun everybody !
August 5, 2013
GOOD TM GAME
Have not played whole of demo yet but have bought the game, having played a lot of TM games I know immediately what I like and what will be good and this is one of them,, if you like royal envoy you will like this :-D cant comment on level of challenge yet but I think it will like most of them get more challenging as levels go on
August 5, 2013
Excellent Game
If you are TM fan then you will love this challenging game. You have to be quick if you want to obtain 3 gold stars as you proceed up the levels. I have to admit that even on level 2 I had to have two tries at it! But in my opinion, the fact that you have to work things out and beat the clock makes this a great game. The graphics are excellent, the music is, well lets say it is not annoying and the storyline is OK Go on try it out. You won't be dissapointed!
August 5, 2013
Fun, Different, and Extremely Challenging!
When I first played this game, it was frustrating, since it is difficult to get the Gold on every Level. I've had to repeat several times just to get the Gold... and all because I want to play the bonus levels!!!! I'm hooked. The music is epic, sort of like battle music, which is needed in this game. The graphics are top-notch and excellent and the story line is humorous. I love how they gather their best warriors and there is a scrawny little viking in the mix. The viking men build and plunder and the viking women or valkyries gather the goods. The levels are built on a tree called the Tree of Life. I like how the game play travels up and down the tree, instead of completing one area. The quest is to find the 4 elemental runes that are hidden in the 4 worlds in the Tree of Life. The runes have the power to put the dragon asleep and stop him from attacking the Tree of Life. He really is a bothersome dragon as he will blow up your buildings as he flies by. It is really difficult to remember what buildings are needed to complete the items. An example is for Ice Cream... you need Berries from the berry farm, a Berry Crusher to make Berry Juice, Milk from the Dairy Cow farm. You have to gather these as the dragon tries to destroy your progress. The yogurt uses the same ingredients, except doesn't use the berry crusher, so you can double your items and share between them. Just as the Doll requires Wheat/Sheep/ and the Hat requires Wheat/Sheep/Loom, so you can gather and share and alternate between them to complete your goods. Run through it once and see what is needed and what you can upgrade, and that will help with completing the level. The valkyries gather the items, so you should have at least one per farm, and a market to sell your goods and get money and a sawmill for the wood to upgrade your farms. Always upgrade as it doubles the items produced. The valkyries have to enter the farm, so when the farm is ready you click on it and the valkyrie will go to the farm and and you have to wait for her to gather the goods, then you have to pick up the goods. There is a slight pause as the farm generates before you can again harvest it. It is a pain when you're almost out of time!!! But keep playing and repeating the level until you get it. A lot of people have mentioned that it is annoying and clicky and you cannot queue your workers. I think this makes it more challenging and it is more specific, in that you have to assign your players and then when the goods are finished, you have to gather them. It is really challenging, and very fast paced. You have to pay attention and know which are ready in order to gather the goods, before they are gone. You can swipe your mouse over and not have to actually click, so it is easier to gather the goods. Sort of reminds me of Royal Envoy. Others have said it's for kids, and even though it has cute little cartoon-like characters, I think it's a little too challenging for little ones. I think once you get used to the game play, you'll find it enjoyable.
September 7, 2013
Can we have some more please
I am a real softie for that kind of games, and this one didn't disappoint me: I loved the graphics and the animation, lots of attention to details and the challenges were quite hard. I think the game would benefit from some changes regarding the chance factor, in some levels you just need a dragon to fire one specific building to prevent you from getting gold on numerous occasions and it doesn't seem fair if you planned your building right, so I would suggest for the developers to take that into account for future games. Also maybe introducing new challenges for extra points on some levels that if you have time to do would be a nice addition and that if you do not have time to do would not interfere with the gold stars :)
August 21, 2013
Times for Gold Stars
OK. I am a 60yo with arthritis so I know that I will never achieve the times set for each level, I'm just not quick enough. But I love these type of games. And if the game is enjoyable I don't let that get in my way. Would be nice to have a relaxed mode. Loved the graphics, very clear and bright colours. Not sure about having to collect the rent, it tends to put a bit more pressure on the challenge. Loved this game and will be buying it.
August 6, 2013
DEFEND THE VIKING WORLD!
The best Viking warriors have set out on a mission to defeat the dragon that has awoken after 1000 years, but they must assemble weapons made by the gods. To do this they must travel to different worlds in search of magic orbs, and so our journey begins....You will shovel piles of snow, cut down trees and open magic chests. You will build houses and farms and use upgrades to meet your goals. You will collect rent and reap harvests until you find all of the missing orbs and defeat the dragon that is slowly burning the roots of the tree of life! A must have game for TM fans, enjoy!
August 6, 2013
Fast-Paced Fun Time Management Game
Wow. I couldn't get enough of this game. The graphics were captivating and colorful. Loved the detail. The music set the mood and didn't distract. This time management game really kept me on my toes. I had to move quick and be ready and willing to replay levels a few times. That was part of the fun. Seeing what the level challenges were, figuring out how to overcome them, deep breathing, doing a few neck rolls and diving back in. I was able to get the gold in all the levels. So give it a try knowing it can be done. Whew. What a blast.
September 3, 2013
Nice game!
Great game and story! One of my absolute favorites!
August 5, 2013
Holy Graphics, Batman! One High Tech TM Game!
Wow! This is one high tech TM Game graphically. Sharp, clear, cinematic. It starts off with a great story and continues from level to level. This is a building TM, but has enough little twists and turns to keep it from being like every other TM game out there. I loved it! I have loved all the Viking ones that have come out recently. I can't wait to see what happens next. I purchased it as soon as the demo was over. I highly recommend this one!
August 5, 2013