9 Clues: The Secret of Serpent Creek
Exclusive
A paranormal private investigator receives a frantic call from her reporter friend Helen, who pleas in a terrified voice for her to leave immediately for the coastal town of Serpent Creek. Urged by her friend's desperate request, the detective arrives at her destination only to find no trace of Helen. Strangely enough, no one from the sleepy town seems to remember seeing the blonde reporter. Weirder still, the town's streets are crawling with snakes, the citizens seem to be sleepwalking through life, and the ground shakes with violent tremors. Can the detective save her friend, reveal the corruption and hidden agendas of the town's citizens, and stop an evil plot to bring the Snake God back to our world?
Mysterious crime storyline set in 1950s America
Clever mini-games and breathtaking plot twists
Unique Detective Mode and Detective's Journal
Game System Requirements:
OS:

10.8/10.7/10.6

CPU:

2.0 GHz (INTEL ONLY)

RAM:

1024 MB

Hard Drive:

289 MB
Game Manager System Requirements:
Browser:

Safari 4.0 or later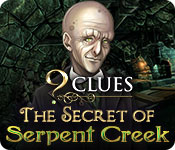 NEW299
The Big Fish Guarantee:
Quality tested and virus free.
No ads, no adware, no spyware.

Reviews at a Glance

9 Clues: The Secret of Serpent Creek
0
out of
5 (
0
Reviews
Review
)
Customer Reviews
9 Clues: The Secret of Serpent Creek
69
69
Original & Fun HO Game
BASED ON DEMO Note: Yes, there are snakes, medium level scary FIRST IMPRESSIONS This is a surprisingly fun HO game. The opening minutes are spent getting the story of how we come to be in this town. It is presented to us in almost-cartoon graphics and a top quality voiceover. We do need a bit of background to get what comes later. SIGHTS & SOUNDS The graphics are a little fuzzy on my large monitor but nowhere near enough to create a problem. They are in drawn style, with a little airbrushing perhaps? I found them pleasant. The colours are good, and there are varied lighting styles. Music was completely forgettable, but the voiceovers were excellent, especially the ssseriousssly sssibilant Missster Mayor. WHAT?S HAPPENING We are an investigator of the paranormal kind, and we rush to the aid of a journalist friend who rings, panicked, from the town of Serpent Creek. Our first encounter with the locals is confusing. We see a strange beast standing over the body of a man, and go to his rescue. Monster is scared off, victim gets the aid he needs, and then brushes the whole incident off as nothing. Creepy, this guy is not quite right, and he denies having ever seen our friend. As we meet other townsfolk, we get the same reaction. Only the mayor will talk to us, and he?s weird too. He insists we locate the sheriff as quickly as possible. All this, and we have earth tremors too! MAKING PROGRESS It is a HO adventure, with lots of them, and I only remember a single puzzle, which was really well done. The HOs are mostly an interactive list, but this game introduces another entirely new HO scene. As a person with parapsychological powers, we can deduce events from the evidence at crime scenes. We start with a list of ?hidden? objects that have been blotted out, and we must search the area for items that respond to our power, and clicking on them will uncover the word in the list. Once all items have been located, we receive, item by item, a vision, the story behind the scene. Difficult to explain, but definitely different from anything else I?ve played. Hint is directional and there is an interactive map that shows you ?groups? of scenes, to which you can travel. For example, the hotel is 3 scenes, but is represented by only one icon on the map. FAMOUS LAST WORDS I have only one real concern about this game, I suspect it might be quite short. I finished the demo in 35 minutes and the file size is tiny. Still, for all those of us with punchcard coupons to spend, I reckon this is a good bet.
August 4, 2013
9 Clues: The Secret in the town of snakes. Good game!
This game is from a developner, that usually stands for high quality entertainment gaming. They did it again this time, but not good as in their last games. First of all I'm very dissapointed that there are no achievements or collectibles in the game, because the beta version had very challenging achievements. That's the Point why this game only deserves a four star rating for me. But now for the game: The storyline is a mystery. When you start the game there's a mysterius creature, a strange mayor with the voice of a snake and a hotel manager which you can't trust anything. You are in Serpent Creek, because your friend Helen needs help with strage events going on there. Later in the game you'll get to know more details until you know what's going on in the town. So the story is good. I like these mystery storylines. The gameplay is easy and there's nothing where you could get stuck, but some puzzles and some of the HO's are quite a challenge, so the level of challenge is ok, but for me as an advanced player too easy. Again: I miss the achievements here. The graphics are ok. They don't have many details, but they are colorfull and have a good atmosphere. The voice overs are great. Especially the voice of the mayor sounds a bit like a snake. That's creepy and funny both together. The other sounds are good too, but there are some longer passages in the game when there's no music. Because of that I rate the sound quality with four out of five. But afterall this game is good and nice as SE. If you want to play a mystic, mysterius and easy game, then you'll like this game for sure. If you are an advanced player you can choose the difficould playing mode, bacause then the game is more challenging. So there's something for everyone in this game. So it deserves four stars for sure.
August 4, 2013
Good game. Easy, relaxing, enjoyable.
This is a game to just play and have fun for the day. Nothing hard. More puzzles than HOS. Nothing really hard. Hint button works really good if needed. I like to be able to see the items in the HOS are this one fills the bill. The graphics are good. Does not have walkthrough but do not think you will need it. Nothing great about this game like some of the CE games, just a good game to play for the fun of it.
August 4, 2013
Thisssssss issssss a fun game! (Hiss! Hiss!)
Well finally a fun SE that I purchased halfway through the demo because of it's uniqueness. You are a detective that deals with the supernatural and you receive a frantic phone call from your long time friend Helen, who is a reporter covering an annual Serpeant Festival in a small town named Serpeant Creek.She needs your help- so off you go. You have 3 playing modes to choose from- Casual, Advanced and Expert. You also have a journal that you keep track of the people involved in your case. your clues and objectives. The music is creepy and daunting. The graphics are good but cartoonish in a fun way. Ambiance also creepy with lots of thunder. Upon your arrival you encounter a snakelike being! You also find a warning note to Do Not Drink the Black Mamba! But there are barrels of it in town. The towns folk are walking around slow and zombie-like and talk the same but add a hiss to that. My favorite part was when I am starting to look around and I had to find all the clues in an area, deduce a conclusion from them and in this case I stumbled upon a dead body, that is the co-worker of your friend! This is just fun with a variety of things to do. I like this game a lot. Have fun...SSSSSSSS!
August 4, 2013
Fun so I am buying
Yes, not great graphics but kind of cartoonlike, but goes with the theme of the game. Voice overs you don't have to click continue to continue the conversation. HOs are fairly easy and had a different kind where there was no list and you had to move the mouse around to find glowing spots. Puzzles so far have not been difficult and I don't care for puzzles so this works for me. It was getting interesting when the demo was over so had to buy so I could continue. Definitely not a CE but very nice SE game. Got to go so I can find out how it ends; will have a fun-filled couple of hours.
August 4, 2013
Slithering sibilance! I think I like it!
Another old style game has slithered out of the Big Fish coffers and it is surprisingly engaging. You arrrive in Serpents Creek to find your friend Helen who has asked for your help and immediately encounter a strange creature attacking the Hotel Manager, Mr Black. The mystery begins to build and you are drawn into the story. You won't find: * amazing graphics * superb cut scenes or VOs * highly interactive HOSs You will find: * retro style * 3 levels of challenge (Casual, Advanced and Expert) though casual is very easy with a lot of sparkles even in the HOSs * very straightforward and slightly interactive HOSs which are not too cluttered * interesting and quite challenging puzzles * an interactive map showing your location and available actions *a useful journal with objectives, clues and character outlines You also switch into 'Detective Mode' (once during demo) where you have to find 9 clues to work out how the crime was committed. Characters are not terribly convincing, but are almost so corny that you like them for that. Some nice humour. There are not too many snakes (yet) though many references to them. Demo stops short (45 mins for me and I took my time taking notes). It is definitely worth a try and, if you do not take it too seriously, worth recommending for a sale or Catch of the Week!
August 4, 2013
Great Game
My daughter and I played this game together and had quite a bit of fun (more so than what we expected). Good story, definitely spooky at times. I recommend it!
October 13, 2013
Wow what fun
Played through this one in advanced and quite enjoyed it. Scooby-do type cartoon graphics, really good VO's and a suspense storyline. Loved the recreation of the crime scenes from the 9 clues. Lots of HO scenes that were list based but the objects were all spaced away from each other so very easy to complete. Lots of mini games that didn't require any skips. Also a very good jump map that showed areas with things to do. Was nice to have a gun to protect myself. Really enjoyed this one. it was not overly long but well worth the free game coupon used. For a SE it was a good entertaining little game.
August 10, 2013
To be continued....?
If you aren't expecting something the same calibre as a CE game, then I expect you will be pleasantly surprised with this one. For me, the main appeal was the storyline - something most games these days seem to fall short in. The only question is - will it be continued? I think they have left it open for that very possibility. Hidden object games and puzzles were very easy, and so was the general game play. The game flowed well and was a passable length. No real challenge, or exceptional art-work. But great for a relaxing simple game without the frills. Definitely recommend this game.
August 9, 2013
Yikes, snakes!
Okay, back from vacation and ready to catch up and play. What a surprising game. Yes, the characters are very cartoony, and the dialogue is quite silly, e.g. I think I need to get out of the car...really? The graphics are quite nice, clear and vibrant colors. Game play is very good. Nice voice overs, even the silly comments. Very fast hint recovery. This hint system is very helpful, so you really don't need a walkthrough on this one. Lots of HOGs, but they fit this game. Very clean and easy to find objects. Games are not difficult but do take some thought to complete. Nice jump map (always helpful). I finished the demo with 28 minutes of game play left, so don't know how short or long this one may be. This game is not extremely challenging, but it is different and I found it to be fun and a refreshing change from all the CE games we have had lately. No, it did not make me want to run right out and buy it, but as I said, it was fun, so I will use a credit to get this one. I think this will appeal to all levels of players. It is pretty much a straight HOG, but sometimes you just need a game like this one. Off to buy and play.... As always, try it for yourself and see what you think. We all have different tastes in games and you may not care for this one at all. Thanks for the reviews.
August 8, 2013
The Apple logo is a trademark of Apple Computer, Inc.
The Windows logo is a trademark of Microsoft, Inc.