9 Clues: The Secret of Serpent Creek
Exclusive
A paranormal private investigator receives a frantic call from her reporter friend Helen, who pleas in a terrified voice for her to leave immediately for the coastal town of Serpent Creek. Urged by her friend's desperate request, the detective arrives at her destination only to find no trace of Helen. Strangely enough, no one from the sleepy town seems to remember seeing the blonde reporter. Weirder still, the town's streets are crawling with snakes, the citizens seem to be sleepwalking through life, and the ground shakes with violent tremors. Can the detective save her friend, reveal the corruption and hidden agendas of the town's citizens, and stop an evil plot to bring the Snake God back to our world?
Mysterious crime storyline set in 1950s America
Clever mini-games and breathtaking plot twists
Unique Detective Mode and Detective's Journal
Game System Requirements:
OS:

Windows XP/Windows Vista/Windows 7/Windows 8

CPU:

2.0 GHz

RAM:

1024 MB

DirectX:

9.0

Hard Drive:

559 MB
Game Manager System Requirements:
Browser:

Internet Explorer 7 or later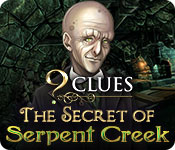 NEW299
The Big Fish Guarantee:
Quality tested and virus free.
No ads, no adware, no spyware.

Reviews at a Glance

9 Clues: The Secret of Serpent Creek
0
out of
5 (
0
Reviews
Review
)
Customer Reviews
9 Clues: The Secret of Serpent Creek
83
83
Lots of Fun
I like this game.. It has all that I look for: Not to hard to follow. Hint Button: Really works lets you know what to do next... Lots of HO scenes. Just Plan simple Fun
August 5, 2013
fun new "detective mode"
I played the demo version of this game. It took me 42 minutes to complete, playing it at a moderate pace. This is a standard HO/puzzle/adventure game as far as the format goes. The one thing that I played in the demo that I found different and really interesting was the "detective mode". This is where the HOS clues are scratched out and you have to guess what the clues are. However, the cursor will blink faster the closer you get to the clue. But all the clues actually go with the crime scene, which is refreshing (sometimes I wonder why some HO's are in the game at all!). After you find all the clues in the HOS, the game then uses all of the clues you just found to recount the crime. The storyline was fine, but nothing incredibly special (unless you really like snakes!). The challenge in casual mode was easy, especially since all the clues actually made sense. The artwork is OK, but the faces are drawn very strangely (which might be the point in the end). The voice-overs are good and go at a moderate pace (not too fast or too slow). Overall, I found this game to be enjoyable and will buy the full version.
August 4, 2013
Bravo!
Great game just not long enough! That's the only thing wrong with it....... 2014
November 1, 2014
Suprisingly good!
I really wasn't expecting much of this game but I was pleasantly surprised. Good graphics and sound, moderately challenging game play, and an intriguing and creepy story line. I usually just click through the story but this one actually had me interested to see what happens next. Please more SE games like this one to use our coupons on!!!
October 23, 2013
Rare Little Gem
Most Standard Edition games that have come out within the last year that weren't originally Collector's Editions have been hit and miss. Some are awful, others are treasures. This one is a complete gem to play. The developer is Artifex Mundi and they never disappoint. There are 3 levels of difficulty in this game which you are able to change through the options menu during the game. Apparently there is no walkthrough for this game and it is really not needed. Even though the game has a lot of locations, when a location is complete, the game won't let you go there anymore. For example someone will come and put police tape on it. The hint button is wonderful even in the hardest mode. It directs you where to go unlike some games that just say "there's nothing to do here". There is a map which works as a jump map but on expert you can't see where to go or tasks. There are nicely done hidden object scenes that you play twice. The objects are easy to see and are interactive. This game has puzzles and they are all doable. There is one that you play 3 different times but its a puzzle that can be done so its not tedious like other games. There is also a detective mode the game goes into to explain break-ins, murders, objects out of order etc. Its set like a hidden object scene. In expert, you don't get a list of what the out of place objects are but they are pretty easy to spot. In the other 2 levels you would get a list of what to find that is out of place. This gave the game a special factor. I liked the clues and the detective mode and how it broke down exactly what happened. There are snakes in this game but they look incredibly fake. I did not come across any that looked like they were real so if you have a snake phobia, I can't see this being too frightening. I was really happy with this game. It had a story line that just reeled me in from the start. It had great voiceovers and visuals. I liked the puzzles and hidden object scenes. The music was fitting for the game and I had a really fun time playing this. It beats me why this wasn't made into a Collector's edition because it has the quality to be one. Maybe next time they will because even though it had an ending, it did give the illusion that the journey was not over. Id love a second one. Kudos Devs!! & thank you for a great quality game that is a standard edition!! Its nice to see developers still do this from time to time. xxx
September 16, 2013
Serpent Creek
The Art work was fine , the story was somewhat unpredictable, and wanted me to carry on to find out what was next. The mayor was really creepy.
August 30, 2013
Good but not great.
This game was fun, the graphics were ok, but nothing about it screamed for more. I knew pretty much the plot and the main enemy within the first few scenes and that kind of bored me to know who the bad guy really was. It was still a good game, and I do recommend it for anyone who wants an easy and fast game. I played it all in one day, and normally the really good ones last me several days to finish. HOS are easy, but still good, and like I said, the story line is predictable early on, but it does have a couple of surprises. It is one of those games for when you want to play, but don't want a huge challenge...just an easy going paced game.
August 11, 2013
Very fun SE
Enjoyed playing this game. Very fun SE. There are charming comic-like graphics. Character VO's are well done to match the atmosphere. HOS are come in two types. One is quite standard but clear and easy (the way I like my HOS). The other is referred to as Detective mode where you have to fill in the list by locating evidence in the scene. Puzzles are pretty easy, very do-able. There is a travel map indicating active tasks, depending on which mode you choose. However, it directs you to an area rather than an exact scene. Not overly challenging but an entertaining game. It's a keeper.
August 6, 2013
Great storyline and voice overs!
This review is based on the demo. This game, set in the 1950s has the player, as the detective, looking into the happenings at a Serpent Festival! It has a nice look, cartoon more than realism, and goes nicely from normal to scary to comical. The HOs are interesting and well drawn, but a bit easy, and the same could be said for the mini games and puzzles. The best part for me was the storyline and the voiceovers...both well above average!! Also interesting is the detective mode where you hunt for clues by following light trails rather than word clues.
August 4, 2013
Kinda creepy
This was a different and unusual game and definitely not for snake haters. I liked it but since I never finish demos before the hour, it was a lot easier than I expected (and I did not skip any games). You are out to find out what happened to your friend Helen Hunter and her collegue Joe Trask. The town seems empty, you have the creepy hotel manager, the mayor is obviously a snake creature (hisses his sss), you find Joe dead and the sheriff is missing his arm but is supposed to be getting a new one. There are snakes that have to be distracted. There are 3 levels of play: casual, advanced and expert. There is an interactive map and not sure about hint button because I did not use it. The hos are fairly simple and do have some interactive, but nothing is hidden in shadows and are readily visible. There was a new twist called Detective Mode which you have to find items that you don't know what you are looking for and at the end it gives you the summary of the chain of events. Music fit and was not overly annoying and the voiceovers were not bad. Very cartoon like, but didn't detract from the story. Items in inventory are not complicated. Not a bad game, storyline flowed nicely. Not sure if I will buy or not (if I do it will be with free credit). Also not sure if I recommend or not.
August 4, 2013
The Apple logo is a trademark of Apple Computer, Inc.