9 Clues: The Secret of Serpent Creek
Exclusive
A paranormal private investigator receives a frantic call from her reporter friend Helen, who pleas in a terrified voice for her to leave immediately for the coastal town of Serpent Creek. Urged by her friend's desperate request, the detective arrives at her destination only to find no trace of Helen. Strangely enough, no one from the sleepy town seems to remember seeing the blonde reporter. Weirder still, the town's streets are crawling with snakes, the citizens seem to be sleepwalking through life, and the ground shakes with violent tremors. Can the detective save her friend, reveal the corruption and hidden agendas of the town's citizens, and stop an evil plot to bring the Snake God back to our world?
Mysterious crime storyline set in 1950s America
Clever mini-games and breathtaking plot twists
Unique Detective Mode and Detective's Journal
Game System Requirements:
OS:

Windows XP/Windows Vista/Windows 7/Windows 8

CPU:

2.0 GHz

RAM:

1024 MB

DirectX:

9.0

Hard Drive:

559 MB
Game Manager System Requirements:
Browser:

Internet Explorer 7 or later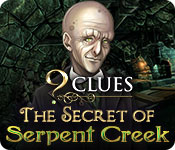 NEW299
The Big Fish Guarantee:
Quality tested and virus free.
No ads, no adware, no spyware.

Reviews at a Glance

9 Clues: The Secret of Serpent Creek
0
out of
5 (
0
Reviews
Review
)
Customer Reviews
9 Clues: The Secret of Serpent Creek
83
83
Great game! A little short...
This is a very unique little gem of a game. It was a tremendous amount of fun, but it ended a bit soon -- not so soon to where I felt like I'd been ripped off, but I felt it could have been slightly longer. Should this stop anyone from trying/buying the game? Nope. Even knowing what I know now about the length, I'd still pay to own it.
September 6, 2013
Ssssimply Surprising
I thought oh a cheap so so game and then I got caught up into it. The characters were great. It moved along smoothly. Good hint button. Great map. I will put it on the buy list. Warning slight language in the game. I do not like that.
August 22, 2013
Great Game
Very enjoyable. Bright and clear graphics, good story line, and map feature enables you to jump locations.
August 18, 2013
NOT BAD..JUST TOO PREDICTABLE
NOT A BAD GAME..IF YOU WANT TO JUST RELAX & GO WITH THE FLOW..THIS WOULD BE A GOOD ONE FOR A RAINY DAY OR A FREEBIE LIKE I DID..THERE IS WAY BETTER GAMES BY THESE DEVS..HOPE TO SEE SOME GOOD ONES COME OUT SOON...ENJOY!!!
August 10, 2013
Stopped after 31 minutes of play:(
Has a great storyline. Great HO game and the storyline I enjoyed after 30 minutes of the game you thanking you for playing the demo.
August 5, 2013
Couldn't put it down!
This game is so fun and I love the story and just had to finish it in one night :)
August 13, 2013
An Interesting Storyline
There are three difficulty levels and I played on expert mode. The music is not irritating, and I left it on. The graphics in this game are different than the typical hidden object games available on Big Fish. I felt like I was in a cartoon and the voice overs and characters supported the cartoon style very well. While the game maintains good tension and is rather creepy, I found it more disturbing than entertaining and did not finish the demo. The mini-games that I encountered were not difficult. There is also a 'detective mode' mini-game that was different in that you had to find hidden objects related to a crime without a list. The list is revealed as you find them and then the crime analyzed. Overall, I'd say it's a decent game.
August 4, 2013
I've Got a Big Secret For You...
...With the really high quality games that are available to us these days, this one doesn't measure up. This game has been in my library for several months now. I don't remember buying it. I'm guessing it's a desperation move with a fast-expiring free coupon. I played this game for about 2.5 hours on a MacBook Pro with Mavericks operating system. I'n not sure how much I completed. Well that's not true. I'm finished with it. Fun Factor: Because I've played games like Fright, recently (and it is now my favorite game) 9 Clues suffers in comparison on every level. I couldn't stop thinking about that as I played and that robbed me of what little fun I was having. Visual/Sound Quality Sights: This is what suffers the most. The quality of the graphics is poor. Have you watched a tv show where the camera has a filter on it to cover up blemishes on the actors...and as a result everything has gauze-like fuzziness to it? That's what everything looks like in this. It's surprising to me that this is from late 2013. It seems more like something from 2011. Sound Quality: Better, technically, than the video quality. A couple of voice actors do their jobs admirably. The background music is suitably creepy. LEVEL OF CHALLENGE: Both the HOS (too many of them) and the mini-puzzles (not enough of them) are way too easy and present no challenge at all. The HOS particularly are downright bad. They're already not good to look at, as I mention above. Subtract from that anything resembling a challenge or clever disguise or sneaky "blending" of an item with other items and you're left with a 30 second HOS. Storyline: A woman is summoned to Serpent Creek by her friend. When the protagonist arrives her friend is missing, she's lied to by a hotel clerk who says he's never heard of her (even though her name is written in the hotel log). The friend, it turns out, is locked up in jail and missing an amulet, along with a few brain cells. That's about as far as I got. This developers have tried to add what they hope is an interesting "twist" to the game: a "trail" of clues. Something, I'm not sure what, queues up a segment wherein you move around a room searching for sparkles....NINE of them....and when you get to the epicenter of each of the sparkles you click on your mouse and the location is locked as a clue, After you find all nine the heroine of the story walks you through these clues. It's not exciting at all. In fact it's a big bore. You learn nothing interesting as a consequence of this clue collection. It's just a gimmick. So this proves the point that if you haven't anything really good, ya gotta have a gimmick. My advice? Slither away from this. Not to be disrespectful of beginners...but...it's very easy and perhaps a good first game for a beginner. A pro of almost any level of experience should find this game too easy.
July 6, 2014
Meh
The game is typical of most of this genre, which is fine. The story was not as gripping as others, and had I played the demo I probably would not have purchased the game. I did purchase it however, and was disappointed with how easy it was. I finished the whole thing in about 2 hours. Definitely a let down.
August 8, 2013
Sorry guys, it was just ok.
I get a little hesitant to get excited about a game when I finish the demo in under 45 minutes. The mayor is creepy and you seem to have to keep saving him. The sheriff is brusque and I think a drunk. I'll bet the dead body won't be there when he looks for it. That was interesting - how you had to find the clues and put them together for the answer - very good work detective. I think I've seen that done on a tv show. The biggest shock I got was when I walked into the jail cell area and, voila, there's my friend no one seems to know about. The shocker was the nanosecond of seeing her - she turns around - there's a scream - and the demo's over. The HOGs are easy as are the mini games. The characters - hard to say since you mostly interact with the creepy mayor. The hint button recharges pretty fast and can keep you on track so you don't need a strategy guide or walkthrough - at least not in the 45 minutes it took me to play. So for an SE that's pretty good but I think it will be a short game. I'm on the fence about this one but Glam-ma says at least try the demo.
August 5, 2013
The Apple logo is a trademark of Apple Computer, Inc.