9 Clues: The Secret of Serpent Creek
Exclusive
A paranormal private investigator receives a frantic call from her reporter friend Helen, who pleas in a terrified voice for her to leave immediately for the coastal town of Serpent Creek. Urged by her friend's desperate request, the detective arrives at her destination only to find no trace of Helen. Strangely enough, no one from the sleepy town seems to remember seeing the blonde reporter. Weirder still, the town's streets are crawling with snakes, the citizens seem to be sleepwalking through life, and the ground shakes with violent tremors. Can the detective save her friend, reveal the corruption and hidden agendas of the town's citizens, and stop an evil plot to bring the Snake God back to our world?
Mysterious crime storyline set in 1950s America
Clever mini-games and breathtaking plot twists
Unique Detective Mode and Detective's Journal
Game System Requirements:
OS:

Windows XP/Windows Vista/Windows 7/Windows 8

CPU:

2.0 GHz

RAM:

1024 MB

DirectX:

9.0

Hard Drive:

559 MB
Game Manager System Requirements:
Browser:

Internet Explorer 7 or later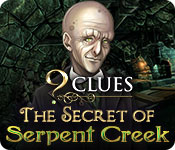 NEW299
The Big Fish Guarantee:
Quality tested and virus free.
No ads, no adware, no spyware.

Reviews at a Glance

9 Clues: The Secret of Serpent Creek
0
out of
5 (
0
Reviews
Review
)
Customer Reviews
9 Clues: The Secret of Serpent Creek
82
82
Not for me
Too simple for my tastes. Might be okay for first timers on this kind of game. Try out time was so short it makes me think the game will be short, too.
August 4, 2013
Not up to Artifex Mundi's usual awesomeness...
As a paranormal PI, I'd seen my share of weirdness. But nothing prepared me for what I was to encounter in Serpent Creek after my friend Helen's SOS call. Most of the citizens acted drugged, while the remainder were a cast of shady characters. Then there were the close encounters of the bizarre kind, the disgusting green slime, and the cryptic warning notes. And that's just the beginning. What I ended up uncovering was an ancient myth, the classic battle between good and evil, and a plot to take over the world. I'm not kidding. And my friend was caught up in the middle of it. It would take all my skills to get me out of this one alive. Notes: Gameplay was relatively simple, not the complex and interwoven wonder that Artifex Mundi usually presents. The animation was a strange mix of amazingly realistic and amateur cartoon. The graphics were well done, especially in the HOs, with items being easily recognizable. And the music was appropriate. The storyline...well...I really wish it had been fleshed out more. It was awesome and had such potential. I'd recommend picking this up as a DD only, as I feel it doesn't have good replay potential.
September 24, 2013
Where were the snakes?
Haha! Not that I was wanting to see snakes, I played this demo bracing myself for the plethora of serpents as other posters had warned. After 45 it cut off and thanked me for playing. I counted three actual snakes that were not even frightening. This game is definitely rated PG if there were such a rating. The storyline was weak and the artwork was almost cartoon-ish. Nothing wrong with that if you are prepared for that kind of visual art. To be honest, this game seemed to be about five years behind the times. The games AND story lines across the board have been getting more and more sophisticated to the delight of us gamers! This one was not. Great beginner game for the tame images, slower story and lessened intensity. It's billed as being "retro"...and the time period is set around 1960?? But that does not mean the game play and artwork has to be "retro" by gaming standards. The scariest character in the demo was the mayor of Serpent Creek (shown on the cover). Meek mannered but creepy looking and acting awkward. Have fun with this one knowing that it's good fun and not intense. I'm certain more snakes will show up, but they are not my kind of house pet. I recommend it for a starter game!
September 9, 2013
Way too easy
This is an extremely easy game. I played the Expert mode, and it didn't feel like it at all. The objects in hidden object scenes weren't hidden, the puzzles were designed most likely for kids (even though there is a good deal of violence in this game, so it wasn't probably meant for 6 year olds after all). I can't imagine what the easiest mode of this game is like. Apart from the game being very easy, the graphics did not impress me much, and the plot twist wasn't twisted much either - in the sense that you spot the villains pretty early in the game. Generally, if you deem yourself an expert player, skip this one. It won't provide any exersise for your brain. For beginners though, it may be a nice one.
November 21, 2014
Barely a 2
I've played many good games from Artiflex Mundi but this one was not one of them. In summary: graphics are mediocre at best and in some cases, barely passable; action scenes are not smooth, rather they are more along the lines of spastic movements; HOs are not very hidden, in fact, most objects are in plain view; puzzles are generally simple in nature and solution; little scene interaction other than a couple of times where some real movement was required; story line was contrived/corny/cheesy; character lines were short, numerous, and distracting; non-cryptic clues generally tell you what to do, no thinking required in most cases; notebook fragmented and of little use, and at times, the pace is along the lines of drudgery. All-in-all, low entertainment value for those that don't want to think to hard or be too challenged.
February 11, 2014
Dull, Dull and Duller!
Thank goodness I only spent a game credit on this one, as I didn't play for long before I deleted it. The graphics were dark and grainy, the storyline uninteresting and the challenge poor. HOs were standard and far too many for my liking. On the plus side it had a jump map but lost interest in going anywhere..lol.
August 5, 2013
A random clicking around game with a poor UI
Graphics and sound are acceptably competent. Unfortunately the story and game play aren't. The user interface issues are formidable and are not the result of bugs but of plain old not understanding how a game should work. The game features drop downs that won't go away, custom cursor that won't go away...this thing is defective by design. Very annoying to play even though the game isn't bugged. This is supposed to be a HOPA but what you get is really bad HOS that aren't "find-its"...instead they're "click around until something shows ups." You build the list of what you're supposed to find by randomly clicking around until you click the things on some invisible list. As you click the right thing the list forms. I simply don't get how this is anything but completely random clicking. Calling this a guessing game would dignify it with more thought than what is required to accomplish this mindless clicking. The developer tries to justify the randomness after the fact with a voice over explaining how the things you've found all make sense. Unfortunately, it just feels random while you do it and annoying to have them try to justify it afterwards. Didn't work for me at all. You also get simple puzzles that you can click click click through until they work...this takes about 5 seconds. All of the above would be tolerable if it were associated with some kind of story but the story is lost in the confusion of trying to figure out what to do next. The "adventure" portion of the game is not well thought out and leaves you wondering what to do next every step of the way. When you're playing a game you're dependent on the developer to create a scenario that makes sense so you can play through it. In this game that doesn't happen. The game just got very boring very quickly. The developer failed to make me care about the characters and failed to create some logical sequence of actions that would allow progression through the game without constant random clicking. The random clicking infected even the HOS. I wanted to like the game and just have fun with it but I couldn't make it through the trial.
July 9, 2014
4 stars really?
can't believe this game was rated so high! Spent a freebie on it, wish I hadn't. This games graphics were not the same as the sample slides, had glitches all the time, where only part of the scene was there , had to keep backing out of then returning to get more of the scene. see even my newer computer didn't like it. lol The only thing I did like was the puzzles/mini games, good selection, fun to play. My fault I tend to buy first by reviews instead of playing the demos.
August 7, 2013
Boring and poorly executed
I think there has only been one other game from BFG that I have found so boring and unfulfilling. PRO: The sound is the only good thing about it. CONS: The artwork is atrocious - my 13 year old could do better. The story is boring. I can't explain it and I wish I could since this is a review. Put it this way: 20 minutes into a 60 minute free trial was all I could take. I had to get out and trashcan it! I felt as though my brain cells were frying at the simplicity. The HOS were fairly challenging if you don't care for them that much, but to a seasoned player of HOG, you'll get bored fast. You'll wonder what you just wasted a minute of your game time on. I'm suspicious of the good reviews those scenes received. The mini-games were elementary school level. The "mystery" became quite clear from the moment you enter the first location. Meeting the mayor within the next 10 minutes tells you the entire story. This game held absolutely no interest for me once I figured out the mystery within 5 minutes of game play and with how painfully simple it all is. I usually love Artifex Mundi games. I can't believe this travesty is from them. I am very suspicious about the 5 star reviews. Play the demo. Everyone is different but speaking technically rather than opinion, it really is worthy of only 2 stars.
November 6, 2014
Based on Demo
This is based solely on the demo. Overall, the storyline was only so-so but was enough for me to download the free trial. I was iffy to begin with though. The hidden objects were super easy to find and there just wasn't enough play time within the demo for me to even begin to care much more about what happens next. Graphics were good. I would definitely say this would be more for someone who hasn't played many of these types of games. Just overall too easy and not interesting enough to keep my attention.
August 18, 2013
The Apple logo is a trademark of Apple Computer, Inc.