Green City
Construct the world's most eco-friendly city in Green City! Clear away abandoned run-down houses as you redevelop the land, creating a new sunny paradise. Today is a perfect day to bring out the engineer and architect in you with this thrilling Time Management game!
48 smartly designed and balanced levels
Ecological and energy efficient upgrades
Unlockable achievements
Game System Requirements:
OS:

10.9/10.8/10.7/10.6

CPU:

1.0 GHz (INTEL ONLY)

RAM:

1024 MB

Hard Drive:

269 MB
Game Manager System Requirements:
Browser:

Safari 4.0 or later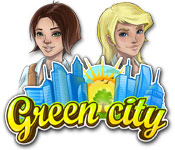 NEW299
The Big Fish Guarantee:
Quality tested and virus free.
No ads, no adware, no spyware.

Reviews at a Glance

Green City
0
out of
5 (
0
Reviews
Review
)
Customer Reviews
FUN...once you figure it out!
Nice new time mgmt game building NEIGHBORHOODS. Not just about house building. You won't find any instructions, which made me re-play over and over. BUT... I enjoyed playing over and over, so I will buy the game.
February 9, 2013
Only 1 thing missing
I love this game but wish there was just 1 additional feature. A sandlot mode where you can leisurely build your own town using all the features you unlock at the end. That would make it a 5 star for me.
March 13, 2013
Played it all weekend!
I love TM building games of this type, found the levels challenging but not impossible to complete with 3 starts. really enjoyed it, more like this please :) wish it had a sandbox mode then it would play very much like one of my old favourite games, holiday island
August 11, 2013
Pretty good play
If you haven?t tried Green City, I think you should. I played in untimed mode and found it enjoyable. Yes, the ecology is impossible and actually funny in its inaccuracy, but it is only a game and therefore doesn?t really have to reflect reality. This is a building game with made up elements of energy use and ecology. The result may not be reality, but within the game rules it can be fun. Eventually the buildings you build and the neighborhood eyesores you eliminate will produce energy from thin air (or buy it from neighboring cities). In untimed mode, if you go down the wrong path, you can still recover by demolishing buildings and trying a different strategy. For me, it was a nice escape which I was sorry to see end.
July 3, 2013
Nice TM Building Game
I like these types of games, but in this one I feel like there could be more tutorial help in the beginning.
February 18, 2013
Nice game
I was debating on whether on giving this game a three star or a four star. The story line is great using the eco-friendly idea but the challenge was the biggest problem. I do like a game that has both: a relaxed mode and a challenging mode. There are times I do want a game to relax by but there are time I really want to challenge myself. This game only has one mode relax and that is reason why I gave this game a three star. For people who like a challenge game, this is not it. I only recommend this game for people who like games that are relaxed with no time. As for the visual/sound quality, the sound does get annoying but I took care of that problem by lowing the sound down but the visual is good.
February 9, 2013
Good Concept, Bad Execution
'Green City' is a relaxed-mode builder game where you revitalise neighbourhoods by demolishing condemned buildings, building new structures ranging from residence to decorations to businesses. It?s a strong, timely idea -- though it has been done before whenthe Build-A-Lot series released a very similar game with 'BAL 4: Power Source' last year. The first problem is that if you're going to do a variation on an already popular game you need to make certain you're at least as good. Unfortunately, 'Green City' doesn't even come close. Fifteen minutes into the trial I was bored and confused but, thinking that tutorial levels can be awkward, I decided to finish the trial. This is what I found: [The Organisation] - The instructions are minimal and limited to 'this is how you build a structure' 'this is how you demolish one' and 'this is how you upgrade one' (all things that are very obvious to anyone who?s played a TM game before). - The buttons are spread out across the screen, making it annoying to keep track of, and some of the less common ones are difficult to interpret. In particular the 'goal' buttons come in the form of pictures that you click to gain the details of (e.g. 'Build Cottage x2') and require you to click 'okay' to return to game play without slowing the clock. Thus, it slows down your game play, breaks your flow, and lessens the chance of getting an expert mark. - The tools menu is a fan design, which is common only in graphic arts' programs and similar, instead of a far more familiar bar design. There is a tool bar full of expanded options (where an inventory bar usually is) but it?s large and clunky, making it difficult to see parts of the screen you need to do construction on. The tools menu (fan) is in the bottom left corner, its expanded options are along the bottom of the screen and yet you need to keep track of your resources to use those tools in the top right, which can be difficult when the screen is cluttered. - And the screen really is very cluttered with not only overly large buttons but a lot of unnecessary decoration, making it so that the areas that the player can manipulate are limited. The player can only build within certain grids and these grids make up less than 30-40% of the screen in the first ten levels. - Additionally, unlike with the Build-A-Lot series and other similar building games (e.g. Be Rich) there's no space between the lots and often times buildings have to be build up against each other in order to fit. This requires buildings to be ?faded? out if the building you want to work with is squeezed behind one building and next to another, cornering it it. Overall, it comes across as not well thought out. [The Graphics] - The graphics are sub-par for a game designed this year, which very little dimension to the buildings or other options, distracting animations, and low-resolution imagery. [The Gameplay] - The player is given very little instruction and expected to figure out how to achieve the goal themselves, including discovering newly unlocked features (the game does not tell you they've been unlocked) that are increasingly required to reach the 'expert' or even 'intermediate' goal. - If you can?t follow the logic to the game, which is nothing like the logic of other building games of its genre from my experience, then it?s almost impossible to finish before the expert & intermediate time goals expire even if you understand how to do each thing. The game seems to be very sensitive to the order actions are taken even when there are many different ways to achieve the same results (this ability to free form is, IMO, one of the best features of this building genre but ?Green City? evidently would disagree). [The Story] The premise for 'Green City' is an eco-friendly city building plan. As said above, 'BAL 4: Power Source' has the same idea. Like 'Power Source' 'Green City' keeps track of everything from visual appeal to energy usage, often putting the player in the negative in these categories by virtue of building anything. Unlike 'Power Source', however, 'Green City' doesn't have a coherent way to introduce, tackle, or explain the clean energy idea. Instead you simply click a little leaf to upgrade your home when in another game of the genre you'd click a star. (To give a contrast: in BAL 4: PS the player has the typical 'upgrade' option, represented by a star, but there's a second, new feature represented by a light bulb that keeps track of energy usage. Each new building or upgrade adds to that usage and if it exceeds the power being produced by the local wind farm or power plant you built to deal with the energy problem -- a feature absent in 'Green City', of course -- then the power goes out. With the power out you stop collecting rent until you add another power source or upgrade your houses with the clean energy feature (represented by light bulbs) to be more energy efficient. This offers a separate feature to tackle the energy storyline/point rather than slapping a new name on a pervasive feature and calling it done.) All-in-all there's nothing in the first city/ten levels that I played which tackled the clean energy/green power any better than your average building game. In summary: the game fails at its organisation, its gameplay, and its premise. I'm only giving it to a two because it is playable, if frustrating, and I've seen far worse. If you want a building game that really tackles 'going green' then check out 'Build-A-Lot 4: Power Source', if you want a building game similar to this with much higher quality graphics check out the 'Be Rich/Richer/Richest' series. There are far better building games on the market to waste your time or money on this one.
March 20, 2013
Hated it
Disappointed, got bored after 15 minutes. Low quality graphics and slow moving.
March 3, 2013
hated it
Don't know what people saw out of this game after 10 min from the demo I decided to quit was boring and no idea Big fish stuck out again glad I don't belong to the club it's not worth it
February 13, 2014
Gangrene City
slow, boring, excessive environmentalist point of view reinforcement, here to play rather than be lectured too
June 28, 2013
The Apple logo is a trademark of Apple Computer, Inc.
The Windows logo is a trademark of Microsoft, Inc.