Echoes of the Past: The Kingdom of Despair Collector's Edition
Exclusive
End the witch's evil reign at last! Explore the twists and turns of a mysterious world as you travel through a strange, cursed kingdom, where the characters have been robbed of their beauty and talents by a cruel sorceress. Tests your wits as you gather the missing amulets, restore the lives of the cursed characters – and open the portal to return home!

This is a special Collector's Edition release full of exclusive extras you won't find in the standard version. As a bonus, Collector's Edition purchases count toward three stamps on your Monthly Game Club Punch Card!

The Collector's Edition includes:
Bonus Chapter
Concept Art
Bonus Mini Games
Strategy Guide
Collectables
Game System Requirements:
OS:

Windows XP/Windows Vista/Windows 7/Windows 8

CPU:

1.0 GHz

RAM:

1024 MB

DirectX:

9.0

Hard Drive:

1020 MB
Game Manager System Requirements:
Browser:

Internet Explorer 7 or later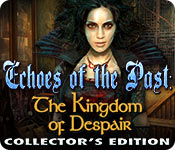 The Big Fish Guarantee:
Quality tested and virus free.
No ads, no adware, no spyware.

Reviews at a Glance

Echoes of the Past: The Kingdom of Despair Collector's Edition
0
out of
5 (
0
Reviews
Review
)
Customer Reviews
Echoes of the Past: The Kingdom of Despair Collector's Edition
78
78
ECHO,ECHO,ECHO,ECHOOO!
I must admit I was really excited when I saw this game available, it seems like it's been forever since a quality, new CE has been released. However...this isn't what I had in mind! Something about this game left me feeling mundane. The story was somewhat confusing, not enough information is given in the beginning. I'm a passer by when I enter a bookstore to see the famous book of spells of which I know nothing about. A woman enters the bookstore wearing an amulet exactly like the one on the spellbook, gets sucked into the book, somehow I get sucked in as well, a witch grabs the woman an tells me so sad, too bad, I'm taking the book's amulets you'll never see your world again. Then I shrug my shoulders and casually walk off to search for the amulets. The fact that there are monsters and hideous witches, talking skeletons, fire and brimstone don't effect me in the slightest. I walk outside the witches house to find a blind boy who was missing his dog and cane and can't leave the bench he is sitting on. I rescue his dog and reunite the two and even though he said he was lonely now that the witch abandoned him I abandon him as well! Enough about the story flaws, onto the meat of the game. The HOS are mundane as well, they just aren't that fun. Some are interactive list finds with your typical find 1/2 of one item such as the sun and place it on the matching 1/2. Others are find 12 piano keys or torn up pieces of a picture. I didn't have any problem with the mini games, nothing new, but they were fun and not too difficult such as sticking pins into a voodoo doll which would light up a path and you had to choose the correct spots so that the path was lit from start to finish before running out of pins. There are achievements (not a lot) and 15 collectable potions to find. The inventory bar was at the top of the screen instead of the bottom which slightly annoyed me and the music really annoyed me. Usually the music and sound effects don't bother me at all but I found this music to be overbearing and I had to turn it down shortly after beginning the game. This isn't a bad game, it's definitely worth playing, I personally didn't experience any WOW factors.
August 15, 2013
Decent Game
I felt that this was a fairly decent game but the music is very depressing as well as the storyline. I felt that this game was the best in the series so far. On my computer the graphics were slightly fuzzy but beautifully drawn. It could just be my computer. There are some new puzzles in this game. I really enjoyed the feather puzzle which is the only puzzle I was able to play in the game. It was unique twist on a pattern puzzle. Generally I would recommend this game.
August 15, 2013
a near miss
I almost didn't buy this game. I had gotten bored by the similarity of the second and third of the series and wasn't even going to demo this. I am glad I changed my mind though. The Devs have really put some thought into this and I found this newly revamped version to be quite a great time. I think this has one of the best interactive maps I have seen in a game yet, and wish more Devs would do something like this. It was very easy to see what areas I should not bother with, and which areas I had something to do in, right away. The graphics were rich and the worlds were believable and I thought the games appropriately difficult. What I did not like was the painterly style on the Hidden Object Scenes....It was very hard to make out what was what, even though they were great paintings....and they were tough...almost unreasonably tough, by hiding most of an item underneath or behind something so that there was the barest clue there was something to select. But, on the whole, bravo! and thank you for an entertaining time!
September 19, 2013
Not as good as the other 4!
Hello pond pals. Another Echoes game. I have the other 4 and really liked them all. I'm on the fence about this one. The graphics and game play are very nice. Games not easy and do take some thought and time to complete (so far#. HOGs are very simple, but fun...clean and clear so no eye strain. As usual, I do not care for the fact that you don't know how many chapters there are in the game, so can't judge approximate length of game either. Voice overs make a game, but they could have been done a little better. They boy sounded very whinny and annoying. I like the locking inventory bar #can't stand for it to constantly pop up and down when I play). SG is nice and simple, but definitely in the wrong place. Too close to the hint bar and easy to hit the wrong button. Hint fills farily quickly, but has an annoying blink every few minutes or so. Didn't care for that at all. There is a jump map, which you will constantly use, but a disappointment. Yes, it takes you where you want to go, but none of the locations are identified. A green dot does blink bright on the areas that have something to complete, but unless you have a very good memory, you are looking all over to find the room you need. Not much in the way of collectables either, or at least, not in the first chapter. It was a nice game, but something seems to be missing...not sure what. I will probably purchase this game to add to my Echoes collection, but for now, it is going in my puddle for another day. Maybe when there is a special, but not today. As always, try it for yourself and see what you think. We all have different tastes in games and you may find that this is exactly what you wanted today. Thanks for the reviews.
August 16, 2013
Gameplay is Great! Story, Not So Much...
Needing something new to try, I was delighted when I saw the new Echoes of the Past game. I was quick to download and try, and I was pretty impressed by the demo. I am considering buying (but I will wait for the SE). The story is?. Well, it?s good, but not great, you know what I mean? I mean, it starts off great and the demo ends quite well, but everything in between there is not the best. The only things that happened were helping a blind boy, giving the queen back her heart (sounds quite like the Wizard of Oz, don?t you think?) and unlocking the next room and defeating the guard. The demo ends there. Again, not the best, and there probably should have been some more interesting things going on in the demo, but the gameplay was the winner for me. It is quite often that I will buy a game not for the story, but for the gameplay. This would be one of those games. I actually had a lot of fun in the game. There was a great mixture of HOS and puzzles, and each HOS was a bit of challenge. The HOS are the classic junkpile ones, with one or two being ?place the item back in the scene? ones. Both of these I really enjoyed. The puzzles were a little bit hard for me, so I skipped them all. There was one exception, the feather one. I enjoyed this one even though I could not complete it. The strategy guide contains details on how to solve the puzzle, for those who get stuck. For those wondering, the gameplay is not difficult. I was able to navigate my way around the scenes with no trouble at all. One problem I had though, was that I would sometimes get confused with the amount of rooms and accidently go in the wrong one. This did not trouble me though as I enjoyed the game. The graphics are pretty good. I can make no complaints on these. The character designs and HO scenes are done pretty well, and each scene is good. However, these graphics are not great, and could have done with a little more work. The voice-overs are standard. Again, good, but not great. The one positive is that the voice-overs aren?t over-done. One issue I had with the visual/sound part of the game is the music. I kept hearing this annoying thump. Every 30-60 seconds or so, this thump would play. It annoyed me so much I had to turn the music/sound off. FEATURES - 3 modes of play: Casual, Advanced and Expert (at least I think that?s what they?re called). I played Casual. Last mode does not give you any hints. - Hint and Skip recharge fairly quickly on Casual. Skip takes a little longer to recharge than the hint does. The hint is extremely useful outside HOS. - Diary to keep track of events. I did not use it often. - Interactive map. Areas where a task needs to be completed are highlighted in green. Areas completed are highlighted in white. CE EXCLUSIVES - Strategy Guide - Achievements - Bonus Chapter - Concept Art - The usual CE Extras So, overall I was impressed by this game. The CE gets a four as there are no CE Extras that I feel the need to have. I will be buying the SE.
August 16, 2013
Not as Good as Others in Series
I did enjoy this game, I played it right through to the end and into the bonus, but I have to say it was getting a little boring and I had to force myself to finish it. That said, it was fun although it might have been more cost effective to buy the standard edition as the collectors didn't seem to have anything extra worth paying for.
October 12, 2013
I really liked this game
This is a large game and I admit I was happy that you could get from place to place via the map. Some games & puzzles were easier than others. There were a few that tested my patience. It is very well drawn and fun.
September 25, 2013
Very detailed
I am a seasoned player and I found this game quite detailed and involving. I enjoyed playing it. My only criticism is that the puzzles were not very original and I would like the option of playing a mini game instead of HO scenes.
August 26, 2013
Interesting Game
Ok, the other games in this series were not as dark and creepy. I have to say if they keep heading in that direction I won't personally play another one. Graphics were great, the game was easy to follow, but too dark and creapy for me. It is hard for me to recommend a game I myself would not buy had I know it would be like that. However as far as story and game play it was right up there with some of the better games so I give it four stars for the quality the darkness can be removed and the game would still be fun to play. HOS's were different and I liked that, interactive to say the least. As far as challenging it had that. I leave this one up to the gamer to decide what they prefer.
August 20, 2013
good game but I'll wait for the SE
I have played all the Echoes games and have liked them. The graphics are good. The HOS are about the same as all of there games. Puzzles are good. I will wait for the SE. Not that much for achievements for me.
August 16, 2013
The Apple logo is a trademark of Apple Computer, Inc.