Holly: A Christmas Tale Deluxe
Grab a cup of cocoa, put on your favorite Yuletide music and play Holly: A Christmas Tale Deluxe, a wonderful new Hidden Object game guaranteed to fill you with the spirit of the season! As you help Santa find the items he needs to complete his rounds on Christmas Eve, you`ll be asked to pick out toys on a shelf crammed with merchandise, spot the differences between two seemingly identical pictures and more! Download this dazzling new holiday classic today!
Variety of levels to explore.
Many toys to discover!
Christmas-themed story!
Game System Requirements:
OS:

Windows XP/Vista/7/8

CPU:

800 Mhz

RAM:

256 MB

DirectX:

9.0

Hard Drive:

147 MB
Game Manager System Requirements:
Browser:

Internet Explorer 7 or later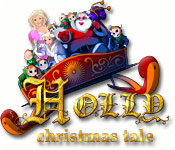 NEW299
The Big Fish Guarantee:
Quality tested and virus free.
No ads, no adware, no spyware.

Reviews at a Glance

Holly: A Christmas Tale Deluxe
0
out of
5 (
0
Reviews
Review
)
Customer Reviews
Holly: A Christmas Tale Deluxe
26
26
Good game but not good on the eyes
The game itself is fun. The graphics and sound quality is also good, but like some of the other reviewers comments, finding some of the hidden objects is difficult because (a) some are very small and (b) some are too well hidden. Now if you have perfect vision then points (a) & (b) probably not occur, but, be warned all you fishes out there that wear glasses. This game is not good for us!! Because of that I didn't buy it.
November 10, 2012
Fun Game
This is a fun game its relaxing a break from all the more challenging games. but one thing I have a qualm about is the objects are very hard to find, hard on the eyes. the coin/ pinecones are very hard to find. need to be a little bigger as well as the objects to fine.. other then that good game. music is nice. story line is cute. its hard to quit once you start playing. Have fun Merry Christmas to all.
December 6, 2013
Played Again and Again
This time of year, this is my go to holiday game. I've played it so many times; I can usually complete the whole game in a couple of hours. No worries, it will take the first time player much longer. Is this game overly complicated? No. Is it a bit child-like? Yes. Is it just plain holiday fun? Heck yeah! Help Holly save Christmas through various puzzles such as HO scenes, jig-saw puzzles, spot the difference and a few varied others. In one, you'll have to select the correct Santa bag for the country he needs to deliver it too based on the bags decor. A previous reviewer complained about the constellation puzzle, and after having solved it numerous times, I will tell you this; place the large stars first (drag and drop to their spot) and as you add more stars, the outline of the reindeer will become more and more prominent, thus making it easier to place all the stars on their correct spots. No voiceovers and cheery holiday sounding music. Very cartoonish graphics. This is just one of those games that an adult can sit back and sail through and a child can enjoy a bit of a challenge and some holiday magic. It's not overly challenging, just simple and fun for the whole family.
November 26, 2012
A Christmas Cheer for the whole Family
Bright, colorful, sweet, christmassy. Sometimes the items are a bit small and hard to find, especially those golden fir cones. However, sometimes they also stand out from the scene so you can click items without even looking at the list - the pizza ingredient level comes to mind. Special mention goes to the music track of the game. It's just two pieces, but I found myself happily whistling along while solving the levels. For me there were a bit too many Find the Differences scenes. One riddle ("Find the bag for your country") did not make sense to me - I never heard that we are known for weight lifting. Bottom Line: It's a wonderful Christmas game. Need something to cheer you up? Get this game. Three stars for limited season appeal, outdated graphics and sometimes way too small objects.
December 11, 2011
Pretty and pretty tricky
The artwork in this HO game is really pretty, but...it's more stylized than realistic, making it tricky to identify the objects you are searching for, such as in the grocery shop. In other scenes, like the toy store, the toys are really hidden among each other, and you have to be able to see just a bit of something and recognize it. This game will either be an enjoyable challenge or a frustration, depending upon your point of view.
November 29, 2011
ok game
I lost interest in this game very quickly. There are other Christmas games that are more challenging and fun to play!
December 16, 2011
If you have perfect eyesight and love spot the difference...
then you'll like it. I've just finished playing christmasville and this is better than that. There are a lot of similarties between the games - this is a timed HOG with puzzles. Let's get the negatives out of the way - This really should be renamed christmas spot the difference as there are loads of them in this game. Not only that but most times you play them there are two scenes so it's a double whammy of them. I don't mind about 5 of them but there are just so many. Some items are so hard to find or impossibly blended in, in the HOS as well as puzzles, it took the fun out of it for me. I don't mind one or two tiny items but there are loads. Puzzles are simple but also timed and you can't skip them. It was weird as they were all very simple then came along the constellation one which wasn't although it's not hard and I did finish it in time. hint - you move the stars around and put them in the same place as the picture and some stars you move are in the picture. Use the outline as well as the grid to help you - they turn yellow when in right place. You can judge yourself how long the game will take as the screen with houses in it, that's it. It's not a very long game. It has a literal 'to be continued' at the end which is weird as it wasn't an exactly gripping plot to begin with but wasn't expecting a great plot as it's a simple straightforward story, so why the ending like that? Music was annoying so turned it off and there are no voiceovers. Now the good - Hidden object scenes were very varied. There was the traditional list type, silhouette, or find "x" items. To make each scene more different you can collect golden acorns (I think it's in each scene as sometimes couldn't find any) and these will turn into hints. If you run out of hints you can replenish them any time by hitting the "?" button (keep clicking on it if it doesn't come up) and you get a click on 3 or more puzzle. This gives you 2 hints and you can do this puzzle as often as you want. This broke up some of the sameness of the find 'x' and HOS and enjoyed that. There is no random click penalty so if you are stuck, you can click away and there are no junk piles and it's cute to look at. If you don't mind the timed aspect love loads of HOS as well as simple puzzles then this is cute for a DD but not for full price which is why I don't recommend it. Along with too many hard to see items, and all those spot the differences.
December 20, 2012
I found this game to be a bit tedious
The artwork was nice but it was hard to find things, simply because they weren't real and you weren't sure what to look for. I didn't find the story line to be very entertaining and the music started getting on my nerves. I was ready to quit by the end of the free trial.
December 16, 2011
Cute game, but...
I played the one hour trial. Since I like anything Christmas, I thought the graphics were very good. The story line was simple, but nice. It actually uses the words Merry Christmas! That in itself was a treat. I did not buy it for two reasons. 1. It is a timed game. Timed games are not relaxing for me. 2. You start off with three hints. You have to earn more hints by finding these obscure, unrecognizable leaves. Find 3 of them and you earn only 1 hint. The mini puzzles that I played were very good, but, again, they were timed. If you don't mind timed games or having to earn your hints, give it a try. But it's not for me.
June 30, 2012
A Good HOG for a Younger Crowd.
Based on the demo, I found this game okay. Looks like it came out in 2011 and I imagine it was considered a great game. However, as we approach 2015 HOG have come a long way. There is a story which pops up in little windows with a box of dialogue -- no voice overs. Nothing very interesting. It's primarily a HOG which are list and silhouette forms. There is also find the differences puzzles. These are all very easy. This game is suitable for everyone but I already have several Christmas-themed HOG and I don't need another. If it was free, I'd play it so I will recommend it.
December 30, 2014
The Apple logo is a trademark of Apple Computer, Inc.