Final Cut: Encore
Exclusive
Your murderous half-sister has escaped, and you've got the last piece of your father's treacherous film projector. The breakout success story returns for an encore as you uncover the truth about your father's dark secrets and find out who's really behind his death and his deadly invention in Final Cut: Encore.
Game System Requirements:
OS:

10.8/10.7/10.6

CPU:

1.8 GHz (INTEL ONLY)

RAM:

512 MB

Hard Drive:

785 MB
Game Manager System Requirements:
Browser:

Safari 4.0 or later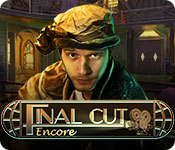 NEW299
The Big Fish Guarantee:
Quality tested and virus free.
No ads, no adware, no spyware.

Reviews at a Glance

Final Cut: Encore
0
out of
5 (
0
Reviews
Review
)
Customer Reviews
Cinematically Brilliant & More Fun
BASED ON COMPLETED CE GAME You don?t have to have played the first Final Cut game, because all is outlined very well in the intro, but it is much more fun if you know the players. This is another superbly cinematic production set in an extraordinarily accurate art deco environment, and would be impressive even if you hated everything else about it. But you won?t... The story picks up almost a year after the capture of our crazy half-sister, who tried to kill us (and our brother) in the first game. Our insanely inventive father had built a film projector that could control people?s minds, and we chose to destroy it, all bar one piece, to remind us of the danger. Now she?s escaped. Meanwhile, on a nearby army base... I?ll let you find out for yourself from there. As with the first game, the graphic quality of this one cannot be overstated. It is so precise, clear, realistic. Normally, I prefer hand-drawn art in my games, but you cannot ignore the attention to detail in this game. The sound track too, is a tour de force of wonderfully mood - appropriate music and sound effects. It is a HO puzzle adventure, with the balance ideal, to my mind, between the 3 styles of gameplay. The HO scenes are interactive lists, with the option of playing a match 3 game instead. The puzzles are intriguing and very well adapted to the game?s environment. One mini-game, a mah-jong one, is repeated with increasing levels of difficulty, about 4 times. It is a delightful adaptation, with the tiles representing electronic components. It is fun to repeat it. And that?s where this game has it all over the previous one. Impressive as it was, the first Final Cut was tough on the brain cells and very long. This one, whilst also long, and definitely requiring your attention, is more fun to play. The story allows for some really different locations, and scenarios that take us to unexpected places, and the puzzles and mini-games are just the right level of difficulty. This game uses the projector idea to create two versions of certain locations, which we can flip between, our current reality and the altered reality of the mind control projector. It is one of my favourite game devices and is, like everything else here, done extremely well. Other things you might want to know about it, the hint and skip are very quick on the easiest level, the map is an interactive jump map (and excellently designed), and hint is basically unnecessary outside HO scenes. The live actors did a very good job, and the whole thing once again felt more like a movie experience than a game. And that?s what makes these 2 games so special. I had a ball tracking down the collectibles and clocking up achievements in the CE version of this game, but I don?t think their absence seriously affects the overall quality and excitement of this game.
August 9, 2013
Excellent - in the top five of all the over 100 Big Fish Games we've played!!
You just can't beat this game on all fronts, even the credits are fun! Great voice overs, great story line, fantasic graphics, and the music is outstanding unlike most games. The HO's were just challenging enough, and the choice for a match three was a nice addition. There is no reason that this game shouldn't have five stars by everyone.
August 27, 2013
The First Game i Actually Read the End Credits On.
I enjoyed Final Cut a lot so when this came out I picked it up - and wow - this is twice as good. Amazing graphics with the projected images, nice voice overs (not too much talk, but enough), and interesting story. Pros: Graphics -wow. And the Art direction with the art deco style is fantastic. Fun gameplay. You can switch HOS for Match 3 if you start to burn out on HOS. Great Map to go from place to place. Puzzles Easy to Medium. Good story AND an ending that isn't abrupt. Plus it has some "crazy credits" at the end. Fun all the way. Cons: (little dumb things - not major cons). The actress/cuts of the sister make her look like an angry lunatic even when she says stuff like "I'm here to help." The soldiers are a bit wooden. Some stuff you have to carry around a long time.
November 15, 2013
Just a good all around game to play. CE has more to offer.
The first one was a gem to play and this one looks just as good. The story now is the half-sister has escaped, and you've got the last piece of your father's treacherous film projector. Now you uncover the truth about your father's dark secrets and find out who?s really behind his death and his deadly invention in Final Cut: Encore. The graphics are stunning and good and the music is good to listen to. Has 3 modes to play and has voice over just as the first one. No map. Thought they would after not having it in the first one. The HOS are pretty easy but have more interaction than there first final cut game. You can play the normal HOS or switch to match 3. Puzzles are good with some challenging to me. This is a well put together game with the graphics and adventure and is pretty straight forward on the flow of the game. The hint button works good if needed. shows you what area to go and takes you there. Little too much help for me but works good. Again this is a great game to play just like the first one. A buy for me.
August 9, 2013
If you are still hesitating...
...buy the CE! It has a lot of extras, a very good bonus chapter, a really funny and interesting interwiev with the developer, the map shows you the collectibles, if you are someone, like me, who always forget to look for them... and ... and... and But if you still don't want to buy the CE, buy the SE!!! It's one of the best games, much more better than the first Final Cut. Thank you Eipix and BFG!!! (Based on the finished CE, written by a non-native)
February 19, 2014
Good game from the series
Differents modes of play which you can change anytime. Interactive map which helps a lot and makese travelling easy. I loved Match3! Although I love HO I played more Match3. Storyline is clear, gameplay quite easy, you dont stuck in places for long time.
August 11, 2013
Best game since mystery case files
this was really fun and creative, love the extra bonus play! I enjoyed playing this more than anything since Dire Grove. Great game, look forward to the next.
August 9, 2013
ANOTHER GOODIE!!!
Review based on completed game in casual mode. I always play in easy/casual mode and keep a notebook handy for reviewing the game as I play. Also to record puzzle codes. I know I would never remember the details without my handy book. :-D Animation/Live Actors/VOS - Excellent!! Was it my imagination or did this game switch from live actors to drawn characters from time to time. Characters were beautifully drawn as were the locations and the IHO scenes. IHOS - Clear with the usual fare of small to larger items. Repeated scenes. Random Click Penalty - None Hint - Fast charge. Gives directions and clues. Shows a circle that states "Travel to---". Map - Does transport but the hint was my favorite as always. :-D Journal - Contains story, photos, notes, objectives and audio logs. Inventory - Locks in place. Objects used quickly in other areas. For puzzle lovers, you may be a bit disappointed. There are more IHOS than puzzles and mini-games. Puzzles/Mini-Games - Unusual and fun to solve. Skip is available quickly. Played the previous game of Final Cut and enjoyed this one more but then, I don't remember too much of Death on the Silver Screen. :-D So, fishies, grab the net and haul this one out. Have fun!!!
February 28, 2014
Awesome game!
One of the best I've played. Loved the first so had to buy the second. Am not disappointed.
August 15, 2013
It's About Time
This is by far, one of the best games I have played. The story line was interesting, the flow was compelling and the credits were witty. I highly recommend it! (By the way, developer team, I can never get enough sci-fi so keep it coming, PLEASE!!!!!!)
August 16, 2013
The Apple logo is a trademark of Apple Computer, Inc.
The Windows logo is a trademark of Microsoft, Inc.