Twilight Phenomena: Strange Menagerie Collector's Edition
Exclusive
Escape from a mysterious house filled with dangerous creatures in Twilight Phenomena: Strange Menagerie! When your cousin Mary goes missing, you rush to Mexico to find her. Posing as a volunteer in a secret experiment, you begin to explore the mansion where Mary is being held. But when you start to see bizarre creatures creeping around the house, you quickly realize that the experiment you signed on for has shocking results. But who is behind it all... and why? Can you save Mary and escape the house before you both become victims of the villain's deadly science? Find out in this thrilling Hidden Object Puzzle Adventure game!

This is a special Collector's Edition release full of exclusive extras you won't find in the standard version. As a bonus, Collector's Edition purchases count toward three stamps on your Monthly Game Club Punch Card!

The Collector's Edition includes:
Bonus game revealing disturbing side effects!
Gorgeous wallpapers and concept art
Downloadable music tracks and screensavers
Integrated Strategy Guide
Game System Requirements:
OS:

Windows XP/Windows Vista/Windows 7/Windows 8

CPU:

1.4 GHz

RAM:

1024 MB

DirectX:

9.0

Hard Drive:

1008 MB
Game Manager System Requirements:
Browser:

Internet Explorer 7 or later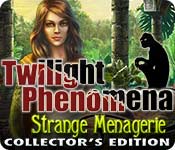 The Big Fish Guarantee:
Quality tested and virus free.
No ads, no adware, no spyware.

Reviews at a Glance

Twilight Phenomena: Strange Menagerie Collector's Edition
0
out of
5 (
0
Reviews
Review
)
Customer Reviews
Twilight Phenomena: Strange Menagerie Collector's Edition
45
45
Different to the previous Twilight Phenomena, but I love it!!! :)
The first installment of this series was very good? as a Standard Edition: There were no mentionable Extras, such as collectables and achievements. ERS must have noticed, that most players expect these Extras from a Collector?s Edition? In addition there were no hidden object scenes in the first game.. This time we also have 14 HOS, some played twice: slightly interactive from list, searching for silhouettes, 15 related items or 10 pairs. Instead of playing a HOS, you may switch into a minigame. We have 17 minigames/ puzzles, some of them wellknown like rotation-puzzles or sliders and some brandnew ones. In some of them you have the option to choose if you want to play the puzzle casual or hard. Facts: 3 modes plus custom-mode to choose from (you can change the play-mode during the game), 6 chapters, lockable inventory, direction giving hint, map showing active areas and allowing you to jump, detailed journal, a racoon is your helping friend (very funny!) Mentionable Extras: Bonus-chapter, lots of achievements, 20 bars of soap to collect: They are needed for your racoon, as it first washes his clothes before wearing them. You don?t have to do this, if you don?t like it, as it has nothing to do with the progress of the game. A lot to do and to explore!! Yes, I do recommend this game!!! :)
August 22, 2013
Delightfully Odd & Unexpected
BASED ON FULL DEMO If you remember the first Twilight Phenomena game, you may be disappointed to hear that this one has HO puzzles. But don?t despair, you have the option to play a hexagonal "move item to the correct tile" game instead. In fact, this whole game is about options. I don?t normally mention difficulty levels, but here it is noteworthy. There are 3 levels plus custom, in which you can toggle (separately) sparkles for HOs and/or Active Areas, and Black Bar Tips. You also have a slider for refill times on hint and skip. We are after our cousin who has got herself caught in an illegal experiment which involves weird mutant-looking animals, and DNA injections on humans! Our cousin is already a victim of this experiment, but a terrible mistake was made... I can see where this story is going, and I?m anticipating a lot of fun getting there. The game looks great, lots of (ERS) hand painted colour and imaginative imagery, set in the jungles of Mexico. The scenes are clear and brightly lit, with pastel stucco everywhere, wonderfully fanciful mutant animals and plenty of vegetation. Cut scenes are great. Music and sounds, very good. Voiceovers excellent. But all of it feels somehow odd. Not in a bad way, just enough to keep you off balance and guessing. Interesting. As well as the 14 HOPs/hexagonal puzzles (multiples, matching pairs and ?find & use? silhouettes), there are 17 Puzzle/Mini-games. Already I?ve seen some that I?ve never seen before, and there is also a fair amount of adventure tasks. They are easy enough to follow, even if they often have solutions that are ?outside the box?. So far, the puzzles have been mixed enough to make me think there?ll be plenty of variety. There?s a very good interactive jump map, hint is directional. Based on the 30 locations visible on the map, where the demo gives us access to only 6 (and I didn?t get anywhere near the end before time up), I?d say we will be kept busy for several hours. Extras include the usual gallery items, plus SG, bonus chapter and replayable HOs and Puzzles. There are also Achievements to be had, with a good variety, and a cute offsider. Now I know, some of you are groaning, but he?s not entirely saccharine, and he is a big help. But you have to feed him to get his assistance, and being a dapper sort of guy, you must gather collectible soap bars for him to wash his clothes with, until he has all 4 of his outfits clean. I am having a really cool time with this game, it just sort of flows of its own accord into a ?logical? sequence, and takes you with it.
August 22, 2013
Love This "Strange Menagerie" - A Great Sequel!
The story begins when we receive a phone call from Cousin Mary who has gone to Mexico to search for her missing boyfriend. It seems that Mary has now run into a bit of trouble and is being held captive by a Dr. Vince. After Mary?s call is suddenly disconnected what can we do but get on the first plane to Mexico to find her. What on earth has Mary gotten into now? It seems that our cousin has stumbled onto a mad scientist who is doing DNA experiments with humans and mutant critters. Gosh I sure hope that we can find and save Mary before all is lost. Others have done a great job of listing the game?s technical aspects so I won?t go into those except to comment that ERS has added a custom mode of gameplay where we can set the hint recharge and puzzle skip times. I love the custom gameplay modes because we finally have the option to choose how WE want to play a game. Thank you ERS for adding the custom option to the gameplay modes. The graphics in Strange Menagerie are very colorful and excellent as is to be expected from this top-notch artistic team. The voiceovers are very good and they sync perfectly with the character's lip movement. I know it is a small detail, but I truly appreciate it when a developer takes the time to actually make the character?s lips move when speaking because it adds that extra touch of realism to a game. In Strange Menagerie we have various types of HOS. I don't know how many of you remember but ERS was the first developer to bring us the interactive HOS that have now become standard in HOPA games. As other developers have done, ERS has now given us the opportunity to switch to an alternate game rather than completing the HOS if we don?t want to search for items. of course we have many puzzles in the game that are fun and some are even a bit different than what we usually encounter. IMHO, none of the puzzles are overly difficult although some do offer a challenge As far as CE content goes it is fairly standard fare with the wallpapers, concept art, strategy guide, and so forth. I always like the opportunity to replay the puzzles so that is an extra I actually like and use. Throughout the game we have the opportunity to earn approximately twenty achievements. We also need to find twenty bars of soap that will be used to help us purchase items for our pet helper as an enticement for his help. Yes, once again ERS has given us a cute critter as our helper, and this time he?s a cheeky little raccoon that is so much fun. Those who don?t like their animal helpers will probably think it is a bit over the top, but I rather like them and enjoy the light-hearted fun. Overall there is so much to like and enjoy with this installment of Twilight Phenomenon. It is of course visually appealing, with lots to do and see. One of the things I enjoy most about ERS games is the total attention to visual and auditory details. I can always count on several hours of total immersion in the environments that ERS creates in their games and more often than not return to play them many times. Some gamers may find the game too cutesy or too easy but for me, everything is just right. Is the game easy? Probably for some, but there are some challenges in puzzles and the iHOS. Is it entertaining and fun? Definitely! So if you like games from ERS, you will most likely want to add this game to your collection. As always, I recommend you at least try the demo to see if you enjoy Strange Menagerie.
August 22, 2013
what a great ERS game again!
This is a very beautiful game. The graphics are superb, they give a lush, green feeling to the game, you can almost smell the exotic aroma's! The music adds to the "jungle" feeling, and the VO'S are just superb! The "mixed" animals are beautiful, keep looking at them to see all the fantastic details, really cool. Your cousin's 'jaguar' arm is spectacular! Really nice HOS, every single one is different again, you never know what to expect next. Sometimes there are minigames in them,like 'paint the colors', a very nice twist! And if you still don't like the HOS, you can switch to a mini-game. Your side-kick raccoon is very cute, but not over the top, he'll only work for you if you feed him and he doesn't talk, which is great! You will find really nice upgrades for him, but if you don't like that, you can simply ignore it. Very much fantastic extra's, collect 20 soapbars for your raccoon, and very original achievements to earn. Beautiful screensavers and other nice extra stuff. The SG is very clear. You have a very good interactive jump-map, that also indicates when an area is cleared. ERS clearly listens to all the remarks we make, and adjusts it's games to them, and then some! They really are my top-favorite dev's! Kudos to ERS and BF for this great game! Have loads of fun with this game, just like I did!!
August 22, 2013
Jaguar, coyote, crocodile, snake, oh my!
What a great game! I have not played any of the Twilight games before, but I will now. All of the pieces of this game are clever and unique. With four modes, including custom, you can change recharge time for hints and skips, sparkles, tips -- should please everyone. You are off to Mexico to find your cousin Mary who disappeared while searching for her boyfriend Clive. Turns out Mary's at a clinic where she's been injected by animal DNA (see the title# by Dr. Vince that has no antidote left. So you have to collect it yourself to help her. You have a notebook, an interactive map that shows objectives #but not necessarily ones that can actually be performed yet#, a strategy guide, great voiceovers #their lips actually move!#, good clear graphics, and a raccoon friend that you have to keep feeding treats to, so he will help you out. The puzzles are unique, not necessarily hard -- did not use the skip button once in the demo. The HOS are also unique -- find 15 items not used by Mayans #or play a mini-game instead#, match the fruit, find items by shape and interact to get the next one. No lists so far! Of course you win achievements and actually get to view them in a fun setting -- they are all different animals. And you find soap that lets your raccoon wash a piece of clothing -- there are four outfits of 5 pieces each that I guess you can dress him up #I only found 4 soaps in the demo). This game just kept getting better and better, with surprises around every corner. ERS did a great job on this one -- on my way to buy it now!
August 22, 2013
Fantastic sequel!
I loved the previous Twilight Phenomena and I love this one even more! The graphics are outstanding and there is such a wonderful "playfulness" about this game. You have a choice of either playing the HOP or playing a mini game and both are lots of fun. I really enjoy the HOP's which include a variety of ways to play like find the things that don't fit into the Mayan era, find matching fruits and then just regular HOP's. You also once in a while find a bar of soap to give to the raccoon to wash a piece of garment that you are collecting to dress him but I kind of feel sorry for him having to "slave" over and wash each piece. He looks exhausted, ha! The music was good and VO's not bad. Lots of adventure and surprises and I love the way the mechanics of the game works. I look forward to adding this one to my collection.
August 22, 2013
MONKEY BUSINESS
I Loved the first one and bought it and loved this one even more. The visuals were great and the v/o's were done very well. I still feel sorry for the monkey guy too though. Can't wait to buy this one and finish playing the game all the way through. Love the raccoon this time around and all the different ways to play the HOs'. I do highly recommend this game
August 22, 2013
LOVELY AND PLEASANT PLAY
Love the imagery. Some of ERS' developers certainly have a great imagination. Smooth gameplay and outrageously gorgeous graphics. Puzzles vary in complexity and HOS are unusually colorful and pleasant to do (no dull drab fall-asleep HOS here). You can do mini-games if you don't care for HOS. Lots to do and locations to explore. The story is cohesive and skillfully told. A lot of attention to details and every aspect has been well thought out. Especially like the racoon helper - love that he keeps overeating whenever there's anything edible in sight and you can buy his personalized wardrobe. It's a hoot! This is one of the best games to come out in the recent weeks. A real pleasure to play.
August 23, 2013
Enjoyable game, but nothing new
Would prefer to give this 4 1/2 stars. Great graphics, cut-scenes and voice-overs. From the game title i expected it to be gloomy and dark but it wasn't. Lovely bright coloured game. Hidden objects game varied, with some interaction, and puzzles were the standard and very easy. There were achievements to earn and bars of soap to collect. The soap is to wash the clothes of the raccoon who is your little helper throughout the game. A bit childish and pointless to the game. Storyline flowed well but was fairly predictable and not particularly interesting - shame really, as the base story had so much potential....that just didn't happen. Bonus chapter followed on but not essential to the story. More of the same calibre as main story - and have to say i wasn't very enamoured with it Definitely recommend this game, but would probably lean towards the SE version as game play was very easy so no Strategy Guide needed, and the bonuses weren't that great.
August 25, 2013
Completed game and better than the first
special thanks to the developer for bringing us varied HOs. These days I would almost purchase a game IF it wasn't strictly list HOs. ! LOVED the HOs! Great story and pretty challenging in places (mainly because I was never sure what my sidekick racoon was capable of... sometimes strong teeth like a beaver and sometimes waited for me to cut threads..rofl) The bonus game in my opinion was totally worth it.. fairly long and once again varied and fun HOs... Thanks for a great day
September 10, 2013
The Apple logo is a trademark of Apple Computer, Inc.