Sable Maze: Norwich Caves Collector's Edition
Exclusive
Congratulations, Professor Edwards! You've joined the faculty of the oldest and most-respected university in the world. You've barely been teaching for a semester when tragedy strikes during the fall break. Four of your students have gone missing while exploring the dangerous caverns under the campus! Is the legend about the Labyrinth under the campus actually true? What's causing the abnormal physics in the water down there? You don't have much time, because the rain keeps pouring down, flooding the caverns. Dig deep and keep your head above water in Sable Maze: Norwich Caves, an intriguing Hidden-Object Puzzle Adventure game.

This is a special Collector's Edition release full of exclusive extras you won't find in the standard version. As a bonus, Collector's Edition purchases count toward three stamps on your Monthly Game Club Punch Card!

The Collector's Edition includes:
Bonus gameplay
Downloadable music and wallpapers
Concept art
Unlockable trophies
Game System Requirements:
OS:

10.8/10.7/10.6

CPU:

2.5 GHz (INTEL ONLY)

RAM:

1024 MB

Hard Drive:

1101 MB
Game Manager System Requirements:
Browser:

Safari 4.0 or later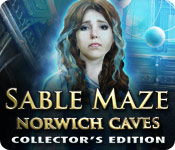 The Big Fish Guarantee:
Quality tested and virus free.
No ads, no adware, no spyware.

Reviews at a Glance

Sable Maze: Norwich Caves Collector's Edition
0
out of
5 (
0
Reviews
Review
)
Customer Reviews
Sable Maze: Norwich Caves Collector's Edition
54
54
An A-Mazing Game
I could not resist not writing a review for this game mainly because I found it intriguing and entertaining while playing the demo. There are some minor annoyances that I came across but I have to say that it does have its merits. Our story begins with the disappearance of a group of your students during an expedition of caverns found underneath the University. Your urgent help is required and your adventure begins. However, a former professor who seems to be the villain here is hiding a dark secret and it is up to you to uncover the mystery and save your students. The graphics are execellant, sharp and thankfully done with great attention to lighting and use of colors. Voice-overs are well done and in sync with movement of mouths which is rarely seen in games. Sounds and music enhance gameplay and are not overly distracting. You have three modes of difficulty to choose from and I started with hard-mode which sadly still offers too much hand-holding as well as sparkles within one of the mini-games wich I found surprising. I wish developers would take heed of these small quirks and also add the option to remove black bar tips. A very good HOPA with HO scenes that stray away from the standard list of items to find; instead you need to solve puzzles to retrieve your item of interest. Mini-games were different but as I mentionned earlier, there seems to be some hand-holding here. They could have been more challenging but alas that is what seems to be lacking in this game which prevented me from giving it five stars. What I did enjoy were the extras like collectables that go into your book, small momentos relating to life at the university. A map that will allow you to travel and also a list of trophies that you need to earn. These elements add to the game and definitely made it more interesting. Overall, an interesting story line, excellent graphics and animation work, interesting HO scenes and a variety of puzzles to solve. I have no idea on the length of the game as only two chapters are shown in the SG which is also very disapointing and misleading. As for purchasing it, I would recommend you take advantage of any sale that may be comming our way, there seems to be many at our disposal at the moment. I personally will use my two game credits that I have on hand but I do definitely recommend this game as it does have interesting elements. Not your average HOPA with basic HO scenes and KUDOS for the graphics.
August 29, 2013
Lost In The Labyrinth
BASED ON DEMO FIRST IMPRESSIONS My first thought: turn up the volume. For some reason it is set so low you can?t even hear the music, let alone object to it. So it?s a quiet start to this game, but not an uninteresting one. In fact, the story hooked me straightaway. Four college kids and a loopy professor are lost in the labyrinth, an ancient cave system with mysterious overtones. As a newly appointed professor, you have been begged to help in the search. SIGHTS & SOUNDS The graphics are top quality. Artistically, they have nothing to distinguish them, but the look is clear and detailed, and not unattractive. The sounds, well, even at full volume, do not make a real impact. Although there are a couple of ?shocks? when the music will suddenly be loud and frantic. The voiceovers were good for the most part, but the attempt at lip sync doesn?t quite come off. WHAT?S HAPPENING Once we get into the basement and run into the missing professor, it becomes clear that he, at least, is not interested in being rescued. He magically shuts off all 4 entrances to the maze and disappears into it himself. His students are not so happy to be there! And something strange is going on with the water... Further investigation exposes the history of the area, and the 4 founders who sealed the caves and started the university. Something really different ? the bad guy is made of water! MAKING PROGRESS It may just be I am having a particularly dense day, but I found myself relying heavily on the interactive jump map practically from the moment I received it. A flair for lateral thinking is definitely an advantage in this one. Not that anything is totally out there wacko, but definitely non-linear. There are roughly the same number of HOs and puzzles, with the HOs being a progressive (find and use) list, and the puzzles being almost all new to me, and varying in difficulty. The instructions are not always the best. But the SG provides solutions that make the rules fairly obvious. There is no journal with this one, and already I?m feeling the lack of it. There are symbols we will clearly be needing later on that I couldn?t hold in my memory, so I?ll have to actually write stuff down! Shock horror! FAMOUS LAST WORDS I think this is a good CE game. It has all the standard requirements (including very interesting collectibles and trophies), and the production quality. It is not a spectacular game, but it is good and will, I think, be an enjoyable addition to the collection.
August 29, 2013
Sable Maze 2 - not as good as the first game in this series!
I've loved the first part of this gorgeus series, so I couldn't wait for this game to be released! But this game is not as good as the first game in this series. The storyline is great and mystic too. A professor and his four students are missing and you have to find them. Fast you get to know that they are all trapped in a maze and the water level is rising. There's also a mystery about the university and the maze, but I wouldn't want to spoil this. But the storyline is mystic and a mystery. I love it! The graphics in this game are good. They have many details and look very real. Also they are not only dark and creepy, but they look like day in the fall. So great here. In the maze they are great too. I love the mystical glow everywhere. The characters are drawn, but they look like real persons. It's difficould to see that they're drawn. The music and the sounds are like in the other Daily Magic games. Clear and nice. No spelling errors are in the cutscenes and dialogues. The level of challenge is not for me. The mini games and the gameplay are very easy. I didn't need to think for a long time and I didn't get stuck while playing. But the Hidden Object Scenes are good and not to easy. But the rest should be a bit more challenging and tricky. There are achievements to earn and many collectibles. But the collectibles are easy to find too. So I would recommend this game for beginner players. Even in the expert Mme the game is easy. The CE has the normal extras as you expect them. So afterall this game is good for a relaxing day when you want to play an easy game. So I recommend this game for beginner players and for all the other players I rate this game with four stars. But it's better than Daily Magic's latest DD release, so they are heading into the right direction again.
August 29, 2013
Creative and fun!
This game may be too easy for some, but I found myself racing through it and thoroughly enjoying the experience. The HOS are the interactive type where each item fits with the next. The hint system is complete with a "jump" map. However, the map is mislabeled: "No current task" and "blocked" need to be switched. Other than that, this game is well made. The visuals are superb and the game play smooth. If you like adventure, then this game is for you. I don't recommend it for the hard core gamers out there, but this game is perfect for a lazy afternoon.
August 29, 2013
Good, but not WOW for me.
Based on demo played in casual Story begins in the past with the professor and his students discovering a labyrinth beneath the university. We jump forwards in time to discover that four current students have disappeared. The professor's daughter tells us that her father may be with the missing students despite the fact he has been fired by the university. Our task is to find her father and the students and discover the mystery of the labyrinth and why it was created by the founders of the college. Game features: * 3 levels of play (Casual/Advanced/Hard) * Various collectibles to complete pages in the collections book * Achievements: - 5 with multi levels - some only for certain modes of play * Bonus Chapter * Puzzles: - Some very straightforward. If you have found a clue it will appear automatically alongside, no searching through a journal - Some more challenging, I found, due to a lack of clear instructions - Achievement for solving before skip is available * HOSs so far are all the same style and are revisited. Find an item, use it to find another, use that to find another etc. I quite enjoy these * Jump map shows current available tasks Graphics good and sound OK. Sound mostly ambient, didn't really notice any music. All in all, I enjoyed playing and was quite intrigued by the story line. It just felt so slow! There was no atmosphere of threat or danger. The professor is clearly up to no good but is not menacing when he requests you 'stay out of his way'. Although you are aware the 'water is rising' there is nothing that makes you want to hurry up. A good sale at the weekend would encourage me to buy, but otherwise I may not bother. This is definitely one to try before you buy. Maybe I am missing something.
August 29, 2013
Captivating Game
Demo Only Pros: -graphics were beautifully done -sound was clear -music well it was not annoying :) -cinamatics were clear and not blurry very well done -good story -achievements -map cons: -demo only not even 45 min of trial -did not use the map so cannot confirm what another reviewer said about objectives and locked are backwards or not -personal thought- i was captivated! i love all of the demo i have played so far! i did not see anything really negative about the game itself.. i thought it was very well done and as far as i saw it is not a hard to play game...so some may feel it is not challenging enough...but, i thought it was wonderful and delightful...the hos were fun and does make u think...they are interactive and the puzzles were fun and not so hard they make you nuts. all in all i give it a 4.5
August 29, 2013
VERY REALISTIC UNDERGROUND ENVIRONMENTS & SOUNDS
The first Sable Maze was amazing. Norwich Caves isn't quite up there, but it's still a terrific game. Logical gameplay and refreshingly unique story. Sounds are very realistic and make you feel that you are right in the scene. Voice overs are natural sounding (like real actors) and appropriate to the scenes. Ratio of HOS to puzzles is just right. The HOS are uncrowded and very nicely detailed. I like that everything requires some sort of interaction to cross objects off your list. There are even puzzles within some of the HOS. Puzzles are greatly varied; none are too difficult - you mostly have to figure out how and where to get the missing pieces. Puzzles are nicely tied to the story. The environments are carefully crafted for the right atmosphere, with a lot of attention to detail. Caverns can be quite somber and the graphics bring that out without being drab and dull. Sounds can be individually adjusted. CE has a lot of achievements (you can even earn 2 on some puzzles/HOS) and collectibles. Others have gone into more detail, so I won't repeat all of them.
August 29, 2013
Great graphics, silly HOs and puzzles
The other Sable Maze game was one of my all-time favorites, and I especially liked the realistic scenery, so was sure I would like this one. Well, not so much. PROS: The graphics, particularly the outdoor scenery, were 5 star. Detailed, colorful, beautiful. Lots of locations to visit (and revisit). Interesting story. CONS: There were simply too many incongruous items (a hair dryer that you used where there was no electricity AND for a silly reason), tasks and puzzles. Some puzzles were way too simple and I began to find them annoying. Some were downright stupid. What a shame to spoil such a nice game with worthless tasks. A few glitches, too, e.g. the flower pot puzzle, where one of the pots disappeared so I had to skip it. All HOs were very short and meaningless interactive "puzzles" and were not fun. I wish the developers had stuck to realism and not interjected games and trinkets that detracted from an otherwise beautiful and creative game. BOTTOM LINE: I recommend this game only because of the graphics, not for great game play.
September 3, 2013
A Nice Enjoyable Game ...
Nice Graphics, Sound, Effects, Voice & Video Bits ... A Very Well Constructed Game, Just Seemed A Little Short In The SE Part ... The CE Bonus Game Was Nicely Done And Also Very Short ... I Got Mine On A Special Deal So I Am Happy With The Entertainment Value ...
September 1, 2013
Interesting game...
Hello, pond pals. A game from a dev that I am not familiar with, but sounds like they must be around somewhere. Anyway, not a bad game today. Graphics are clear and game play is very nice. Didn't have any problems with the demo at all. Hint system is helpful and fills fairly quickly. There is a jump map and it does tell what location you are pointing at (unless you have an incredible memory, this is extremely helpful#. Nice voice overs and sound FX. SG isn't too bad, but some instructions were not real clear. Really don't need the SG when you use the hint. There are some collectables to find #a little different than the usual stuff#. HOGs were clean and clear, but all the same. I don't mind this type of HOG #find this in order to find that), but a few here and there would be much better than all of them being the same. Story is a little different. Yes, someone is missing and you have to find them, but still a little different. The only thing I really did not care for was the constant up and down of the guide at the top of the page...why would you do that?? Annoying to say the least. This was not an extremely challenging game and did not grab me from the beginning, but I did find it interesting and a little different. I have a pile of punches to use and as usual, there is no good SE in sight...they just keep piling up. I'm going to go ahead and get this one, but that's it for the CE games until I can get rid of my punches. I've lost too many already and that's money down the drain. As always, try it for yourself and see what you think. We all have different tastes in games and you may not care for this one at all. Thanks for the reviews.
August 29, 2013
The Apple logo is a trademark of Apple Computer, Inc.
The Windows logo is a trademark of Microsoft, Inc.