Sable Maze: Norwich Caves Collector's Edition
Exclusive
Congratulations, Professor Edwards! You've joined the faculty of the oldest and most-respected university in the world. You've barely been teaching for a semester when tragedy strikes during the fall break. Four of your students have gone missing while exploring the dangerous caverns under the campus! Is the legend about the Labyrinth under the campus actually true? What's causing the abnormal physics in the water down there? You don't have much time, because the rain keeps pouring down, flooding the caverns. Dig deep and keep your head above water in Sable Maze: Norwich Caves, an intriguing Hidden-Object Puzzle Adventure game.

This is a special Collector's Edition release full of exclusive extras you won't find in the standard version. As a bonus, Collector's Edition purchases count toward three stamps on your Monthly Game Club Punch Card!

The Collector's Edition includes:
Bonus gameplay
Downloadable music and wallpapers
Concept art
Unlockable trophies
Game System Requirements:
OS:

10.8/10.7/10.6

CPU:

2.5 GHz (INTEL ONLY)

RAM:

1024 MB

Hard Drive:

1101 MB
Game Manager System Requirements:
Browser:

Safari 4.0 or later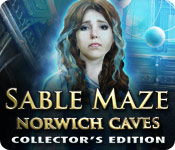 The Big Fish Guarantee:
Quality tested and virus free.
No ads, no adware, no spyware.

Reviews at a Glance

Sable Maze: Norwich Caves Collector's Edition
0
out of
5 (
0
Reviews
Review
)
Customer Reviews
Sable Maze: Norwich Caves Collector's Edition
54
54
EASY, FUN, SHORT GAME
BASED ON ***COMPLETED*** GAME ON HARDCORE LEVEL I really liked this game. I found the story to be entertaining. On the hardcore level there are no skips or hints, so I can't offer info on those, but the game isn't so difficult that I needed to use them. I like all of the puzzles in this game even though they were easy. The game does have a jump map but on hardcore level it does not indicate areas that need to be completed. But if you're on hardcore level, you probably don't want that kind of help anyway. I found the game flowed nicely with objects used relatively soon after discovery. i loved the use of characters of multiple ethnic origin. I think that's more reflective of today's societal makeup. Basically speaking, this game is the familiar save the students, save the world theme, but it's done nicely. I enjoyed playing it even though it was a bit short.
September 8, 2013
Loved the Game
Entertaining - Nicely put together - Great Places to roam around ...Got to meet school and Pupils and Professor, all in all I loved the Game it was enticeing and kept pulling me back to keep Playing and Helping, To Save the Pupils from water, The search and rescue mission was All I thought it would be Entertaining! The Game was totally a Lovely well put together, made with "Alot" of enjoyment and Balanced Appreciation to play it...I loved it and it was truly.....aMAZEing!!!!! Keep up the Great work :) L-o-V-E-D it
August 30, 2013
Ancient Evil and Missing Students!
Based on Demo The first Sable Maze was a 5-star game. Really wonderful. The demo of this sequel does not measure up to the first game in the series, but it is still good. The ancient evil Master of Water has taken over mild Professor Buildson and four of his best students. They are trapped in a maze beneath the university and you have to rescue them. I like the university setting, but the artwork is not as well done as Sable Maze: Sullivan River. There are achievements to earn throughout the game. The music is nice and not overly loud. The HOSs are all very interactive. Each object you find is used to find another object in the list. I found some of these quite challenging to figure out since I don't like using hints. Puzzles are of medium difficulty. There is a map and an objectives button to keep you on track. This is an enjoyable game, but I think I'll wait and buy the SE version when it comes out.
August 29, 2013
Delightful sequel
This is going on my must buy list. Art work was very good. Yeah you do have to adjust music and voice up a tad to hear any of it. Interactive map, collectables, Interactive HO's. I was hoping they would switch around to different styles, but during the trial it was all interactive. I like this game.
August 30, 2013
Sable Maze:Norwich Caves
I enjoyed this game. Puzzles were easy. I usually play on easy mode,so I can relax and play. There is usually a plus when the bad guy is really good. Still looking for a creepy scary game
August 30, 2013
No challenge for me.!!!!
Story line boring. HO'S fine just my speed. It lacked music. i enjoy music nice for the ears, and story. Not really a $13.99 price tag. $8.99 or less, I would buy more CE. I would purchase this one just for the HO'S.
August 30, 2013
Sable Maze: Norwich Caves Collector's Edition
Please see my review of "Sable Maze: Sullivan River Collector's Edition" for the basics on this series' gameplay. My opinion of the earlier game in this series wasn't that high; the sequel game is definitely better, though it could still use some improvement. As before, my recollection of the plot is a bit muddy. Plot: It's the 1960s and as a professor at Norwich Caves University, you're investigating the disappearance of another professor and four of his students. It turns out they were all part of a project exploring a mysterious labyrinth that's been found underneath the university. As you go in search of the students you begin to encounter signs of a malevolent natural force intent on blocking your progress; what relation does it have to the labyrinth, and what does it want from these four particular students? And how does a fifth, female student tie in with all of this...? First off, you do not need to have played "Sullivan River" in order to understand this game, and vice-versa; aside from the titular labyrinth, there's very little relation between the two. Secondly, as already mentioned, though the plot is still strange #not to mention it seems rather anachronistic to me--for starters, would there have been such an integrated group of students back then...?#, at least it's more coherent than the previous game. I. e., the plot is weird, but at least it makes general sense, and doesn't have all the loose ends "Sullivan River" had. Gameplay was much easier and more intuitive than the previous game as well--I didn't have quite so many moments of having no clue what to do next, though I did get a bit frustrated toward the end and in the bonus chapter. The minigames, too, were far more tolerable, and of a much greater variety #and much easier, for me#, than those "Put all the items in their correct places"-type games where, once you make a move, everything else slides out of place. There were a few games of such a variety, however, and for those I required the strategy guide #except for one minigame which was random and thus had to be skipped#. I suppose this is my convoluted way of saying the game is easier, which is a con for many players, but considering my frustration with the previous game, it's a pro for me. There are not only achievements to earn #and this time the game didn't cheat me out of any, that I'm aware of!#, but also a sort of photo album of collectible items you find throughout the game; for each set of collectibles you complete, a new photo and caption of the students is revealed, telling a bit more about them. You find some of these collectibles in the bonus chapter, in case you regret not locating them all during the main game, as I briefly did. Oh, and though hidden-object scenes are challenging, they aren't maddening. They're of the sort where you have to locate certain items in the right order #which you must figure out yourself# and make them act upon each other until you locate the desired item--highly interactive, offering more than just seek-and-find. The character animation is a bit cheesy #it often looks as if they used the same cutouts of the actors' faces on different poses of the body, with all the awkwardness that entails, and when the faces changed position, they looked like completely different people--this happened even with animals!#, but the rest of the cutscenes, as well as artwork and environments, are beautifully done. A downside, again the detail of WHERE exactly this story is taking place niggled at me quite a bit...the combination of the name Norwich, the Celtic labyrinth and some possible Roman#?# history, and the fact that the university was founded in the 1500s #I believe#, point toward it taking place in Europe #probably England#, though again, the characters all speak with American accents, so it was rather perplexing. And though the history/mythology behind the adversary in this game is better explained than in "Sullivan River," there are still a few issues left unresolved, especially such as how events in this story tie in with "Sullivan River" #if they in fact do#. Seeing as the labyrinth in "Sullivan River" #which I believe takes place later in the timeline# is located under/near a campground, that complicates matters...if this is in fact the same labyrinth then what became of the university?? Oh yes, also...I was never able to properly exit the game. Every time I exited, either choosing to directly exit the game or to exit from the main menu, the game froze up--the cursor still worked but everything else was unresponsive. Control+Alt+Delete always revealed an "Access violation" error message. I would have to end the program in the Task Manager. I had to do this every single time, which was annoying, but at least it always saved where I left off. The Collector's Edition of the game includes wallpapers and concept art #both meh#, music clips, an integrated strategy guide, and a bonus chapter; just as with the previous game, the bonus chapter continues the plot from the main game #actually, it reveals the cause of the antagonist's anger#, so I recommend the CE over the standard edition. I'd also recommend this game over "Sullivan River," as at least it makes moderate sense, and both plots seem independent of each other. Lastly, that statue of Titus, its stare, really, REALLY creeped me out. o_o; I obtained my copy of "Sable Maze: Norwich Caves Collector's Edition" directly through Big Fish Games. The game folder takes up 1.08GB on my hard drive. I ran this game on Windows 7 with one bug/error #the access violation/being unable to exit, mentioned above# but no other problems.
May 4, 2014
Good game... but not the bonus chapter
I liked this game for several reasons. First, I like the scenery of a university, and searching college grounds with all the classic components of it. Second, the storyline was well written; step by step you get to learn a little bit more about what's behind all of it, and you get to find and free the students that went missing. Third, the challenge was OK too - I did need a hint sometimes to find out where to go next, and found out that I had missed something important. But... - I did not really like the collectibles. Yes, you can find several parts of a collection, every time three items, like a mineral collection, a sports collection, a history collection, and so on. But it does not really matter to the story and you don't really need them. It's just a little side story. - And then came... the bonus game. A must in every collector's edition, so it seems. This is not the first time that I was disappointed by it. The story was ended, it had some kind of climax, and then I'm supposed to play some more in a less thrilling after-story. Most of the time it is far-fetched and of course, all the elements have to be squeezed in much less time, so the storyline can never be as appealing as the main story. So please, developers, if you DO have to write an extra chapter, then make it worth it. From now on I won't be buying much CE's anymore and that's a pity, really.
October 6, 2013
I'm a sucker for CEs, but this game didn't excite.
This review is based on the hours' trial. I buy most CEs, and was looking forwards to this one as I enjoyed the previous Sable Maze game. There was way too much hand holding even in advanced mode. I played advanced to avoid the dreaded sparkles, but in at least two easy and straightforward puzzles there were sparkles showing you what to do. The HOS were excellent, interactive and had a different take on them. A nice change from junk piles. Hope, unlike some games after the trial hour, these interactive HOS continued. The graphics were ok, but nothing amazing. Various collectables but couldn't see the relevance. All in all a bit of a yawn. Not the worst CE by any means, but with so many fab games out there didn't feel the need to buy this one. Good idea to try the trial hour and make up your own mind. I'm on the fence with this game...may purchase the SE.
August 29, 2013
Ho-Hum Sequel
The story is fairly basic. A professor and four of his student have gone missing and you have been asked by the daughter of the professor to find him. Before long we find out we are dealing with a supernatural force and a mad professor who has no inclination to be found. The graphics are okay but not spectacular. The artwork is a bit flat and seems to lack that ?pop? that makes it come to life. The sound is either too loud or too quiet and it is difficult to get it just right. The HOS are progressive list type where you find an object and use it to find something else until you finally find the one object you need. I found the HOS had too much interaction to make them enjoyable. The puzzles are very easy so there is not much challenge at all. Throughout the game you will find collage items that relate to each of the missing students but aside from that we only have the basic CE content thrown in. What can I say except that the story just didn?t come together for me. The first Sable Maze was very good but this one is rather flat and not nearly as good. Needless to say, I certainly don?t think this is a CE quality game and only might get it with a PCC if I am desperate to fill a punch card at the end of the month.
August 29, 2013
The Apple logo is a trademark of Apple Computer, Inc.
The Windows logo is a trademark of Microsoft, Inc.