Finders
Carve a path through an unforgiving wilderness to rescue a hero trapped by a villain! As you balance time and resources, you'll also invent clever machines to accomplish special tasks, make friends with a Yeti, and prepare for the impending showdown against your enemy. Finders will provide hours of unforgettable fun!
Step-by-step tutorial
Gripping storyline
100 quests!
Game System Requirements:
OS:

Windows XP/Windows Vista/Windows 7/Windows 8

CPU:

1.6 GHz

RAM:

512 MB

DirectX:

9.0

Hard Drive:

249 MB
Game Manager System Requirements:
Browser:

Internet Explorer 7 or later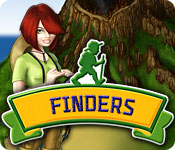 NEW299
The Big Fish Guarantee:
Quality tested and virus free.
No ads, no adware, no spyware.

Reviews at a Glance

Finders
0
out of
5 (
0
Reviews
Review
)
Customer Reviews
Needs More Instructions
I played for 15 minutes and figured out how to accomplish the first "challenge". Then I was left on my own to figure out what else to do. It keeps instructing me to get more food for the workers to move faster, but where is the food? It is not berries or mushrooms and I can't fish without bread, but where is the bread? With the forums shut down now and no one to explain it, I will just hold on to the last 45 minutes until I understand what to do. I am interested in playing it, but I can't recommend it the way it is.
August 14, 2013
Nice Game
Hard to rate this game actually. I played the whole hour trial and was disappointed when the trial was over. I'm on the fence whether to buy it or not because it is a cute game with an interesting story. I kind of want to see where the story goes. There wasn't much of a tutorial in this game, but it wasn't hard to figure out. There were "show me" buttons in your quest so I wasn't clueless as to what to do. There are no challenges in the game that I could find. However fishing was a bit tricky to figure out. The only gripe I have with this game is the game play feels bit on the slow side and actions do get a bit boring after awhile. I am curious why they call this a time management game. There was no time factor anywhere. No real management either, just gather this and that for various quests. Pretty simple stuff. Overall cute game, unique story, recommended.
August 14, 2013
Slow but confusing
I find this game to be a bit confusing. I'm stuck because I don't know how to make money to go on. I've been collecting stuff and food and no clue where I'm going. Maybe if I got a bit further, I would like it. And also have a better turorial on how to play. But for now. Just need help collecting money. Any Ideas?
August 14, 2013
slow paced game for beginers
Not really thrilled with this game and I think I own every TM there is. this one was very uneventful and a little boring. sorry I like the fast pace ones better. Really don't reccomend this game unless you are a beginner.
August 14, 2013
A little boring
From playing other TM games, I basically knew what to do --gather food/resources, etc, but the workers moved so slowly. The game would tell me to gather more food to make them move faster. After a few minutes of super slow workers trying to gather food, I gave up. At one point, I exited and started over, to give this game a chance. Maybe it's just me. This game seems very interesting, and another reviewer loved it. Give it a try to see what you think.
August 14, 2013
A Good Idea
This game was not as much fun as I'd hoped. I liked collecting resources from a large map area with lots of interesting things to check out. But I didn't follow the tutorial exactly and quickly found myself very confused. I couldn't figure out how to get back to what I was supposed to be doing and finally, just started over. That made things go more smoothly, but after about 15 minutes, I felt that the game wasn't really going anywhere. I also found it annoying that people who had just survived a plane crash would be paying rent on the tents they live in. I suppose a more patient person would want to push a little farther and see what happens. It might get better.
August 14, 2013
A little below average
This is your standard virtual villager type game with an odd super hero gone missing story line. How will an artifact save/find him? It's not really explained much and made me wonder why they bothered putting a story to this at all. The graphics and play style are a little clunky but not bad and sometimes the tutorial is lacking, but I got enough to figure it out on my own. The mini games (mine/fishing) were dull. I did come across a glitch about an hour in when I was asked to gather 200 food and I clicked the accept button to accept the quest and it did nothing. Just kept clicking and the game would not progress. I don't know if that was just me, but it pretty much shut the lid on the game for me. I do not recommend this game, but do not *not* recommend it either. It's just... there.
August 14, 2013
Not enough stuff to do
I found myself walking away from this game multiple times just to wait for things that take 7 minutes to finish...because there isn't anything to do while waiting.
August 24, 2013
pretty fun
good visuals and it was fun to play
November 18, 2013
OK, but not Great
The storyline is good, the graphics are good, and there is a lot of variety. BUT the game play is very slow, and at times it is difficult to see any connection between the activities you can complete and your ultimate goal. You gather stuff, and cook stuff, and make stuff, and sell stuff...and every once in a while you do something about your quest, which seems to be to rescue someone. If you have enough resources you can go in the mine and play marble popper. You have to constantly replenish your resources because you won't know how much you need of them until you reach certain points in the game, and then you spend all your time catching up to food points or $. Unlike Promised Land or Little Folk of Faery, where the inhabitants continue performing tasks on their own, this game does nothing unless you click. I'm really tired of fishing. I'm really bored waiting for the $ to catch up so I can buy the next big thing. I don't see any point in building anything more until I know why I'm building it. Every time you go to a new place, you only get two tents and two players, and you're starting all over again building up your team. You can go back to previous locations, but you have to pay to transport goods from there to your new one. I'd like to complete the game, but keep shutting it off after only a few minutes now as I'm already bored. Sorry, BigFish; this one is not a winner for me.
September 18, 2013