Nightmares from the Deep: The Siren's Call
Exclusive
Nightmares from the Deep: The Siren's Call is the sequel of the smash hit Nightmares from the Deep: The Cursed Heart. It is an epic adventure story with an exciting plot, outstanding puzzles, and unforeseeable depths of twists and turns. When Sarah Black, the curator of the Caribbean Naval Museum, receives a package from a mysterious messenger, she is unwittingly drawn into an ancient conflict. Moments after she opens the package to reveal an artifact, assailants descend on the museum and rob her of it. She can hardly believe that this is the beginning of a new nightmare from the deep! After blacking out in the museum, Sarah finds herself on the shores of Kingsmouth, a forgotten fishing town with an incredible secret. The would-be messenger reveals the sad truth: he and the rest of the town's denizens are suffering from a curse that is gradually turning them into aquatic creatures. A curse that was cast by two powerful beings: the mayor, Murray, and the sea-devil: Davy Jones.
Game System Requirements:
OS:

10.8/10.7/10.6

CPU:

2.0 GHz (INTEL ONLY)

RAM:

1024 MB

Hard Drive:

553 MB
Game Manager System Requirements:
Browser:

Safari 4.0 or later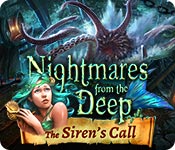 NEW299
The Big Fish Guarantee:
Quality tested and virus free.
No ads, no adware, no spyware.

Reviews at a Glance

Nightmares from the Deep: The Siren's Call
0
out of
5 (
0
Reviews
Review
)
Customer Reviews
Nightmares from the Deep: The Siren's Call
52
52
LOVED IT, EXCITING, GORGEOUS, HAS EVERYTHING
BASED ON COMPLETED GAME ON EXPERT LEVEL Ok, I admit it, when I first started this game and saw it was about people turning to fish due to a curse, I had my doubts......but boy was I wrong. This game is as good as everyone else says it is. The opening scene is so realistic, I thought I could feel the rocking of the ship. I became so engrossed in the story that my dog had to bring me his bowl to remind me it was dinner time. No kidding!!! Rather than write a book, I will make a list for you: What's Great: Graphics are crisp clear and gorgeous Many different and interesting scenes You really feel in danger and part of the chaos taking place You get to work with another character (sometimes physically helping him) Things happen to surprise you so you don't get bored with the story There are mini games within the HOS---way cool Jump map so you don't waste your time or sneakers The music is sooo good and creates so much tension during the action that your heart will speed up All of the puzzles give visual clues to their solutions if you're observant The game is fair, no dirty tricks You have to earn information about the story by collecting coins which makes you work hard to hear the next chapter....fun! The story is clearly explained so you're never confused as to what to do next or what is happening Clearly stated objectives Some games I've never seen before but all doable The heroine, you, is very resourceful...love that! The story ties up beautifully at the end leaving you feel satisfied What's a little "bad" A few English translation problems but they won't confuse you or affect your game play. I'm not crazy about fish-faced humans but hey, I'm being picky This is one game I would recommend you get right away. If you're like me, you'll wish it could go on and on......have fun!!!
August 22, 2013
Spectacular Maritime Adventure!
BASED ON CE GAME FIRST IMPRESSIONS The intro to this game is a blast. In very well done cut scenes, we sail across seemingly placid seas, then spy an island where all is clearly not right, watch helpless as an ancient sea monster churns the water around us, tossing our ship as if a toy and casting us... into our office in the museum! Well, at least we survived! Our introduction to the backstory and the outlines of this one is very well handled. It is a combination of cut scenes and simple gameplay to get us up to speed before launching into the game proper. One thing I love in games is cameo appearances of other games by the developer, and this one has a lot. SIGHTS & SOUNDS The graphics in this one are great ? apparently hand drawn, full brush strokes in oil. Colours are marvellous, but a lot of the scenes are dark. The animation, particularly of the characters, is brilliant. I really like the way the lead character?s ?fish curse? creeps up on him almost unnoticeably as we go along. The music, by comparison, is a disappointment, there is just nothing unique or interesting about it, and it gets repetitive very quickly. Voiceovers are very well done, and most of the time the lip sync is excellent. WHAT?S HAPPENING This game leads off from the end of the last one. We are a naval museum curator just returned from a battle with the sea-devil Davy Jones, making the most of the astonishing adventure. An unexpected encounter leads to a sore head, and our arrival on the unhappy shore of the island Kingsmouth. But the people of Kingsmouth are strangely alien, revealing blue veins and silver scales. Still, our mission is soon apparent: we must save the mermaid siren (and she?s not even a relative!), defeat the Mayor and lift Davy Jones? curse. MAKING PROGRESS This game seems more adventure (though easy) than HO or Puzzle game. There are a lot of tasks to perform, story to keep track of, and obstacles to surmount. The many puzzles have a bent towards the pictorial (which I really like, we are, after all, fans of the most popular picture puzzles ? HOs), with ones like an animated jigsaw, find the missing items and placing them on the picture board and so forth. This is in addition to the HO puzzles, which include interactive lists and ?find and use? silhouettes. These scenes are visited twice, and there is the option to play mah-jong as an alternative to the list HOs. Getting around is easy, with an interactive jump map and directional hint. The journal tracks the story and gives an objectives list. FAMOUS LAST WORDS I played the CE version of this game, and I am really happy that I bought that one, because it has many achievements and interesting collectibles. But it is not at all necessary for enjoying this game. The story holds together well, the game play is fun and varied, and the production values are top notch.
August 16, 2013
A Beautiful imaginative game
I loved this game. It is so beautiful. You are trying to save a siren mermaid. Long playing time Many locations Pretty music An interactive map The skip button takes awhile to charge Good storyline with lots of scenes and lots to do. I will play definitely this game again !!
October 2, 2013
Great Adventure Hidden Object Game
A truly enjoyable game with a terrific story line which makes you wanting to save the 'girl' and defeat the 'baddie' a real mission. Great use of graphics and appropriately placed music to add to the atmosphere. Some familiar puzzles as well as some novel ones and a good balance between them and hidden object scenes. Looking forward to the next in the series....hope there is one!
September 22, 2013
A really good game!
Fantastic, really enjoyed this one, all the elements of good drama and plenty of sap! Only complaint is that the safe cracking puzzle was incredibly obscure and not explained very well.
September 11, 2013
Nice progression
Overall this was good game, much in line with the first installment. I enjoy the challenge of the coins and the story was interesting. Graphics were great although some of the hidden objects were blurry...over all excellent
August 19, 2013
awesome game
The first game is good, and this one is even better. Similar to the first game, the animations and interactions are very impressive.
November 2, 2014
Great Game
I really enjoyed this game and loved all the hidden objects and the length of the game was amazing. Well worth the money to me.
August 28, 2014
All that and a side of calamari!
I'm copying this (and editing it a bit) from my review of the CE version. This review is based on a complete playthrough of the game and bonus content. First up, the CE stuff, so you know what you miss getting the SE: I was critical of the first Nightmare's for lack of 'bling' - they brought it in barrels for this title. Three kinds of collectibles, not easy to spot - I only found half of the morphs. Achievements, from basic gameplay to 'Do a mahjong level in a minute'. The usual swag package of art and redoable puzzles and stuff. The bonus chapter took me a bit over an hour. The main game ends conclusively, this adds a bit more information to help set up the next title. Heavy on the HOS and a few puzzles, light on story/plot, but it was interesting and enjoyable to play. Now for the main game: I played on expert, the highest of three difficulty levels (can be changed in game). No sparkles anywhere, no objectives shown on map (they are for the first two). The map is a 'jump' map, and the diary fills up with useful information and tasks, crossing off the titles of the sections you've completed. THE GOOD: The main game took me about six and half hours to play, with me playing mahjong instead of the HOS (misclick penalty starts sending me seasick). I'm a slow player, I like to enjoy the scenes and look for the collectibles and move around the map, but you are definitely getting your money's worth in this game. The HOS are the 'very interactive' variety - get this, use it there, find these, do this with them, eventually you reach the end and get your object. Or you can do the mahjong. Directional Hint, lockable inventory, well written journal and just general UI and game mechanics goodness. The music: Play with your sound on! They didn't call this Siren's Song for nothing. Beautiful, haunting, charming, emotive music.Voice overs were good, too. The story starts off strong and gets you caring about the characters. They also did a great job of keeping a sense of urgency through the game: yes, we know we have all the time in the world to play, but it shouldn't _feel_ that way - and it doesn't. THE BAD: Mahjong could have been more challenging. They went with a very simple tileset (simpler than in the last title) and still auto-shuffle, so no real thought or planning required. I get why they do that (you have to 'play' the game in reverse to build a for certain winnable level, and that can take time, especially on mobile platforms). Still, that was the only 'ding' I could find. That and the misclick penalty - It goes with the nautical theme, but seasickness isn't my thing. THE UGLY: Nothing. Seriously. BOTTOM LINE: Tough call, but I'm listing this as my new favorite over Angelica Weaver: Catch Me When You Can. This is how you do it. If you don't care much about the collectibles and achievements, then the SE is a great buy. The game ends solidly, there's nothing 'required' in the bonus chapter either to complete this game or to understand the next. I don't give five star reviews often. I save them for games like this. Unequivocal recommendation.
August 4, 2014
Fun Game--Better Than "Cursed Heart"
Based on my completion of the standard edition version of the game: I enjoyed both Nightmares from the Deep games, but I thought this game was better than "Cursed Heart." In fact, a lot of the issues I had with the first game have been revised in "Siren's Call." The storyline is even more engaging and has a fair number of cut scenes with interesting characters, the voice actors of which are much better as well. I personally enjoy these elements as I like games that feel like an interactive movie/story. There is more of a challenge to this game than "Cursed Heart" as well. There are more puzzles without an over-abundance of HOS. For the HOS there are, they are interactive, which I also enjoy. However, the puzzles are still very easy. So easy, in fact, that even a beginner may grow tired of these puzzles that take only moments to complete. The graphics are pretty, basically the quality of a modern cartoon/movie. The animation, especially mouth movements, are odd at times, so if that bugs you, it is something to consider. I gave "Cursed Heart" only four stars, but because this game was much improved, I give it five stars and definitely recommend!
April 24, 2014
The Apple logo is a trademark of Apple Computer, Inc.
The Windows logo is a trademark of Microsoft, Inc.