When In Rome
Step into Ancient Rome and follow the story of Flavius, a brave and celebrated warrior who has fought myriad ruthless battles and has lived to tell the tale. After being injured badly by an enemy's spear, Flavius is forced to retire his armor and serve his empire not with brawn, but with tenacity and intellect. Help Flavius follow the Emperor's orders to develop his territory, settle the land, build up trades and expand Rome into a flourishing, prosperous empire! Haggle with shopkeepers, collect supplies, clear road obstructions, construct bridges and more in this fantastic time- and resource-management game!
41 Challenging Levels
Organize production and delivery of goods and products
Build new settlements and towns
Game System Requirements:
OS:

Windows XP/Windows Vista/Windows 7/Windows 8

CPU:

1.2 GHz

RAM:

1024 MB

DirectX:

9.0

Hard Drive:

191 MB
Game Manager System Requirements:
Browser:

Internet Explorer 7 or later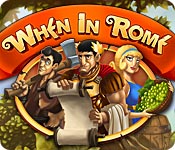 NEW299
The Big Fish Guarantee:
Quality tested and virus free.
No ads, no adware, no spyware.

Reviews at a Glance

When In Rome
0
out of
5 (
0
Reviews
Review
)
Customer Reviews
When in Rome...
From the makers of Roads of Rome and Northern Tales comes the story of Flavius, who's forced into retirement from an injury. Flavius is given the task of rebuilding the land and expanding the territory for the Emperor. It's your typical clear debris from the road, build bridges and buildings and gather resources to meet your goals. Three modes of play, untimed, normal and hard. I played the normal mode for the demo and it was definitely challenging to beat the timer to get 3 Ambers, one of which is hidden on each level. The graphics are beautiful and the background music and sounds are nice with the option to disable. You're also given power boosts which are extremely helpful in beating the level with 3 Ambers, but which ones you decide to use in your strategy are important as well. I did find that once you complete one goal, you can trade those items at the merchant for gold without losing the completion for that goal. For instance, your goal is to make 5 bread and obtain 1000 gold. Once you make the 5 bread, you can trade them to the merchant for gold and still keep the completion of the bread task. Overall, everyone should enjoy this game with the 3 different modes of play.
August 19, 2013
Definitely a cut above most Time Management
Based on the 1 hour trial. This is not a favourite genre of mine - I only own three TM games and of those the only one I love and play most days is Kingdom Chronicles. This game really reminds me of KC. The artwork is fantastic: detailed scenes with fluttering butterflies and some animation of other creatures. A big plus for me is that you can queue tasks without having to wait for a worker to be free, and the workers are very well animated. The speed up bonuses work differently from KC - instead of collecting work faster, run faster, produce increases, etc at fixed stages of the game each level seems to have it's own fixed bonuses to choose from. I did find accumulating enough resources to build or obtain something can get a bit tedious, maybe making better use of speed bonuses can improve this, but I do feel that by the stage I reached, (level 10) there should be more than 2 workers. You can cancel a task if you change your mind, and can restart a level if you think you've gone seriously wrong. Right from the start a big part of the game is trading at the market, choosing what to sell and/or buy could be crucial. One thing to keep you on your toes - things you have built such as windmill, cooking cauldon can break down without warning and need rebuilding! An occasional slight glitch seems to be that when you collect the last item neccessary to build something the ring around it turns green but the bubble above still shows a red "needed" item - confusing but not really a problem. After 1 hour I feel I'm only just beginning to get to grips with the game's possibilities, and I really want to know what happens next! So this is a game to buy.
August 19, 2013
Build, make, sell, repeat!
Another Time Management game but this one has my favorite mode - Untimed! Not too much clicking, and with untimed you can figure things out and look for the hidden amber gem that will allow you to get three stars every time! This game will sound familiar to those that have played Adelanto or the Monument Builders, with the workers saying "I'm doing it" or "I'm already on the road" for each assignment. At least it lets you know they are paying attention to you! There are logs to find or cut, wheat to harvest, a mill to grind flour #which needs to be repaired periodically#, a bakery to build, and a trader to sell your goods to so you can buy logs or get to the $$$ goal. Very similar to others of its kind, but I still love it! Buying now!
August 19, 2013
Usual TM game, but juuuuust a little different
Yes it's a builder/TM game, yes, it's in ancient Rome (again) but if you like this type of game, it's one of the better ones. Didn't like: - Music (but you can turn it off) - No stacking of tasks (very annoying, that's what makes it lose it's fifth star) Liked: - Option of muting character voices (no longer a constant "I'm on it"or "On my way") - searching for the amber, even if it's very hard to spot - cartoonish visuals, lovely landscapes with surprises - untimed, normal and hard modes On the fence about: - level of challenge, I played in normal mode and I'm no beginner at TM games but at level 3 or 4 I already couldn't make it in time the first time around. That's a first. Wouldn't recommend it to beginners, but you can always play the demo first.
August 25, 2013
Love it!
If you liked Viking Saga you will really like this one.The characters are 3D and move fluently while they go about their chores.It is a TM but it has an untimed game that you can play while you are learning. I ran into no problems with the game play and decided to buy it after 45 minutes.I get a real kick out of the sounds especially when they have harvest because they sound like they are vgetting a hernia. LOL You can turn the sound and the music off if this annoying but I like to hear them. I do recommend this game.
August 22, 2013
Decent Game--But Needs Professional English Translator
I probably would have given this game 4.5 stars, but the fact that the person who did the translation for the story didn't understand the concept that contractions need apostrophes made me nuts. Every single contraction lacked apostrophes: "well" for "we'll", "its" for "it's", "lets" for "let's"--on and on and on. When will foreign game developers get decent translators to render their stories into grammatically correct English?!? Admittedly, I'm a Grammar Fiend, but I'm so tired of developers not caring enough to get this part right. (And if it's because the programmers can't figure out how to program an apostrophe, then get new programmers!) As far as the game goes, it's pretty good. The inability to queue is annoying, as is the way the difficulty ramps up at a ridiculous pace. Getting three stars is extremely difficult after about level 3 or 4. SPOILER ALERT: As far as the piece of amber goes, before you click anything on a level, look for a little glimmer on the screen. It can be pretty obscure, but if you wait for it, and click on that spot, you'll get the amber star. I actually thought the storyline was pretty good, but I knocked it down to two stars because of how annoyed I was (and am) about the lack of apostrophes. I also gave the level of challenge three stars instead of four, because of how impossible it is to get three stars on a level. That said, I'll probably buy it, simply because there are so few time management games of any level of quality.
August 23, 2013
Good Fun!
Love these games! My only criticism is that the workers need a boost in their vocabulary please. Two phrases are not enough any more. Other than the repetitive words, this is a fun game, easy to learn but getting more challenging as the levels go up.
August 19, 2013
ANOTHER ONE!!!!!!!!!!!!!!!!1
THIS TM GAME I DRAGED OUT TO PLAY. I DIDN'T WANT IT TO END. I WANTED MORE LEVELS. YES IT WAS ANOTHER TM BUT SO WHAT I LIKED IT. PLEASE HURRY WITH PART 2.
September 23, 2013
Fun Time Managment Game
The story-line is OK, nothing new or innovative, but the game play is a lot of fun. Would have given it 5 stars but it's way challenging for the average person. I would recommend if you like clicky, fast paced games.
August 19, 2013
fun game to play
i liked it. it was fun to play.
August 19, 2013