Flights of Fancy: Two Doves Collector's Edition
Exclusive
Save your kingdom from disaster in Flights of Fancy: Two Doves! You return home from a royal party to discover that your estate has been robbed. Someone has stolen the magic dove that has been in your family for generations. To make matters worse, the king's magic dove has also been stolen, and if the thief learns how to use the power of the two birds, the consequences could be disastrous! With the king missing and the kingdom's citizens falling victim to a strange curse, it's up to you to save the kingdom. Embark on an extraordinary journey in this gorgeous Hidden Object Puzzle Adventure game!

This is a special Collector's Edition release full of exclusive extras you won't find in the standard version. As a bonus, Collector's Edition purchases count toward three stamps on your Monthly Game Club Punch Card!

The Collector's Edition includes:
Learn elven secrets in a bonus adventure
Screensavers, wallpapers and concept art
Replay hidden-object puzzles and mini-games
Integrated Strategy Guide
Game System Requirements:
OS:

10.9/10.8/10.7/10.6

CPU:

1.6 GHz (INTEL ONLY)

RAM:

1024 MB

Hard Drive:

938 MB
Game Manager System Requirements:
Browser:

Safari 4.0 or later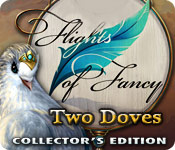 The Big Fish Guarantee:
Quality tested and virus free.
No ads, no adware, no spyware.

Reviews at a Glance

Flights of Fancy: Two Doves Collector's Edition
0
out of
5 (
0
Reviews
Review
)
Customer Reviews
Flights of Fancy: Two Doves Collector's Edition
73
73
I Love the Singing Mushrooms!
Beautiful Graphics but the Storyline was a let down for me. It was silly in my opinion, all these people doing Evil and destroying other people's lives and what happens to them? They are simply forgiven? Ridiculous! Where is their accountability? The Characters were cute and colorful. I was hoping there would be a Screensaver of the Singing Mushrooms, but to my great disappointment there was not. I will not probably not replay it again.
November 11, 2013
An attempt at a different genre...the wrong one.
Oh my stars it pains me to give ERS such a low rating. I love ERS games. This adventure lacks the sinister/spooky theme that developers are known for. The story wasn't spot on. It's all about the thief and very little about the doves. They did do great on VO's, graphics, puzzles, and map.
September 25, 2013
Cute Game But to Much Going On
Very good graphics and sound....Didn't care for story line. Characters popping in and out could have been orchestrated better...like the artist man...what was up with him?!?! A lot of jumping around made me tired. Good length though. Just some stuff made no since. Wish I would have saved my money or at least waited on regular and not bought collector's edition.
September 16, 2013
What's the big deal?
I read the reviews before I downloaded the demo. I don't see what all the fuss was about. I was really not crazy about this game. Yes, I did like the HOP's, that was something refreshingly different. But It was a little too hard for me, had to keep referring to the strategy guide, and I don't like to do that. I love a challenge, and consider myself an expert on HOG's, but this one just didn't make any sense. I would not recommend this game.
September 13, 2013
fairies and elves and... cute [stuff], OH MY!
i made myself a promise when i fell out of love with ERS that i would do the full demo on every game they put out for sale, and so far, i have not broken that promise. but, if they keep up with the cutesy fairies, elves, magical fairytale kingdom [stuff], i may end up breaking that promise. and, i'm glad i kept the promise this time because i see that, for me, ERS is at least doing SOME things right! here's what i liked about this game: ** custom difficulty level. i could still have the hints and skips (set to long reload times), i could turn off the hated sparkles completely and get rid of the black bar tips. this helped make the game a *little* more challenging. i liked that. ** while i have tired of the same-old same-old ERS graphics, these seemed a little bit better... sharper and less cartoony, i guess would be how i would describe it. ** the puzzles seemed a *little* better, with a *little* more challenge than previous games. still not mind-bending puzzles i crave, like the MCF's puzzles of days gone by, but a little better than ERS' latest offerings. ** the HOS with the silhouettes were good, took a little thinking, which is why i play these games. here's what i didn't like: ** the fairy helper, the elf helper, and having to name them. (you don't want to know!) i'm sick to DEATH of cutesy helpers! can we *PLEASE* have ONE game without them? ** the level of SWEETNESS... made my teeth ache just playing the demo. ** the plot. i want a nice, hard-boiled detective story... or a murder mystery... or a film-noir style plot... or even someone under an evil spell... or a spooky mansion to explore... i just *don't* want CUTESY. ** harder puzzles, please. yes, i know i said i liked the puzzles better... and these were better, but they were still too easy. there are LOTS of us out there who would buy your games if you made the puzzles harder. they're SUPPOSED to be *puzzling*, aren't they? these are barely that. so, due to the cutesy factor and the sweet, sweet little helpers and having to name them... it's a no buy for me. not CE, not SE. never. i have not bought a game of yours for over a year... the trend continues.
September 14, 2013
Take Flight In The Other Direction
I really wanted to like this game but I could not. There are four levels of difficulty with a custom one you could design the game as you wanted.The music and graphics were good, kin of cartoonish but hey this is a fairy tale. I like fairy tales and light-hearted fun as well as the dark spooky ones, but this game was too light-hearted. You have a fairy helper that is no help until you find the for her to do a chore...every time. Then you have an elf that is your hint button; he shoots an arrow at whatever you need a hint for. The thing is you can't follow the arrow so the hint button is useless except in HOS. The map is supposed to transport you to where ever you want to go and it does, but it is also supposed to show you where you still have tasks in an area and many, many times it would show that area as complete. So unless you have a photographic memory, and I don't, you have to use the strategy guide for help. The strategy guide was my best friend on this game, because you have no idea where to place A LOT of the items in your inventory. Some were utter nonsense. I had a rock with a crystal in it and as usual I could not figure out how to get the crystal out. Strategy guide tells me to give the rock to a bird. So I did and the bird breaks the rock to pieces and I get the crystal. Really!!?? Who would think to give the rock to the bird? So it went throughout the game, the logic was crazy and nonexistant. You'd better be good at placement of objects because it was crazy at times to place it. I had to check the guide a couple of times to make sure I was doing the right thing because the placement was so hard...be exact! Finally the HOS were okay except the item lists were almost unreadable because they were so fuzzy. When I was finished with this game I was so relieved, I didn't even do the bonus content. I really can't recommend this game.
September 15, 2013
Cute but Confusing and Really Odd
I read all of the reviews and now am more confused than I was BEFORE I even started my review.......Where did anyone ever find EITHER of the 2 Doves, please, because I completed the game and NEVER even found the first Dove. I spent more time readying the Strategy Guide than I ever have...and yet still could not even get to my last pages (from 43-53). I DID buy the CE edition and even when I finished the first part of the game, I could NOT get the "Bonus Game" to work enough to get me through the whole 53 pages and the worst thing was that page 53 had LOTS of "extra's" to be able to do after finishing the regular part of the game but it never let me back in. I never saw anything in "writing" about the "Golden Arrows" for extra Hints (which I never used any way). I played the "Casual" mode for starters and haven't gone back to try the harder modes YET, mainly because I was so dissappointed in the original game itself. I bought this game (after trying the demo) because I had gotten so tired of all of the "evil, demonic, killing games" thinking I was going to find some enjoyment in this one, only to find that I Never was able to retrieve the 2 doves, only to break the "spell" on the "folks" and then the story just ended! I'm so sad that the only game I have now to get me "OUT" of the "evil" games is my most favorite "Age of Oracles: Tara's Journey"..........I was so hoping that the "Two Doves" would also be a "saviour" game, but alas..........not so. If ANYONE has any ideas of any other HO games that are a good change of pace for one who is so tired of the "evil, demonic, death, killing games" please, please let me know. I love Hidden Object games and have for years, I've just reached a point where I'd like to find a little "happiness" in a few of the HO games. Thanks bunches for any clues. Sorry I couldn't have given a better rating but I don't blieve in not telling the truth about anything! Have a wonderful 2014 New Year !!
December 26, 2013
Way Too Cute... *yawn*
It seems ERS have forgotten that not every Hidden Object Game player is a girl, because this pathetic offering is definitely aimed at girls. ERS will lose a lot of money because male players, like me, will pass this up. There was a time when ERS made spooky horror stories that I loved and loved, but it seems this time has passed, because this offering is just way too... cute! Seriously; elves, fairies, ANNOYING SINGING PLANTS! (I hated the singing plants. They were SO annoying). Add this to ANOTHER magical kingdom game, and you'll get a dud story. Despite all the cuteness, nothing interesting really happened anyway. It's the same old, same old. Some evil guy trying to take over the kingdom, a missing king, princes, princesses, nothing new at all. This is the worst story ERS has come up with since Reveries: Sisterly Love (which was terrible.) Even though the story was bad, the gameplay was okay. If you ignore the fact that we have an elf for a hint, a magical fairy that helps us defeat some evil creatures and random animal helpers along the way, you've got some alright gameplay there. The HOS were a fun challenge and were probably the best thing of the game. They came in many different forms; the usual junkpile, silhouette and finding groups of items. The puzzles were good too. I could solve most of them, which I enjoyed. They were still challenging for me, though. The game is pretty easy to navigate, so there should be no trouble for experienced players. In the CE we have achievements and collectibles. However, 40 minutes in to the game, I had already collected 7/15 collectibles, so I guess that they'll be found in a couple of hours and not leave much else to be done. The graphics are also pretty good. They are the usual ERS; great artwork, great character design, all-round great. ERS can be counted on to produce some great graphics every single time. However, the voice-overs were confusing. Half were British, half were American. Where is this set? The voice-overs gave no answers. Here's a tip- next time, either make them all British or all American. FEATURES Diary. Makes note of important events in the game. Map. Interactive and very useful. 4 modes of difficulty- Easy, Advanced, Hard and Custom. Custom lets you change the sparkles, black bar tips and hint and skip recharge times. I played CUSTOM (set hint to 35 sec and skip to 45). Hint and Skip- Hint is very useful outside HOS. Magic fairy that you get to name. Also helps you defeat some creatures. CE EXCLUSIVES Fairy gets her own section which displays all the achievements. Achievements. Strategy Guide. This is helpful for puzzles. Bonus Chapter Concept Art Music Replay HOS & Puzzles So, this game is ERS' 53rd, and I believe they may be running out of ideas, because their 50th and 51st games were bad too. Combine the worst story of the lot with lots of ?cuteness? and you've already lost me. Wouldn't even pay for this as a Catch of the Week. I wouldn't even finish it if they gave it to me...
September 13, 2013
Good production, sickening game
This is a well-produced game. Too bad all that effort was wasted on cutesy-pie, sickening trash like this game. Anybody who is not an adolescent female or wants to be one will feel the same. The developers go one-up on the requisite cute critter to help you; there is a fairy AND an elf AND assorted other critters. Gag time, for sure. On the surface, the story is OK albeit the same-old. But it is poorly told with characters popping up seemingly at random with poor dialog. The rest seems to be pretty standard - HOS and puzzles. There is really nothing to recommend this game, especially at the CE price.
September 13, 2013
Disappointed
I thought this game was juvenile & boring. Wish I had not bought it. Too easy.
September 17, 2013
The Apple logo is a trademark of Apple Computer, Inc.
The Windows logo is a trademark of Microsoft, Inc.