Nancy Drew: Legend of the Crystal Skull
Bruno Bolet was the proud owner of the "Whisperer," the Crystal Skull rumored to protect its holder from almost any cause of death - except murder. When Bruno passed away, his nephew Henry came to wrap up his affairs, but he couldn`t find the skull among the clutter of the creepy Bolet manor. You`ll need to team up with Nancy`s best friend Bess Marvin to find this mystical artifact before it falls into the wrong hands! Dare to Play.
Explore the Bolet Mansion.
Navigate by candlelight.
Infiltrate a secret society!
Game System Requirements:
OS:

Windows XP/Vista/7/8

CPU:

1.0 GHz

RAM:

128 MB

DirectX:

8.0

Hard Drive:

1149 MB
Game Manager System Requirements:
Browser:

Internet Explorer 7 or later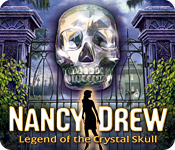 NEW299
The Big Fish Guarantee:
Quality tested and virus free.
No ads, no adware, no spyware.

Reviews at a Glance

Nancy Drew: Legend of the Crystal Skull
0
out of
5 (
0
Reviews
Review
)
Customer Reviews
Nancy Drew: Legend of the Crystal Skull
12
12
Brilliant
This 17th title in the Series takes our famous sleuth in company of Bess to New-Orleans on a long weekend that was planned as a relaxing one, going shopping, sight-seeing, night-clubs and enjoying the local cuisine. Relaxing ? Hmmm, not for long. Having decided upon arrival to visit a friend's uncle, recently deceased, she is assaulted by a weird character who throws a smoke grenade at her. Some people have no manners....! And thus ends this relaxing weekend before it started. Nancy decides to investigate. Once a sleuth, always a sleuth, especially when directly concerned. Like in all her other investigations, this Legend is pure adventure. NO HOG. Notes and clues are stored in her diary as well as hints for puzzle solving. And this is what I enjoy most, true adventure, in which linearity is kept down to a minimum I like the interaction with the other characters in the story, the questions/answers that provide you with info and valuable clues. For this reason they should not be skipped. In this Legend, you will actually sometimes play as Nancy or Bess, her best friend, whom Nancy asks to go downtown run various errands for her, all of which related to the investigation. The action is not limited to exploring the mansion, but extends to its surroundings. All locales are professionaly rendered; the details in the various rooms of the house, the gardens, the mausoleums.... Professional too, are the music, sound effects, voice-overs, dialogues, the attitude and reactions of the characters, thus endowing this investigation with a high degree of realism. But don't think for one second Nancy has an easy task. Not only does she have to put clues gathered here and there together to be able to come up with something coherent and solve the mystery, but she has also to tackle puzzles which, for some, range from non-obvious to tricky. In addition, several minigames spice up the whole adventure. The storyline, as always with Nancy, is pretty solid and most engaging. I caught myself totally absorbed in the plot to the extent that I forgot to have a decent meal and resorted to quickly made sandwiches. I like the way she makes you think out of the box, always challenging your wits, always stimulating your own skills as a wannabe investigator. Especially on the hardest of the two levels: Senior Detective. With a creepy atmopshere, and plenty of things to do and find, never being led by the hand but free to explore at will in any order, free also to talk to characters even if it is not the right moment and they have nothing to add to what hey told you before, this Legend is one of the best production from the developers, totally immersive and brilliantly compelling. Highly recommended.
January 3, 2012
One of the best in Nancy Drew series
I have played every Nancy Drew game in the series and as the games have progressed, I feel they've surpassed all others in the strategy and simulation genres. Of all the Nancy Drew games, this one is quite spectacular. The graphics are beautiful and clear and the dark, rainy weather really sets the tone for the game. The storyline is fantastic and it keeps you guessing until the very end. The characters are very authentic and the game play is challenging throughout. I still come back to this game from time to time because it is so enjoyable. If you've never tried the Nancy Drew series, this would be a great game to start with!
March 9, 2012
Awesome!!
I liked this game because it never really got old, I always had something to do because the plot was pretty much never ending! I liked how some of the puzzles were challenging but others weren't, giving me a nice ease when I wanted one, or a challenge when I wanted one! A few parts of the game confused me a little, but it was really fun overall and I loved the game!
December 29, 2011
Fun and Funny Nancy Drew Game
This is my favorite of the newer Nancy Drew games. It was complex and challenging, spooky and funny. The setting is New Orleans, and the developers really got the atmosphere and culture of the city right, including the historic cemeteries and the little gumbo shops. This game has more places to explore and snoop around in than many games I've played. It's also less linear - you can explore things and look for clues more on at your own pace than with some games where you feel stuck until you've accomplished a certain task. An added twist is that you get to play at Bess sometimes - with hilarious consequences. The puzzles range in difficulty. I adored one game where you had to build a giant Rube Goldberg style contraption - seriously the most creative and funny puzzle in any ND game I've seen. I also liked this game because there wasn't a ton of talking with the suspects. One suspect is a broody teenage boy who has little to say - fine by me!
June 5, 2012
One of my favorites
being an expert on all things nancy drew, i thought i would be able to play this game with much ease. i found it difficult as i got further into the game, and i had to have my sister help me. pros: *things to find are in difficult spots which make it so much fun *theres lots of places to explore *you can play as Bess, which i love to do in ND games. *the game gives a good "scare" factor. not really scary, but walking through the tombs alone in your bedroom with the lights off can be pretty bone chilling. *the mini games are lots of fun, especially the one with Bess. *its very challenging, and a very long game, too. although i only had to use a walk through on one puzzle cons: *theres only two people to talk to, besides the people on your cell phone. it gets boring to talk to the same people over and over again. *i hate the stupid deadly mosquito things. i always had to get the stupid fruit over and over because i kept dying from the mosquito things. *the puppet in the attic creeps me out.... but thats just my opinion. i would recomend this for people who have had expierience with ND. if you are a beginner, this is probably not your cup of tea.
January 1, 2013
Very Challenging
This is my second Nancy Drew game. The first one I was a junior detective and then with Crystal Skull, I stepped up to Senior Detective. Unless you are going to play this straight thru, I would recommend the Junior Detective mode. The task list will help you keep things straight. Especially since I found myself ahead of the game as far as finding the hot spots before I was allowed to do anything with them. Remember your extra paper and a pen, you'll need them. It was challenging, but some of the games were tedious and I wish I could skip them. (skeeball game/wasps nest- I just don't have that much time to spare!!!). Otherwise, good story line. I would recommend and even get another ND game.
February 23, 2012
Cajun Mystery
This is my third ND game out of the handful that I've played so far. I really love how the developers captured the vibe and spirit of New Orleans with this game. Kept wanting some of that gumbo while playing Bess! The level of challenge is up there when it came to solving puzzles, but fun with the exception of one LONG quest involving multiple trips to cemetary which became boring. Having that checklist was quite handy, as there was so much to do and keep track of. Having a CELL phone to call Ned for hints was also convenient and useful, a feature that is not available in the older games in the series. Anyway, challenging game but not my favorite. Also, vaguely reminded me of the Skeleton Key.
April 16, 2012
An OK game
At first I was excited to hear that this game will take place in New Orleans... There're some hoodoos and gumbos involved making it feels more original but too bad there're not many places to explore and your time are mostly revolves in Bruno's house and his cemetery. Plus there is no daylight. I hate spraying on the wasps.. the idea of switching back and forth between Bess and Nancy is interesting at first, but I wish there's just Nancy doing all the snooping. The atmosphere of the game is creepy, but not enough to make me jump from my seat.. I feel that this game is a bit short, but the puzzles are fun and quite original. An exciting game to play.
May 10, 2012
really fun
this is probably the best ND game i have played, or at least in the top three. the setting was creepy and atmospheric, the characters were well voiced and the overall game was just gorgeous. i loved the puzzles and enjoyed most of them - but some of them made little sense. the very last one had clues that were illogical, which is my only real complaint about the game. i had to resort to a hint system from a walkthrough, which i hate to do. other than that, i adored it - worth the very low price.
July 10, 2014
The Runaround
I just replayed this game & now I remember what I didn't like about it. It starts out great, like most ND games but, towards the end they have you running back & forth between the cemetary & a book in the house. Please! I loved the idea behind it but I enjoy a treadmill better than the runaround they gave me. Then they keep sending you out to the loquat tree. If I enjoyed arcade games that is what I would be buying. I cannot endorse this game & if your looking for your first ND game to play try the older ones like the Haunted Carousel or Message in a Haunted Mansion.
May 1, 2013