Flights of Fancy: Two Doves Collector's Edition
Exclusive
Save your kingdom from disaster in Flights of Fancy: Two Doves! You return home from a royal party to discover that your estate has been robbed. Someone has stolen the magic dove that has been in your family for generations. To make matters worse, the king's magic dove has also been stolen, and if the thief learns how to use the power of the two birds, the consequences could be disastrous! With the king missing and the kingdom's citizens falling victim to a strange curse, it's up to you to save the kingdom. Embark on an extraordinary journey in this gorgeous Hidden Object Puzzle Adventure game!

This is a special Collector's Edition release full of exclusive extras you won't find in the standard version. As a bonus, Collector's Edition purchases count toward three stamps on your Monthly Game Club Punch Card!

The Collector's Edition includes:
Learn elven secrets in a bonus adventure
Screensavers, wallpapers and concept art
Replay hidden-object puzzles and mini-games
Integrated Strategy Guide
Game System Requirements:
OS:

Windows XP/Windows Vista/Windows 7/Windows 8

CPU:

1.6 GHz

RAM:

1024 MB

DirectX:

9.0

Hard Drive:

999 MB
Game Manager System Requirements:
Browser:

Internet Explorer 7 or later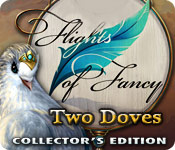 The Big Fish Guarantee:
Quality tested and virus free.
No ads, no adware, no spyware.

Reviews at a Glance

Flights of Fancy: Two Doves Collector's Edition
0
out of
5 (
0
Reviews
Review
)
Customer Reviews
Flights of Fancy: Two Doves Collector's Edition
73
73
Exceptional Game.
Playing the Demo I found this game to be a lot of fun. The Graphics are Excellent. The fun factor is very Excellent. The Sound Quality I found to be good. The Level of challenge was fun. The Story line was Excellent. I highly recommend this game for All.
September 17, 2013
Fun Hidden Object Game!
The game is fun to play.I like playing it.
September 21, 2013
Adorable!!! :)
Review of the completed game: It was just huge fun to play this game, couldn?t stop playing!!! +/- 5 hours full of puzzles, items to find and use and solving hidden-object-scenes in gorgeous settings. I simply love the ERS graphics and their welldone characters! Gameplay is very fluently - most of the found items are used soon. Facts: 6 chapters plus bonus-chapter, casual, advanced, hard and custom mode to choose from, lockable inventory, transport-map with objectives (though not 100 % exact), Strategy-Guide doesn?t follow your progress, detailed journal, an Elf is your direction giving hint and a Fairy helps you with magic. 13 hint-arrows are hidden throughout the game, aswell as 8 items for the fairy-collection. There are 10 achievements to earn also. 14 minigames (plus 3 in the bonus-chapter): lots of them are ?move tiles into the corresponding slot?, connecting pipes, rotation puzzles, memory, direct light rays? In some minigames you may choose casual or hard mode. 9 hidden-object-scenes (plus 3 in the bonus-chapter): Most of them played twice, only 2 ?find and use? and 2 ?find 15 items of same kind?. All the other HOS are slightly interactive from list. It is possible to choose a minigame instead of playing the HOS. Main game ends conclusively after approx. 4 hours. Bonus-chapter with an additional story takes another hour. You have to decide for yourself, if the bonus-content is sufficient for you... If I could choose again, I would wait for the Standard-Edition! :))
September 18, 2013
Any Sweeter, I?d Need Insulin
BASED ON DEMO FIRST IMPRESSIONS The title is Flights Of Fancy, the developer is ERS. So I knew exactly what we?re getting here before I started the download. The locations will be beautiful, there will be cute creatures, maybe some truly magical ones, and an adorable companion whom I maybe will dress up or otherwise pamper. And that?s pretty much the way it is. If you are one of the people who are over cute ? RUN! This one is so sweet it?s saccharine. And I still love it. SIGHTS & SOUNDS Gorgeous, gorgeous, fanciful, magical, gorgeous. And of course ERS?s signature hand painted style. The only HO scene I played showed clear and detailed items. The voiceovers are an interesting mix ? no two accents the same. I like that, a truly diverse kingdom, of many races. Even the music is pretty, and a good range of ambient sounds. WHAT?S HAPPENING Returning from the King?s ball, you find your estate in a mess. Your seneschal(?) tells you the inhabitants of your estate have been turned into tiny statues and the magical dove is gone. Evidence points to your neighbour, Count Boss. But while he is known to cause trouble, this level of evil seems beyond him. So we go to interrogate him. MAKING PROGRESS There are a few less HOPs than usual in this game. In fact, I saw only one progressive (find & use) silhouette game, visited twice. There are 11 HOPs and 17 puzzles/mini-games in total, according to the extras. Either I?m way tired or this game is more difficult than most, because I needed to check the SG a couple of times to work out the instructions to the new and original puzzles. I also had a bit of trouble working out where to go, even with an interactive jump map which shows active tasks and completed locations IF you choose. There are several other options available in the custom difficulty settings ? including no black bar comments or sparkles. (Perhaps the experts might forgive the cuteness in light of the better gameplay options.) BLING! Hint is represented by an elf with an arrow he shoots off in the right direction. You gain extra hints by collecting golden arrows. You also must collect 15 cursed inhabitants, presumably to restore once you win. Your fairy gains special powers when you find her certain objects. Achievements. These are the usual sort of things, and each is represented by a ?bubble? inside the fairy?s house. That is our only decorating task, though. As well we have gallery items, SG, replayables and bonus chapter. FAMOUS LAST WORDS I know a lot of you are sick of cute, and we certainly are being swamped with them, but this still looks too good for me to resist, and perhaps those difficulty options will entice you!
September 12, 2013
Reviewers be careful what you say.
I really wanted to like this game. I mean, what's not to like - it has virtually everything - fairies, elves, cute and quaint characters to rescue, a storyteller that tells you more about the kingdom as you go through the game, an elf who shoots arrows for hints (though you can't always see them) and a fairy who is supposed to help you but never seems to have any magic (at least during my demo of play). It is a bit difficult so you will need to use that strerategy guide, which surprised me because I usually don't, so if this game comes out as an SE you may want to consider that. It is bright, beautiful and entertaining. BUT, I like to read what other reviewers have to say before I spend the money on a CE and I was just about there when........a certain reviewer gave away the ending. What then is the point of paying almost $14 for a game I know the ending of?? I have run into this problem before and mentioned it to BigFish because it has caused me to NOT buy several games that I ALMOST bought until a reviewer gave away the ending. It's like spending the ridiculous amount of almost $30 nowadays to buy a book, be in the second chapter and have someone see you reading it and tell you how it ends. Might as well throw it away. So, I will say this and NOT spill the beans....it is a magical and enjoyable journey in a magical land that you will, no doubt, enjoy thoroughly. Play the free trial and make the decision yourself whether you enjoy the game - I did. This Glam-ma gives it a big 2 thumbs up. Just not for me - it would be a waste of money because I know how it ends.
September 12, 2013
Pleasant game...
Yes, the fairy people and the cute little animals and all are getting a bit old and simple, but in this game, they fit (but singing mushrooms?). I am so tired of blood, guts and gore all the time. Sometimes, you just want pleasant. Don't get me wrong, I do like the others as well, but it's nice to have something like this once in awhile. That said...the graphics and game play are the usual ERS and quite good. Voice overs are well done and appropriate for the setting and time frame of game (except that the king's future bride sounds like a man trying to sound like a woman). Music is very pleasing and does not play throughout the entire game. There are some sound FX, which are well done, and frequently no sound at all. HOGs and games are very simple...too simple on most of them. There is a jump map, but nothing is identified, so you need to have a pretty good memory of what each scene looked like or you would be jumping all over the place looking for it. Nice SG, very helpful hint system and quick recovery. I like the fact that you can customize the game play as well. Very nicely done. I do not give 5 stars easily. This game was fun, but not great; not challenging to a seasoned gamer; nothing new in the storyline and especially no identification for each location on the map. However, I did like this game and have the need to purchase and see where it is going, even though it is predictable. I will put it in my puddle and wait for a good special, before tossing it in the pond. It's just a nice game...animals fairies and all. As always, try it for yourself and see what you think. We all have different tastes in games and you may not care for this one at all. Thanks for the reviews.
September 12, 2013
Can I adopt all the characters, please????
I put off buying this one for a while because sometimes the overly sweet fairy games can be very repetitive. But I am so glad I ended up taking the plunge! The game has a large cast of glittering, doe-eyed and rainbow colored animals, fairies, and elves that still were unique. The plot of the game has been done in a similar fashion many many times, but the graphics and mini puzzles made up for that. A lot of new little keys and tools that were a bit different from other games. The hint button was a little elf that shoots arrows, so I did have trouble a few times understanding what he was shooting at; the magic fairy was frustrating until I realized that she only has enough magic for a single use until you find her another magic refill. The length was good, I loved the bonus chapter. Honestly, just a nice fantastical break from the ghosts and glowing eyes and orphaned children that I spend a lot of time meeting in other games.
October 22, 2013
Complete game review
At first I thought I had selected the wrong game but then I got so involved I could not stop. Just when I was going to say where are the HO's there they were and some were tough and the games were mostly moderately. You get special friends to help you which are really cute and then a map which is one of the best things there is. I look forward to playing this again with my middle age grandchildren. Good Luck Fishes.
September 22, 2013
WOW - what a surprise!
I usually don't like "fairytale" games, with cute, little creatures, etc. However, (with giving the game a 95% "no" for me,) was greatly surprised. It appears (based on demo) to be a very fun game, with lots to do. There is a map, you can collect arrows for hints - three levels of challenge. I, usually, prefer scary games, but for me to like and enjoy this game - hooray for the game's developers.
September 12, 2013
A beautiful, lovely and entertaining game, but a bit brainless
This game is really beautiful if not the most beautiful of ERS games and also the one I liked the most by them so far. It was only quite entertaining for me, but for most people I'm sure it will be highly fun to play. However, the dumb storyline and characters always gets in my way, although some people aren't bothered by it. The artwork is simply beautiful, crisp and full of color. Very lively! And the characters artwork was lovely, too, especially Krastian's. One of the most baffling things was that, in the main game, you find out that Krastian was just using Elonna, not really loving her and whatnot, then, in the bonus chapter, turns out they were some sort of "star-crossed lovers". You gotta hate these things. Not to mention King Eridan was the most useless of kings, always passing out... Also not forgetting that I got the whole plot by the beginning of the game. Another bothersome thing was that you only get to play two interactive hidden-objects scenes in the entire game (bonus chapter included) and the rest you know how it is. It's not the first time this has happened in recent ERS game and I'm not happy with it. And the music... The same track playing over and over and over again. If only it was nice to listen to... The bonus chapter wasn't too bad nor too good, either, so, except for the fairy house, which I really loved, I didn't find the Collector's Edition that much worth it. These games are always style over substance, every single time. But, overall, it's beautiful and fun. A nice game to spend some time. Try to ignore the ridiculous and irritating characters, the lame storyline and the annoying music and you're good to go. So, I'll recommend it, since you can still have fun with the tasks, with the hidden objects scenes (which are beautiful), and with your cute fairy helper. Although nothing phenomenal, I'm very positive I'll play it again someday!
November 2, 2013
The Apple logo is a trademark of Apple Computer, Inc.