Riddles of Fate: Wild Hunt Collector's Edition
Exclusive
Defeat a ghostly army in Riddles of Fate: Wild Hunt! You have been summoned to the town of Osville, where a legion of spirits controlled by the Four Horsemen of the Apocalypse roams the streets in search of one young girl. Only the mysterious prisoner in the tower knows how to save the city… But you'll have to get to him first! Uncover the secrets of the Wild Hunt army, and learn the truth behind the prisoner's ultimate betrayal in this mesmerizing Hidden Object Adventure game!

This is a special Collector's Edition release full of exclusive extras you won't find in the standard version. As a bonus, Collector's Edition purchases count toward three stamps on your Monthly Game Club Punch Card!

The Collector's Edition includes:
Unlock two bonus games!
Save the Princess and recover her soul!
Travel to the Realm of the Dead, and discover the secrets within!
Unravel the mystery of Osville, through Collectibles and extras!
Game System Requirements:
OS:

Windows XP/Windows Vista/Windows 7/Windows 8

CPU:

600 Mhz

RAM:

128 MB

DirectX:

6.0

Hard Drive:

1099 MB
Game Manager System Requirements:
Browser:

Internet Explorer 7 or later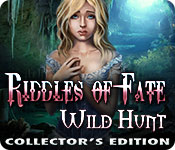 The Big Fish Guarantee:
Quality tested and virus free.
No ads, no adware, no spyware.

Reviews at a Glance

Riddles of Fate: Wild Hunt Collector's Edition
0
out of
5 (
0
Reviews
Review
)
Customer Reviews
Riddles of Fate: Wild Hunt Collector's Edition
76
76
Not for the simple minded or those in a hurry to get done.
RoF-WH(CE) I?ve read many of the reviews of the Riddles of Fate ? Wild Hunt game and I can only surmise that many of them were on the demo only because the whole game is completely different than the first part of the game. Granted, there are some predictable scenes and actions and the HOGs are not really all that difficult but the ?like? for any game is how much the game player enjoys what it has to offer. This game offers a wide range of numerous opportunities. The mini-games and puzzles ranged from the simplistic to the near impossible unless you are a Rubik?s cube kind of player. I didn?t care for the lack of mouth movement during the dialog as I felt is detracted from the realism of the game and there were a few instances of mispronounced words but those were really minor issues. In many scenes, actions develop which requires some real thinking for the player. In fact, this game more than most I have played really challenged the player to ?think? rather than just go do something that is intuitively obvious. I did use the strategy guide for a couple of solutions as the individual effort involved would have taken quite a while if successful at all. This is also one of the better CEs that I have played. It isn?t just a few scenes but almost another small game within itself. Granted, it loops back over itself to use the same scenes albeit after some cataclysmic event, however, the challenges are different as are the games. Additionally, even after the bonus chapter, there is another set of actions by going to the ?secret room? which really just revisits some of the mini-games again, some of which were the most difficult ones. RoF-WH is a really long game where you do get your money?s worth. Not only are there numerous scenes, but there are numerous actions in each scene (10-15). The trek is somewhat linear in nature and there are few instances of traveling more than 3 or 4 scenes but by in large, it moves along carrying itself as it goes. Graphics are slightly above average, the story is entertaining, and the sound effects vary and are quite good. The map allows one to teletransport which is convenient to say the least. All-in-all, I thoroughly enjoyed the game and its challenges.
December 14, 2014
Ride with the Four Horsemen!!!
I've always loved the story of the "Four Horsemen". This game had it all! Great graphics! Great storyline and the voice overs were perfect! Loved it!!!!
September 22, 2014
Excellent Game
This game is wonderful and so much fun to play! You are trying to save a young girl from a horrible fate. There are ghost kings, dragons, the four horsemen, an abandoned town, a prisoner to save....everything you could want in a game. The graphics are gorgeous, the music is great, the voice overs and cut scenes are excellent. There are collectibles and achievements. The collectibles fill in the back story, which is really fun. The iHOS are fun to play and the mini games are interesting. The interactive map is very helpful and allows you to move around quickly. There is a built in SG which comes in handy several times. The story is interesting and keeps you engaged throughout game play. The ending of the main game is quite exciting. The bonus chapter is definitely worth the price of the CE. I highly recommend this game!
July 13, 2014
Apocalyptic!!! :)
If you don?t like dark themed games with demons, golems, ghosts, witches and skeletons: Keep your hands off this game!!! There are lots of? Graphics are excellent, as expected from Elephant Games! Very clear and detailed even in the darker scenes (you have the option to adjust the Gamma). Wellmade characters and creatures. Facts: 3 difficulties to choose from, 7 chapters plus bonus, lockable inventory, hint is very useful: telling you what to do next (though a bit too much handholding?), map showing you open tasks/ available action and allowing you to jump, no journal - just a task button, strategy-guide doesn?t follow your progress,the Book of Dead, which brings dead things back to life and Louis the bat as your helping friend. Hidden-object-scenes are ALL from list with some very easy interactions? All HOS just played once. Most of the minigames are all wellknown and don?t cause you any headaches, but they are getting harder the longer you play!! A lot of back and forth due to items, which are not collectable from the beginning and scattered all over the game, like 5 torn diary pages, 10 ghost-seals, 5 scythe pieces, 6 flowers, 3 magical chrystals etc. You require certain artifacts to unlock these items. Mentionable Extras: 12 achievements to earn and 15 collectibles (statuettes) to find, bonus-chapter and a ?secret room?... It took me at least 5 hours to play the maingame and although the bonus-chapter isn?t essentially needed, I would have missed it!! :)
September 5, 2013
Great entertainment in a game made with much care !
You're the detective who will help unravel the mystery of the ghosts who terrorize the city and attack families in search of young girls. During the adventure you will have the help of Louis, The (cute) Bat! Although not really challenging, the game is very well developed, with good following and full of mini games and activities, promoting excellent amusement. Excellent graphics, crisp and well-designed, very good sound and VO; immersive atmosphere. Story is similar to many others, but I really like the genre. Good amount of interactive HOS, not challenging. Lots of mini games, also not challenging, but entertaining. 15 collectibles. 9 achievements. 7 chapters plus bonus chapter. 3 play modes A game to buy! It is a pity that is not more challenging, ...you solve quick goals and it shortens the time playing. I would give it 5 stars if it were more challenging.
September 5, 2013
THE FOUR HORSEMEN.....
The Four Horsemen must be defeated! It is up to you to help death defeat the evil and save the woman he loves. The city is under attack and riddled with evil dragons, witches and monsters. You will need to break the curses and codes, if you can! You are sure to enjoy the slightly interactive and fairly easy HOS as well as the mini games and puzzles such as matching three alike items on a code wheel like a knight a shield and a sword. You will earn achievements and find collectables such as statues of Pestilence and Famine. The game itself is entertaining and has beautiful gothic style graphics but I was a little disappointed with the realism of the characters which seemed out of place and cheaply drawn. All in all I liked the setting and the story and the game itself has unobtrusive music which does a good job of setting the right tempo and mood. Definitely worth playing, enjoy!
September 5, 2013
Not a Bad Game
This game didn't really grab me. The story was interesting enough to keep me playing for awhile, but I didn't finish the demo. There are some nice things right off. The music is intermittent and though often dramatic, doesn't last long enough to become annoying. The animations and cut scenes aren't bad either. The puzzles and hidden object scenes, on the other hand, were very easy and offered little to no challenge. One very good thing: the well worked right off without requiring repair. This is such a rare event in this genre of game that it really surprised me. Unfortunately, as is typical, people just don't take care of their ladders and repair was necessary. I also object to the wanton disregard for piano upkeep. How many games do we play where we have to pick up piano keys from random places. I've disassembled pianos, and I assure you, keys don't just fall out. I suspect the children in the game. Those would be the same ones that will put hedge clippers in the freezer or leave hammers in weird places so you can't repair the ladder. Anyway, if you need an afternoon killer, this game will do fine.
September 5, 2013
Not real challenging, but a very nice game!
Another Elephant game. As always, very nice graphics and game play. Had absolutely no problems with the demo. Voice overs are nice and appropriate to scenery and time frame. HOGS are not difficult by any means and are very clear and clean. Games are not difficult either. We do get extras, but you don't know what you are looking for until you either purchase the full game, or accidentally find one, which is what I did. There may be others that I haven't tripped over yet as well. The instructions should at least let you know that you are looking for "something." Nice SG with very clear pictures and next move instructions, and it is out of the way of the other icons. Very easy to follow. I like that they list how many chapters are in the story. Music nice and so are the sound FX. Hint system is very helpful and fills fairly quickly. The map is not identified as a map, but is a compass. If you click on the crystal ball, you are sent to the achievement section. There is a jump map, which is quite helpful since you use a tremendous amound of shoe leather in this game. Unlike other Elephant games, this one is not very challenging, but I found it interesting and a little different story. I'm not quite sure why, but I have to break my "no more CE games" rule and get this to add to my collection. Maybe I just need something clear, clean and nice for a change. As always, try it for yourself and see what you think. We all have different tastes in games and you may not care for this one at all. Thanks for the reviews.
September 5, 2013
Good game but all too familiar!
Most of the games now are the same old, same old. All predictable and very rarely do I give a 5-star rating. I give Riddles of Fate a 4-star for the concept, for all the hard work the developers put into this game. All games should be entertaining on a whole, and not end so abruptly whether it's a CE or SE. Of course, it shouldn't be too easy either because that would defeat the purpose, thus the 3 or 4 different game modes. And if it's too difficult people won't play them. It should be unique, different from the rest, and technically sound--no freeze-ups, no problems with the cursor or mouse when you click on an item to find you have to click on it a 2nd or 3rd time (not the computer's fault). Basically, most of the games are just about the same. Some are better than others. If Elephant Games and Eipix, and Blue Tea, just to name a few, put their heads together, I'm sure they'd come up with the most fantastic game of all time. Riddles of Fate was great but all too familiar. But I certainly recommend it. There's always that special game for someone!
February 2, 2014
Another enjoyable game from Elephant
This developer always comes through. This is a fun HOG with some extras. The plot is an interesting twist from the usual "good vrs evil" although it gets strained towards the end. Nice to have a hardcore mode, but when will this developer learn that hardcore means NO black box comments/hints? HOS are pretty easy, games are easy with a few thinkers thrown in. extra play scene is good and ties in with the regular game.
September 14, 2013
The Apple logo is a trademark of Apple Computer, Inc.