Riddles of Fate: Wild Hunt Collector's Edition
Exclusive
Defeat a ghostly army in Riddles of Fate: Wild Hunt! You have been summoned to the town of Osville, where a legion of spirits controlled by the Four Horsemen of the Apocalypse roams the streets in search of one young girl. Only the mysterious prisoner in the tower knows how to save the city… But you'll have to get to him first! Uncover the secrets of the Wild Hunt army, and learn the truth behind the prisoner's ultimate betrayal in this mesmerizing Hidden Object Adventure game!

This is a special Collector's Edition release full of exclusive extras you won't find in the standard version. As a bonus, Collector's Edition purchases count toward three stamps on your Monthly Game Club Punch Card!

The Collector's Edition includes:
Unlock two bonus games!
Save the Princess and recover her soul!
Travel to the Realm of the Dead, and discover the secrets within!
Unravel the mystery of Osville, through Collectibles and extras!
Game System Requirements:
OS:

Windows XP/Windows Vista/Windows 7/Windows 8

CPU:

600 Mhz

RAM:

128 MB

DirectX:

6.0

Hard Drive:

1099 MB
Game Manager System Requirements:
Browser:

Internet Explorer 7 or later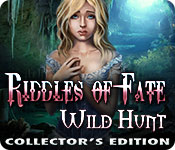 The Big Fish Guarantee:
Quality tested and virus free.
No ads, no adware, no spyware.

Reviews at a Glance

Riddles of Fate: Wild Hunt Collector's Edition
0
out of
5 (
0
Reviews
Review
)
Customer Reviews
Riddles of Fate: Wild Hunt Collector's Edition
78
78
very good game
I enjoyed this game. The story line was good as were the graphics and it wasn't too easy.
September 23, 2013
Well-made game, but main character needs to man up.
I liked almost everything about this game, but was constantly frustrated by how helpless the main character is. He's Death, one of the four horsemen of the apocalypse, for heaven's sake. You'd think he could take care of himself. If he were knocked out, I might feel a little more sympathetic, but usually he's awake and simply wants you to do all the work. At one point, he falls into a small lake and is attacked by a couple of squids (they call them krackens, but they're not very big). He's just standing there in chest deep water, not struggling, just staring at me, waiting for me to help him--again. I'd like the developers to give me a better reason to help the characters in these games. Other than that, the game was elegant, well-made, and enjoyable. Reasonably long, also.
November 17, 2014
Louis the Bat is just so cute!
The first game in the Riddles of Fate series by Elephant Games -------------------------------------------------------------------------------------- Another adventure game by EG! I was confused with the main intro of the game, who are we, what is the background story? we are suddenly thrown into the game to find the child of fate. After you play the game, the story slowly develops and you will know the story's background The graphic is a bit different than the usual EG games, a bit blurry and not crisp, but it's not a big problem. The VO is very nice, I think I heard the character voiced out another EG somewhere, it sounds familiar. The collectibles are sinister looking statues, which you can find out the story behind each of them. Serious issue I have with this game is the loading time, it is really slow to move in from one place to another, even clicking itself takes time. I think its because of my computer, but it doesn't happen with other games so this might be because of the game also. The bonus contents are a lot, my favorite is the Secret Room with separate stories of its own. Louis the Bat is very very cute, like a doll. Surely beats all perceptions about bats out there! The Bat saves the whole game and make the creepy game bearable.
June 14, 2014
Missed the Mark!
Riddles of Fate starts off with a bang and slowly pans out to be a somewhat tedious and unchallenging to play. Although it does come with all the extras of a CE game, they seem to me to be afterthoughts, applied to the game to somehow make it more appealing and interesting, but sadly for me it failed to do so. Lets begin with the graphics, although sharp with options to adjust the effects in the main-menu, I found visuals and sounds of the game to be rather dark and not as appealing as some of the graphics we have been seeing with other games. Although I am a great fan of these developers, I just feel that this game needed a bit more than just some collectables and a list of achievements. I wasn't paticularily a fan of the artwork and that everthing was just too dark and a bit askewed. Our story begins with a small town being terrorized by an evil that has sent down the Four Horsemen of the Apocalypse in search of a young girl who seems to hold special powers that are required. All the homes are being terrorised by ghosts and young girls are going missing. There is however a prisoner that seems to have all the answers and as detective, you must save this town and solve the mystery at hand. There are three modes of difficulty to choose from yet still the black-bar tips offer too much information, taking away the challenge of playing the game. Game features a hint system that will tell you exactly what to do. Suprisingly there is no journal and no map, be prepared for alot of backtracking. There a pages floating around that give you a brief account of the story but no journal does make you stray from what is actually happening. A HOPA game with puzzles to solve and HO scenes that are somewhat standard, slightly interactive and over-cowded. Graphics and poor lighting just made them rather tedious to play. As for mini-games, sadly I only came across one during the demo and it was rather a feeble attemp at being interesting. There are collectables, you find a series of ghosts/horsement that are very easy to spot and a list of achievements only pertaining to hidden objects scenes. I am slightly disappointed, I do like these developers but it just seems to me that they rushed through this game or just decided to cut corners. The WOW facto was amiss and I myself will wait for the SE of this game but will recommend it to beginners and hardcore fans of these developers. Riddles of Fate just seems to miss the mark but does get high points for the effort that they did put into the overall game.
September 5, 2013
Will The Real Developers Please Stand Up?
NOTE: Based on DEMO only. ~~~~~~~~~~~~~~~~~~~~~~~~~~~~~~~~~~~~~~~~~~~~~~~~ Well... I can't help but feel a little disappointed at Elephant's latest offering, Riddles of Fate: Wild Hunt. It wasn't terrible, but it wasn't too exciting either. Elephant have been a little disappointing lately. What's going on? The story was average. It wasn't boring, but it wasn't exciting either. It involved your typical town overrun by ghosts, and as usual, you are the one who has to save the town. This story comes complete with saving people, ghosts and strange creatures and our old friend, magic powers. It's nothing you haven't seen before, and I, for one, didn't like it that much. The gameplay is okay. I wasn't happy with it, but I didn't hate it either. The HOS is nothing different. They include extra step objects, and are rather enjoyable to play. The puzzles are a little challenging, however, I could solve a few of them, which I was happy about. On the subject of other gameplay, it's fairly easy for those who are accustomed to the traditions of HOPA games. There is the usual interactive map, inventory, hint and skip and so forth. There wasn't a diary, which I found odd. The usual CE Exclusives come with the CE version of this game. Usual content includes Bonus Chapter, collectibles, etc. However, I don't think these collectibles are needed. Everyone seems to be raving about the graphics, so why did I find them disappointing? They were way too cartoon for me. They were nothing like Elephant's usual graphics, which I love for their uniqueness and outstanding artwork. For me, it seems these developers just had a lazy Sunday with the artwork and just could not be bothered making it appealing. Very disappointing, Elephant. Voice-overs were nothing new. I can't make a comment on these, as with most other games, as I found them to be just right. They weren't over-done, but they weren't sensational either. I know it's only a game, but isn't it time we saw a little acting in Hidden Object Games? FEATURES 3 modes of play, as usual. Casual, Advanced and Hard. I played Casual. Only difference for me was hint and skip recharge speed and sparkles. Hint and Skip- both recharge fairly fast on Casual and the hint is helpful outside HOS. Map is interactive and helpful in some ways. It informs you of places where there are tasks to be done, but does not say where to complete your next task. A helper named ?Louis? who helps you with the odd jobs around the game. He is used a fair bit in the demo, so I'm assuming he'll be used a bit more throughout the game. CE EXCLUSIVES Built in Strategy Guide Collectibles- The game claims that these tell an extra part of the story, but I saw nothing to back this up. Achievements Bonus Chapter The Usual Bonus Content So, overall, I must admit I am rather disappointed with this game. It had so much potential, but was really just boring. I'm not even going to buy the SE. 3 stars and a non-recommendation is the best I can give for this game. Sorry, Elephant, I am your number one fan, and with that title comes high expectations. This time, you have failed to deliver.
September 6, 2013
Wild Ride in just the demo
I personally am very tired with the witches, goblins, demonic entities and general dark and tired themes that many of the popular games have. But, that being said, if that's your thing, then this game is for you. The artwork and visual display is superb, if you like demonic dragons and Apocalypic images. It's definitely eye candy. My low score on fun and storyline is strictly based on the dark themed quest. Even the so called "goodguys" are demonically depicted. Gee....developers with such talent need to go on a quest for a good thriller/mystery without the gothic demons and witches and evil.
September 8, 2013
It looked so good, but in the end, I didn't like it
Had I reviewed this game after playing for an hour, I would have rated it higher. The longer I played, the more I found it growing tedious and not very enjoyable. The Bonus Chapter had some gorgeous artwork and animations, but that wasn't enough to justify another star. The game description says there are two BCs. Must have missed something... I only played one. MY PERSONAL LIKES/DISLIKES (GENERAL). I'm a senior citizen with not so great eyesight, and a long-time game player, who still thinks Myst and the original text Adventure game were the best games ever. Don't like too much glitz and glitter, gory stuff, fuzzy graphics, dull colors, futuristic contrivances or puffy swaying avatars with oversized eyes and flailing hands. I like old-fashioned stuff and things that take me back to my childhood. I like realistic or artistic-realistic nature scenes with animated trees, water, animals (nice furry ones, not vicious wolves and horror movies creatures). Would rather see elves and dwarves than humans. That may be more info than anyone wants, but if what you like is not what I like, my review may not be helpful to you. FIRST IMPRESSIONS: [From notes I made while playing] Excellent sound track and environment. Surprising things happen, which makes the game exciting. A little dark and hazy but all closeups and HOs are very clear and contain some delightful animated critters. Puzzles easy but fun. LATER COMMENTS: The effects are getting too be a bit much. No more "wow" -- more like "that was silly." Some of the puzzles were so long and complex that I skipped them -- something I never used to do, but when it is more frustrating and tedious than fun and rewarding... time to skip. The music and environment sounds deteriorated. In the Zodiac puzzle it was so bad I had to shut it off to continue with the puzzle. Way too much back and forth. Things you have to find are more decorative or useless task-oriented instead of actual tools. Hey, game developers, I'm getting weary of all the locks and "keys." And of having to look in unrealistic places for items. Shouldn't a broken-off horn be lying around on the ground somewhere instead of locked in a chest? Why would anyone do that? I want things to be somewhat logical. One final note to Elephant: I really wish you would not have the screen for resuming play that says "Continue" or "Reset." I can only guess what would happen if I hit "Reset" -- all my progress is lost and I start over? If I wanted to do that, I would simply create a new player. Maybe this seems silly, but I really do worry about accidentally clicking the wrong thing.
November 26, 2013
It was ok. I guess.
The game was not as clear about what to do with what as it should have been. Like the dark crevice in the mountain world. I didn't even know the game wanted light there. It was things like that throughout the game that made it just ok.
October 5, 2013
hidden object game
I like play the games it's something to do
September 17, 2013
good but not outstanding
This is only from the demo. I checked for achievements and found none, there were collectibles.. some silver statue things. This started out as another standard game. You are a detective called to a town overrun by evil ghosts who seem to want the town's young girls. Must be carried over from their time as humans as why ghosts would want them I dunno. Of course only you can rescue the town...yawn.. oh sorry. This is missing.. this is locked.. you know. Ho scenes are clear and graphics are nice. Jump map and a good hint system with objectives. The diary holds some mini games. For me if it doesn't have both achievements and collectibles it's a no CE for me. Will wait for the SE version. This one made me find out about the collectibles in a round about way saying I had to buy the full version so maybe in the full game there are achievements but for me if you want me to buy the CE you have to show me up front what I am buying. It's Elephant so it should have a decent length and graphics but I will wait for the SE or a two 4 sale
September 5, 2013
The Apple logo is a trademark of Apple Computer, Inc.