Vacation Adventures: Park Ranger
Spend an exciting and adventurous summer working as a Park Ranger in a stunning National Park. Visit log cabins and areas of outstanding natural beauty such as lakes, woodland trails and mountain vistas. Set up outdoor activities like boating, rock climbing, horse riding, mountain biking and much much more. Perform your duties as a Park Ranger and protect the environment by collecting all the bonus trash items to recycle. Earn even more bonuses for finding all the Lost & Found items scattered around the Park. Enjoy this outstanding collection of Hidden Object Scenes and puzzles set in the great outdoors.
Stunning scenes of natural beauty.
Fabulous hidden object scenes and challenges.
Spend a Summer Vacation as a Park Ranger!
Game System Requirements:
OS:

10.8/10.7/10.6

CPU:

1.0 GHz (INTEL ONLY)

RAM:

512 MB

Hard Drive:

137 MB
Game Manager System Requirements:
Browser:

Safari 4.0 or later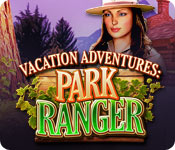 NEW299
The Big Fish Guarantee:
Quality tested and virus free.
No ads, no adware, no spyware.

Reviews at a Glance

Vacation Adventures: Park Ranger
0
out of
5 (
0
Reviews
Review
)
Customer Reviews
Vacation Adventures: Park Ranger
54
54
Fun and Versatile
This is really a FUN game...the music is not obnoxious...the scenes are very cute...great added feature of having to pick up garbage and throw it away, which is super training for little kids. Several things going on at once and then the mini games are challenging and a good variety. I was delighted with the promo and bought the game and am STILL playing it. I keep thinking it will end, but yet there's MORE! Good Job!
July 30, 2013
Fun Hidden Object Game
great graphics and sound, very relaxing
August 2, 2013
Excellent games
It was a good challenge...I enjoyed this game alot.
August 12, 2013
fun hidden object game
i like it focus on the game and the play
October 8, 2013
Refreshingly DIFFERENT!
Thank you Big Fish Games for including an adventure/hidden object game that does not include demonic or black magic theming! I am so tired of that. This is a pure, good old fashioned game. It is also actually BETTER than a lot of the others, as far as the puzzles, etc. It tests you on national flags, biology, horse knowledge, etc. It makes you recycle items. The music is fantastic. I loved this game. PLEASE, BFG....MORE LIKE THIS!!!
December 29, 2013
Really liked it!!
This was fun as a simple HOG... it was a fun thing without hurting my brain trying to remember how to get to and old spot in the game... it was not always easier as a whole... you had to find "recycle items" and throw them away for extra points... I love the HOG's that have a second feature going on in the background... if you forget about them it isn't the end of the world but an extra fun element... the mini games were fun and I really enjoyed this game... my husband plays it often when he just wants to do one without making his brain hurt!!! LOL!!!
December 14, 2013
a beautiful game
the graphics in this game were unbelievable!!!! the objects were tiny and hard to find sometimes and i had to use the hint more often than i should have had to, but the items were well hidden and, again, tiny at times. hint/skip charge in about 15 seconds so if you have to use one it doesn't take long if you have to use it again. if you have bad eyesight you may not like this one unless you have a way to magnify the scenes. 3 levels of play. most of the mini games are fairly easy. i even did most of them and that is unusual. you are a park ranger getting the park ready for visitors. in the HO scenes you are looking for hidden objects in the list and objects for the lost and found and trash to click on and it goes into the recycle or trash cans. i did enjoy this game, though!
December 8, 2013
Clear Cut
This is a pretty clear cut HO game, no tricky mysteries to solve or backtracking to revisit rooms. I liked searching for recycle items, although they don't tell you how many you need to find to get them all, and finding the "hidden items". Those are extra's though, the basic game is strictly HO. There are mini games between the HO's and they are pretty standard too. Relaxing game, nothing frantic about it, nice soothing background music. I liked.
July 23, 2013
Family game
Ok so this game is NOT the advanced back and forth adventure. A lot of people will not want this because it IS a back to basic HOP. It is very much in the style of Big City Adventures in presentation and play: there is a HOS and then a puzzle. You work your way through the park for the different scenes. The twist/challenge is to find lost and found items (silhouetted on bottom left) and then the trash for recycle (no clue given, nor how many in a scene), The HOS themselves are list style - a little interaction requiring an extra action to complete. These are highlighted on your list. Some items - HOS and Collectables may be a little hard to discern but I have played games wherein the items are really hard to find. These are not bad, though some may be a little small or cleverly desguised as a wood blemish. The music is a loop - not bad but repititious. No voice overs, so you do have the option of just turning sound off on your machine or in options (not sure if that is an option as I rarely check the options page). The graphics are clean, bright and colorful. You may go back and rework any scene to get a better rating if you wish - all this is explained in the tutorial that you get (I always play casual). Overall, this is a nice little game. No stress, just sit back and let this game be relaxing. I found it to be fun and a big change from the much more developed - and often dark and creepy - HOPA that has evolved. I will buy this one for the enjoyment factor it gave me.
July 23, 2013
Very Nicely Done ?Family? Game!
BASED ON ONE HOUR DEMO This is a well put together HO game designed primarily for the younger crowd (and their grandparents of course!). It offers a GAMEPLAY style we don?t find so often anymore, as games have moved away from stand-alone HOs. So although it?s got things like COLLECTIBLES, they presented in a manner that only PRETENDS to be ADVENTURE GAMEPLAY. Really, there are just HO SCENES and PUZZLES. The HOs are LIST type, where items must be found in the LOCATION, not in separate scenes. There is some interaction, and sometimes an item on the list is actually an ACTION you must perform. A nice touch are the 3-4 LOST ITEMS to be found in each location. These are indicated by a silhouette of the item, and you have to find the first item before being shown the next, and so on. The PUZZLES come between HO locations. At the completion of a chapter, you tally up your points (more for the faster you find all the objects). You have the option to replay the location (immediately or anytime later) to improve your score. You then return to the map, and start the next phase. This usually begins with a VERY EASY & SKIPPABLE puzzle. Then you move into the next location. All the puzzles were topical on the theme of the National Park and its inhabitants. You do have the option to play 'casual' or 'timed'. There are GREAT COLLECTIBLES. Being a PARK RANGER, you are of course, a proactive environmentally aware person, so you nab every RECYCLEABLE item to be found in a location. Namely, bottles, cans, papers etc. The LOOK of the game is immediately recognisable as ?for kids?. Well done graphics are bright, crisp and colourful. The items are presented in realistic settings with true perspective, so some are very hard to see, being pretty small. The SOUND is pretty ORDINARY, I would rather have heard more of the forest sounds than the (soon repetitious) pleasant enough MUSIC. The STORY is not going to be a best seller. It is your first day on the job as Park Ranger, and you are very excited. You are given the ?grand tour? and told about how the work gets done. In the process you get to visit all the wonders, and enjoy all the adventures the park offers. It?s a NICE LITTLE GAME and even though it was not designed with me in mind, I played the FULL HOUR simply because I ENJOYED IT.
July 23, 2013