Vacation Adventures: Park Ranger
Spend an exciting and adventurous summer working as a Park Ranger in a stunning National Park. Visit log cabins and areas of outstanding natural beauty such as lakes, woodland trails and mountain vistas. Set up outdoor activities like boating, rock climbing, horse riding, mountain biking and much much more. Perform your duties as a Park Ranger and protect the environment by collecting all the bonus trash items to recycle. Earn even more bonuses for finding all the Lost & Found items scattered around the Park. Enjoy this outstanding collection of Hidden Object Scenes and puzzles set in the great outdoors.
Stunning scenes of natural beauty.
Fabulous hidden object scenes and challenges.
Spend a Summer Vacation as a Park Ranger!
Game System Requirements:
OS:

10.8/10.7/10.6

CPU:

1.0 GHz (INTEL ONLY)

RAM:

512 MB

Hard Drive:

137 MB
Game Manager System Requirements:
Browser:

Safari 4.0 or later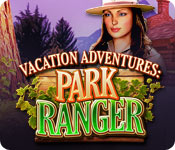 NEW299
The Big Fish Guarantee:
Quality tested and virus free.
No ads, no adware, no spyware.

Reviews at a Glance

Vacation Adventures: Park Ranger
0
out of
5 (
0
Reviews
Review
)
Customer Reviews
Vacation Adventures: Park Ranger
55
55
fun to play
different, fun, I like playing it.
September 1, 2013
Good Game
This is a good hidden object game. No messing around with clues and inventories - just finding hidden items. Just what I want in a hidden object game.
August 25, 2013
Simple but enjoyable
Just one HOS after another, with some other games thrown in here or there. A nice break after all the horror/drama storylines for hidden object games lately. Some items are really small & hard to find, others rather easy. Overall, I enjoyed this game. Would definitely buy others like this, if they come out with more.
July 28, 2013
Fun and not too easy
Colors and scenery are fun and interesting. This game isn't dark, dreary and macabre like so many. It doesn't involve demons, vampires, witches or other worlds. Just bright and cheerful which are so rare in today's games. Finding the extras makes it more challenging.
February 26, 2014
I liked it
Love HO games so this is one to do when you need a brain rest. Game is simple with little to no challenge. Can't figure out though why you accumulate money since you don't seem to spend it on anything but haven't gotten that far into the game yet.
February 11, 2014
A simple game for all the family
Enjoyable and relaxing, 'old school' HO/Puzzle game based at a national park. You play the ranger who must tidy up and prepare locations for visitors. Find objects Locate lost items Recycle rubbish In casual mode, relaxing and untimed so it is a nice HO 'workout'. Music is pleasant enough and graphics are reasonably clear though some objects are tiny. Puzzles are straightforward, finding differences, jigsaw, matching flags to famous locations. Not for me, as it is very repetitive, but worth a try.
July 23, 2013
could have been good BUT
This is a very old format for the HOS games of yesterday. Good for beginners BUT the items are sooo small they are hard to see. If the screen were bigger with bigger items it would have been a lot better game and rating. No voice over but not needed. Graphics are good and music is ok. You have lots of areas to complete and most are easy. Hint button is very fast but if you keep hitting it it will slow down the game play. Just to hard for my tired eyes to play this game.
July 23, 2013
SIMPLE BUT OKAY
I guess I could have given the game 4 stars for level of challenge. But it is very hard to see items against wood, even after the hint shows you where the object is. But I prefer well hidden objects than impossible to see items. You have to pick up recyclable trash. Unfortunately, it doesn't tell you how many trash items to find, so you may not find them all or you may spend time looking for trash that isn't there. Lost and found was okay - most items were fairly identifiable. I think it took too long for the level summary of points to appear. Artistry was fairly good. No voice overs and none needed. Puzzles were a vast array - some were even educational. I think I've heard the music track from a similar game; it grew on me. Hint recharges fast in casual mode. Overall, I think the game caters to the novices or to someone who just wants a relaxing game to play and doesn't mind finding brown items against a wood background or green lizards against foliage.
July 23, 2013
Definitely Not A Bad Game Put I'll Pass - Review Based on Demo
This is a HOP (Hidden Object Puzzle) and this isn't timed. There is no timed option at least I didn't come across one. 2 PLAY MODES: Casual and Challenge. I just played Casual since the only difference was the hint/skip charge up time. There are no sparkles on anything. In Casual you have to take the tutorial. Hint/Skip charge up pretty quick. In Challenge mode there is no tutorial, but the hint and skip button recharge slow. There is widescreen at least for me. I had no problems here. No voice overs Shortly into the game you have to do a jig saw puzzle putting together a map which shows you the way through the park, or rather where you have been already. It also shows you which color star you have achieved on each level. Depending how well you do you can earn a gold, silver, or bronze star and you can also replay the level if you want. For completing a level you get a bronze star. For finding all Lost & Found objects OR all of the recycling in one scene, you get a silver star. For finding all Lost & Found objects AND all recycling in one scene, you get a gold star. The Lost & Found objects are found by silhouette and the recycling is picking up cans, bottles, etc. You also earn bonus points for these along with if you find all the items in the scene without using the hint there is a "special eagle eye" bonus points. HOS: Found by word list. Objects listed in red are hidden behind or inside of something. Objects in purple color you have to find fish to put in the bucket just for an example here. PUZZLES: Jig saw, spot difference, etc. Nothing hard here. OVERALL IMPRESSION: If you like the Big City Adventure or Mystery PI games well you should enjoy this. I like to play these as well every once in a while however what keeps me from purchasing this is while the graphics are very well done and clear on the surface but when it comes to "finding" objects some of the objects are a bit too small and/or too well hidden meaning too blended into the scene such as a brown star on brown background for me. Some of the silhouettes to find I had a hard time making out what they even were as it just looked like a black blob. I also tried hovering my mouse over the objects like in some games it will give you the name of the object to find but not here. Oh and what you actually do with the points you earn well I didn't come across anything during the hour demo of spending them on anything. It might come later or you just simply earn to see how well you do like in the Big City Adventure and Mystery PI games. Overall a 3 stars from me. Definitely not a bad game but I'm not into eye strain. Thanks though Big Fish and developer. I still recommend it however as I'm sure some will love this and have little to no difficulty finding the objects but not for me. As always, give it a whirl and decide for yourself.
July 23, 2013
So-So, What An Eye Strain
Just finished the demo, and I won't be buying this game. It's a straight HOS with puzzles in between, which would be ok, like they were when they first came out. You find objects, plus lost and found objects, and litter. The regular HOS are very tiny and placed in an area that is either very cluttered, or like in a store full of items which makes it very hard searching for the ones you want. You get a shadow image of the lost and found images to find in each scene, and sometimes you can't tell what that image is; putting your cursor on it doesn't tell you what it is. So you find yourself clicking a lot on images that look like it. The puzzles are ok, but I had to skip several because they would take too long and I was only playing the hour demo. Some of the puzzles had so much to do that it would take a LOT of time to finish them. Some are jig-saw puzzles, which were easy for me, then you get a 'find the difference' which you had to find so many that you would be using your demo time up, plus those were very hard...the first six or seven differences were easy enough, and after that you really had to seach for tiny differences. Then there is a match game, and there are WAY too many to find, so that takes a lot of time, too. So long that it would be no fun to do, for me, even if I bought the game. I didn't care for the music, so I turned that off. I wanted to like this game, but it's just not my cup of tea. It's a strain on the eyes; way too tiny objects to find; for me anyway.That doesn't bother some people, so I'd recommend playing the demo. Sorry to be so negative about it, but that's my take on this game. I was looking forward to playing it, and it just didn't pan out.
July 23, 2013