Sea of Lies: Mutiny of the Heart Collector's Edition
Exclusive
A pirate's been executed, and the Baron takes a hostage to ensure you'll help him track down the treasure he left behind. Only it's not the plunder he's looking for…

Based on the true story of a famous pirate, Sea of Lies: Mutiny of the Heart takes you on a rollicking adventure as you track down a pirate's treasure and find out what really happened between him and the Baroness.

This is a special Collector's Edition release full of exclusive extras you won't find in the standard version. As a bonus, Collector's Edition purchases count toward three stamps on your Monthly Game Club Punch Card!

The Collector's Edition includes:
Play the bonus game to discover the lovers' secrets
Get soundtracks, wallpapers, screensavers and concept art
Try the available Strategy Guide
Game System Requirements:
OS:

Windows XP/Windows Vista/Windows 7/Windows 8

CPU:

2.0 GHz

RAM:

512 MB

DirectX:

9.0

Hard Drive:

883 MB
Game Manager System Requirements:
Browser:

Internet Explorer 7 or later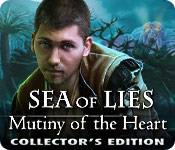 The Big Fish Guarantee:
Quality tested and virus free.
No ads, no adware, no spyware.

Reviews at a Glance

Sea of Lies: Mutiny of the Heart Collector's Edition
0
out of
5 (
0
Reviews
Review
)
Customer Reviews
Sea of Lies: Mutiny of the Heart Collector's Edition
72
72
Beautifull but really too easy !
Good game, with beautifull graphics, a lot of things to do, but really too easy. So I think it'll be OK for beginners.
September 2, 2013
Overall A Good Game
Though the game play was fairly easy, it did hold my interest enough to comeplete the demo. I was surprised when the hour was up. I loved the colorful graphics and the music was appropriately pirate-ish. I did have an issue with the HOS graphics. They were colorful (maybe a bit too much so) and quite jumbled. It made finding objects a rather difficult for older eyes (even with the glasses on). The option of playing Match 3 was good, but it isn't a favorite of mine. Game play was straightforward with very little confusion. Not too much running around. The fact that there is a jump-type map is good. I love a good pirate story and this promises to be very good.
August 31, 2013
DO NOT BOTHER WITH THE CE!!!!!
I am giving the "MAIN GAME" a "4"....HOWEVER...I can only give the "BONUS" a "2"!!! It HAD to be the SHORTEST BONUS I have ever played! What a waste! I usually don't go back and play the extra games and HOS anyway, I depend on the bonus play to make the CE price worth the buy. THIS one was NOT worth the extra! The game itself is fun, and I enjoyed the characters and the HOS. So, I am recommending you wait for the SE on this one!
September 9, 2013
A Nice Enjoyable Game ...
Good Graphics, Sounds, Story & Frilly Bits ... One Of Those Games You Try To Get When It Is On Special Just For That Extra Little Bit Of Game Play ... Thoroughly Enjoyed This One ...
September 7, 2013
But why is the rum gone?
Sea of LIes: Mutiny of the Heart CE Review based on Completed Game + Bonus Adventure PREFACE? Eipix is quickly rising to the top of the list of casual game developers, combining lush graphics, amazing cinematics, varied and appropriate music, fun gameplay, good story lines, and great attention to detail. And, judging from the credits and the "making of" movie, they have a ton of fun doing it! ONCE UPON A TIME... The dread pirate, Oliver, is set to be hanged in the town square. His last deed is to challenge the crowd to find his treasure, and he tosses his medallion out as the first clue. A boy named Jimmy brings it to you and, as you begin to decipher its secrets, the Baron sends his butler to fetch you for a command performance. The Baron says he wishes to hire you, Madame Adams, for an investigation, but tests you first. Naturally, you pass the test, then discover the Baron's duplicitous plan. He's captured Jimmy, and threatens to kill him unless you return with the pirate's treasure. Is the Baron truly that greedy? Or does he have another motive? Why is the Baroness so heartbroken over the pirate's death? Will you be able to find the treasure and save Jimmy's life? PLAY THE GAME... The HO scenes include basic interactions, plus each one has an area where you zoom in for an inset HO area. Puzzles include variations on the jigsaw, matching pairs, concentration, and others that are mostly familiar, and all are easy. Adventure mode doesn't require too much back-and-forth, but there are many items you will assemble in the inventory panel. SIGHTSEEING? Lush, tropical landscapes and secret treasure caves are graphically represented with equal brilliance. Colors are bright without being garish, and textures are incredibly tactile. The cinematic and in-game animation is amazingly realistic. Characters do lip synch and their movements are lifelike. SOUND WAVES? The music ranges from a jolly pirate accordion shanty to orchestral numbers, and it's never overwhelming or irritating. Voiceovers are professional and each fits the character. Environmental sounds could have been a bit more prevalent, I thought. TOOLBOX? The map transports and indicates areas where there is something to do, and the journal notes clues and objectives. A scroll shows whether you've found the collectible leaflet or not, a really nice touch. Inventory does lock open. I didn't use any hints or the SG, which speaks to the level of challenge. EXTRA, EXTRA? The bonus adventure finds you searching the island to outfit a ship to return to town. Other extras include the SG, the collectible leaflets, performance achievements (which are displayed in a trophy room), replayable puzzles and HO scenes, and the developer's portfolio of sights and sounds. THE LAST WORD? For me, the lack of challenge is offset by the gorgeous graphics and animation and the immersive story, so I do recommend this game. The bonus adventure plus the replayable aspects make this CE worthy, in my opinion. Other notable game series by this dev include Amaranthine Voyage and Off the Record.
July 6, 2014
Nice game....
I have a few of this dev's games and have enjoyed what I have. This game has nice graphics and game play. Voice overs are quite nice and appropriate for the time and setting. However, I do not see a need to have a cutout of the person speaking when they are standing right in front of you. You can click through the dialoge, which I like, since I read faster than they speak. There is a jump map, which is very helpful since you do a lot of running around. Nice SG and hint system, both very helpful. HOGs are a little different. Very clean and not difficult to find items. The only thing I didn't care for were all the sparkles to tell me where the "close up silhouette" items were. I demo all new games on the easiest setting, but that was beyond easy and not necessary, as the items were not difficult to see or find. The one thing that I "really" didn't care for is that it only shows two chapters. I like to see how many there are to gauge about how long a game might be. The only extras I have seen so far is the need to find a piece of paper in each scene...not sure why yet. This is suppose to be based on true facts, but I don't remember this story at all. Granted, I am not a pirate expert, but I do have a great interest and have read quite a lot on them. Still, not to say it didn't happen...who knows what really went on back then. This was not an extremely challenging game and the games were not difficult. I did find the story interesting and the game fun for a change of pace. I know, I have sworn off CE games, but the half price sale makes it dificult and I have been sitting on another one, waiting for a sale like this. I will get this game and the other today. As always, try it for yourself and see what you think. We all have different tastes in games and you may not care for this one at all. Thanks for the reviews.
September 2, 2013
Argg Ya Matey's
Great Pirate Game. Nice HO's, and fun and easy. Lots to do. This turned out to be a very interesting game. Beginners will love it. I Like It. Must buy list. Good hint button so no need for a interactive map.
September 8, 2013
good fun game but way too easy
The graphics are really great, Has voice over and a lot of dialogue. This game is really easy to play and is predictable. Not much for running all over the place either which is good. The HOS are good and easy and you can switch to match 3. Also are interactive which was fun. Has the normal achievements like the other CE games. I think I'll wait for the SE since I have lots of free games to use.
September 6, 2013
Nice game!
A game by Eipix Exciting adventure game about sea pirates! You are supposed to gather items to open the amulet of the pirate and everytime you gather one, you will be presented with a continuing story till you find another item to complete the amulet. Very nice VO and great graphics, the music really fits the game, very tropical and feels like at the beach! (although it is pretty much the same, the music is repeated way too much!) HO games are various. The items also match the era and the scenery, no junk or unrelated items. Besides finding objects and combining objects, you also have to find items from their silhouette. This was nice at first but then it is getting pretty boring because every single HOG scene is the same. And there are lots and lots of HOG scenes in this game. Extras are abundant with making of, movie and HO puzzles that can be replayed over and over again. The bonus chapter does not have really anything to do with the main game, so you can skip the CE if you think the main game itself is enough.
June 13, 2014
Review Of Completed Game...
I want to give this 5 stars sooo badly because I had such a good time playing it! I had only demoed a small portion of this before purchasing and I was afraid it was going to be another of the same ol pirate games we always get BUT this one surprised me. The graphics were crisp and bright even though they were on a creepy pirate ship and going to find treasure. Usually games like this are bleak and miserable but this one made me smile with all the colors the developers used! It was not an original story but it did keep me guessing in places. The hidden object scenes were very ORIGINAL. It was the usual standard lists and interactive bits BUT there would be an item in green and when you click on that item, you get a close up screen of it and silhouettes of the little items surrounding it. Some were really tricky and in the bonus chapter, some of the hidden object scenes were all silhouettes so it was nice to see them changed up a bit because Eipix puts a lot of them. There are 40 papers to collect and there are achievements. I was not a big fan of them to be honest though because it was all the usual ones (get 1 object in 1 second, 3 in 5 seconds, not skipping a puzzle etc etc) but then there were some curveballs in there like "Skip 5 puzzles and Complete Tutorial" Playing in Expert mode does not offer you the opportunity to get a tutorial so it doesn't make sense for there to be an achievement for that and who wants to skip 5 puzzles? More on the puzzles later. The three modes of difficulty were casual, expert and insane. Insane had no skips/hints or sparkles. Casual was the usual fare of sparkles, glints, tips etc. Expert is the one I usually play. It keeps hints and skips just in case but does away with sparkles HOWEVER in this game, Expert has sparkles for the hidden object scenes which really bugged me. You could change difficulty in the options menu but I think casual should be the only option with sparkles. And here come some negatives...why its not 5 stars.... This is a short game especially for a collector's edition. I believe short games can be awesome but this left little to be desired in terms of closure. The main game does not have a satisfying ending nor does the bonus chapter. In fact the ending to the bonus chapter really confused me. The bonus chapter is the end of the story, ship breaks down on the way home etc etc. So in some ways the bonus chapter is not needed but if I want to play the standard and get that ending, I would not be happy. At least the bonus does clear some things up...But the game is short. Took me 3+ hours for all it. I think the puzzles have a lot to do with the length... The puzzles in this game are easy and simple. Im all for easy puzzles sometimes but not a whole games worth. Most of them were putting in codes, moving parts around but one move would solve it, memory games with only 10 tiles, math ones which I usually take forever to finish so me being able to do it in 10 seconds means its easy. The achievement to skip 5 puzzles not only was not a good thing BUT with the puzzles being SOOO easy, I could solve them faster than the skip button would load and so I didn't want to sit there for 2 minutes waiting for it when I could just solve it. I own almost all of Eipix's games and I am not a fan of how easy this game is. But despite its issues, I LOVED playing this game. I finished it within 2 days. Usually I take a week to get through games but once I started this again tonight, I literally could not stop. Had the puzzles been a little more thought provoking and the expert level not have had sparkles, I probably would have voted this 5 stars. Its definitely a fun game and even without the bonus chapter, you can probably figure out what happens. Its very predictable but its still nice to have a proper ending. I recommend this game and as always with Eipix's games, don't forget to watch the "making of" when done with the full game. I love these developers, they are so funny! Dressed in pirate gear and going to pubs to shoot the movie parts but there are random people there just hanging out. It would be so fun but so embarrassing but at least you are getting paid for it! I cannot wait to see what else this team can do!!
December 11, 2013
The Apple logo is a trademark of Apple Computer, Inc.