Myths of the World: Chinese Healer
Exclusive
A great myth has enduring power... no matter where the story comes from. In this first game in the exciting new Myths of the World series, your story begins as a Chinese healer who's brought to the Imperial City to save the Emperor's son. But you uncover a devious plot and end up having to save yourself! Throughout the game, you'll use your herbal kit to concoct powerful potions to summon spirits and heal the people you meet. There are also achievements to earn as you play.
Game System Requirements:
OS:

10.8/10.7/10.6

CPU:

1.4 GHz (INTEL ONLY)

RAM:

1024 MB

Hard Drive:

1096 MB
Game Manager System Requirements:
Browser:

Safari 4.0 or later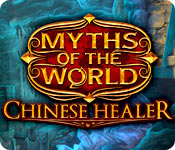 NEW299
The Big Fish Guarantee:
Quality tested and virus free.
No ads, no adware, no spyware.

Reviews at a Glance

Myths of the World: Chinese Healer
0
out of
5 (
0
Reviews
Review
)
Customer Reviews
Myths of the World: Chinese Healer
28
28
I loved this game
What a great game. Yes, it is easy but sometimes it's nice to relax and have fun!! Long playing time Great pretty graphics Appropriate music A good mix of HO'S & puzzles. Ho's played twice Lots of locations Not a lot of running back and forth Interactive map that lets you know where there is something to do and jump locations Hint button is directional Hint & skip buttons charge really fast I had loads of fun with this game, great for a beginner Even though there is good versus evil, this is not a dark game. Kudo's to Eipix.
October 2, 2013
Closing Credits
This is a very entertaining game, as others have described and discussed in eloquent detail. I would like to add "Don't Miss the Closing Credits"!!!!! I have played many BF games and never read any Closing Credits as entertaining as you will find with this game. The Developers have become REAL People with unique characteristics, so I would encourage our Fishes to check it out. I look forward to the next Myths of the World game from these Developers. GOOD JOB!!!!
September 1, 2013
Fun and Unique, but not really Chinese!
I've been waiting for months to buy this game, and finally got the chance to due to the Christmas sales. I must say, it was well worth the wait! This is a good game, and I can see why people praise it so highly. The story is great. It starts off ominously, and you know straight away that something evil is going on. Then, the game begins, and you are called to the palace of the Emperor by his brother Lei, who is very worried. He tells you that the Emperor's son, Jinhai, has been poisoned and asks you to heal him. At first, this seems straightforward: All you have to do is heal him and go home, right? WRONG! The story takes a great twist at the end of the demo that leaves you on a cliffhanger. After the demo, the story takes a much lighter turn, and you are sent to someone known as The Wise One, a blue dragon, who will tell you how to defeat the villain. After speaking to him, you must find the ritual that will ultimately heal Jinhai before it is too late... I have to say, what really impressed me about this story was the villain. The villain was one of the best that I've ever seen in any game to date. The villain's story was told during the beginning of the game, so you can clearly understand their motives, but what made the villain so exciting was that they did not pop up during every scene, but rather, you encountered them only a few times. I was always thinking ?How long until I bump in to them?? or ?when will I see them next?? It was just awesome. Credit to the developer for the genius to create such an amazing villain. Other than that, the story is quite nice, and does end conclusively, so there's no need for the bonus chapter. The action is mostly in the first hour, and then it gets quieter. However, I still found the story enjoyable. The gameplay is great too. I had quite a lot of fun with this game. The HOS were standard junkpile, with a couple of extra-step objects in each one. In each HOS, you also had the option of switching to a game of Mahjong. The HOS were not too difficult, but I enjoyed them quite a lot. There were quite a few HOS in the game, but not too many that it became annoying. I think there was the right amount in the game. The puzzles were good too, but a little bit too challenging for me personally. That didn't stop them being fun. I enjoyed attempting each one of them. In this game, there is something new and awesome called Healer's Kit. It is used for mixing things in to potions/dust, etc. Whenever there is an item found, you place it in the healers kit, and a fun minigame begins. This is not a puzzle, as there is no challenge to it, but it's still a great addition. I loved it every time I got to use it. Other than the new feature, this is your standard HOPA. The graphics are pretty good. They are well-drawn and very detailed. Everything is clear, especially the character designs. The only issue I have is with things not being accurate to the setting. It is set in China, but the girl, Bo, is wearing a kimono, which is Japanese. I have some issues with the voice-overs too. Most of them are accurate, but Bo's voice is clearly American, which kind of annoyed me. The voice-over for Bo repeatedly mispronounced Jinhai ( which should be pronounced Jin-high) as Jin-hey or Jinnae, which was terrible. If they're going to create a Chinese game, they should at least make sure the names are pronounced the way the Chinese would pronounce them. FEATURES 3 modes of difficulty: Casual, Challenging and Insane. I played Casual. Hint/Skip- both recharge relatively fast for Casual. Hint is useful outside HOS, and also acts as a portal, as it can teleport you to the location where you need to be. Diary- used to keep track of events. Not used too often, but is used enough. Map- interactive and lets you know where there is a task to be completed. Very helpful. Healer's Kit- This is very fun. It is used somewhere between 5-10 times in the game. When an item needs to be mixed, a minigame begins. Overall, I was extremely pleased with this game. It's well deserving of its praise, and could seriously be given game of the year. I think the SE is the better buy, because in the CE, you only miss out on achievements/colletibles and the usual BC stuff, but I think you'll be happy with either game. It gets a well deserved 5 from me. I was going to give it a 4, but I don't think my issues with the character of Bo should take a star away from this game. I think I should also mention the Closing Credits. They are very entertaining, and not the usual boring stuff. Don't miss them! ON THE GAME LENGTH The game was about 3 hours on Casual mode, which is my ideal game length.
December 30, 2013
Mystical and Intriguing Game
A tranquil and beautiful story. What fabulous time playing this game. The music soothing, scenes gorgeous and gameplay smooth and linear. Puzzles and HO's were spaced well throughout the game. Hidden Objects were easy to find and one did not have to spend twenty minutes and binoculars to find tiny objects . Very well done. Could have been a CE for sure. Thanks Big Fish and Dev's for a fun and relaxing time playing Myths of the World: Chinese Healer.
September 19, 2013
a great game
i don't usually like the asian games for some reason but i did like this one. got stuck a couple of times and had to cheat. hint/skip charge fairly fast. played casual, low sound-asian theme. you re called in to heal an emperor's son and somehow turn him to stone instead. the emperor's brother is trying to have you blamed for it and you have to figure out how to fix the son before the emperor gets back from his travels and how to escape with your life.
September 13, 2013
Graphics and Story - Wow.
The opening makes it seem this is the first of a series and I certainly hope so. Amazing graphics, fast paced story, fun puzzles make this a total package. Pros: Movie quality cutaways, Good voice-overs, beautiful graphics, good story (trite but twisty), intuitive objects and decisions. Generous hint (not really needed). Cons: puzzles are easy, Seems a little short - but that's because its a good game. Ending abrupt.
September 1, 2013
An Absolute Stunning Game!
Everything about this game was so beautifuly done. The story and the graphics in HD are amazing. A soothing game to play. Very nice puzzles and HOs. Again, I can't say enough about the graphics in HD. See for yourself, you won't be disappointed. Great game!
August 28, 2013
Almost perfect!
I love this game. It's almost perfect. There is a wonderful balance of puzzles and HOs, and not too much dialogue or cut scenes. It could have been more challenging, perhaps, but I chose to do casual mode. There are two, more difficult, modes to chose from, so I could've had harder gameplay if I so desired. The scenes were lovely, the HOs were legible, the puzzles could be skipped (a must!), the music was pleasant and the voice-overs were not too bad. This is definitely a keeper, as I know I will play it again. I am looking forward to the next installment of Myths of the World. Hurry please!
September 17, 2013
chinese healer
This review is based on the CE version , I found it to be a very good game, and as I do not buy CE games very often. I can say it was worth the extra, so the SE should be very good.
August 25, 2013
A Great Game
I can perhaps understand that those who want a real "brain teaser" with well hidden objects might find this game a bit too easy, but I found this game to be excellent. Unlike with many other games I've tried, I found the clues to "make sense" and the graphics were really good. I bought this game as a "half price special" and I'm really glad I did because it was great value.
July 2, 2014
The Apple logo is a trademark of Apple Computer, Inc.
The Windows logo is a trademark of Microsoft, Inc.