Myths of the World: Chinese Healer
Exclusive
A great myth has enduring power... no matter where the story comes from. In this first game in the exciting new Myths of the World series, your story begins as a Chinese healer who's brought to the Imperial City to save the Emperor's son. But you uncover a devious plot and end up having to save yourself! Throughout the game, you'll use your herbal kit to concoct powerful potions to summon spirits and heal the people you meet. There are also achievements to earn as you play.
Game System Requirements:
OS:

10.8/10.7/10.6

CPU:

1.4 GHz (INTEL ONLY)

RAM:

1024 MB

Hard Drive:

1096 MB
Game Manager System Requirements:
Browser:

Safari 4.0 or later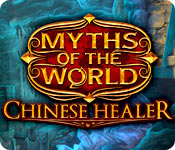 NEW299
The Big Fish Guarantee:
Quality tested and virus free.
No ads, no adware, no spyware.

Reviews at a Glance

Myths of the World: Chinese Healer
0
out of
5 (
0
Reviews
Review
)
Customer Reviews
Myths of the World: Chinese Healer
29
29
Excellent Game !
Very interesting graphics and story line. I wish I had purchased the CC edition. Will purchase from this developer again.
December 22, 2014
Marvellous Oriental Adventure!
BASED ON COMPLETED CE GAME FIRST IMPRESSIONS Definitely a winner. The introduction is well done, excellent voiceover, deep and echoing. The game looks good, first class graphics (HD option) and good cut scenes that explain the story. The game is set in China, and is filled with excitingly exotic images and sounds. The music is a blend of Chinese and western, and is excellent. There are a number of important characters throughout the game and they are each beautifully drawn and animated, as well as being well acted. WHAT?S HAPPENING An evil sorcerer poisons the Emperor?s son as a first step in his plot to become emperor himself. You are Daiyu, a renowned healer, and you have been summoned to the palace to heal the boy. From the start there are problems, but nothing you can?t overcome with your magical healer?s kit and a few important ingredients. Saving the Emperor?s son soon turns out to be both easier and a lot more difficult than expected and is the beginning of an epic journey. MAKING PROGRESS This is a true Hidden Object Puzzle Adventure, as the three kinds of play are pretty well balanced. None of them pose a big challenge, but they are all interesting. The HO scenes are lists that are somewhat interactive and silhouettes that are not. The objects are large and clear. The puzzles are beautiful. They are fun to play because they look so good! They weren?t very original or very hard, though, and might just be too darn easy for some experts. Me, I don?t mind easy. Getting around is helped by a portal map that tells you where there is something to do, and where you still have objectives to complete. It can be accessed through the journal, which also gives you a list of objectives and a summary of the game as you go along. In casual mode (1 of 3), the skip button filled really fast, and the game took me between 4 -5 hours. BLING! The healer?s kit turns special items you acquire into essences and such. It is the arcade-like game where you must time your click to match the green segment of a red bar. However, it is never too difficult. The CE has collectibles and achievements plus the usual CE extras. The story ends conclusively in the main game. FAMOUS LAST WORDS The journey to fulfil your mission is a wonderful adventure, there is light and colour and variety everywhere. Fascinating characters, beautiful objects, interesting activities. The story is well blended into the game, and the gameplay is easy but fun. A very enjoyable game.
August 25, 2013
Just a cool fun and exciting game to play
There is a new game out now from a developer I do not know. The graphics are clear, crisp, and stunning. They did a great job of this game. Has voice over and the music is nice to listen to. Has a good story line. The voice over at the beginning give you the story line for the game. I will have to say that the game play is pretty easy for me. You have 3 modes of play so you pick you difficulty. The HOS are standard and not hard. The puzzles are good. Not too difficult. Have seen some of them before is different formats but still fun to play. You have achievements to earn and you have to find items, guess you can call them morphine's, that make the game more fun. The flow of the game is good. There is some reading during the game. It is a refreshing game to play and different in the games out there like ERS and elephant right now. You will enjoy playing this one
August 25, 2013
4 Stars For The Chinese Healer - Review Of Completed CE
STORY: You take on the role of Daiyu, a legendary healer who has been called upon to save Jinhai The Emperor's son from a mystery illness. 7 Chapters (bonus and extras at the end) WIDESCREEN: Yes at least for me. There is voice overs. 3 PLAY MODES: Casual, Challenge, Insane: All have sparkles for HOS along with black bar tips. Only Insane mode the hint/skip are disabled.You can also switch modes at any time during the game. I played Casual mode. JOURNAL: This is the scroll down at the bottom which holds your map, objectives, notes. Also objectives do pop up on the screen. MAP: This is transporter and you can access it either through the journal or there is a compass at the bottom. Accessing it through the compass is one step quicker. The ? marks are areas where there are active objectives and the ! are areas where there are things to do. HEALER KIT: Shortly into the game you will get one of these. It's a little box which will be located down at the bottom of the screen by the compass. You use it to make potions and it's one of those "click when the arrow is in the green area" games. HOS: Two types here: Interactive word list and silhouette. There are quite a few scenes however I thought they were spread out pretty evenly so you're not doing one right after the other. I thought these were well done. If you don't feel like finding objects you can switch to Mahjong and you can switch back/forth at any time during the game. Puzzles: The usual run of the mill. These also have a ? mark for directions and some have a reset button. Main game game ended just fine for me. I didn't feel bonus chapter needed. Bonus Chapter: This is a new story. You must track down Master Lei and destroy him once and for all. All new locations from the main game. HOS are still the two types word list and silhouette. There's puzzles of course. You can also switch between finding objects and playing Mahjong. CE EXTRAS NOT FOUND IN SE. Main page as of right now says they are included. They are NOT included. A smile and wink here to the Big Fish people. Please fix this. Bonus Chapter Strategy Guide 26 Achievements 41 Cranes 20 HOS 3 Bonus HOS 21 Puzzles Making Of Wallpapers and other fluff GAME LENGTH: Main game 3 hours and 45 minutes. Bonus Chapter 1 hour. OVERALL IMPRESSION: I really enjoyed this game from beginning to end. Absolutely loved the story, characters, voice overs and graphics. The only criticism I have about this game is I don't understand the purpose of 3 play modes if the developer here is going to put sparkles and black bar tips on all of them and then just disabling the hint/skip in insane mode. This was the reason I played casual mode because I do like to have hint/skip available in case needed. Please do a custom mode where we can choose what we want and then have it apply to the game. This is the reason I knocked this down a star cause I don't like the sparkles/black bar tips. Just provide hint/skip and I'll decide if I need help or not. Also some may find this a bit short however I did not. Game length was just fine for me. Thanks Big Fish and Developer for an overall very good game. As always, give it a whirl and decide for yourself.
August 25, 2013
The Emperor's Son Has Been Poisoned!
You're healing powers have been summoned to cure the Emperor's son after he has been poisoned! This is a professional game with beautiful Asian themed graphics. As a Healer you will need to collect ingredients in order to preform rituals and when you open the healers kit it becomes a mini game where an ingredient becomes highlighted and you must click on that ingredient only when the ball of a meter is in the green zone. There are plenty of interactive HOS but there are even more mini games and the only one I had difficulty with was one that required you to turn off all the lights the first level was easy but I didn't have enough patients on the following levels. This is definitely an entertaining game that is well produced and I do recommend this game although I prefer the scary, creepy games, enjoy!
August 25, 2013
NICE BLEND OF CHINESE CULTURE
Interesting story with good production values. Gameplay is not linear and, although you know what you need to do, the path is not always straightforward. You have a journal which includes your list of objectives and a map. If you don't care for HOS (which are really nicely put together and everything is easily seen), you can play mah-jong. Graphics are exceptionally good. Although the voice overs are good, for the most part, the male voices are usually too deep. Fair amount of back and forth. Puzzles are not too difficult, but are actually lovely to look at.
September 16, 2013
Myths of the World
Good graphics, varied music, entertaining story. All in a romantic assiatischem HO game. The tasks are not difficult and yet logical. I liked the game when I was done too quickly.
August 26, 2013
I was suprised how much I liked this game!!!!
I really liked this game....the Graphics didn't seem terribly reused, and the story line was pretty unique.....I waited for the SE, and was very happy with the Game play, and the graphics.... I would recommend this game.....
August 31, 2013
Not Bad
It could have been longer. I finished in less than a day, maybe 6 hours total (broken up throughout the day) without any skips and few hints. I loved the premise, plot, visuals, pretty much everything, except it ended way too soon!
June 9, 2014
Easy.....but relaxing fun!
All three of the "Myths" games are easy but great for a relaxing few hours of fun. The story flows and the puzzles and HOs are pleasant........ NOT a game for heavy thinking! But grand for a simple good time.
February 5, 2014
The Apple logo is a trademark of Apple Computer, Inc.
The Windows logo is a trademark of Microsoft, Inc.